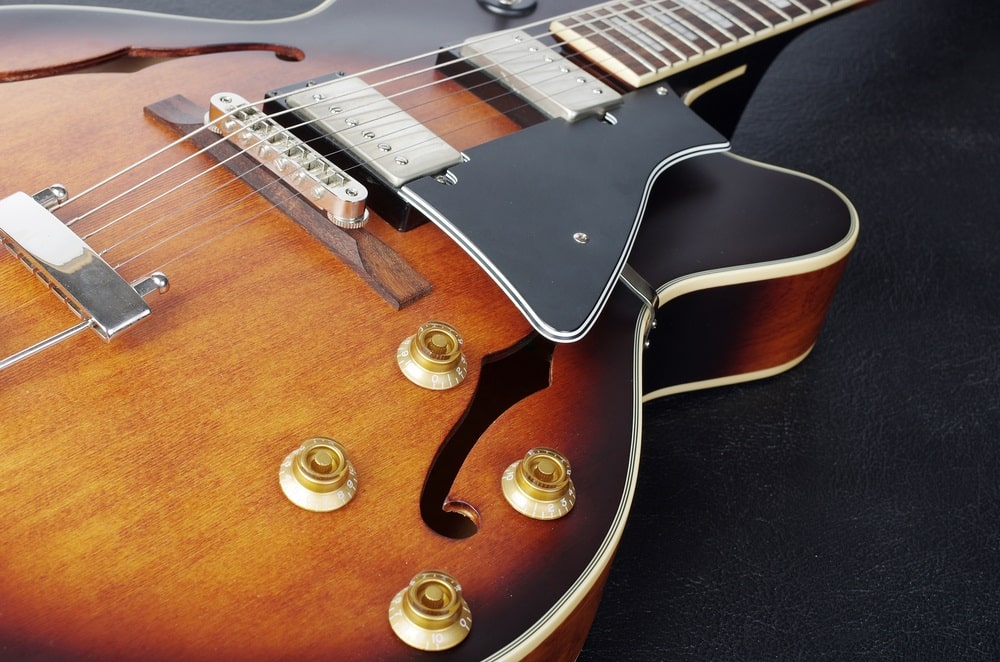 The jazz guitar was created for jazz music itself and is one of the most popular types of guitar variants out there. It goes without saying that any variant of the guitar is difficult to learn, and the same can definitely be said for jazz guitar. But difficult doesn't mean impossible in any way.
DISCLOSURE: This post may contain affiliate links, meaning when you click the links and make a purchase, we receive a commission.
That said, anyone can get the hang of playing the jazz guitar even without the help of a teacher if they know what to do. That said, the following methods listed below are some of the best means of learning the instrument without tutors.
How To Learn Jazz Guitar Without Teacher
Online lessons are some of the best means of learning about any specific topic in the world. The internet has information about anything that one could think of, and these online lessons delve into this information in a much more informative manner. This is exactly why they're such a great means of learning anything, as they are highly detailed and can help even beginners develop an expert understanding of things once they're done with the course.
For this specific reason, music-related online lessons including online jazz guitar lessons specifically are becoming increasingly popular. More and more people are opting to learn how to play the instrument through detailed online lessons. There are many great options to choose from to say the very least, and the three given below are arguably the best of the best.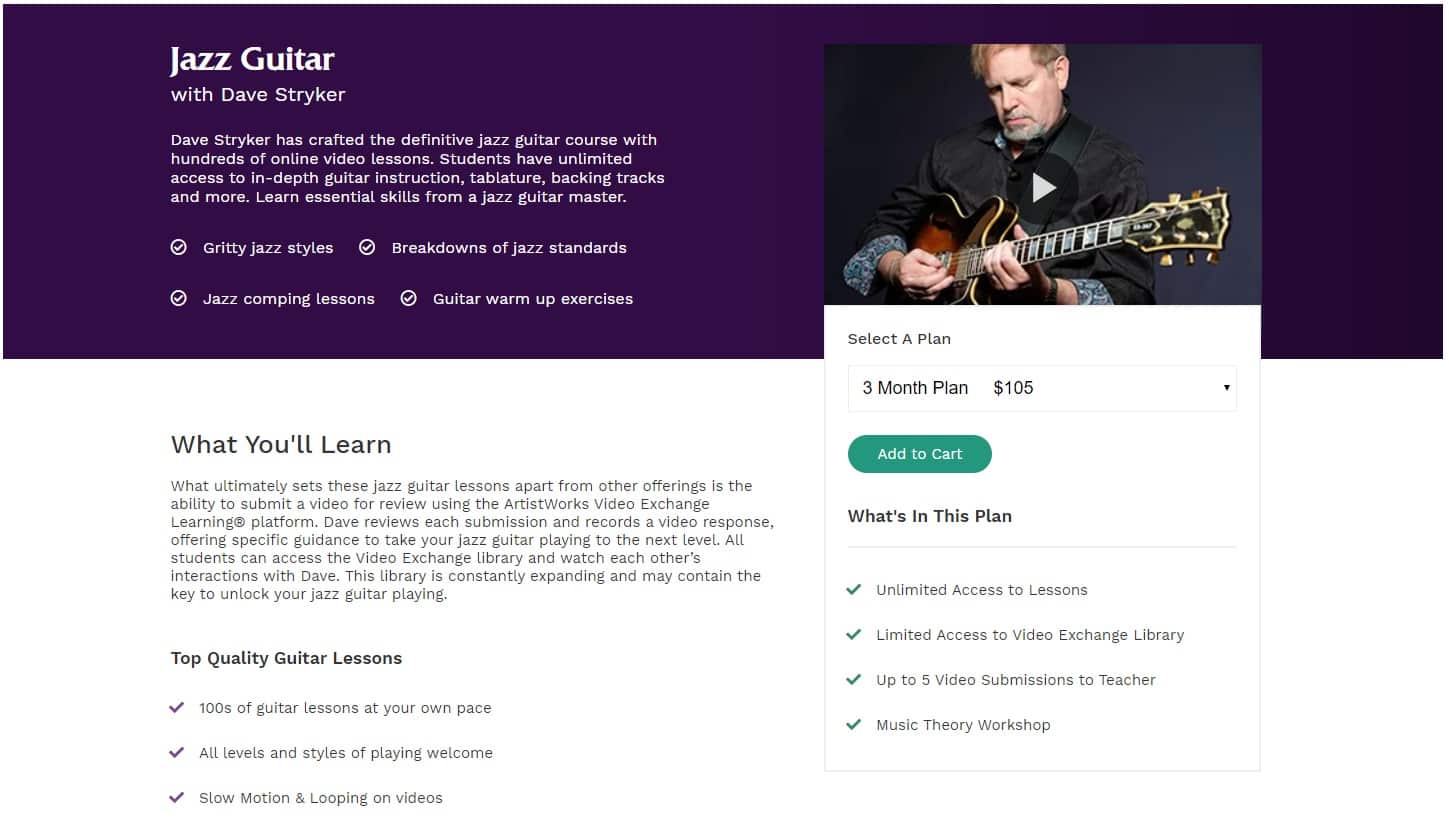 ArtistWorks has no shortage of amazing online courses. The platform offers lessons for just about any instrument that comes to mind, and the best part is that these lessons are usually taught by some of the best players in the world of that specific instrument. It can be said that this also applies to their jazz guitar lessons. There are actually quite a few different courses on the platform which are dedicated to the jazz guitar, including this one with Dave Stryker.
Stryker is a professional jazz guitarist. In this online lesson for the instrument, users get to cover well above a hundred different topics. All these are taught by Dave Stryker himself, who's won many awards for his great music over the years. A more detailed introduction regarding Stryker is given in the lesson, along with his shared stories about how he learned the jazz guitar and became as good as he is today. It is a nice and engaging lesson that can turn any learner from a casual guitarist to one that sounds as good as a pro.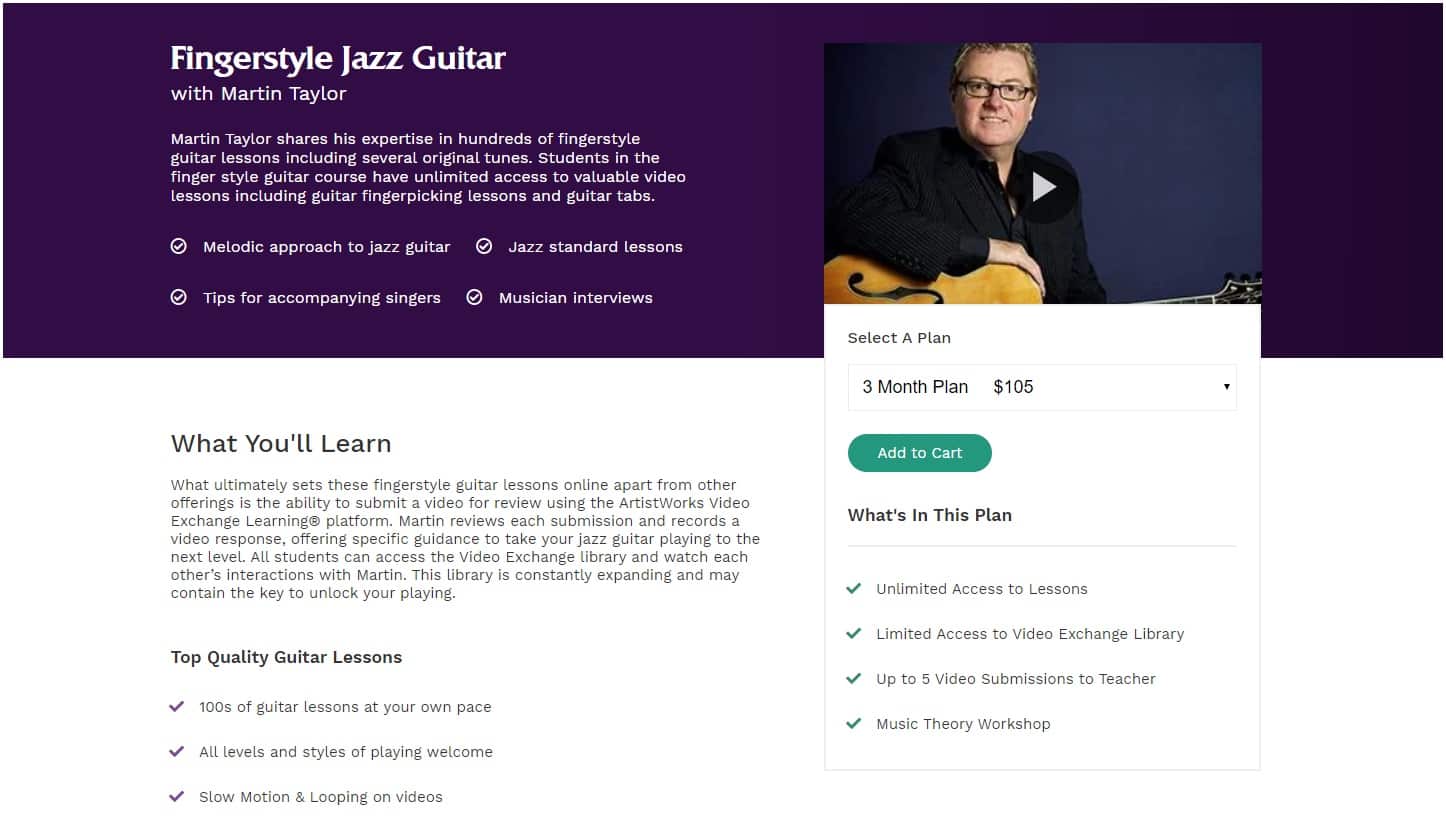 This specific online jazz guitar lesson on the platform focuses on fingerstyle jazz guitar. The fingerstyle method of playing the jazz guitar is widely acknowledged as one of the best ones out there, and this is with very good reason. While it may usually be a little complicated to get the hang of, it becomes as easy to learn as possible when you try this course on ArtistWorks out, which is taught by Martin Taylor.
He is another popular jazz guitarist that also has lots of experience teaching others how to play. This online course is all about playing the instrument through the fingerstyle technique. It features all the necessary info the learner needs about the instrument, the previously mentioned technique, and Martin Taylor as well who'll be teaching everything.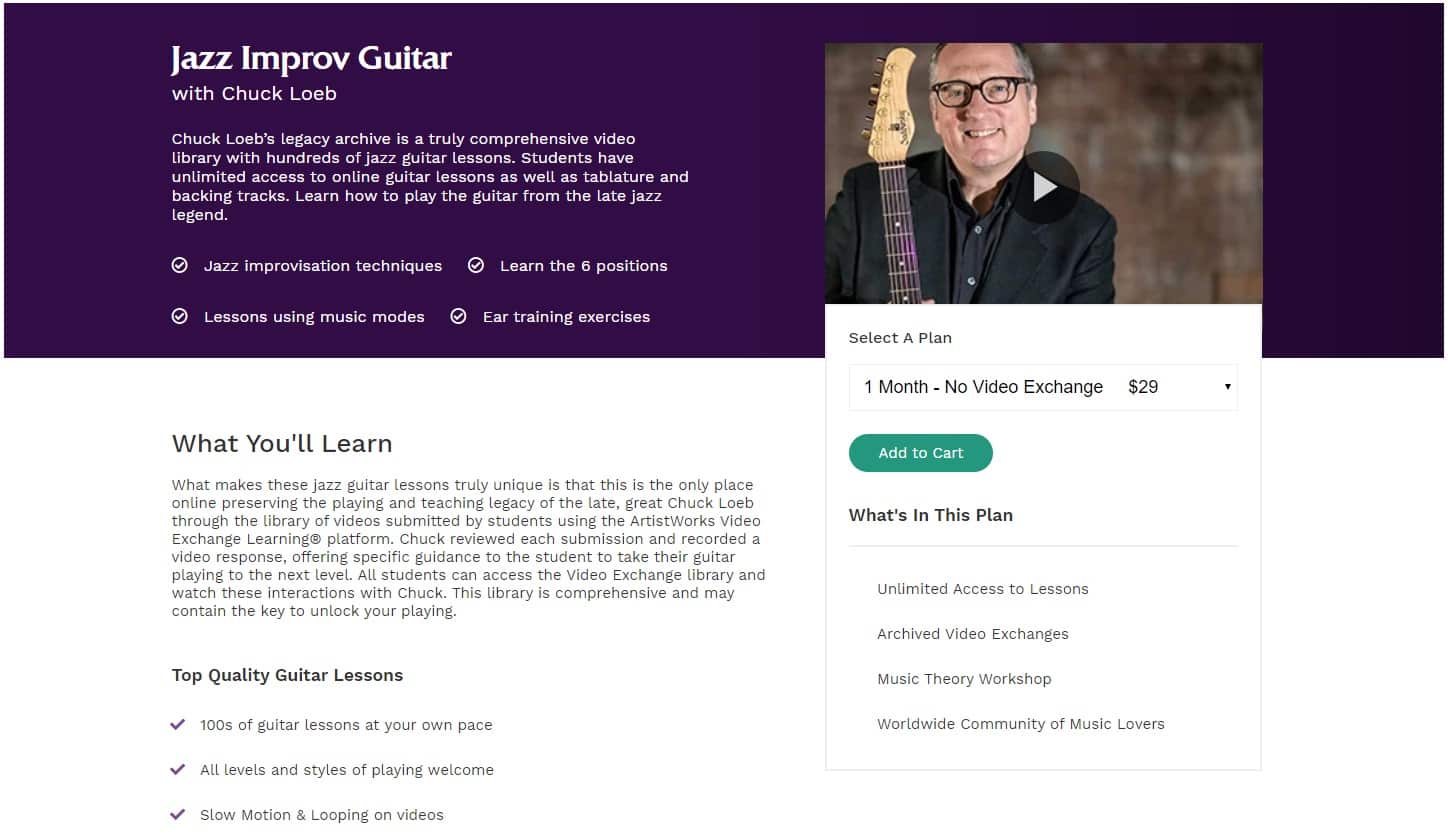 As already mentioned, there are a few different courses on ArtistWorks that discuss the Jazz Guitar rather than there being only one specific course. These different courses do teach the same instrument, but they do so in different ways and focus on different techniques. This specific course focuses on jazz improve guitar, which is another fun way of learning how to play the jazz guitar.
It is taught by Chuck Loeb, who has compiled hundreds of different topics which are thoroughly discussed in this course. There are a few differences between this and the other two courses that were mentioned. One of the main differences that come to mind is the style of jazz guitar in question, and another is the fact that there is no video exchange available with this specific lesson. While the latter is a negative difference, it still isn't too bad as the lesson itself teaches everything there is to know about jazz improve guitar without further guidance needed.
2. Jazz Guitar Learning Apps
A method of learning new instruments out there which a majority of people love a lot is to use applications. These applications are available for both PC and smartphone devices and can be downloaded with ease from online stores.
One of the main reasons why this specific one is such a popular option is the fact that it has almost every positive trait you could want while in a learning experience. Not only are these applications highly affordable and even completely free in some cases, but they are also immersive and engaging too.
Applications for learning how to play the jazz guitar come with lots of helpful guides on playing the instrument and some even offer entire planned schedules which you can use to practice depending on how busy your everyday life is. A majority will help you by making it as easy as possible to keep your guitar tuned the way you want as well, and by sharing other maintenance related tips which can help you ensure your jazz guitar lasts as long as it can.
The most important thing to keep in mind after reading all this is the fact that not every single application out there will offer all these great benefits. Regardless, the best ones should have a majority of these features and even more, meaning you should be able to easily find the great jazz guitar learning program for your device which can help you go from a beginner to a guitarist that sounds like a pro.
3. Online Video Tutorials for Jazz Guitars
Video lessons are also highly convenient methods of learning how to play any instrument, and this can be said for the jazz guitar too. The most important thing about online video lessons that also makes them so convenient in the first place is that they're available completely free of cost on easy to access platforms. This includes a lot of platforms that you might already be familiar with, including YouTube.
There are hundreds upon hundreds of different jazz guitar related video tutorials on YouTube and other similar platforms. All of these are made as helpful as they can be with specific aspects of playing the instrument. As they can be accessed at just about any given time as long as users have an internet connection, online jazz guitar video tutorials are a means of learning that is suitable for just about anyone.
4. Guides for Jazz Guitar
Lastly, there is the option to self-learn the jazz guitar without guidance from any teacher, any video, or any lesson. This method requires you to only use the help of any kind of jazz guitar-related guide or jazz guitar book, which will introduce you to all the basics of the instrument. Once players have learned all these basics, they'll have the great option of teaching themselves how to keep playing.
This can be tricky, to say the least, but as long as you have the right guidance you should be able to self-learn the jazz guitar with ease. The most difficult part is getting all of the introductory-related things locked down. Once you use these online guides and articles to learn these, you'll be able to learn on your own. You can do so by playing along to some songs, using sheet music, or just about anything of the sort.
The Bottom Line
It may be difficult to learn, but not as much as some people make it out to be. With enough effort put in, there's no tool or instrument that is completely impossible to get the hang of, and the jazz guitar is definitely no exception.
Whether you don't wish to study with a tutor or simply don't have the option to study with one, the methods we've given above can act as just the kind of alternatives that you need to become an expert at the jazz guitar.