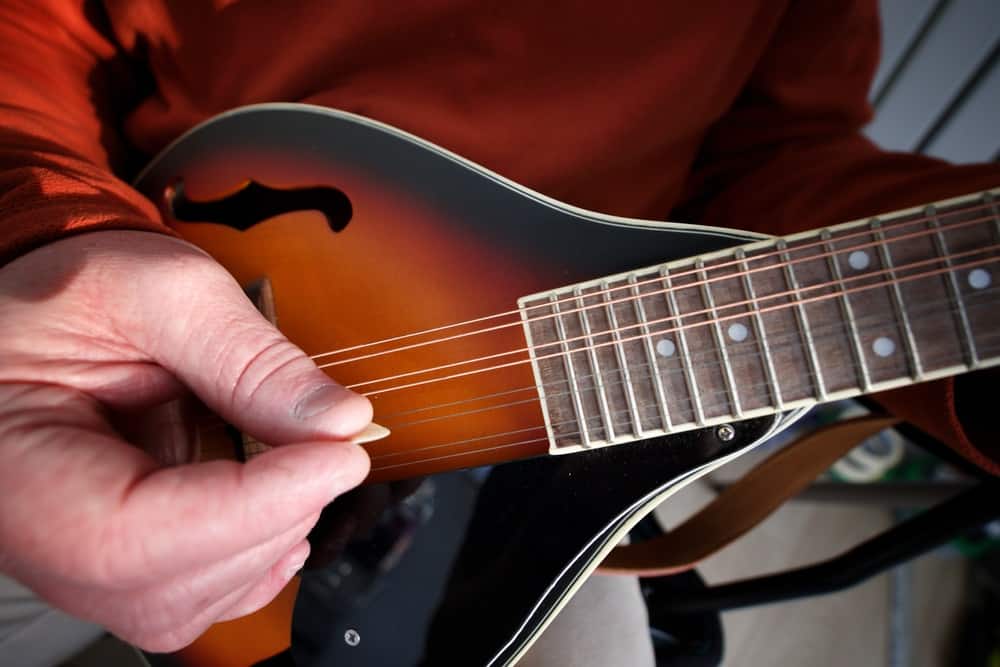 Mandolin is another stringed musical instrument that is plucked using a plectrum. Like many other instruments of the same genre, it is also originated from Italy in the mid-1800s and is another marvel of the boom of music and culture during The Roman Empire. This instrument makes the most of folk, cultural and soft music genres and that is why multiple people would like to learn Mandolin.
DISCLOSURE: This post may contain affiliate links, meaning when you click the links and make a purchase, we receive a commission.
While you cannot put a price for aspirations and devotions, but certain people have to be careful with the costs as well and they would like to know how much it can cost to learn Mandolin lessons. Well, there are several different methods that one can choose to learn Mandolin, and a few of them along with the costs involved would be shown below.
How Much Do Mandolin Lessons Cost
Online mandolin lessons would be just the perfect thing for those who are short on both time and costs. These are equally efficient as any other learning method that you can choose, or some would say even better because you don't have to necessarily spare much time and you can take these online lessons at your own convenient schedule.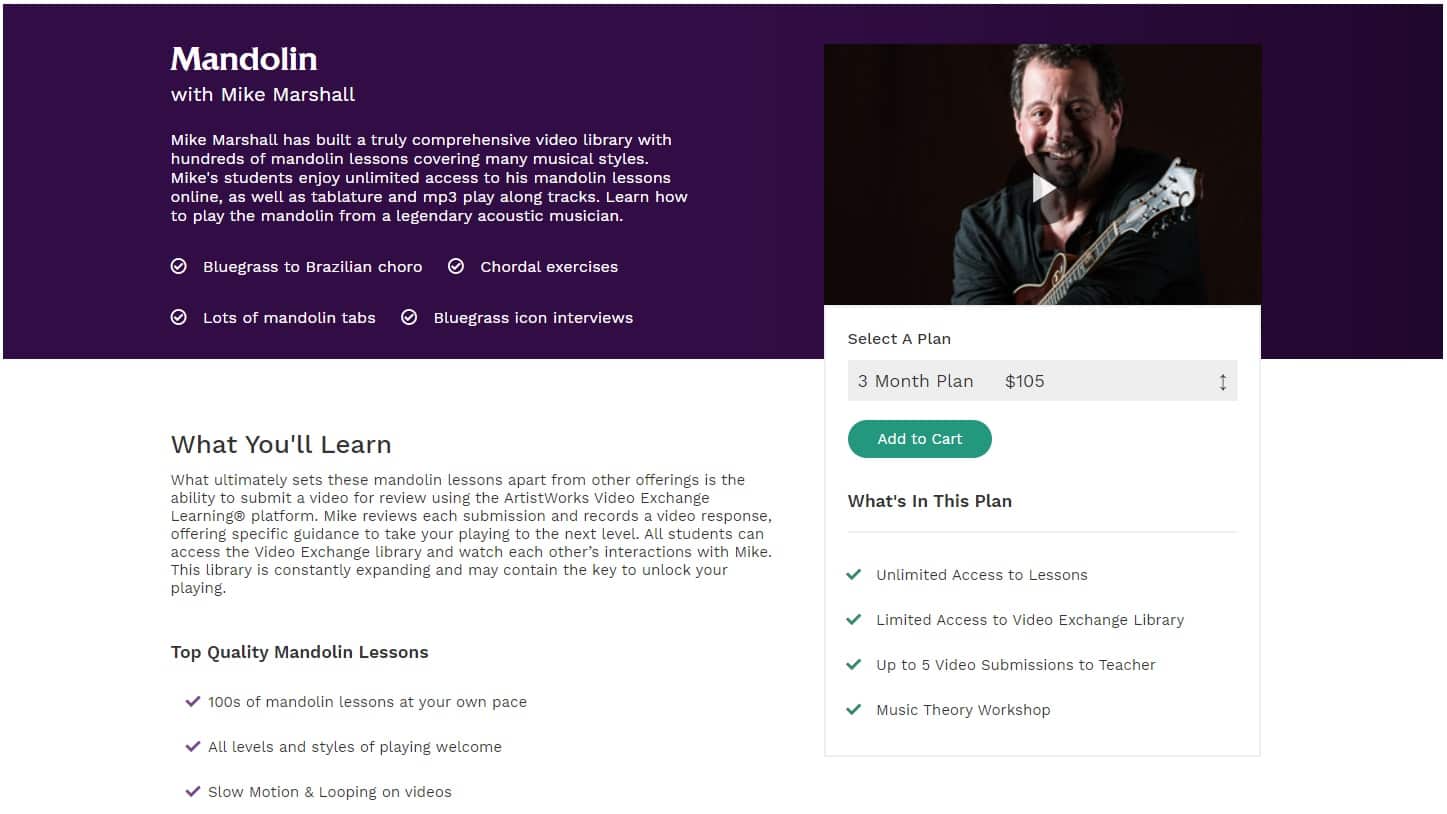 Artistworks is one of the best websites out there as they are offering some great relief to the students who want to learn without getting out too much time off their schedule or cannot fix a specific time each day for learning. These lessons are also pretty cost-effective and they start off with $105 for a three-month learning plan. With that being said, the plan includes complete access to the course and unlimited access to lessons, and a video exchange library. You will also be getting up to 5 video submissions to the teacher for a review.
There is also a 6-months plan for the same course with Mike Marshall that is going to cost you only $179 and for that, you will get 12 video submissions, a music theory workshop on Mandolin lessons, and 25 backing tracks across instruments so that you can practice in the right manner and make it count towards your skills. The annual plan with $279 includes unlimited video submissions to the teacher and bonus content that is simply the cherry on the top.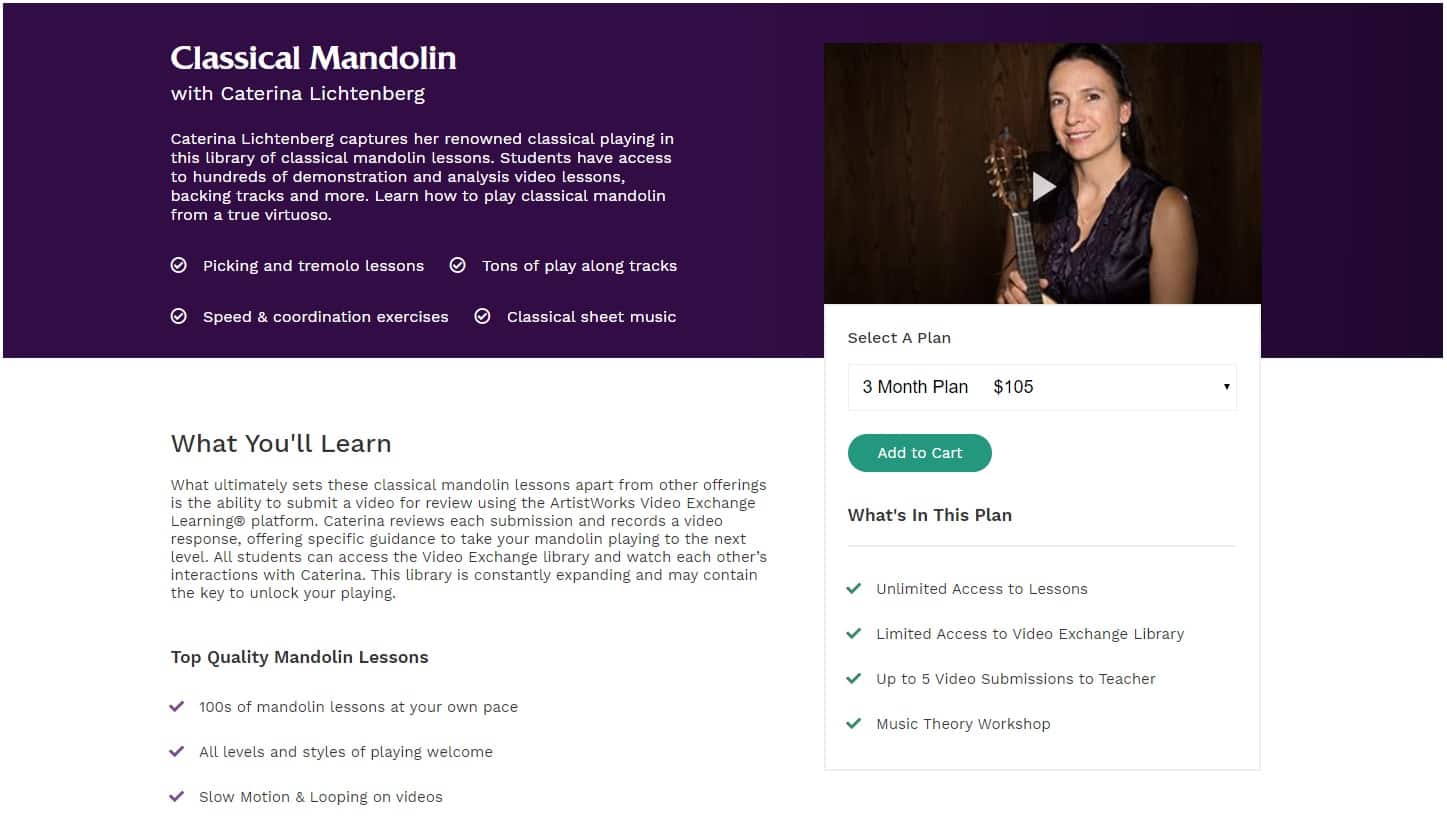 Artistworks lessons are indeed the best one and the right value for your money. You are going to learn a lot more than any other online lessons as Caterina has a renowned career in classical mandolin playing and teaching and now you can take advantage of learning from the very best with the help of this course.
Not only that, but they are offering the learning at pretty affordable costs for all. You are going to get a superb 3-months plan for $105 that includes unlimited access to course lessons and all the contents that are included in the learning curriculum.
There are 6-months and annual learning plans as well that would be for $179 and $279 subsequently. These plans have more learning edge and the annual plan being the best as it allows you to submit unlimited videos to the teacher for review and feedback on your performance so far and that will help you improve greatly.
2. Music School (Start From $500 – $3000/semester)
There are tons of music schools and universities all over the world that are offering undergraduate, graduate, and post-graduate programs with music and they can help you learn all that you need to know about Mandolin, folk music culture, and a lot more with the right depth.
Learning from a university or a music school will ensure that you are getting the best possible insight and in-depth theory understanding on the Mandolin. It will also ensure that you can pursue a music career after completion of your degree and that would be the best investment you can make.
The music schools are on the high side if you consider the costs involved as you will need to pay anything ranging from $500-$3000 per semester on an average. It mostly depends on the school that you are choosing, but besides these tuition fees, there are also other costs included like buying the right equipment, commute, and accommodation.
Also more so you can say that it is somewhat similar to getting a traditional degree that might end you up with student loans. So, if you are not looking to pursue a proper musical career and just want to get the best skills to be playing Mandolin, this might not be the place for you to be looking at.
3. Music Studios (Start From $100 – $300/month)
Music studios are somehow connected to music schools as you need to commute to the studio at a specific time and days to be learning, but the main difference is that these music studios are mainly focused on practical skills rather than conceptual and theoretical knowledge and you can enjoy a true learning edge with them.
With the right musical studio, you will get a chance to learn to play the Mandolin the right way in a shorter time than any other medium as it allows you to have a better understanding of the mandolin. The best thing is that you get to interact with multiple people that are there for learning mandolin and you can not only share your experiences and learning journey but you will also be practicing along them to learn better.
The best part about learning from a music studio is that it doesn't cost as much as a music school with a degree. Some of these studios also include certifications upon completion of your course and a music studio can roughly cost around $100-$300 a month. The best part is that they are offering practical knowledge over a short time so you must consider a music school subscription if you want to learn mandolin with the right practical skills at hand.
4. Music Tutor (Start From $50 – $100/hour)
Now, this is another great method that can help you learn the mandolin in a more personalized manner. With the right music tutor, you can have training that is goal-oriented towards the objectives you have in your mind for learning the instrument. You can choose between going to the private tutor for lessons or invite them to your place at your convenience. The best thing is that you can also work on a time that would be more convenient for both of you so that you can make the best of your learning time.
Getting a private tutor is also a bit more costly as they might be charging you anything between $50-$100 per hour and it can even go beyond sometimes depending on who your music tutor is. So, this might look like a lot, but it is one of the best methods to learn mandolin because you will only be paying for the time that you are going to spend learning.
The Bottom Line
These are average costs that might be involved with each learning method and you can make an effective decision based on your budget and learning needs. These costs are just to get you a better idea, and they can vary based on what institute you might be choosing to learn Mandolin.