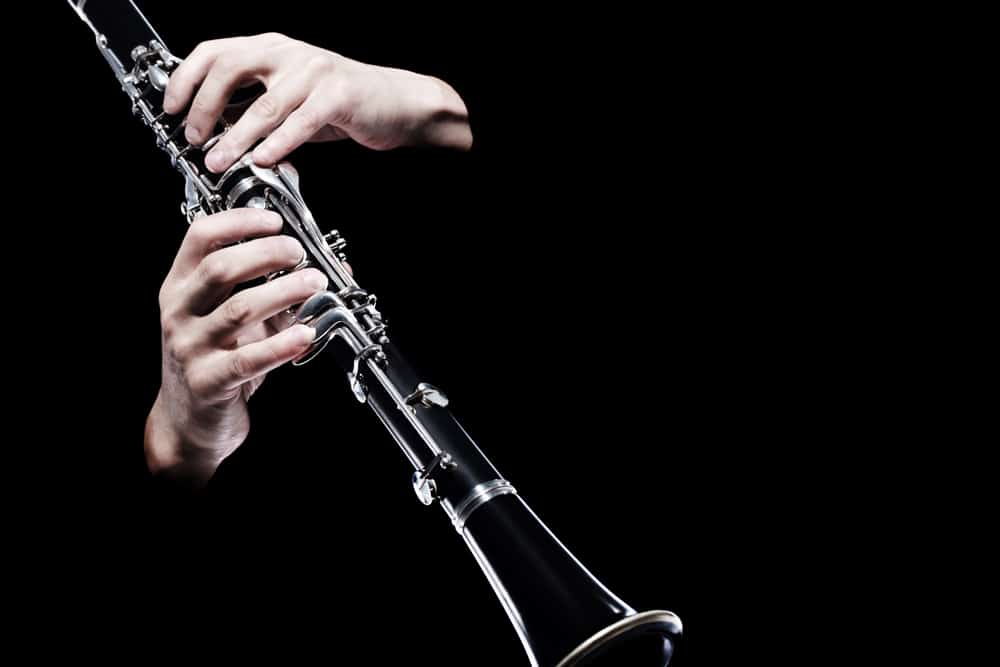 Clarinet might not be a popular instrument but got a cultural heritage stronger than anything out there in the world of music. The clarinet is an instrument from the woodwind family and has a single-reed mouthpiece. While you blow into it, there are some flared bells other controllers attached with the body that makes it fun to play and also make the tunes more mesmerizing.
The instrument was originated in Germany in the early 1800s and has played a great role in orchestral music. These days, it is played for all sorts of orchestral and solo performances including classical, jazz, rock, and pop. The instrument is not that easy to learn and if you are looking at the costs to learn the clarinet, you must know that sourcing a clarinet might not be easy on your pocket either and you will have to consider that first. However, if you have made your mind. A few ways and their costs to learn playing the Clarinet are mentioned below.
How Much Do Clarinet Lessons Cost
The best, most convenient, and affordable way would be to learn to play clarinet online. Not that it is safe in the current times, but it is a great help as you don't have to make time specifically for learning an instrument out of your busy schedule and you just have to learn whenever it is convenient for you.
Moreover, you won't have to worry about the traveling expenses or any other miscellaneous costs that are associated with your learning. So, if you want to learn to play Clarinet online, here is the right option for you.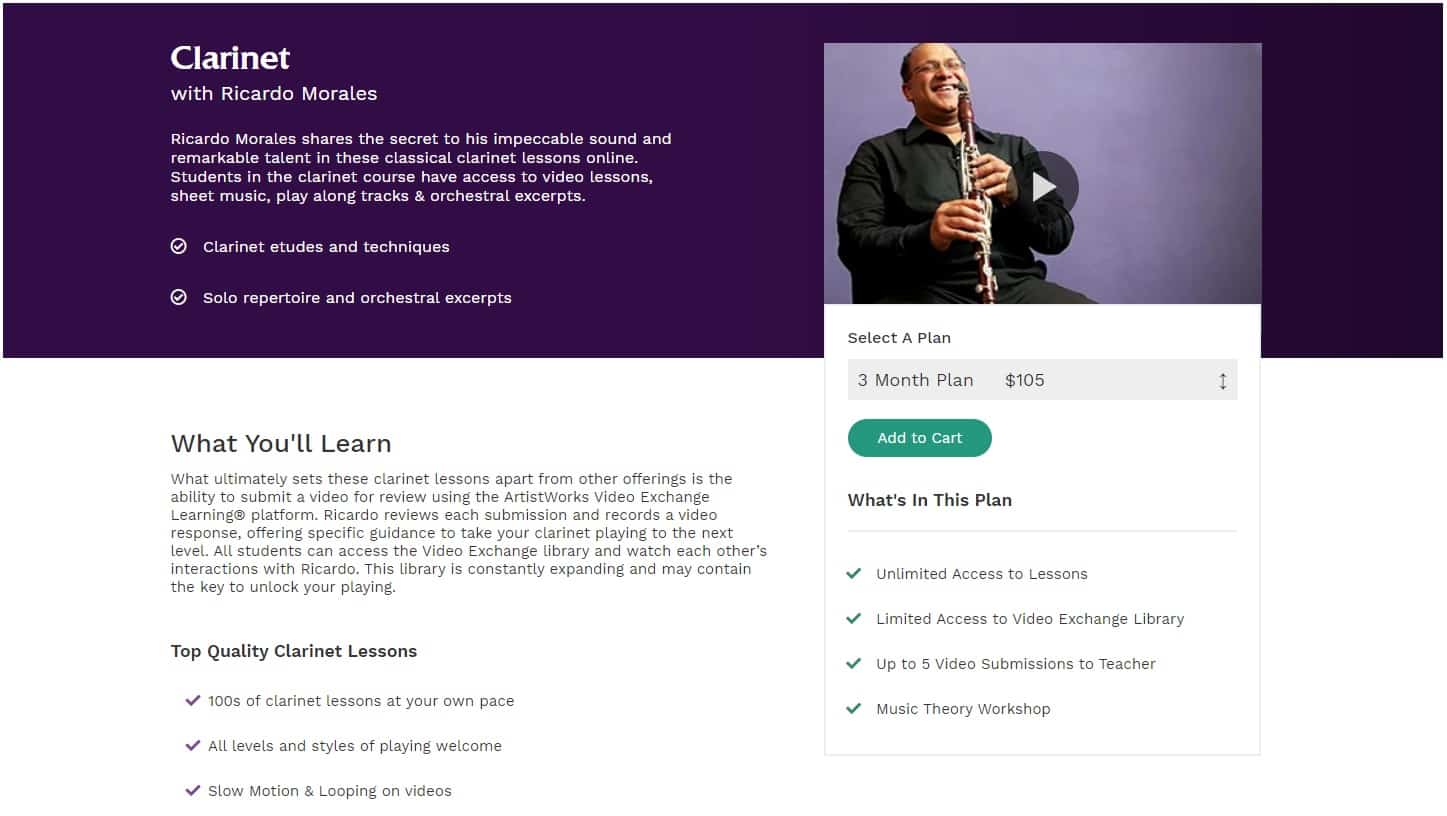 Ricardo Morales is a name that needs no introduction and this might be the one in a lifetime chance for most people to learn from him. So, you will not only be saving tons of bucks while learning online, but this course will also help you to make it work perfectly and achieve your dreams. The course is designed to help all levels of learning and skillset. With that being said, you will never have to worry about a thing as every resource that you will need to learn and play Clarinet is provided for in this course.
The course is being offered with 3 convenient packages being 3-month, 6-month, and an annual plan. All the plans are great for learning and it depends on you, that what your goals are to learn, and what skillset you already have with the clarinet. These courses are priced at $105, $179, and $279 respectively. This way, you can choose if you would like to learn for 3 months and that will suffice to get you the right learning edge, or you would like to start off the very scratch and make your way all the up to top.
2. Music Tutors (Start From $50 – $75/hour)
While clarinet is an unpopular instrument and is not something too flashy that comes in the spotlight more often, there are seldom musicians in the world who have found their thing in the clarinet and choose it to pursue those magical tunes of music. This makes it harder for you to find a music tutor around you that can help you learn clarinet by guiding you through the journey and assisting you with the learning process.
Even if you get that lucky to find a tutor who is willing to teach you playing clarinet. This is not going to be easy for you and a clarinet private tutor can easily charge you anything between $50-$75 an hour. This is just an estimated cost and the actual tuition that you will be charged for learning clarinet will be depending on the musician from who you will be learning the clarinet.
Not to mention that you will also have to bear some additional costs of traveling at times if you choose to continue learning at their place.
3. Join Orchestra (Start From $100 – $200/month)
There are several orchestras around the globe that are hosting these classes regularly to help students learn these orchestral instruments and keeping the traditions alive. These orchestras are somehow the most effective and affordable solution for all the students out there who are looking to step into the world of clarinet and make their name in the field.
These orchestras are different based on what part of the world you are located in and what orchestra you can get access to. On average, it can cost you nothing to anywhere between $100-$200 a month because some of these orchestras are offering free classes and some are charging a minimal fee to keep the expenses running.
If you don't mind learning in a class with diverted attention and are up for a bit of leg work to keep the learning process optimal, these orchestras will be the perfect choice for you to learn.
4. Clarinet Books (Start From $15 – $30/book)
With an instrument like clarinet, there is a unique edge that you can get and that is cultural heritage. So, back in the days when technology wasn't as developed as it is today, these instruments were taught through the texts. You can still find several books out there that are the perfect thing that one can need to learn the clarinet and play it in the right manner.
These books have all the right guidance and insight including sheet music, illustrations, and instructions to help you pursue your journey and learn all the right skills that you are going to need to ace the Clarinet.
Now, these books are not in abundance and if you find a soft copy on the internet, that can be totally free. However, some authentic books can range between $15-$30 and it will be a worthy investment for any musician.
The Bottom Line
These are some of the very best methods that one can use to learn all they need to know about the clarinet. Each individual is different with different learning styles and needs and you cannot simply categorize the budget or costs that they might need. However, this is the most accurate idea one can get on the costs that are associated with learning the clarinet.