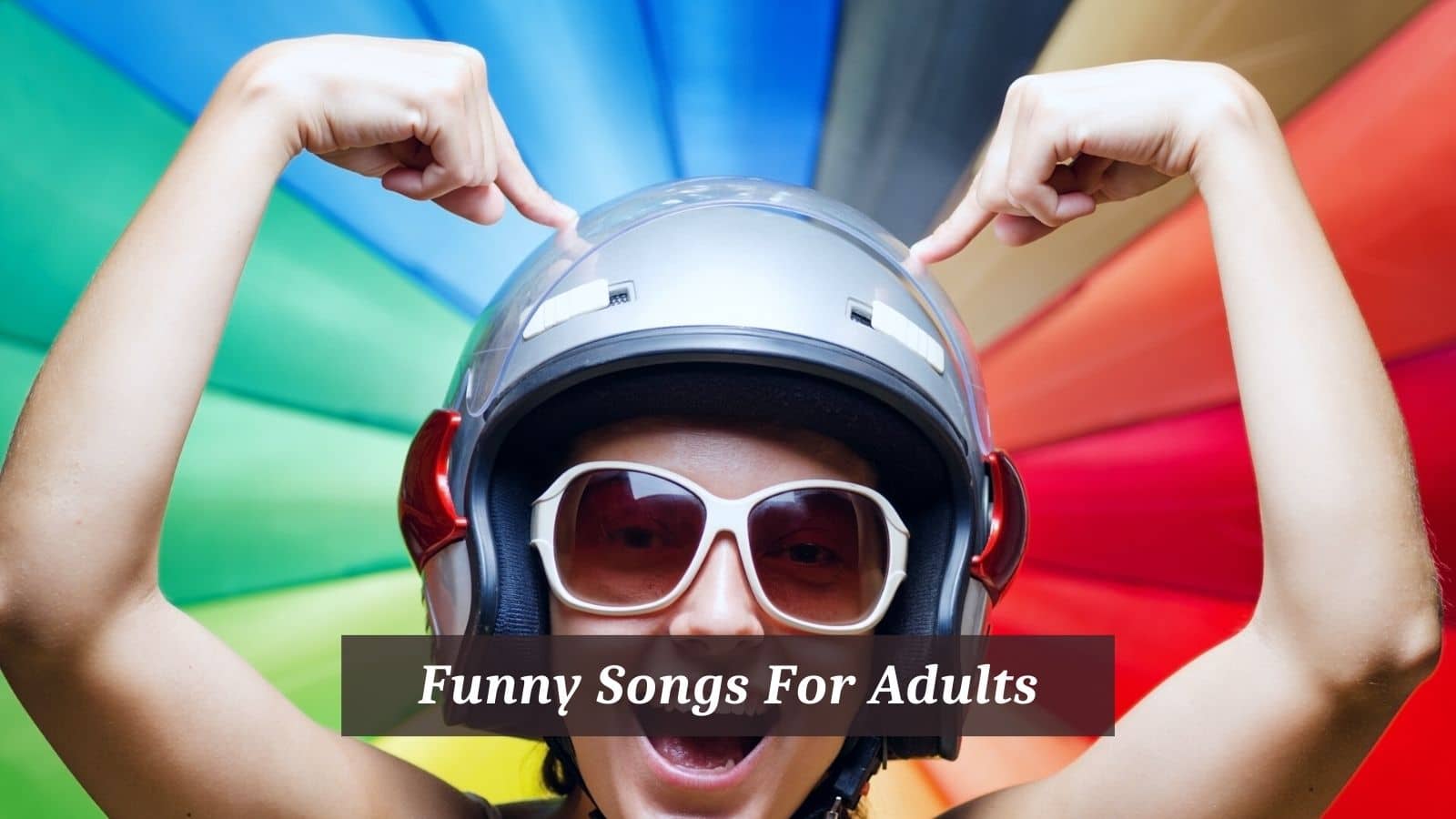 Spanning every generation and genre of music, funny songs for adults fall into two categories; being either absurd parodies or explicit, X-rated anthems.
Our playlist collects some stand-out songs from both sides of the concept, from satirical rap tracks to country songs about being probed by a rodent.
Funny Songs For Adults
1. Big Shaq – Mans Not Hot
Big Shaq's (Michael Dapaah) 2018 viral hit, Mans Not Hot, takes a comical stab at the heart of UK grime culture and roadman fashion, mocking the mindset of those wearing layers of hoodies and all-black puffer jackets all year round;
"I tell her man's not hot, the girl told me, 'Take off your jacket,' I said, 'Babes, man's not hot.'"
This track went viral for its legendary, nonsensical chorus, "The ting goes skrrahh, pap, pap, ka-ka-ka," but as a professional comedian and actor playing the character of a hood-rat rap artist, Dapaah's humour is slick from start to finish, placing grime stereotypes seamlessly against innocent British humour;
"Man can never be hot (never hot), perspiration ting (spray dat), Lynx Effect (come on), you didn't hear me, did you? (nah), use roll-on (use that), or spray, but either way, A-B-C-D (alphabet ting)."
2. Tenacious D – Tribute
Tenacious D's debut rock single, Tribute, parodies the plush and fantastical styles of lyrical storytelling that distinguished classic rock bands such as Led Zeppelin, Rush and Iron Maiden, carving trademark elements from the old-school genre and amplifying them within Tenacious D's inherently absurd context.
Padded with glam-rock falsettos and a myriad of transfixing riffs, Tribute's lyrics depict two men faced with a speed-demon guitarist, with no choice but to win a music battle against the Devil or be stripped of their human souls.
3. Big Earl – Critter Up My Sh*tter
Big Earl's obscure country comedy track, Critter Up My Sh*tter, tells a bizarre story of a man's survival whilst homing a rodent in his innards, the track's innately uplifting atmosphere emphasised by the audience's reckless hooting and contagious enthusiasm for a song so foul-tasting;
"He's a furry little rascal with a cold little nose, there's a critter up my sh*tter and the fella won't let go."
4. Blink 182 – What's My Age Again
Blink 182's pop punk hit, What's My Age Again, contrasts its optimistic soundscape with illustrations of utter failure in both romance and daily life.
Putting the nude music video aside, Blink 182's humour is spurred by carrying a bold and hopeless teenage perspective into your early twenties;
"That's about the time that bitch hung up on me, nobody likes you when you're 23 and are still more amused by prank phone calls, what the hell is call ID? My friends say I should act my age, what's my age again?"
5. MurderdollsS – I Love To Say F***
Murderdolls' horror-punk anthem, I Love To Say F***, is a profanity-clad song with a hellraising attitude, centred around overall disgust at society.
This track epitomises rebellious teen energy felt evermore as adulthood progresses, embodying the outlandish release every complying citizen craves;
"I love to say f*** when I'm driving in my car, f*** when I'm walking in the f****** park, f*** you if you don't like what I say, I love to say f*** every f****** day."
6. Benny Hill – Ernie (The Fastest Milkman In The West)
Benny Hills 1971 UK Christmas #1, Ernie, is a classic comedy track set around a love triangle between a milkman, a baker and a widow.
Without a true chorus to anchor it down, this track fleshes out its tangled story using folk-style lyrical techniques, every verse blanketed with innuendo and narrated with an exaggerated West Country accent;
"When she saw the size of his hot meat pies, it very near turned her head, she nearly swooned at his macaroon and he said, 'Now if you treat me right, you'll have hot rolls every morning and crumpets every night.'
7. Wheeler Walker – Sit On My Face
Wheeler Walker's amberous country hit, Sit On My Face, contrasts its warm, laid-back atmosphere with cheap and nasty romanticism, crafting his forthright narrative with outlandish, unrestrained humour.
Backlit by the theme of being so desperate you'd pick up any bar-crawler left lingering after closing time, Sit On My Face captures an iconic sense of drunken mayhem, intensifying its comedy with overtly realistic scenery;
"We can order pizza while you finger yourself, it don't bother me none that you smell like piss, I'm gonna lay my head back and give your twat a kiss."
8. Universe – Cocaine
Universe's 1971 release, Cocaine, backdrops its strange, psychedelic tale of drug addiction with a mystically acoustic, blues-inspired soundscape, the discreetly ludicrous song metaphorising the hazy free-spirited lifestyles spurred during the /free love era/.
Alongside its outrageous lyrical concepts and intoxication-enthused chorus, an array of odd prog-rock elements emerge within the tracks harmony as the track progresses, the disorienting organ momentarily riffing off Beethoven's Für Elise before cycling back to their Dr. Seuss-style lyrics;
"Tell you a story about cocaine Lil, she got a house on a cocaine hill, cocaine dog and a cocaine cat, even got herself a cocaine rat, and it's all going down in my brain."
9. Balls In Yo Jaws – Louis Armstrong Parody
A meme yet to see the true light of day, Balls In Yo Jaws is an incredible snippet song parodying Louis Armstrong's legendary hit, What A Wonderful World.
We wouldn't dare spoil the true hidden joke of this song for you; simply go ahead and enjoy the most contagiously funny, X-rated track you'll hear today.
10. Cream – Mother's Lament
Appearing on Cream's 1967 album Disraeli Gears, hosting the band's unequivocally biggest hit, Sunshine Of Your Love, this obscure album track gives an interlude-style contrast to Cream's signature style of vintage prog rock, composed as a Cockney sing-along song complete with a broken pub piano and untamed local accents.
This pub piece is fashioned around a wild, domestic story of a mother bathing her newborn in the sink, before he's flushed down the drain in a moment of distraction;
"Oh, your baby has gone down the plug 'ole, your baby has gone down the plug, the poor little thing was so skinny and thin, he should 'ave been washed in a jug."