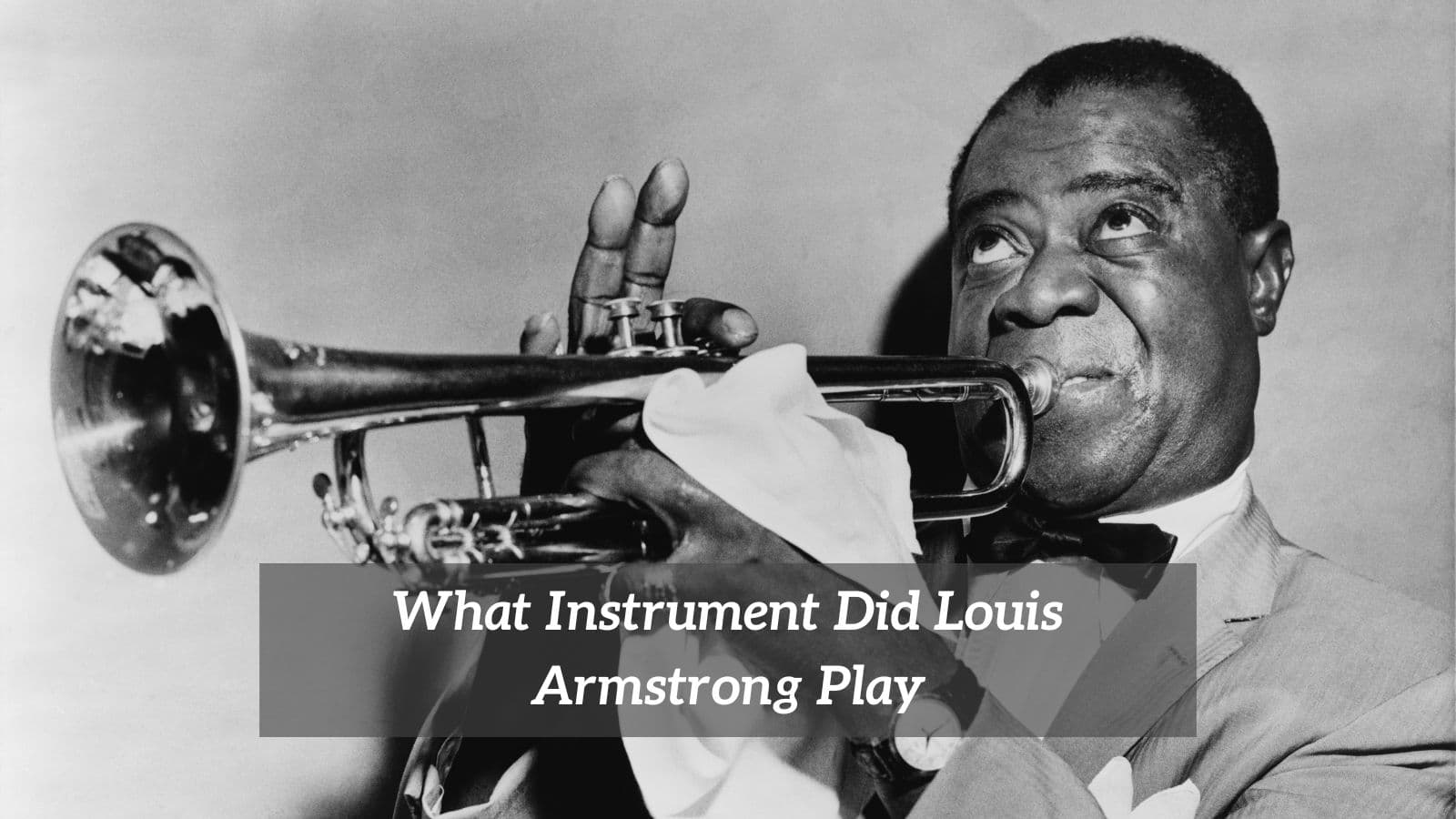 Louis Armstrong (1901–1971) was an American trumpeter and vocalist with a career that spanned five decades and different eras of jazz. He also played the cornet.
He was also known by nicknames such as Satchmo, Satch, and Pops—the latter used especially by musicians. He was born and raised in New Orleans, Louisiana, by his grandmother until he was about five years old before he was sent to live with his mother.
In 1913 he was sent to the Colored Waifs Home as a juvenile delinquent, and this is where his musical career started to develop and blossom into a lifelong passion. So, you might be wondering, what instrument did Louis Armstrong play?
He started his musical career as a singer with other boys in New Orleans to earn money. He ran into trouble with the law and was sent to a reforming school for youth delinquents.
This was a mixed blessing—he learned about music and to play the cornet. Around 1926 he switched to trumpet and was also a singer. Still, the trumpet always took center stage in his musical career.
What Instruments did Louis Armstrong play?
Today, we mostly associate Louis Armstrong with the trumpet and sing songs such as What a Wonderful World and Hello Dolly (which feature him as both a vocal and trumpet soloist in the video).
But Louis started his musical career as a cornet player. We'll look at the cornet phase before moving on to his trumpet playing and singing.
If you are interested in learning more about Louis Armstrong's career and taking a deep dive into his career and style in context, take a look here.
The Cornet Years
Louis Armstrong uniquely started his musical career—he was sent to the Colored Waifs Home in 1913 as a juvenile delinquent—a very strict environment like a military camp. He learned to play the cornet in the home's band, and music quickly became his lifelong passion.
Before the home, he had already sung in a barbershop quartet, but six months after he arrived at the home, he was invited to join the brass band.
He started on the tambourine, moved on to the bass drum, graduated to alto horn, then on to the bugle, and finally the cornet.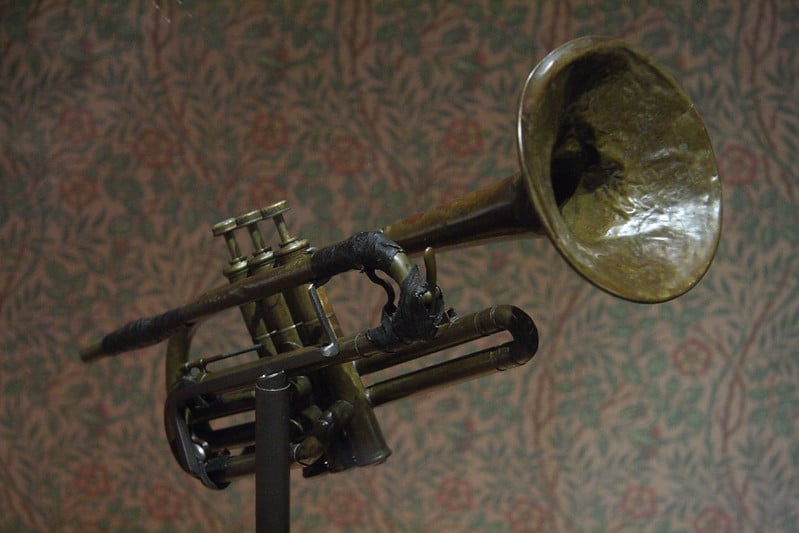 He left the home in 1915 without an instrument of his own, but with basic musical knowledge and technique that would serve him well during his career.
He became skillful enough to replace King Oliver (1885–1938) in the Kid Ory band around 1918. In the early 1920s, he played in Mississippi riverboat dance bands.
In 1922 King Oliver requested Louis to join Oliver's Creole Jazz Band in Chicago to play the second cornet.
Louis Armstrong, the Trumpet Player
The big switch to trumpet came between 1924 and 1926—Louis' instrument of choice for the remainder of his life. When Louis received an invitation to play with the Fletcher Henderson Orchestra, he seized the opportunity.
He switched to trumpet to blend in with the other musicians in his section. He was, however, slightly dissatisfied with the controlled playing and lack of opportunities for improvisation and, at the behest of his second wife, Lil Hardin Armstrong, left the band.
Louis also started playing classical music in churches in 1924, which helped him develop his technique. He started recording under his name in 1925 after returning to Chicago.
Due to his vigorous playing and extensive touring schedule, Louis, unfortunately, developed "Satchmo's Syndrome" around 1935. To produce music and high notes, trumpeters must exert strength and vibrations with their lips.
Satchmo's Syndrome is when the orbicularis oris muscle ruptures and lengthens, and trumpeters cannot produce high notes anymore. It can be successfully treated with surgery.
Louis Armstrong as Vocalist
Louis Armstrong grew up poor, and his earliest musical experiences were forming vocal quartets and singing on the streets for money. There are diverging opinions about his singing—some criticized his voice quality while others adored it.
His contribution as a singer is that he is arguably one of the first jazz singers to record scat singing (using nonsensical words and syllables to fill in for the lyrics). Louis Armstrong did not invent scat singing, as many believe.
Still, he was one of the first artists to record and popularize it. Gene Greene, a popular vaudeville and ragtime singer, already used scat singing as far back as 1917 in this recording. While recording Heebie Jeebies in 1926, Louis dropped his sheet music.
Instead of stopping the expensive wax recording and re-recording the performance, he improvised the second chorus with scat singing cementing it into his vocal style for years to come.
Louis Armstrong's Legacy
His first recorded composition, Cornet Chop Suey, with his band, the Hot Five, was in 1925. This first recording led to West End Blues featuring him on the cornet.
West End Blues showcased one of his most innovative cadenzas—one of jazz's most copied jazz solos. He was also one of the first singers to popularize scat singing in jazz, influencing many generations.
Louis helped to transform jazz into an improvising soloist's art—his bravura choruses, young Armstrong transforms jazz into an improvised soloist's craft.
Louis Armstrong's daring cadenzas, arresting stop-time and double-time breaks, remarkable melodic creativity, and new, smoother sense of time helped to catapult jazz into the contemporary era.
He was also a gifted composer, and some of his songs became jazz standards.
Conclusion
Louis Armstrong started his career as a young boy singing in the streets to earn an income; he fell on the wayside of the law, which was a mixed blessing—it introduced him to the world of music.
He played the cornet for about 13 years before progressing to the trumpet, which became his main love and interest for the rest of his life, along with singing.
Despite the judgments of critics and fellow artists, Armstrong's pop successes were a key part of his career, and he achieved considerable success with them.