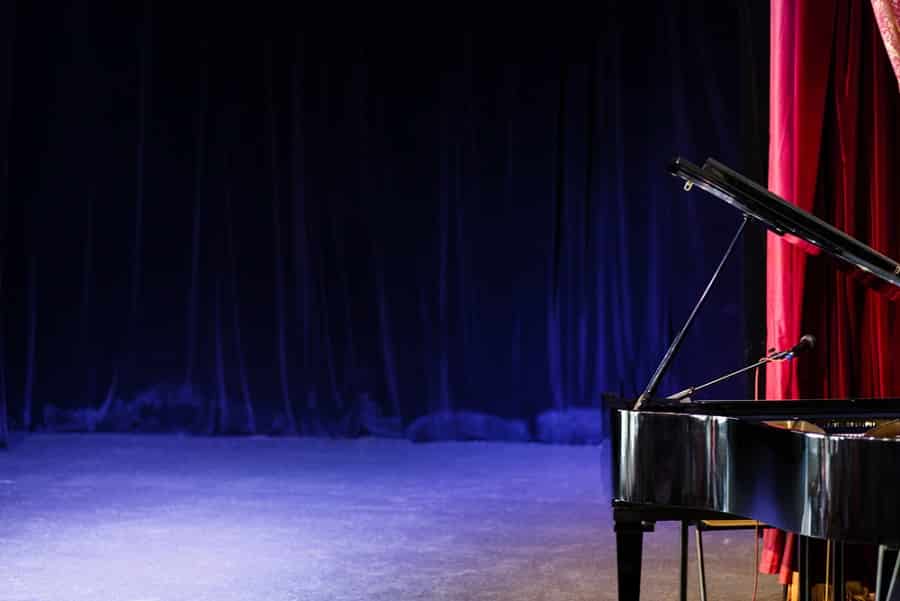 It takes more than one talent to be funny at the piano. The music itself can be funny, of course, or the person playing the piano can be funny. But it's best if it's a combination of both.
Over the years of comedy piano players appearing on film, a few stand out as incredibly talented and well-rehearsed, making them not only outstanding pianists but unusually funny comedians as well. Here are 9 of the very best in the world.
Comedians and the Piano
1. Victor Borge
The most outstanding comedian/pianist, and possibly the most famous of all time is Victor Borge. Victor was born in Denmark to a mother who was a fine pianist and a father who played the violin in the local symphony orchestra. Victor gave his first piano concert at the age of 8 and secured a scholarship at the Royal Danish Academy of Music.
He moved to the USA in 1940 without speaking a word of English and ended up performing on Broadway.
His comic side developed alongside his pianistic skills and he developed many clever routines where he would start to play a serious piece of classical music and morph it into a pop tune. He would sometimes play a piece of music "backwards", pause, turn his sheet music up the right way and then play it properly.
He had a very strong rapport with his audience, sometimes talking to them directly.  Here is a video of him trying to train up a stage worker to turn the pages for him.  The "actor" turning the pages happens to be his son in real life:
2. Dudley Moore
Dudley Moore was a very famous and much loved British comedian/actor (star of the films "10" and "Arthur" among many others), who also happened to be a very skilled pianist, particularly in the jazz world.
Born in London to a mother who worked as a secretary and a father who was a railway electrician, Moore played in many musical groups before eventually forming his own jazz group, "The Dudley Moore Trio".
He moved to Hollywood in the 70's to further his acting career, but his musical life never seemed to take much of a back seat. He wrote quite a few film scores but sadly never got much recognition for his music.
Although his sense of fun and humor was paramount throughout his life, Moore often struggled with difficulties and sadness. He died at the age of 66 from slow degeneration of a Parkinson's type of disease.
Here is Dudley Moore working with his long-time comedy partner, Peter Cook, getting into trouble for playing too fast.
3. Chico Marx
Chico Marx is most famous for being part of "The Marx Brothers" with comedy films considered American gems, such as "Animal Crackers" and "Go West". He started playing the piano at a very young age, with a piano teacher who only knew how to play with the right hand. Chico inevitably copied his teacher and faked playing with his left hand until he found a better teacher who taught him how to play with two hands properly!
Being funny came so naturally to Marx that it organically spilled into his piano playing.  Here he is playing the piano in his own style, and with an apple:
4. Rowan Atkinson
Rowan Atkinson of Mr. Bean, Johnny English, and Black Adder fame, started his comedy career in his days at Oxford University Dramatic Academy. Rather randomly, Atkinson holds a degree in Electrical Engineering as well as a UK Lorry Driving License.
His list of film credits is very impressive and he was awarded a CBE in 2013.
Although Atkinson isn't a pianist, as such, he nevertheless has made several comedy sketches using an invisible piano and an invisible drum kit. Here he is as "The Piano Player" miming playing Beethoven's "Pathetique" Sonata.
5. Bill Bailey
Bill Bailey is a popular British comedian who uses an electric piano on stage. He performs stand-up comedy very well and part of his act includes music. He takes well-known tunes and arranges them in very creative, and usually very comical ways. Here is a taste of Bill Bailey:
6. "Ass-Dur" Comedy Team
The award-winning comedy team of Benedikt and Dominik, known as "Ass-Dur" is young, fresh and funny. Their music ranges from classical to jazz and they play the piano in many different positions.  One of their best performances is when both of them change their clothes without interrupting their piano performance:
https://www.youtube.com/watch?v=W5jiekqGANA&t=167s
7. Chonda Pierce
American comedian and pianist, Chonda Pierce was born in Kentucky and moved to Nashville, Tennessee. Her upbringing was very strictly Christian and this became the backbone of her humor. Like too many comedians, Chonda has had more than her fair share of difficulties in life, but you wouldn't know it from her sense of humor. She has created several documentaries, written books and hosted TV shows.  Here she is at the piano:
https://www.youtube.com/watch?v=wjcfdnqSvT0&t=403s
8. Igudesman and Joo
Aleksey Igudesman and Hyung-ki Joo have a very unique comedy music show.  They tour the world playing with many famous musicians and have worked with well-known actors on stage to raise money for charity.
In the following video, they have an extremely unusual way of playing Rachmaninoff on the piano.  It's funny, but also amazing to watch the almost acrobatic skill they have in this performance. The pianist hurls each piece of wood into the air behind him and his partner catches every one of them. It's hard to imagine how much practice this must have taken.
9. Nicole Pesce
Nicole Pesce is an American pianist who lives in Phoenix, Arizona, and incorporates humor into her performances.  A child prodigy, she began playing the piano at the age of 7 and by the time she turned 10, she had learned and memorized 500 songs.
Here she is playing Happy Birthday very cleverly in the style of different several different composers: