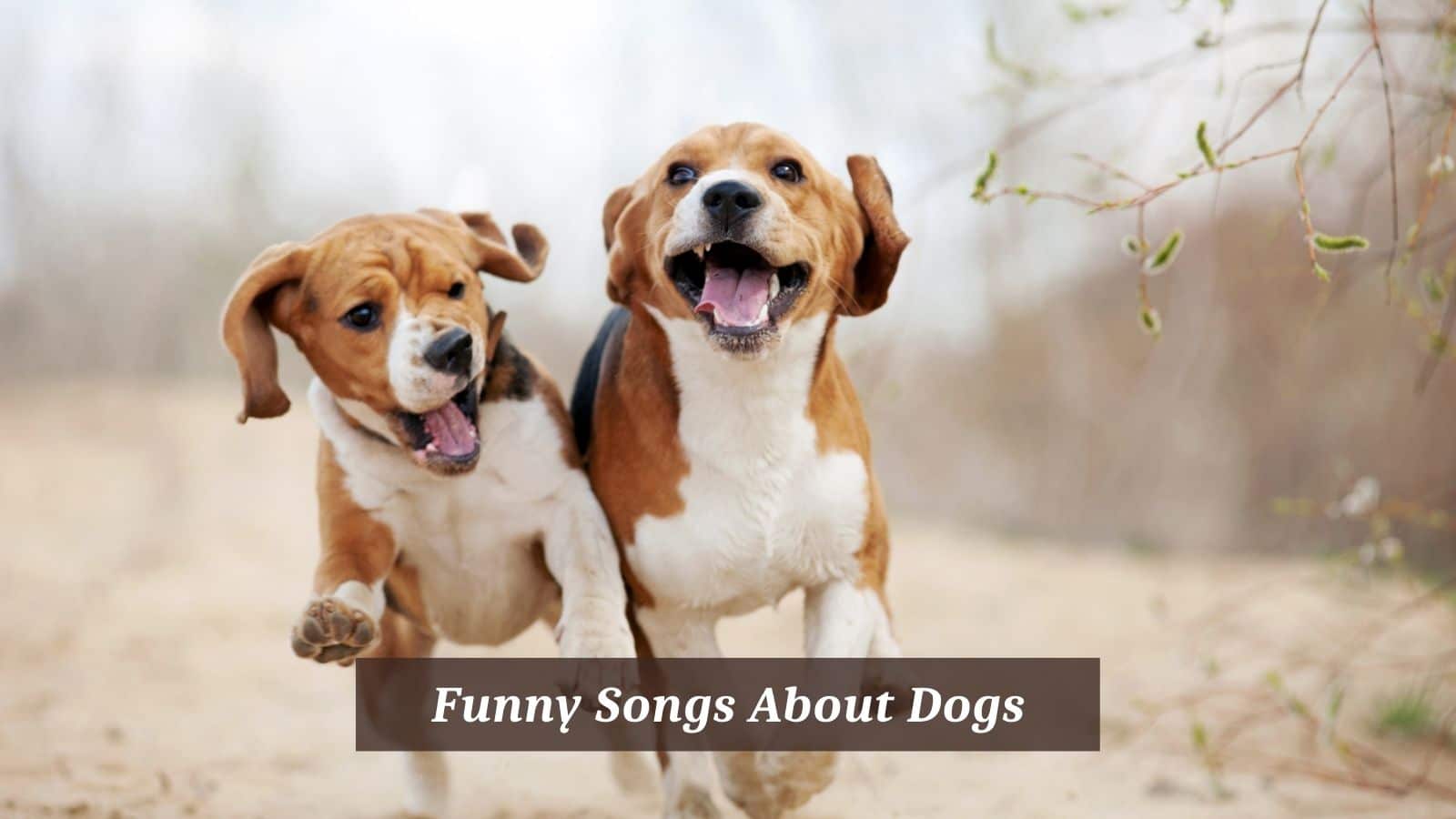 Music about dogs is bound to be hilarious, capturing the untameable personalities of household pets and the erratic, cuddly and eccentric sense of happiness they possess.
Our playlist collects some stand-out funny dog songs, from tracks about dogs who crave cheese as much as attention, to absurd memes fashioning woofs into autotuned pop anthems.
Funny Songs About Dogs
1. Tim Hawkins – The Dogs On Fire
Tim Hawkins' country parody, The Dogs On Fire, hosts a similar ambience to the Johnny Cash classic, Ring Of Fire, uprooting and replacing its original lyrical themes with a macabre story of arson.
Humorously narrating his track to a young child whose dog has just gone up in flames, this track looks on the bright side of disaster whilst crafting an anthem for dads who don't particularly like their family pets;
"You know that I always thought he was a good little fellow, yow run to the store, get a bag of marshmallows … That dog cost me about 100 dollars, now all that's left is a 10 cent collar, oh no, I'm starting to perspire, oh, the dog's on fire."
2. Leslie Mosier – Song For My Dog
Leslie Mosier's indie pop piece, Song For My Dog, revolves around a nostalgic and minimalist acoustic soundscape summoning the ambience of peace, love and light innate to recognising your dog as your best friend.
Composing her sweet and hilarious lyrics as if to a boyfriend, Mosier's track is devoted to appreciating the joys of canine companionship whilst pondering the impact their communication divide has upon their bond;
"You wake up happy every morning and take away my blues, we could spend the day in bed or explore the seven seas, I don't care what we do, darling as long as you're with me … I wish that we could have a conversation time to time, it'd be so nice to hear your voice and see what's on your mind."
3. David Mumford – The Dog Song
David Mumford's 2017 release, The Dog Song, is crafted with a fine blend of melancholy and humour contrasting a dog's intrinsic happiness by exaggerating the depression of its every day life, subservient and without aspiration;
"I could be a pedigree, winning awards and applause and tasty treats, but I cannot get there on my own, the bright lights – they're not for me, it's just a dream, canine impossibility, so give me a bone and I'll love you."
Mumford's song is enchanting, its subtle, dark hilarity failing to diminish the pure, 60s ambience evoked through its woodsy acoustics, whilst artfully ornamented with melodic howling, compared to the more common and chaotic choice of sampling woofing and barking.
4. George Clinton – Atomic Dog
George Clinton's Atomic Dog resounds like a Frank Zappa-style fever dream, blending abstract and artfully ridiculous progressive elements within an evolving hip-hop / funk jam.
This untamed piece hosts a myriad of genre inspirations, movements and sonic oddities which prove impossible to tie down into place, mirroring the erratic nature of canine happiness with an instantly uplifting attitude.
Released on his 1982 album, Computer Games, Clinton's track stands out for its array of retro technological samples and synth effects, embodying the quirky, nostalgic ambience of old-school Nintendo soundtracks.
5. Pyschostick – Dogs Likes Socks
Pyschostick's death metal parody, Dogs Likes Socks, lends its brutal harmonic power to a dog's impassioned love for destruction whilst hilariously contrasting their theme with innocent canine cuteness presented through Dr Seuss-inspired lyrics;
"We are dogs and we like socks, we like socks, we are dogs, dogs dogs dogs, socks socks socks, dogs socks dogs, socks dogs socks."
6. Blake Shelton – I'll Name The Dogs
Blake Shelton's 2017 country single, I'll Name The Dogs, is a sweet and sentimental track woven with a range of heart-warming comedic elements.
This track is about finding positive equilibrium with your partner as you move in, get married and find yourself splitting household responsibilities, Shelton's narrator cutely and comically giving his wife reign over the real matters, implying that he trusts and loves her more than himself;
"You can park your car in the driveway, I'll park my truck in the grass… You name the babies and I'll name the dogs."
7. Saturday Night Live – I Love My Dog
James McAvoy, Kenan Thompson and Pete Davidson's collab on Saturday Night Live, entitled, I Love My Dog, is an outlandish re-interpretation of rap music, anchored in the wordplay between female and canine bitches.
This track's humour comes from its initially misleading lyrics, fusing a relationship with dog-style domination before revealing a more understandable context;
"I love her, I don't even got to fake it, and when she's at home she loves being naked, she's my best friend, she shows love and respect, that's why she walk around with my name on her neck, I love my bitch, my bitch is my dog."
8. Puppy Songs – The Cheese Tax
This viral track uses its eccentrically ominous, musical-inspired soundscape to illustrate the subtle fear of your dogs begging for cheese as soon as they hear the fridge door open; "You gotta pay the cheese tax every time you're cooking, when the cheese comes out, this puppy comes looking."
The Cheese Tax is a hysterical track for any home-cooker who's accidentally passed down their insatiable taste for cheese to their dog, clad with quirky voice acting and barking samples.
9. Baha Men – Who Let The Dogs Out
Undoubtedly the most famous funny dog song on our list, Baha Men's hit, Who Let The Dogs Out, isn't only iconic for its absurd chorus concept, but for its addictive reggae verses bearing little resemblance to the rest of the song.
This track is incessantly goofy and unrestrained in its hysterically childish and nonsensical sense of humour, creating a dog song which easily transcends the passing phases of comedy.
10. PupNCat – Ghostbusters
This 2020 YouTube meme song by PupNCat reinterprets the original Ghostbusters theme into a cat and dog anthem. Replacing every lyric with autotuned meows and barks, this track is absurdly captivating, crafted around the truly nonsensical sense of humour inherent to the internet.