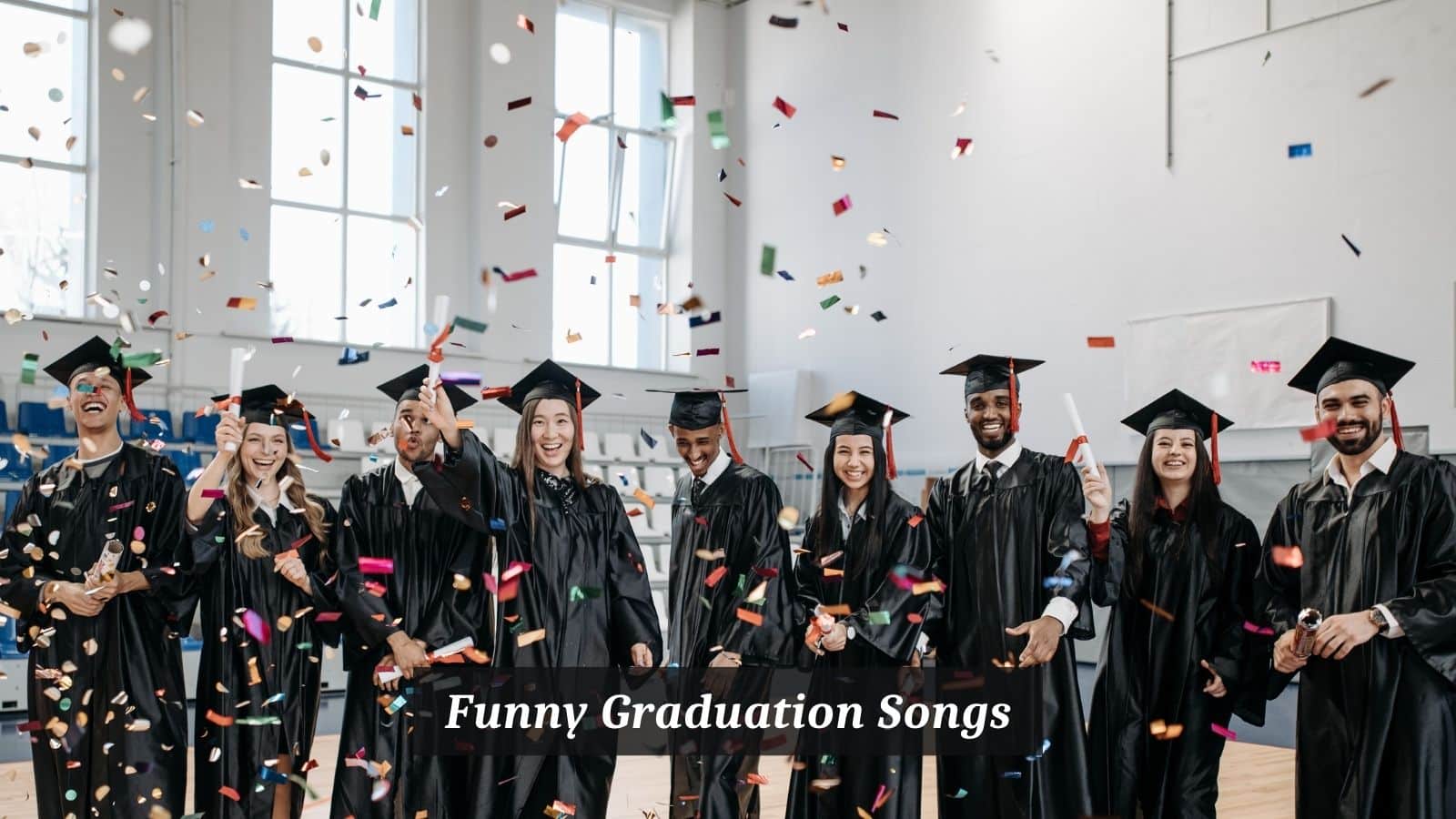 Playing a cheesy, sentimental track at a graduation party always runs the risk of diminishing the celebratory mood with inescapable emotion.
We've collected some upbeat and hilarious songs about graduation to uplift your celebration with contemporary style, from songs about finally saying goodbye to people you can't stand to be around, to songs which find the humour in adult responsibility.
Funny Graduation Songs
1. Fyutch ft. Saul Paul – Graduation Bop
Fyutch and Saul Paul's 2021 collab, Graduation Bop, hosts a captivatingly bright ambience, naturally uplifting any graduation day playlist or party.
With an energising array of warm-toned and contemporary trap/hip-hop influences, both artists bring striking levels of optimism and creativity to their verses surrounding the celebration of long-awaited achievement;
"Earned it, I did it, shining, winning, my family they with me, my Granny just kissed me, 'cause I just made history, you get it you feel me."
Its clean rap lyrics conjuring an innately feel-good attitude, Graduation Bop is an anthem for high school, college and elementary school graduations alike.
2. College Humour – Honest Graduation Song
College Humour's 2009 track, Honest Graduation Song, tells an evolving lyrical story of two best friends after graduation, its comedy centred in the bleak reality of adult life and unsynchronised personal growth between two old BFFs, slowly severing their bond with distance;
"We're BFFs, we won't break that bond, even if to your IMs I don't respond … College gave me a different outlook, we'll always be friends on Facebook … Dude I moved on, please don't get pissed, I've got new friends and you're not missed."
Embedding various cruel realities such as creating inside jokes with someone else and replacing old memories with new experiences, Honest Graduation Song carries its pessimistic and relatable humour from start to finish, even tangled within its final scene of reunion;
"Dude I'm sorry I was distant, but I never meant to dismiss our great friendship, hard as it's been, we can still be friends on LinkedIn."
3. Kanye West – Graduation Day
Kanye West's 2004 release, entitled Graduation Day, crams a breathtaking range of artistry and humour within its mere 1 minute, 21 second runtime.
Overlaying maniacally rapid and characterful spoken word upon a sentimental rendition of the US national anthem, Kanye flushes his strange intro perfectly into a hip-hop track clad with soulful, bluesy string sections and his trademark production choice of over-the-top autotune; #
"I'm no longer confused, but don't tell anybody, I'm about to break the rules, but don't tell anybody."
4. Benny Blanco ft. Juice WRLD – Graduation
Benny Blanco & Juice WRLD's 2019 pop collab, Graduation, contrasts its heartfelt and sentimental chorus with verses depicting the explicit truth of high-school resentment.
Initially misleading the listener into assuming their track is a sweet, meaningful song of departure, Blanco & Juice WRLD cleanly cut their emotional atmosphere to pieces with the hilarity of dire circumstances;
"Man, f*** prom, f*** the teacher that was always talking on the intercom, and f*** the student that we thought was always gon' bring in a bomb, and all of the girls wild, them bitches was too foul, they all on my dick now."
Finding humour in reminiscence upon things which were far from funny when they happened, Graduation truly embodies its overarching sentiment of growing up, looking back one final time before stepping into the future.
5. Rhett & Link – The Graduation Song
Rhett & Link's pop collab, The Graduation Song, takes a classic-comedy approach to its lyrical hilarity, composed around the prospects of growing older and losing all childish sense of comfort.
Rhett & Link evoke a relatable array of elementary school memories and iconic high school moments before devoting their track's remainder to the comical horrors of college life and early-adulthood;
"You're gonna eat a lot of Hot Pockets, and you're thinking that sounds great, well, get back to us in 6 months when you've had 378."
This track light-heartedly highlights the mild trauma of growing up and losing all of sense of security whilst finding yourself along the way, making a song for any late-teen needing a reality check;
"As soon as you move out, you know what your parents are gonna do? They're gonna turn your bedroom into an exercise room that they never use … Now you're on your own, don't screw this up… Good luck, you're gonna need it."
6. Aiko Akiko Morita – Follow The Stars
Aiko Akiko Morita's overwhelmingly sentimental graduation song, Follow The Stars, is an inadvertently comedic track for its shameless sense of corniness.
Based in a sappy, gospel-style piano riff, this track has become a classic choice for graduation playlists for its overtly heartfelt sentiments, but evokes an embarrassingly dated and childlike ambience more likely to be appreciated by elementary students than late teens.
This is a hysterical track to play for anyone seeking a passionate, graduation-themed power ballad which brings their friends together in tears and laughter; "Let's move, let's fly, let's follow the stars, it's time to make a change and reach the skies above."
7. Dustin – Graduation Rap 2007
This video puts an authentic twist on our list, capturing what is claimed to be the 'best graduation rap speech ever.'
Graduating student, Dustin transforms the usual monotony of high school graduation speeches, performing a self-composed rap to a lifted hip-hop backing track with a smooth, heart-warming sense of confidence and cool.
Catching the audience off guard with his fresh reinterpretation of speeches and spoken-word performances, Dustin's sentimental lyrics interweave reflection upon the ups and downs of your shared school experience with powerful motivation towards personal growth, aspiration and achievement;
"Senior year was a blast it went by so fast and before we knew it senior year was in the past … You're the author of your life, you compose your own book, the rest is still unwritten, you decide how it will look … When you leave these doors your new life will have begun, you decide what to do, will you walk…or will you run?"