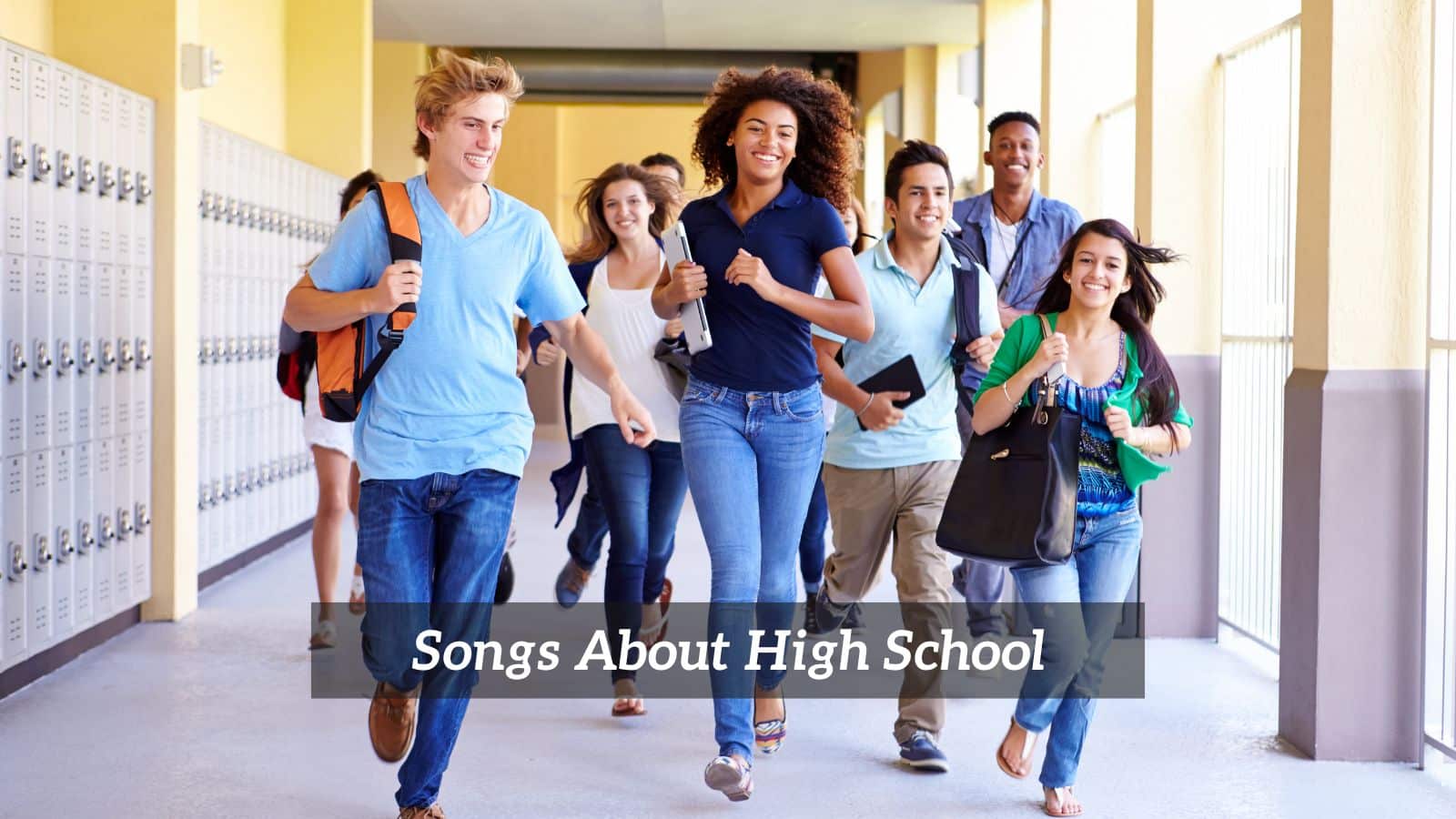 The painful hours of high school are what help us form the first true evolution of ourselves as unique, free-thinking individuals; creating drama, aesthetics and attitudes out of sheer retaliation for lethal classroom monotony.
Our list of songs about high school covers it all, whether you're a disillusioned teen or an adult seeking that pure rebellious spirit conjured through aversion to authority.
Songs About High School
1. Bowling For Soup – High School Never Ends
You might think leaving high school means leaving the immature, materialistic clique culture behind you, but Bowling For Soup's 2006 bright pop-punk hit, High School Never Ends, boldly show how the adult world is just as hypnotised by idiocy and popularity as high school kids are;
"The whole damned world is just as obsessed with who's the best dressed and who's having sex, who's got the money, who gets the honeys, who's kinda cute and who's just a mess.. Nothing changes but the faces, the names and the trends."
The band's outcast perspective allows them to draw cutting comparisons between A-list celebrities and the stereotypes ingrained into high school culture, whilst igniting their track with the youthful essence of rock;
"Reese Witherspoon, she's the prom queen, Bill Gates, captain of the chess team, Jack Black, the clown, Brad Pitt, the quarterback; seen it all before, I want my money back!"
2. Melanie Martinez – High School Sweethearts
With school bells accenting its beat, Melanie Martinez adopts the attitude of a high school girlfriend; her lyrics innocent yet fiery as she lays out the rules her boyfriends should follow, laced the catty attitude of a prom queen;
"If you can't handle a heart like mine, don't waste your time with me." Martinez uses her vocals like a Disney actress, mimicking the perceived sweet innocence of a pretty school girl, contrasted with the irritating, know-it-all dominance of her lyrics.
Whatever your age, High School Sweethearts echoes a feisty message sparking you to settle for nothing less than what you deserve.
3. Nicki Minaj & Lil Wayne – High School
Nicki Minaj and Lil Wayne use their chorus line, "this ain't high school" as a metaphor for adult romance.
They split their verses between the male and female perspective;
Nicki's character mingling with a rich man and flying off to Belgium, "He like it when I get drunk, but I like it when he be sober, that's top of the toppa, I never f*** with beginners," with Wayne describing the seductress as a sleaze whilst falling for Nicki's character;
"Excuse my French, but I'm a long kisser, and then she try to tell me I'm the only one that's hittin'." High School is a steamy song using the concept to ignite the desire of fully-fledged passion compared to delicate teen love.
4. Sam Cooke – What A Wonderful World
Sam Cooke's 1960 hit What A Wonderful World classically captures the mind of a teenage romantic, failing in school whilst falling hopelessly in love.
Cooke's timeless, mellow lyrics list every subject he substitutes for daydreaming about his crush;
"Don't know much about history, don't know much about biology, don't know much about a science book, don't know much about the French I took, but I do know that I love you, and I know that if you love me too, what a wonderful world this would be."
Cooke weaves a clever high school reference into his bridge, giving another layer of depth to his old-school romantic metaphor; "I don't claim to be an 'A' student, but I'm trying to be, for maybe by being an 'A' student, baby, I can win your love for me."
5. Afroman – Because I Got High
Afroman's stoner anthem, Because I Got High, dedicates a verse to all the kids out there wasting away their high school days.
It's one thing to be a productive stoner, but Afroman's hit gives a darkly catchy twist upon the moment the haze gets too heavy to function through; written with an iconic, whacked-out sense of carefree teenage humour;
"I was gonna go to class, before I got high, I coulda cheated and I coulda passed, but I got high, I'm taking it next semester and I know why, 'cause I got high, because I got high, because I got high."
6. SKYND FT. Bill $aber – Columbine
This searing track is a cut-throat sonic representation of American school shootings. Skynd & $aber set their rap track to a horror-inspired beat, crackling with gunshots and an enclosing sense of absolute dread.
Its mechanical soundscape swells with a panoramic sense of fear, as its lyrics sound with maniacal, murderous humour and erraticism of a high school student wreaking havoc upon their own school.
This piece is inspired by the Columbine massacre of 1999; an event so shocking and world-shaking that it has despicably ended up influencing nearly every US school shooting since.
Columbine's video gives a gripping insight into the start of any normal school day which is soon ruptured by unimaginable, ruthless violence, whilst containing a number of Columbine Easter eggs within both song and video, like the lyric, "Have fun;" a line stolen from an infamous diary entry of one of the Columbine shooters.
7. Ramones – Rock N' Roll High School
The Ramone's blend their game-changing style of punk rock with classic rock n' roll in their 1979 single, Rock N' Roll High School.
Their upbeat track is driven by its reckless teen energy, carelessness about any topic other than wild girls and rock. =
This is a song for any rebel running the school and making the halls their own, "Well I don't care about history (rock, rock, rock n' roll high school), 'cause that's not where I wanna be, I just wanna have some kicks, I just wanna get some chicks."
Rock N' Roll High School shamelessly gives the middle finger to authority, rallying every teen who hates wasting their hours in school learning nonsense; "I hate the teachers and the principle, don't wanna be taught to be no fool."
8. Benny Blanco ft. Juice Wrld – Graduation
Graduation carries the initial illusion of being the cheesy, heartwarming graduation song you'd expect, opening on a cute sentiment of keeping high school memories and friendships alive through the long-winding future; "As we go on, we remember all the good times spent together."
Benny Blanco & Juice World soon unravel their nostalgia into true teenage rebellion, finally spilling the truth on how they really feel about their classmates before speeding off into the bright horizon, leaving the fake smiles and resenting relationships in the dust;
"First off, tell the girl in my math class: I'm rich, and you broke, bitch, I had the last laugh … Lowkey miss the days walkin' 'round in my school halls, but now I got a bigger job, the world screamin' my songs."