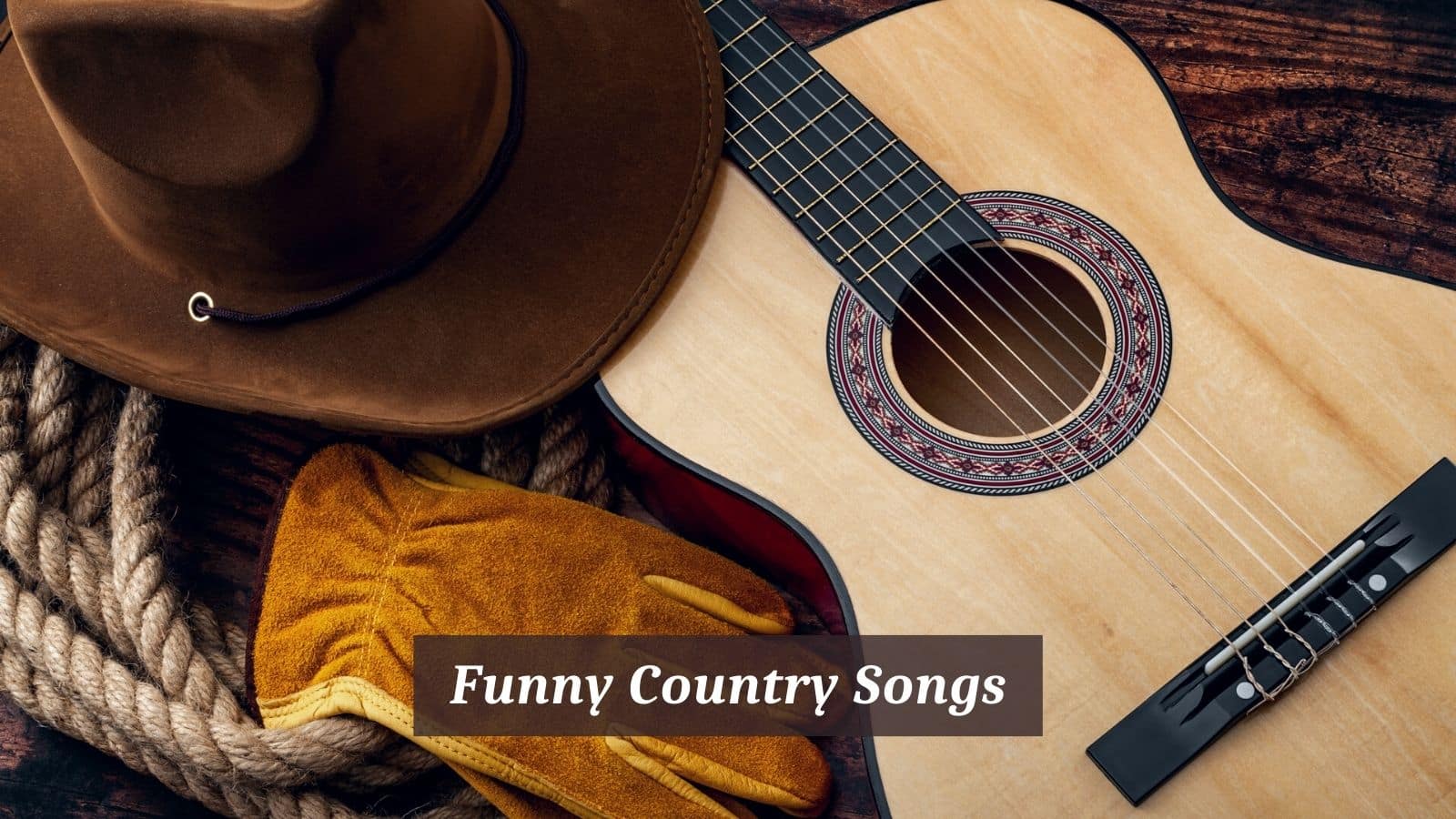 Country songs aren't all about heartbreak and nostalgia. We've collected some funny country songs rooted in an outlandish sense of humour, each putting a unique spin on what you'd expect from the mostly conservative genre, from tracks about being robbed by a cocaine addict to songs about having a Democratic dog.
Funny Country Songs
1. Hank Williams III – C*** Of A Bitch
Hank Williams III's outrageous country rock hit, C*** Of A Bitch, transfers its old-school Southern cowboy ambience to a reckless, contemporary piece clad with profanity and cocaine-stealing ex-partners.
Speeding up his acoustic country soundscape with each verse to erratic, drug-crazed levels, Hank III's lyrics depict a comedically hateful story of being beaten up and blacked out after a fight with his hell-raising woman, spurring his narrator's song of loathing;
"That bitch she took my cocaine and now she's on the run, and I'm gonna pistol whip her with my f****** loaded gun."
This track is flooded with hilarity, incorporating lightning-fast fiddle playing and rampant banjo solos within its unhinged country landscape, Hank's over-the-top Southern accent padding his lyrical pantomime;
"I see that c***, she's standing right there with another victim in her eyes… I got a damn good surprise, I'm gonna wrap that bitch in old rusted barbwire, make her set her ass on fire."
2. Zac Brown Band – Chicken Fried
Zac Brown Band's 2008 country rock release, Chicken Fried, balances heartfelt patriotic sentiments with humour over the simple pleasures of life.
Composed with a rejuvenatingly warm and amberous atmosphere, Chicken Fried hosts a surprising array of majestically nostalgic imagery, using love-soaked lyrical lists of stereotypes to conjure adoration for life in the South;
"I was raised up beneath the shade of a Georgia Pine… sweet tea, pecan pie, and home-made wine, where the peaches grow … A little bit of chicken fried, cold beer on a Friday night, a pair of jeans that fit just right and the radio up."
The Zac Brown Band take an ironic cliché detour in their bridge, shout-outing their troops in a style sterotypical of their genre's inherent patriotism, before feeding this message into their chorus lyrics with a masterful sense of comedy;
"I thank God for my life and for the stars and stripes, may freedom forever fly, let it ring, salute the ones who died, the ones that give their lives, so we don't have to sacrifice all the things we love, like our chicken fried."
3. Brantley Gilbert ft. Toby Keith & HARDY – The Worst Country Song Of All Time
Brantley Gilbert, Toby Keith & HARDY's 2022 collab, The Worst Country Song Of All Time, pads its contemporary country soundscape with lyrics hilariously contrasting the sentiments you'd expect to find in their genre;
"I love cities and traffic jams, I don't want a house on a piece of land… I think we should change the American flag, this is the worst country song of all time."
This track's juxtaposition of pure country harmony and Southern-styled lyrical treason is relentless, the trio crossing countless boundaries and artfully diving into bad taste humour to subtly highlight the best parts about living in the Southern States;
"I think trucks are a waste of gas… My momma never whipped my ass… Man, stick a fork in the constitution, I support Kim Jong-un and Putin."
4. Car, the Garden – I Think My Dog's A Democrat
Bryan Lewis' country single, I Think My Dog's A Democrat, plants its humour in its homemade music video as much as in the song itself. Crafting his soundscape with radiant acoustics, Lewis' lyrics depict a family dog adopting the attitude of a liberal and grabbing every inch of power he can;
"I pay for all his health care and I buy everything he eats, I provide him with a place to live just to keep him off the streets, but he just acts like he's entitled, even tried to unionise the cat, yeah, I think my dog's a democrat."
As a track made to both uplift and upset, Lewis balances his purposefully provocative and hilarious viewpoint with depictions of conservative ideas, even drawing comedic influence from 9/11 conspiracy theories;
"I know he's a liberal even if he won't admit it, he pooped on my living room rug and tried to tell me George Bush did it."
5. Tony Joe White – Mamas, Don't Let Your Cowboys Grow Up To Be Babies
Tony Joe White's retro country song, Mamas, Don't Let Your Cowboys Grow Up To Be Babies, comedically twists the concept of legends Walon Jennings & Willie Nelson's classic hit, Mamas Don't Let Your Babies Grow Up To Be Cowboys, whilst threading the same, deep-rooted message of family love within its lyrics.
This track finds its humour in vibrant descriptions of raising a unique and characterful son, matched with the importance of allowing your kids the benefit of self-expression and character-building exploration, however reckless their behaviours may seem;
"Teach them to hold that whiskey when he is young, raise him on chicken fried steaks and milk gravy, he's gonna make you proud he is your son."
6. Tanya Tucker – The Man That Turned My Mama On
Tanya Tucker's 1974 country track, The Man That Turned My Mama On, places its comedic title in a genuine, heartfelt track depicting a single mother's conservative decency in contrast to the wild, spur-of-the-moment adventures she once had with a stranger;
"Mama was no prude but she was proper, never wore her dress too short … He came to town one day in a rusty old '49 Ford, selling ladies shoes and assorted greeting cards… and turning all the ladies heads, but he saw mama first and Lord knows how some of them travelling men are."
Crafted with mesmerisingly evocative imagery alongside classic country storytelling techniques, this sweet and clear-skied track cleverly works its outlandish title and concept into a celebration of a single mother's strong, independent nature as perceived by their grown child;
"I wish I'd known the man a little better that turned my mama on, he must have been a heck of a man, 'cause mama was a lady don't you know."