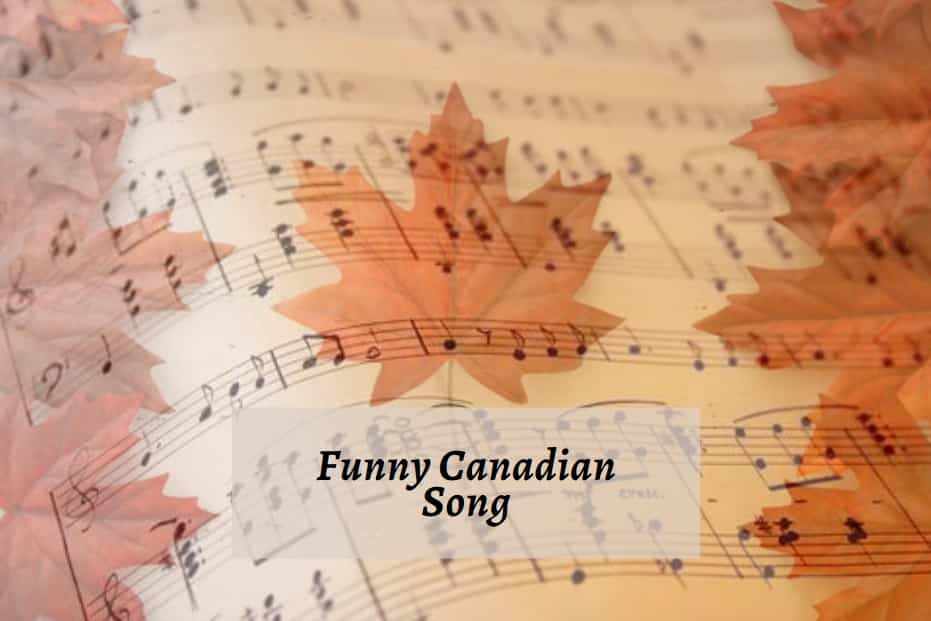 Funny Canadian Song
1. 'Up Here, in Canada' by Clark W
There doesn't seem to be a significant amount of information about this Canadian artist, but his following is quite substantial given the niche market for his songs.
In addition to this song, Clark W has six other songs that fall into the equally comic. 'Up here in Canada' appears to be the most popular of his singles and dates back to early 2020. It has a slight country feel to the song with a gently strummed acoustic guitar, laidback drums, and a soft bass.
The song is, as you might expect, in a verse/chorus format. Whilst it has a humorous slant, the lyrics are highly informative. Along with the video, you have a quick guide to all things Canadian.
For those of you, and I include myself in this number, who are not familiar with Canadian culture and history, this is a great introduction. The chorus is extremely catchy too, so even if Country is not your style, you will struggle not to sing along with Clark W.
2. 'The Bum Bum Song' ("Lonely Swedish") by Tom Green
Tom Green (B. 1971), is a Canadian actor, rapper, comedian, and actor. He is primarily known for shock comedy and this particular song fits nicely into this category. This track deliberately draws on the popular genre of Rap but essentially is a piece of satire.
Whether or not this genuinely can be classed as a comic song depends on your perspective. One claim is that it made number one in the US, and that may be true. Tom Green now has a web show he hosts.
3. 'Earache My Eye' by Cheech & Chong
Cheech and Chong herald from Vancouver, British Columbia. Their colourful and extremely successful careers began in the early part of the 1970s when they gained their reputation for black comedy and political satire.
From stand-up comedy routines through to films, Cheech and Chong has carved a legendary pathway through the world of entertainment.
'Earache in My Eye' stems from a comedy routine the duo used to perform. It comes from a 1974 album called 'Cheech & Chong's Wedding Album'. The track is very close to Frank Zappa in style with some awesome guitar riffs and outlandish lyrics.
These tell of a teenager who wakes and listens to a song by Alice Bowie whilst his father tries, in vain, to get the boy to school. The song received rave reviews and great popularity following its initial release.
Radio stations that played the song received a notable number of complaints according to many sources, which resulted in the song being removed from playlists.
During over six minutes of the song, we hear the teen boy snoring at the start before his alarm clock jolts him awake. It is a complete concept track that resonated with many teenagers of the time and has continued to do so through the decades.
A controversial song that you are likely to either love or hate it shows a darker, edgier side to Canadian comedy.
4. 'I Never Had A Ten, But I Got Five Two's' by Lefty Nelson
Apart from a strong following on his Facebook page, there doesn't seem to be an abundance of information about country singer Lefty Nelson. What we can hear in his song collection, is a similar style to many other comedy songwriters from Canada.
Nelson is described on his YouTube channel as the greatest Canadian country crooner. His sound, like his name, resembles the famous Willie Nelson but that's as far as the comparison can reasonably go.
The song linked above is an upbeat country track in which Nelson tells us about how he has not had much luck with women. Nelson uses a scale of 1 – 10 to rate his girlfriends, claiming in the song that he has not managed to date a 10, but has dated five women he rates as 2s.
It is a comic look at the ups and downs of single life. Nelson casts himself in as much of a funny position as the unfortunate women he dates. The video is well-matched to the song, none of which should be taken seriously.
5. 'It Doesn't Grow' by Jon Brett
Jon Brett is a popular Canadian songwriter and comedian. When you first hear his music, you could be lulled into the sense that he is simply a run of the mill musician writing funny songs, but dig a little deeper and you will realise Brett's array of impressive skills.
Not only is he a polished lyricist but a formidably able guitarist too. Brett has ably created a niche market for his music following his release of the song 'Uni the Unicorn' in 2016.
Since then Brett has appeared in numerous radio and television programmes and today is in demand for his one-man act.
This track above, filmed in his garden, is a wonderfully self-deprecating account of his struggles with growing grass and hair as he discusses life with his neighbour. The song follows a verse-chorus structure and Brett ably accompanies himself on the ever-popular ukulele.
6. 'Stronger Beer' by Tim Hicks
Born in Ontario, Canada in 1972, Tim Hicks is a highly successful country singer who has a tremendous string of awards and album successes.
Hicks's debut album 'Get By' (2012) hit number eighteen on the Canadian charts. There are also two number-one singles called 'What A Song Should Do' and 'No Truck Song'.
'Stronger Beer' was never even released as a single, but the track quickly became a huge hit for Hicks. According to some sources, this song has received over 10 million streams and has in May 2017 been 'certified Platinum in Canada'.
Hicks is the first to admit that the song is not to be taken too seriously. It cleverly and humorously draws distinctions between the USA and Canada with the tag line being that whatever the US has, Canada has the strongest beer.
Whether you like Country songs or Canadian singers, Hicks has great appeal and this track for me is one of his best.