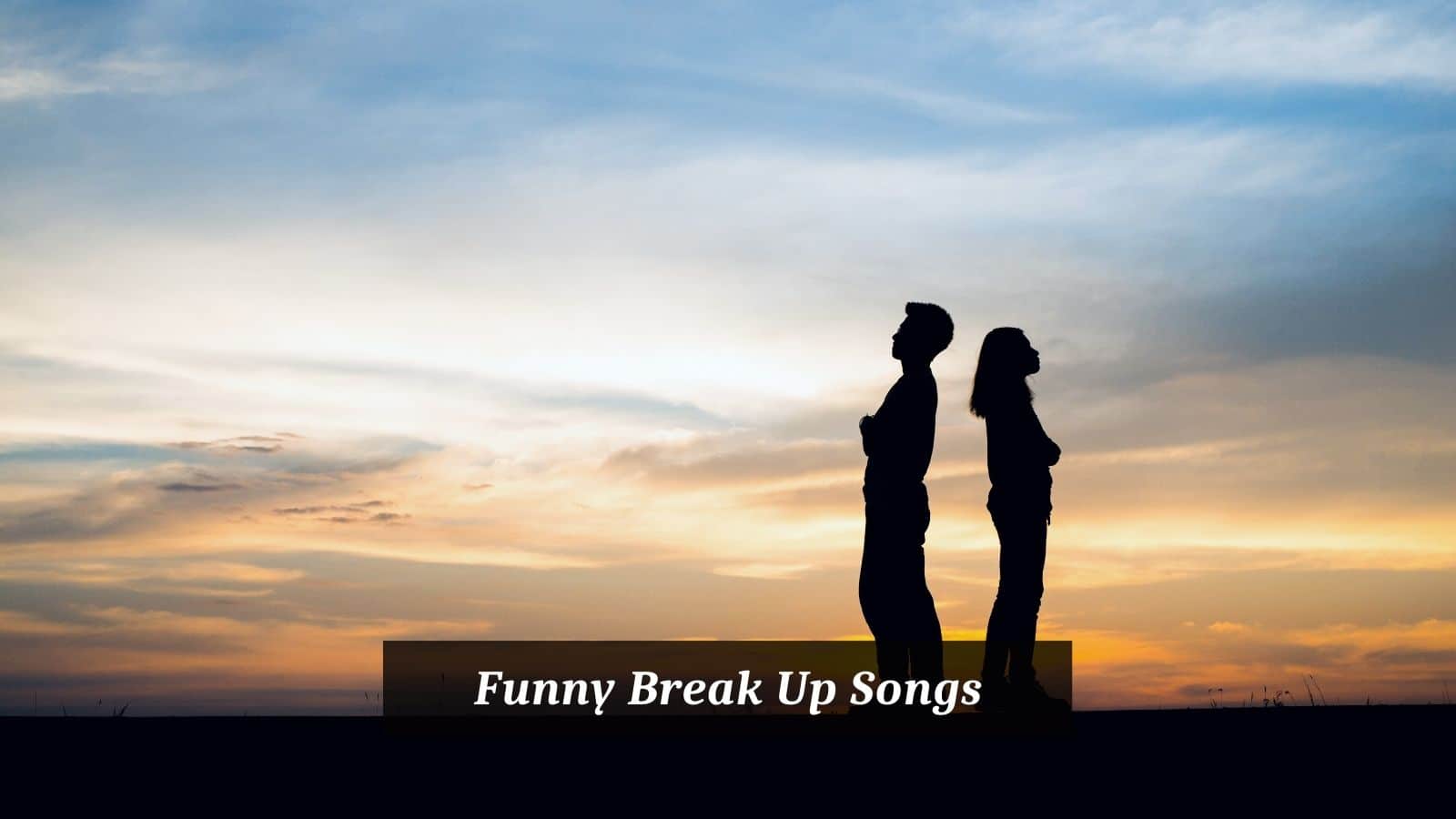 Not every break up song is a slow, painful ballad. Our playlist collects some funny break up songs, each woven with its own streak of humour and inspiringly optimistic energy, from tracks about attaining true self-love, to songs pitying the new partner of a cheating ex.
Funny Break Up Songs
1. Lizzo – About Damn Time
Lizzo's exuberant personality naturally lends itself to a hilarious break up song about finding your own flow and spark, alone in your new beginning.
Opening on a line crazed with confidence, "It's bad bitch o'clock," Lizzo's retro-inspired pop anthem focuses its lyrics upon taking the time to love and appreciate yourself away from toxicity, inspiring your own fresh wave of positivity and personal transformation;
"I'm not the girl I was or used to be, bitch, I might be better, turn up the music, turn down the lights, I got a feeling I'm gon' be alright… It's about damn time."
2. Demi Lovato – Sorry Not Sorry
Demi Lovato's 2017 pop hit, Sorry Not Sorry, is a break up anthem centred in savage confidence and a colourful sense of optimism for what the future holds.
This track circles themes of bittersweet revenge in making your ex jealous with an indomitable feminine attitude and sleek sexuality, cruelly but deservedly leading him on whilst knowing you'll never take him back;
"Baby, I'm sorry (I'm not sorry), being so bad got me feeling so good, showing you up like I knew that I would."
3. Hailee Steinfeld – You're Such A
Hailee Steinfeld's indie pop track, You're Such A, is an innately bright and uplifting song anchored in the feeling of getting over your ex and finding strength above them now you're apart.
Steinfeld's lyrics illustrate the refusal to let an ex crawl back to you and drag you down again, embellished with a youthful sense of humour over something which could be despairing;
"You can take your lies to your next girlfriend, 'cause I don't wanna hear it any more … See you smoking those electric cigarettes, are you joking? Are you joking? I can't, I can't."
This track cements its last-laugh style of comedy with the refusal to explicitly swear and return to the degrading levels of anger the narrator's since replaced with free-spirited happiness; "Damn, you're such a, da da di da da, da da di da da."
4. Cee Lo Green – F*** You
Cee Lo Green's 2010 pop single, F*** You, is a carefree breakup song compelled by an unmissable aura of self-confidence.
Its radio release entitled, Forget You, Green's uncensored version paints another layer of hilarity upon his already bright-skied track, his personality crafting an instantly uplifting piece for any bad day post-breakup;
"I pity the fool that falls in love with you (Oh shit she's a golddigger), well (Just thought you should know n****) I've got some news for you … I guess the change in my pocket wasn't enough, I'm like, 'F*** you and f*** her too.'"
5. Ke$ha – Grow A Pear
Ke$ha's 2010 release, Grow A Pear, overlays its mind-altering, synth-heavy pop soundscape with a myriad of hysterical lyrics about a woman leaving a man who turned out to be more emotionally volatile than she; "I signed up for a man but you are just a bitch."
This colourful track is hilarious from the start, Ke$ha stopping at no bounds to depict the lack of masculinity exhibited by a date she initially thought was macho;
"You were cool and now you're not, just like that, when you grow a pear you can call me back … You should know that I love you a lot, but I just can't date a dude with a vag."
6. Ariana Grade – Thank U, Next
Ariana Grade's 2018 hit, Thank U, Next, is a landmark track about moving forwards from a break up with a positive, light-hearted attitude.
Grande anchors her lyrical sentiment in happiness and strength spawned from painful experiences, whilst embedding a sweet sense of comical self-love within her second verse;
"Plus, I met someone else, we having better discussions, I know they say I move on too fast, but this one gon' last, 'cause her name is Ari and I'm so good with that ."
7. Gloria Gaynor – I Will Survive
Opening with a Dracula-style piano arpeggio, Gloria Gaynor's disco hit, I Will Survive, is a self-empowered break up song finding humour in its needlessly dramatic ambience contrasted by an overwhelmingly feel-good attitude.
This vintage track remains an anthem for anyone gathering themself after a breakup, refusing to diminish into the sadness their ex likely wishes upon them;
"I should have changed that stupid lock, I should have made you leave your key, if I'd have known for just one second you'd be back to bother me, go on now, go, walk out the door, just turn around now 'cause you're not welcome any more."
8. Hey Violet – Better By Myself
Hey Violet's 2019 indie pop track, Better By Myself, reaps humour from its grungy attitude, crafting lyrical and melodic pessimism on top of an otherwise optimistic pop-rock soundscape, adorned with quirky string sections and xylophone highlights.
Hey Violet saturate their track's aura in self-confidence despite their verses highlighting the miserable truth of breakups; "Would you kill me if I told you that I never wanna speak to you, 'cause when I'm on my own, I feel alive … I'm better by myself, I'm better when there's no you in my life."
9. Selena Gomez & The Scene – I Don't Miss You At All
This early Selena Gomez release hosts a wild array of synths reflecting the excitement of being newly single and free from all burdens.
Fashioning her lyrics around living your new life to the fullest, I Don't Miss You At All is an anthem for anyone embracing their new sense of self whilst inviting a fresh era of happiness and self-love in the place of toxicity;
"'Cause I never think about you, I'm better off without you, I don't miss you at all, you don't spin around in my head, it's like you never existed, and I hope you don't call, I don't miss you at all."