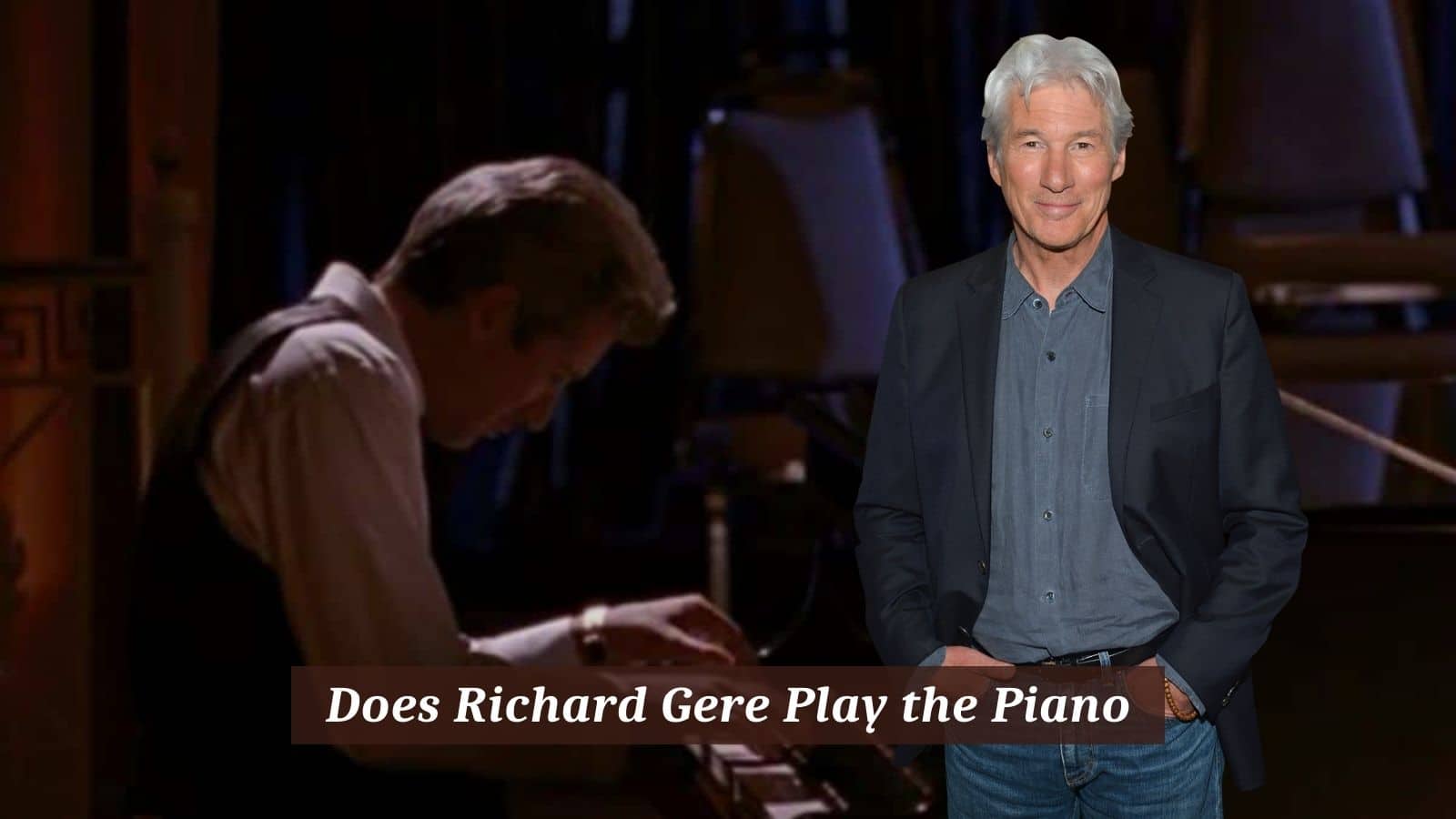 When we watch an actor or actress on film exhibiting a remarkable degree of talent with a musical instrument, it's difficult to believe they can genuinely play.
Not that they wouldn't put in the effort or attention necessary to learn, but the degree of expertise appears impractical for an actor who might be unable to find the time. So we've been wondering whether Richard Gere can play the piano, and we were pleasantly surprised! Read on to discover more.
Brief Biography
Richard Tiffany Gere (born August 31, 1949) is an actor from the United States. His big silver screen break was the film Finding Mr. Goodbar in 1977.
He rose to further prominence in the 1980s after playing in numerous hit Hollywood films, including American Gigolo (1980) and An Officer and a Gentleman (1982), and has remained a leading man ever since.
During the 1990s and 2000s, he appeared in numerous successful films, including Pretty Woman, Primal Fear, and Chicago, for which he got a Golden Globe nomination for Best Actor.
Richard Gere not only played the piano in high school, but he also composed music for his high school's musical productions. Apart from his musical abilities at school, he was also an accomplished gymnast.
He graduated from North Syracuse Central High School in 1967, excelling in gymnastics and music, and played the trumpet. He attended college at the University of Massachusetts Amherst on a gymnastics scholarship.
He studied philosophy and drama but left college after two years without graduating. He performed in a few repertory productions on the East and West Coast before deciding to become a professional trumpet player.
He settled in a commune in Vermont with accommodations shared with other musicians but found the atmosphere too temperamental compared to actors, so he left for New York.
Does Richard Gere Play the Piano?
Richard Gere is an Accomplished Pianist
The classic film, Pretty Woman, is home to many iconic situations, ranging from the sizzlingly hot to the heartwarmingly poignant. One of those notable moments is the piano sequence, in which the multi-talented Gere appears to be playing the piano before things become hot.
Some people wondered, is it really Richard Gere playing, or is a body double standing in? Well, it is only Richard Gere playing the piano!
Richard Gere is a gifted musician, and his playing abilities go beyond just piano – he's also an accomplished guitar player and composer. We'll look at both a bit later. But first, back to Richard Gere's piano playing.
The tune the character Edward is playing on the piano was actually composed by Richard Gere. Maybe he was thinking about it, or perhaps he played the song from muscle memory; we can say that it is memorable.
In the 1993 film Mr. Jones, Richard Gere plays the role of a man with bipolar disorder, and he and his psychiatrist develop romantic feelings for one another.
But, unfortunately, he impulsively closes his bank account (we'll look at this in a moment) and, in the movie, goes on a wild journey of destructive behavior — seen in the film's trailer.
At one point in the movie, the titular character, Mr. Jones, visits a piano store with the bank clerk who assists him in closing his bank account. This scene (watch it here) is filled with various styles of music and shows Richard Gere (Mr. Jones) playing the piano:
At 00:05–00:19, he plays a jazzy/bluesy composition flowing into a soft ballad
00:37–01:07 a Bach-like improvisation is heard
The piano shop scene segues into a restaurant closing for the evening with Richard Gere at the piano (01:19– 01:44). This seems to be the piano scene from Pretty Woman, where Richard plays one of his own compositions.
Analyzing Richard Gere's Piano Technique
There aren't many clips or videos of Richard Gere playing the piano, but from the scenes we've listed above, we could deduce that he has a good piano technique.
His character, Mr. Jones, doesn't have a good posture because he's slouching at the piano, but that's part of the character's charm and not a fault on Richard Gere's part. Or maybe Mr. Jones is so engrossed in the music that nothing else matters to him then.
Richard Gere, the Guitarist
Apart from being an accomplished pianist and trumpet player, he is also an avid guitar player and collector. In 2011 he sold 100 of his 104 guitars through Christie's Auctioneers. His collection included some highly sought-after guitars and included:
A 1958 Gibson Kalamazoo Flying V, which Albert Lee formerly owned
Three Martin acoustic guitars purchased by the C.F. Martin & Co. Museum
– 1931 D-28 (sold for $62,500 (£40,064)
– 1901 00-42 Special and 1944 000-28 sold for $30,000 (£19,231) and $25,000 (£16,026), respectively
Other guitars included a 1960 Gibson ES-335 ($47,500/£30,449), a 1958 Les Paul ($37,500/£24,038), and a 1954 Fender Stratocaster ($25,000/£16,026), according to Music Radar's website.
During the interview with Christie's Auctioneers, Richard Gere revealed some information about his musical background.
Considering Richard Gere's Musical Abilities
Richard's father was a trumpeter, and his mother played the piano. As one of five children, he grew up in a musical family, and all the family members played an instrument. During the interview with Christie's Auctioneers, he revealed that their whole family played instruments and sang together.
Although he did not receive formal piano or guitar lessons, he is still an accomplished musician. As a self-taught pianist, we could not find any fault with his technique, as discussed earlier. We're sure his mother, who played the piano, would have helped him and set him on the right path.
Conclusion
As we've seen throughout this article, Richard Gere is a multi-instrumentalist. His first music lessons were on the trumpet, and he almost pursued a career as a professional trumpet player. Luckily he went into acting but never left his musical roots behind.
So the next time you watch a movie starring Richard Gere playing the piano, rest assured he is really playing the piano and even writes his own compositions.