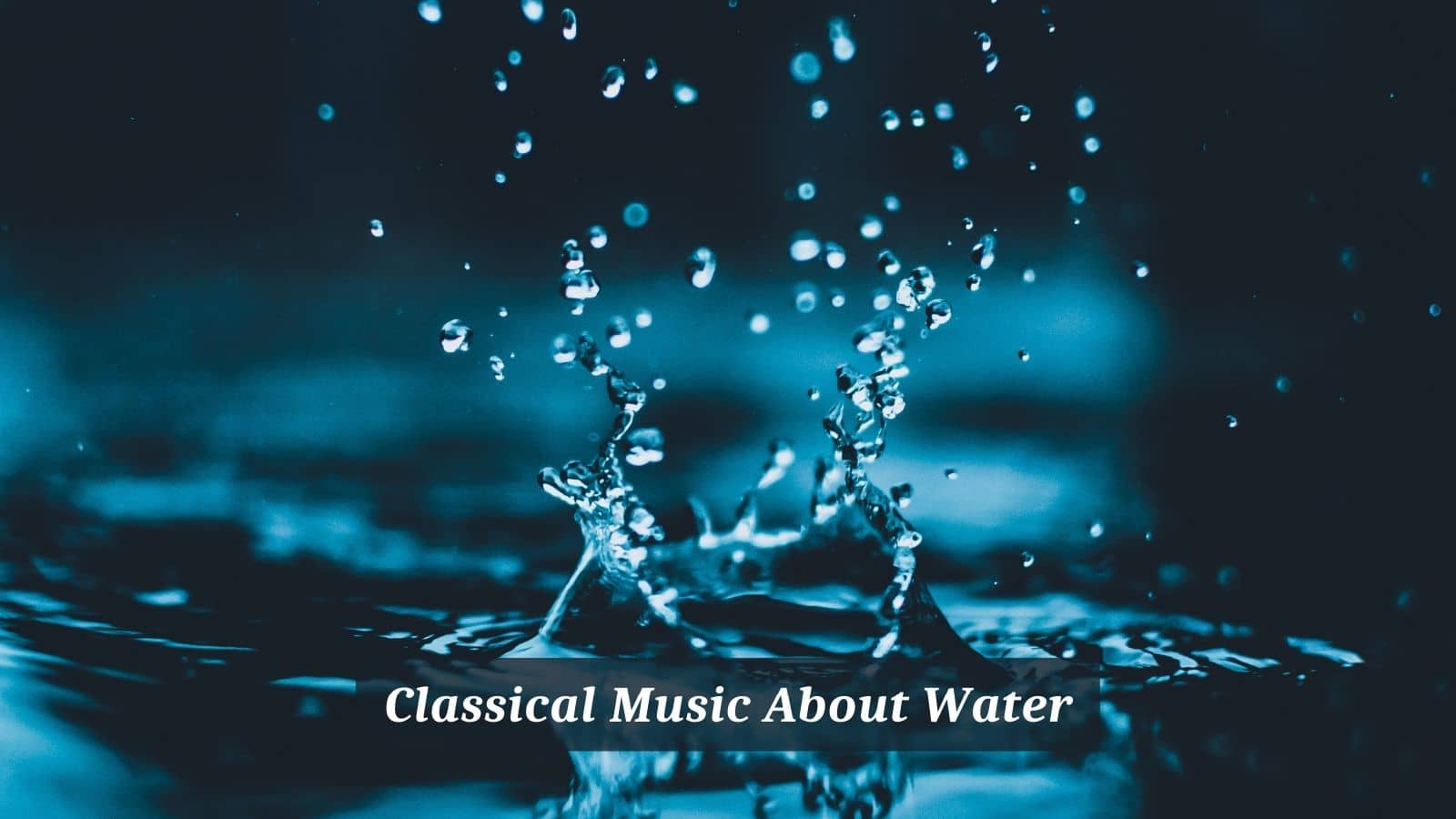 Whether through operas, symphonies, piano music, or film scores, classical music about water remains a vital and inspiring part of the classical repertoire.
From tranquil streams and babbling brooks to raging oceans and thundering waterfalls, we've collected some great pieces of classical music that explored the beauty and power of water in countless ways.
Classical Music About Water
1. Water Music by George Frederick Handel
What perhaps is not commonly known is that Water Music is not a single suite but three. The order of these suites is also something of a debate, but commonly they are played beginning with the F major Suite (HWV 3480, followed by the D major Suite (HWV 349) and lastly, the G major Suite (HWV 350).
The link above shows an energetic performance of the second suite given at the 2012 Promenade Concerts with Le Concert Spirituel.
These three fabulous pieces were composed at the command of King George the First. He was planning elaborate festivities on the River Thames.
The first performance saw the King on his Royal Barge regally cruising up the Thames in the direction of Whitehall Palace followed hotly by another large barge with around fifty musicians performing Handel's new composition. It must have been quite a spectacle.
Each suite comprises a variety of different sections with the F and D major suites opening with an overture. Other popular forms were included in the suites such as the Bourée, the Minuet, the Passepied and the Hornpipe.
2. The Blue Danube Waltz (Op. 314) by Johann Strauss II
Equal in fame to Handel's Water Music, Strauss's Blue Danube waltz is one of the most performed waltzes ever composed. Strauss wrote the waltz in 1866 for the Vienna Men's Choral Association.
It was only after the premiere that he then adapted it for orchestra in the version we commonly know today. The first performance did not go terribly well, which is hard to imagine. Strauss was unperturbed.
It's easy to dismiss this waltz as a simple piece of Austrian dance music but Strauss was a gifted composer who took his job seriously. What you hear is a cleverly crafted piece.
Following a fairly lengthy introduction Strauss then proceeds to introduce five waltz themes that are interwoven. The orchestration is for strings, double woodwind, a medium-sized brass section and percussion.
3. La Mer by Claude Debussy
Completed in 1905 Debussy took around a year and a half to finish this score. Debussy was a slow, methodical composer who was highly critical of his work. La Mer is a work Debussy deliberately avoided labelling as symphonic.
It is formed in three sections roughly translated this way; From dawn to noon on the sea; Play of the Waves and Dialogue of the wind and the sea. Each section has a detailed tempo description.
The key structure moves from B minor in the opening section to C# minor for the two remaining movements.
Debussy ingeniously avoids the tried and tested methods of evoking the movement of the sea in La Mer. His score shows a deep sophistication with delicately shifting textures supported by glittering instrumental combinations and solo passages.
Motifs play a central part in the structure of La Mer. Debussy subtlety introduces one motif after another in an organic flow that cements the three sections together into something far greater than the sum of its parts.
4. Jeux d'eau by Maurice Ravel
People often draw parallels between Franz Liszt's Jeux d'eau a la Villa d'Este and Au bord d'une source, but my feeling is that even if this was an inspiration for Ravel, he writes in a way Liszt simply does not.
There is virtuosity here and a certain Romanticism, but the piece is never just showy without substance. Neither is it overbearing. Instead what we hear in this piece is a set of richly new harmonies, sparkling melodies and complex yet clear textures.
The play of the water that apparently prompted Ravel to compose the work is unobtrusively evident. Its musical depiction is delicately brilliant and avoids any contrivance.
Ravel placed a line from Henri de Régnier at the top of his score that seems beautifully fitting: "The River God laughing at the waters that tickle him". The first performance was given in April 1902 by Ravel's friend Ricardo Vines in the Salle Pleyel in Paris.
5. The Rain Tree Sketch II (1992) by Toru Takemitsu (1930-1996)
Toru Takemitsu may not be a name you are familiar with, but he is a composer of distinction. Takemitsu composed extensively for orchestra and piano. He also produced a vast array of chamber music alongside some notable choral works.
Largely self-taught Takemitsu successfully fused traditional Japanese music with the gentle influences of Debussy and Messiaen. From these different corners, Takemitsu carved his own pathway through the musical avant-garde.
The Rain Tree Sketch was composed in 1992 in memory of Olivier Messiaen. This was to be the last work Takemitsu composed for piano and there is a luminescent, meditative quality to the piece.
Motives play a key melodic role in this brief piece gently transforming and reoccurring through colourful textures. The first Rain Tree Sketch was completed in 1982.
6. Four Sea Interludes by Benjamin Britten
Composed in 1945 these interludes come from Britten's hugely successful opera called Peter Grimes (Op. 33). The interludes in the opera were used as segues into the next scene.
Britten composed new conclusions to each interlude to allow them to finish rather than head into the next operatic scene. It makes the movements self-contained.
There are four interludes titled as follows: Dawn (from Act 1); Sunday Morning (Act Two); Moonlight (prologue to Act 2); Storm (from Act 1).
Through these movements, Britten not only captures the coastal location but perhaps more importantly explores the relationship between the local villagers and fisherman Peter Grimes.
One of Grimes's apprentices dies mysteriously whilst at sea and Grimes becomes the subject of an inquest.
The ruling goes in Grimes's favour but the villagers are not so quick to vindicate the fisherman. This tumultuous situation Britten chillingly brings to life in these interludes.
7. A Sea Symphony by Ralph Vaughan Williams
Constructed in four expansive movements, this was Ralph Vaughn William's first foray into the symphonic world and it made a significant impact.
The Sea Symphony has a duration of roughly an hour and is scored for huge forces: soprano, baritone, large orchestra and chorus. Vaughn Williams completed this epic score in 1909 after nearly six years of labour.
The four movements are as follows: A Song for All Seas, All Ships; On the Beach at Night, Alone; Scherzo: The Waves; The Explorers. For the text, Vaughn Williams drew on the Walt Whitman poem titled Leaves of Grass.
The poem connected with the composer for its humanist expressions as well as its metaphysical essence. It was the philosopher Bertrand Russell who allegedly introduced Walt Whitman's work to Vaughn Williams.