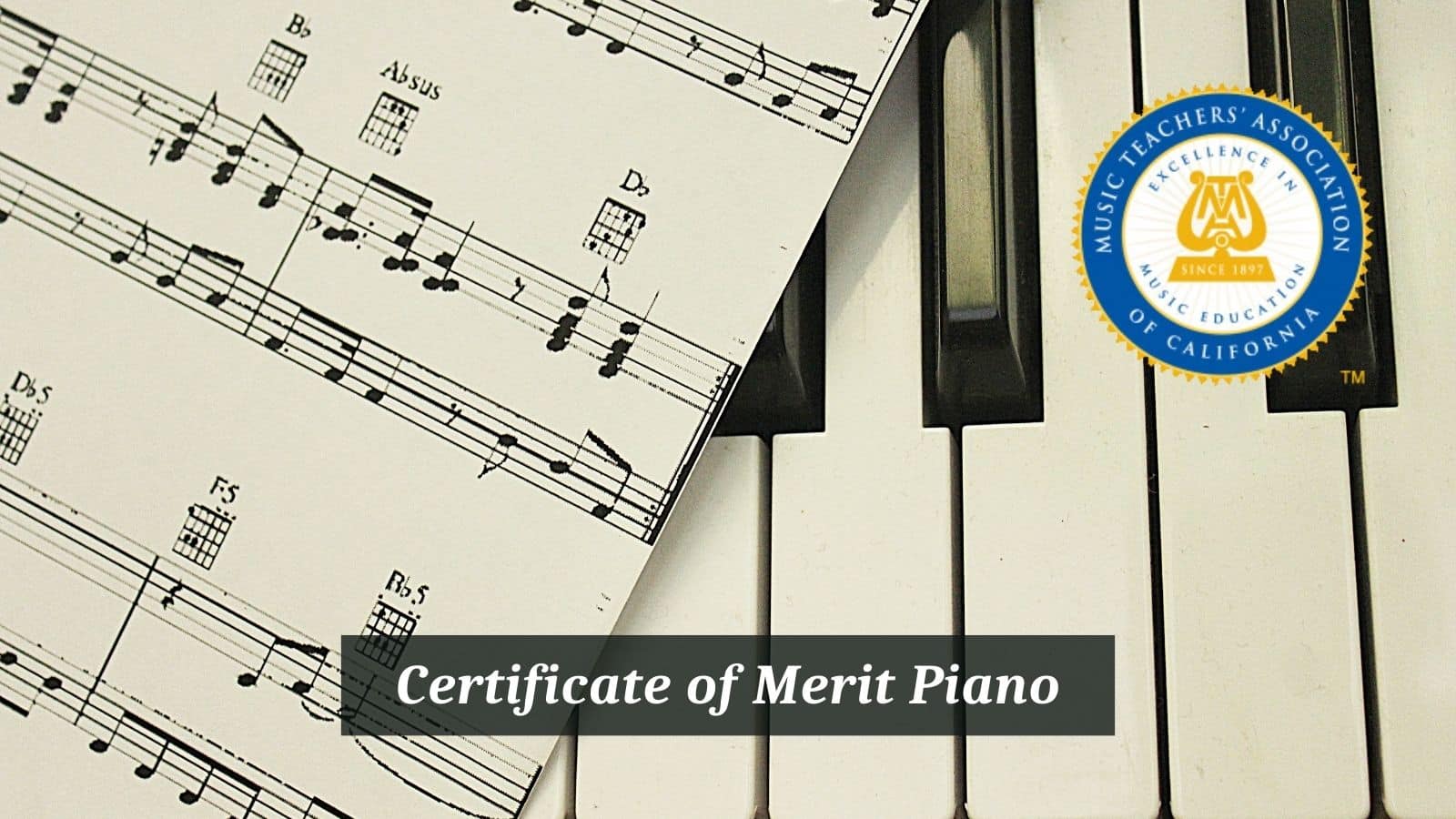 There are and have been many established routes for singers and instrumentalists to have their achievements recognised. The range of available options today is a little bewildering as it is a thriving and lucrative business.
As an example, the Associated Board of the Royal Schools of Music in London offers a comprehensive range of examinations on piano alongside a whole host of other instruments and voices.
There is also Theory of Music examinations that complement their graded examinations. Equally, there is the Trinity School of Music, Rock School and a whole number of other reputable awarding bodies available for the ardent student.
Amongst these respected and renowned examination systems are those that are more country-specific. When you google Certificate of Merit, Piano, what arrives promptly is the Certificate of Merit awarded by the Music Teachers' Association of California.
Certificate of Merit Piano
This certificate is an award designed, organised and administered through the MTAC only. It requires you to have a teacher that is a registered member of this association. Through them, students can gain entry to the award.
The Certificate of Merit has a firm history dating back to its inception in 1933. According to the website, the organisation aims to provide "a standardised music curriculum for musical excellence in performance, technique, ear training, sight reading/singing and music theory".
I don't know if this is still current practice, students do not take an examination in person. Instead, the student attempting certification participates in a virtual examination.
This entails the candidate recording their performance pieces and then submitting them through their teacher between February and March. Exams are available annually.
Students as young as five years old can access the Certificate of Merit. There are between ten and eleven levels for each instrument culminating in the option to take an advanced certificate.
Each level builds on the techniques and repertoire of the previous one. They recommend that the decision regarding the appropriate level for entry is decided with the student and teacher as the fees paid are not refundable.
It is a fully rounded qualification as the Certificate of Merit award includes elements of theory, sight-reading and aural that are a vital part of any musician's development.
Accessing a full curriculum for the Certificate of Merit is not as simple as it seems, as it is for many other examination boards. The best way appears to be via an Association registered piano teacher who is a member of the MTAC.
In this way at least, there is an indication of what the levels that are referred to actually mean in terms of standard.
One such example I discovered recommended the Faber & Faber range of piano books that I know are high-quality materials that have a strong educational foundation. The range I am highlighting runs from Primer level right through to Level Five.
The books include a comprehensive range of activities that enhance the learning experience and seek to develop musicianship. Equally, the selection of pieces across each level is engaging and challenging having been carefully selected by knowledgeable and eminent educationalists.
Each of these levels offers a very full programme of study that is open to the very young to the much more senior members of the community.
The Certificate of Merit seems limited to those up to eighteen years old, but the Faber & Faber series can be for any age although clearly designed for the younger pianist.
You can begin the programme towards the Certificate of Merit at any of the main three stages. These are Preparatory, Levels 1 – 9 and Advanced. What this means is that at each individual level, there are three categories of assessment as shown above.
It is vital that students also take their online theory tests and aural training to have a chance to be awarded the certificate.
Furthermore, there is an emphasis on the demeanour of the whole person. They need to have demonstrated kindness and respect for others, to fulfil the final criteria for an award.
Interestingly, the Certificate of Merit from the MTAC does not conclude the learning journey. For those students who excel and reach the more advanced reaches of achievement, there are further challenges ahead.
If a student has passed the Advanced level then they have the opportunity to graduate into the Panel and Young Artists Guild Auditions. Entry into this Guild is one of the highest accolades available to followers of the Certificate of Merit pathway.
A panel of evaluators selects the lucky candidates. Once in the Guild then the door is open to paid public performances and membership for five years. Annually the MTAC hold a concert for these elite musicians where their talent is celebrated.
Happily, there is funding available for students who find themselves in difficult socio-economic circumstances. If these students are not able to access the Certificate of Merit due to these circumstances then these funds can help and support them on their way to success.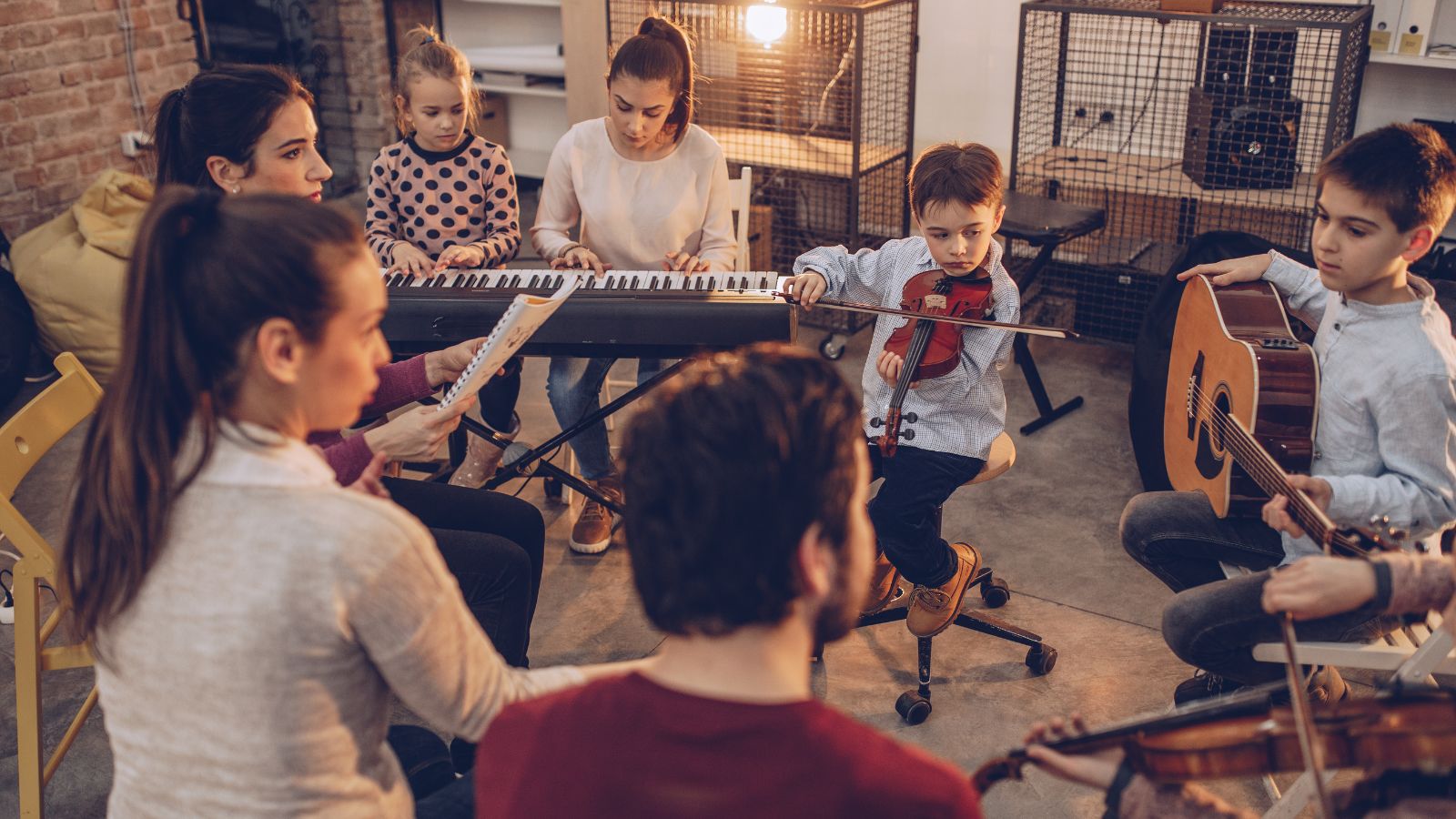 This is true of all categories of the certificate that covers a broad selection of areas other than pure music. This opening up of opportunity for all is a wonderfully socially-minded and generous way for everyone who is dedicated, selfless and inspired to succeed.
The Certificate of Merit is a valued and coveted award that has a well-established reputation in the music community.
Whilst it doesn't range into Europe, or as far as I'm aware Asia, if you're based in the US, it offers an attractive and progressive recognition of achievement.
Additionally, the attractive aspect of the Certificate of Merit is that it is a celebrated standard on all the instruments offered under the examination.
It's also a qualification that doesn't require an in-person examination which for many students is a strong deterrent. Often this is to the point of a student never feeling able to take an actual exam and missing out on the benefits of the process.
The holistic approach to learning is another plus and goes a good way to ensure that the pianist (in this case) is a well-rounded and capable musician.