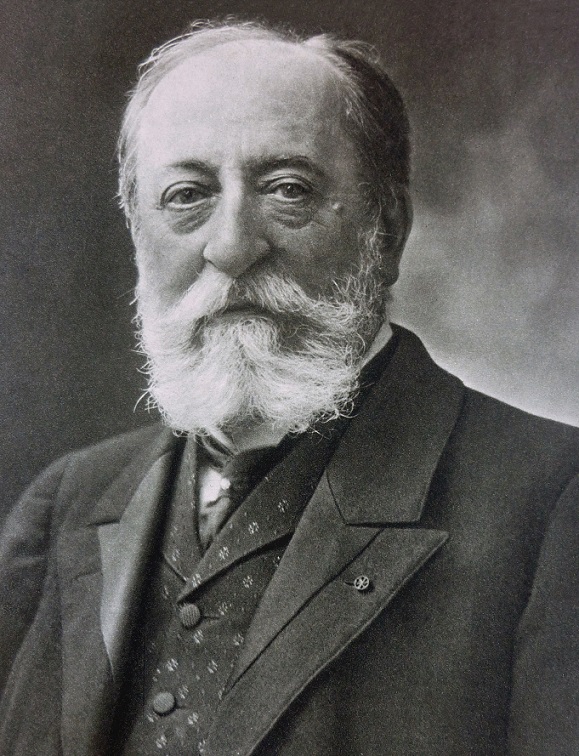 Hands down, Camille Saint-Saëns (1835 – 1921) is one of the greatest composers that France has ever produced. He is also often referred to as the greatest organist that the world has ever seen. Although he is said to be unrivaled on the organ, he was also similarly unequaled on the piano. His talents knew no bounds and he was quite advanced for his time period.
Case in point, he managed to become the first early born pianist to ever record his work. By the 1890s, Saint-Saëns had gained worldwide popularity particularly in the United States and England, where he was highly regarded. He was awarded French and British honors as well as honorary doctorates from Ivy League schools such as Oxford and Cambridge. Here are some other 10 Interesting Facts about the Composer – Camille Saint-Saëns:

Feel free to Subscribe to Our YouTube Channel if you like this video!
Facts About Camille Saint-Saëns:
He was supported by Liszt
By the time he had joined the Conservatoire de Paris, Saint-Saëns had already started becoming a recognized name in the French musical circles. It is because of his immense talent that he was able to meet Franz Liszt who praised him often and referred to Saint-Saëns as the greatest organ player alive.
He was extremely diverse
Camille Saint-Saëns was something of an incongruity among French composers of his time. Although he was extremely talented at playing the organ and the piano, he never really settled for a specific instrument or a genre. Instead, he was all over the musical scene and he wrote for practically all genres including symphonies, opera, concertos, sacred and secular choral songs, chamber music, as well as solo piano pieces.
Even though he did not pioneer any movements in the romantic period, he did help to breathe life into some forgotten dance forms such as gavotte and bouree. In total, he composed over 300 original works in addition to being a successful writer and poet. Camille Saint-Saëns really could do it all.
He was a musical prodigy
Saint-Saëns was born in 1835 in France. His father passed away only three months after his birth and he was raised by his mother and his great-aunt Charlotte who introduced him to the piano at the age of two. By the time he was four, he had already written his first composition in 1839. He also learned how to read by the time he was three and could speak fluent Latin by age 7.
Marie-Laure Truffot and tragedy
The years between 1870 and 1875 were one of the toughest periods for Saint-Saëns. He fell in love with Marie-Laure Truffot, who was only 19 years old but he could not muster up enough courage to propose. Instead, Saint-Saëns sent a note to Marie's brother asking him if he wanted to be his brother in law. Fortunately, he accepted and the two fell got married in 1875. They had two sons who sadly lost their lives in 1878, 6 weeks apart-one fell out the window while other one drowned. Oddly enough, this sad period in his life led him to produce some of his most notable works namely Danse macabre (1875) and Samson et Dalila (1878).
He loved to travel
Because of his global fame, Saint-Saëns got the rare opportunity to travel the world at a time when international transportation was not advanced as it is today. This was considered quite a feat as Saint-Saëns was able to tour every continent apart from Australia and Antarctica. On his travels, he developed an interest in North African countries Egypt and Algeria, which inspired him to create Africa in 1891 and Piano Concerto No. 5 titled the Egyptian. In his later years, he opted to settle down in Algeria, which is where he eventually died.
He was not afraid to speak out
Saint-Saëns was often at loggerheads with other contemporary composers of the Romantic Period. Notably, he did not get along with Vincent D'Indy and Claude Debussy. Debussy was an impressionist composer that did not understand the techniques of traditional composers such as Saint-Saëns.
Their rivalry took form after Saint-Saëns criticized Debussy's rélude à l'après-midi d'un faune, which was well reviewed after its debut. However, Saint-Saëns spoke up against it stating that it lacked logic, common sense and style. When Debussy applied to join the Institut de France, Saint-Saëns did everything he could to block his election. Needless to say, after this, their rivalry lasted for years.
The Carnival of the Animals was a joke
Saint-Saens wrote his celebrated Carnival of the Animals as a complete joke. Saint-Saens was known as a serious man and he did not want to be associated with the composition because it was not as somber as his other symphonic works. Shortly after it premiered, Saint-Saens made it clear that he did not want the complete collection of pieces to be performed. He only allowed a single movement, Le Cygne (The Swan), which was written for cello and piano to be published in his lifetime. It was until his passing that it received its first public performance in 1922 by Concerts Colonne.
He was the first to write for film
In 1908, Saint-Saens became the first musician to write a score for a film. He wrote the score for an 18-minute long motion picture titled 'The Assassination of the Duke of Guise'. He later developed his music into a concert performance that has been performed throughout the globe in different and unique ways from full orchestral scores to piano solos and choreographed dance performances.
He was a renaissance man
Saint-Saëns was something of a renaissance man whose intelligence and brilliance was not just restricted to music. He was interested in botany, mathematics, and geology. He was also a popular writer of essays, poems, and reviews.
Babe
In 1995, Saint-Saens' composition Symphony No. 3 was used for the melody of the song "If I Had Words. If I Had Words was created for the 1995 movie Babe.