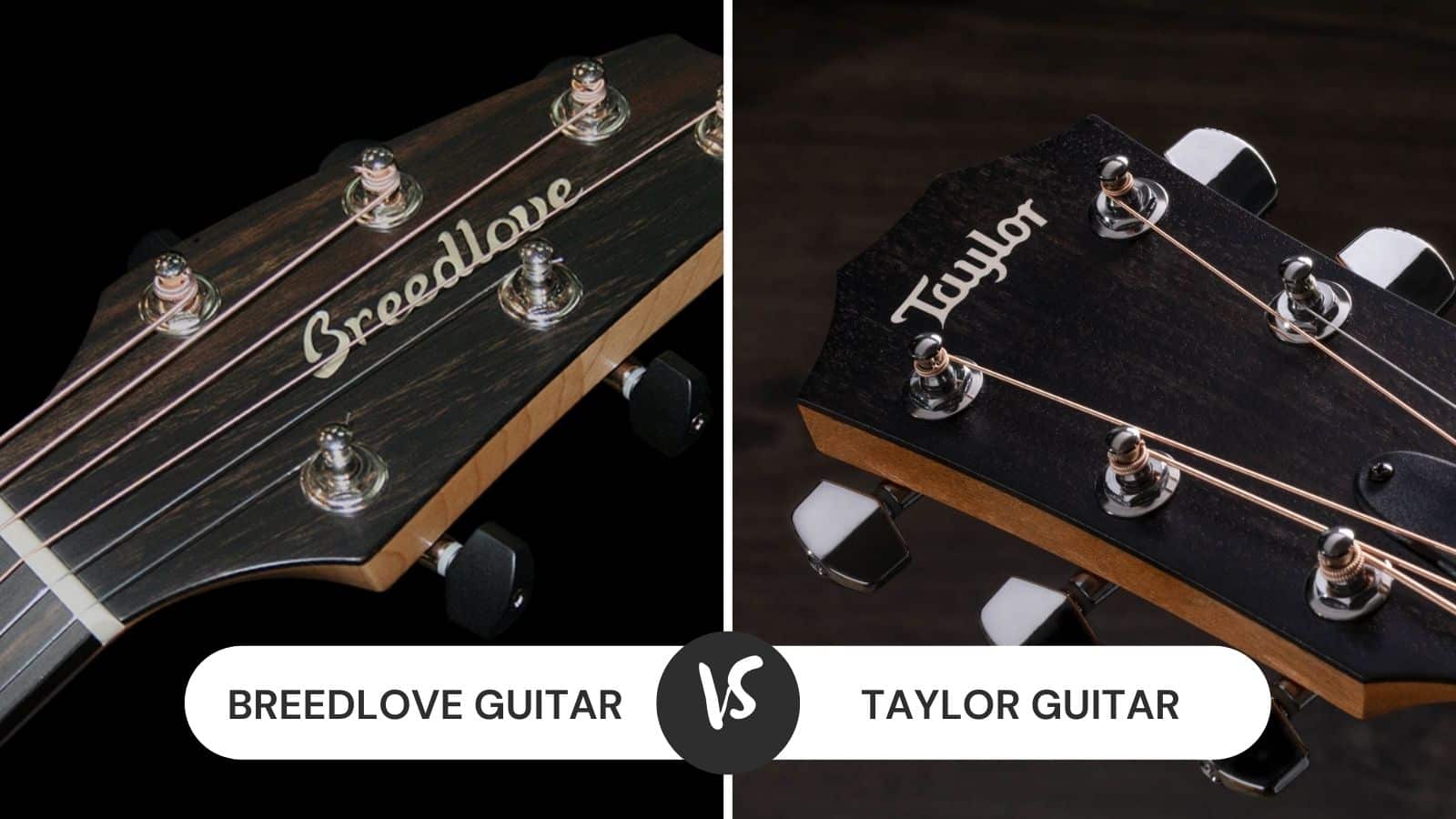 If you are an aspiring musician and plan to buy your first guitar, you need to understand that there are various guitars available. You can choose the perfect guitar according to its shapes, features, and different types.
Once, you fully research and survey and decide on the kind of guitar you want and what is your desired playing style as well as the genre you want to mostly play.
You could be someone who prefers playing soft genres or more aggressive ones such as rock and heavy metal. Once you have concluded on a decision about the kind of guitar you want, you then need to figure out from which brand.
There are many brands available in the market that also manufacture guitars, this can give you a hard time in deciding the right brand for you.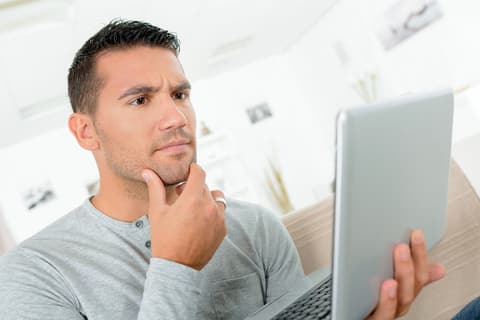 You can decide as per the features of guitars these brands offer and what would suit your guitar playing needs.
Two prominent names in the music industry are the brands Breedlove and Taylor. Both these are popular for premium guitar manufacturing and they are known for their utility, affordability and more!
When it comes to the quality of their guitars, the guitars are known to be sturdy and long-lasting if used with care. If you are wondering if there is a playing difference between the guitars of both these brands, then yes of course.
Since now you have a narrowed-down choice of two guitar brands, you need to be more specific to choosing either.
So to help you decide, here are the differences between both these brands. This will give you more clarity and understanding of which brand supports your playing style more!
Breedlove vs Taylor Guitar
| Features | Taylor | Breedlove |
| --- | --- | --- |
| Sound | Modern and rich. | Balanced and lush. |
| Playability | Patented NT neck | Slim neck |
| Bracing | V class bracing | JLD bridge truss system |
| Build | Excellent build quality | Handcrafted |
Breedlove vs Taylor Guitar
Breedlove Guitars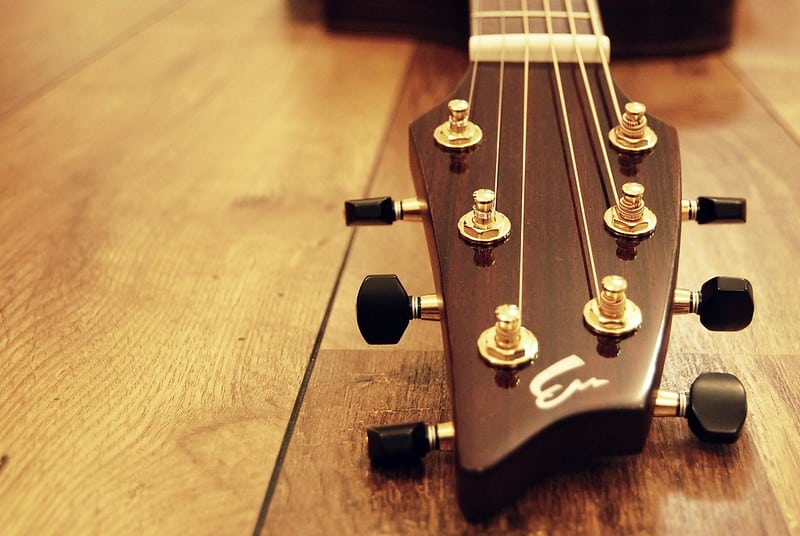 This brand in particular is more popular for its acoustic guitars. In comparison to other brands available in the market, Breedlove is relatively new.
They have been manufacturing and selling guitars for the last two decades and even in this short time, they have managed to win the hearts of guitarists with their wide range of acoustic guitars.
Breedlove is a great brand that is pretty famous for its acoustic guitars.
Despite being newer in the market, Breedlove has made its name for great utility and efficiency. If you consider buying a guitar from Breedlove, you will find that they offer a huge range of customized guitars that can fit to your needs.
The shape and build of their guitars are every guitarist's dream. You can find different graphics and dynamics which seem like the perfect add-ons you want in your guitar.
The customization of the guitars this brand offers, allows you to bring out your own style of playing and you can rock any performance you're planning.
As the brand's name and identity suggest, each of their guitars is hand-made which makes the guitars more special and unique.
You can find different types and styles of guitars at Breedlove and even if you have a specific acoustic guitar in mind, this brand is sure to have it. You can call this brand heaven-sent for all acoustic guitars.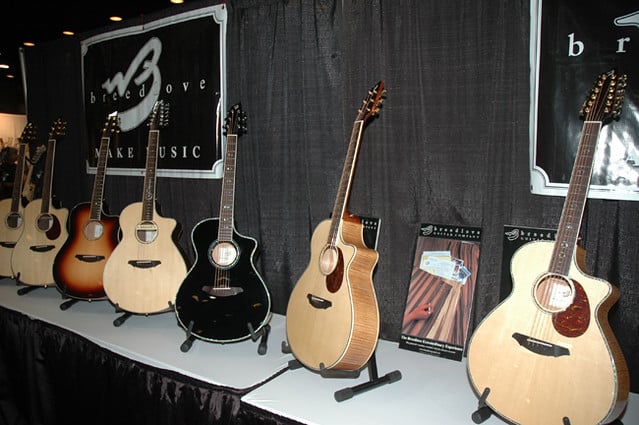 The quality of guitars from Breedlove is very durable and you can fully enjoy your guitar-playing experience with them. Breedlove only uses the best materials of high quality and this makes their guitars highly efficient.
You may feel that Breedlove guitars are on the expensive side but they are worth every penny spent. The quality and playing experience is enough to guarantee that you made the right choice by choosing this brand's guitar or guitars.
However, you can also find very affordable acoustic guitars here as well. If you have a certain budget in mind for buying a guitar and you are looking for something that is long-lasting, Breedlove is your go-to brand.
Breedlove originated from Oregon, USA but you can easily find their guitars throughout the globe.
Since they have established a strong and leading name in the guitar manufacturing industry, you can rest assured that spending money on their guitars will not result in any disappointment.
Taylor Guitars
If you are specifically looking for guitars in the US, this brand is your best bet. The guitars are made from premium quality materials that are available in the US. The look and feel of these guitars scream American.
The major difference between both these brands is that Breedlove only manufactures acoustic guitars whereas Taylor guitars offer both electric and acoustic guitars. This brand is known for expanding customer satisfaction by providing both types of guitars.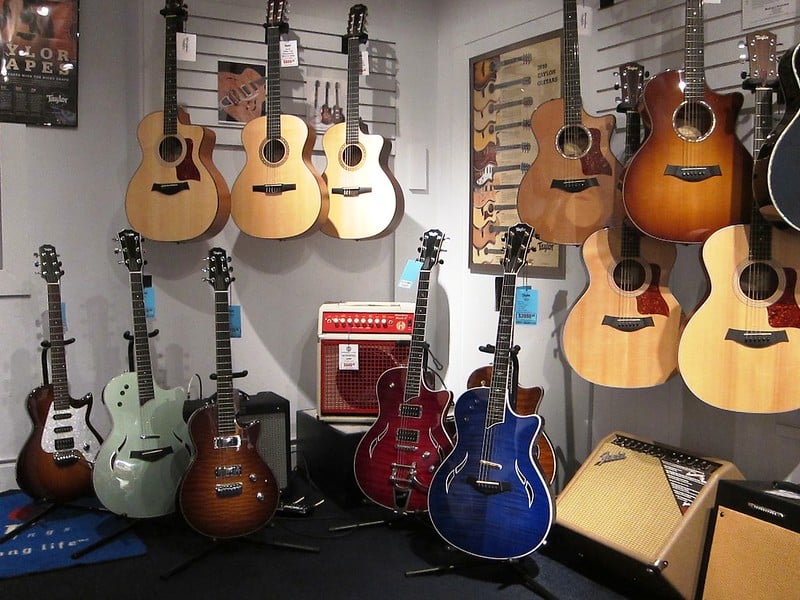 As mentioned earlier, Breedlove is comparatively a newer brand of guitars whilst Taylor guitars have been in business since 1974. This allows them to have more customer recognition and trust.
Guitar manufacturers are always competing amongst themselves but from a customer's viewpoint, the quality and durability of guitars win the game.
Since Taylor guitars have been in the market longer than most of their competitors, they are given a certain edge.
Many people opt for brands that are in the market for a longer period of time and have established themselves for their quality and customer satisfaction. People tend to trust such brands more because of their long-running period.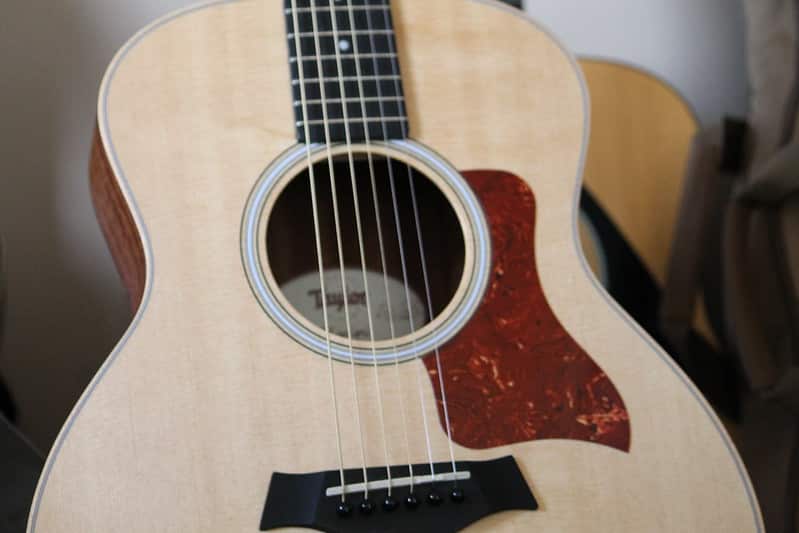 As a brand, Taylor guitars are known to evolve along with the rapidly changing music trends and instruments. You will notice that Taylor's guitars have modernized with time which includes various innovations and demands of the customer.
With Taylor guitars, you won't have to worry about getting guitars that don't have the latest features. As a guitarist, what more can you want when you are getting a renowned brand's guitar that promises durability as well as the latest features.
If you are someone who is out on the hunt for the perfect electric guitar, Taylor guitars are a trusted choice. You can find an electric guitar that has all the new features and it can fulfill all your electric guitar needs.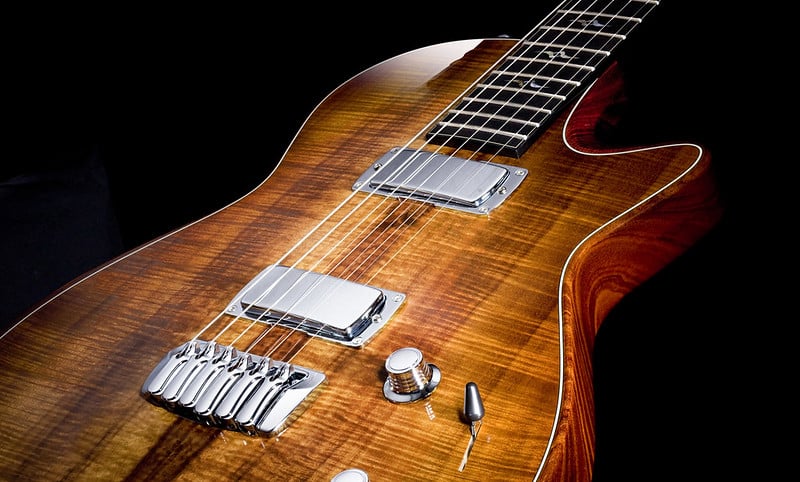 Taylor guitars esteem themselves for manufacturing and selling electric guitars that are fully equipped with everything an electric guitarist needs.
The latest features on your electric guitar by Taylor guitars allow you to have the best playing experience. They are easy to play and manage, you will also find that they are sturdy for playing more aggressive genres like rock, metal, or heavy metal.
Taylor's guitars do not have restricted features, in fact, you can find different types of options and features. This gives you the liberty to choose a guitar that ticks off your electric guitar needs and wants.
Taylor's guitars offer both acoustic and electric guitars made from the best quality material which promises you durability as well as any latest feature you are searching for, in a guitar.
Taylor guitars are known to be the first guitar company that started using modern computer-controlled lasers, mills, and other tools required for manufacturing guitars. Through this, their guitars are manufactured with the utmost precision and consistency.
Even though both these brands manufacture guitars on a large scale, they always made sure that their guitars have the best build quality, Taylor guitars more than Breedlove.
One of the prime reasons guitarists choose to buy a Taylor guitar is because of its adjustable neck angle. This feature helps the guitarist adjust the guitar as per timely needs.
Another point to be noted is that thanks to the precise manufacturing of the Taylor guitars, a properly set Taylor guitar can go about playing for years without the need for a refreshed setup.
To Conclude
All in all, both Taylor and Breedlove guitars come with their own unique characteristics, Breedlove is popular for acoustic guitars, and Taylor guitars are famous for electric guitars.
Both these brands have established themselves at the top of the market, they may be costly but they are worth every penny invested in their guitars. You can have an amazing guitar-playing experience with guitars from both these brands.