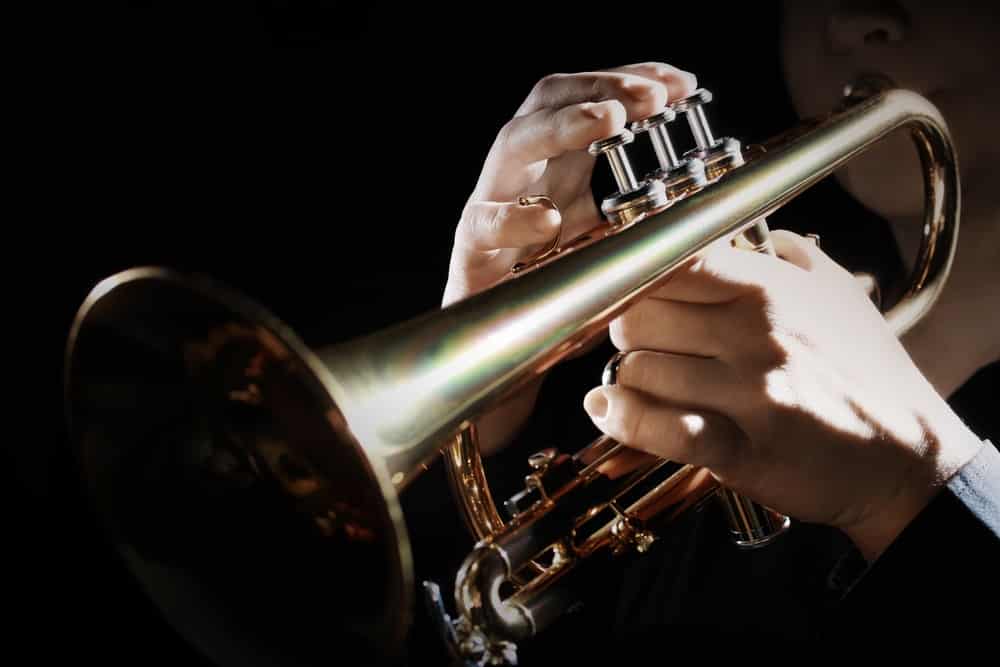 Trumpet is another brass instrument that is used in most classical and jazz music. It is basically a wind instrument that comes from the 16th century and was invented in the European region. With the nodes that you get on trumpet, this is just the perfect thing to be played for any sort of orchestral music or even solo performances that require the touch of classical or jazz music.
The instrument is essentially blown into with a pipe at one end. There are some buttons that control the airflow in bent pipes, and you get to control all the nodes and tunes. It might not be an easy job for you, trying to learn the trumpet as it requires great determination and passion to learn playing any wind instrument especially a trumpet, and if you are looking for some ways that can help you through the process, here are a few choices that you can opt for.
Best Ways To Learn Trumpet
1. Online Trumpet Lessons
Online lessons for musical instruments are not just a great way to learn any sort of instrument playing easily at the comfort of your home, but they are also the best way to save on commute and you get the right option to study at your own leisure, and comfortable schedule so you can manage it better.
There are tons and tons of online learning options out there that can get you confused with the efficiency and which might be best suitable for your needs. One such option that you must consider if you are looking to get the best online trumpet lessons out there would be as below.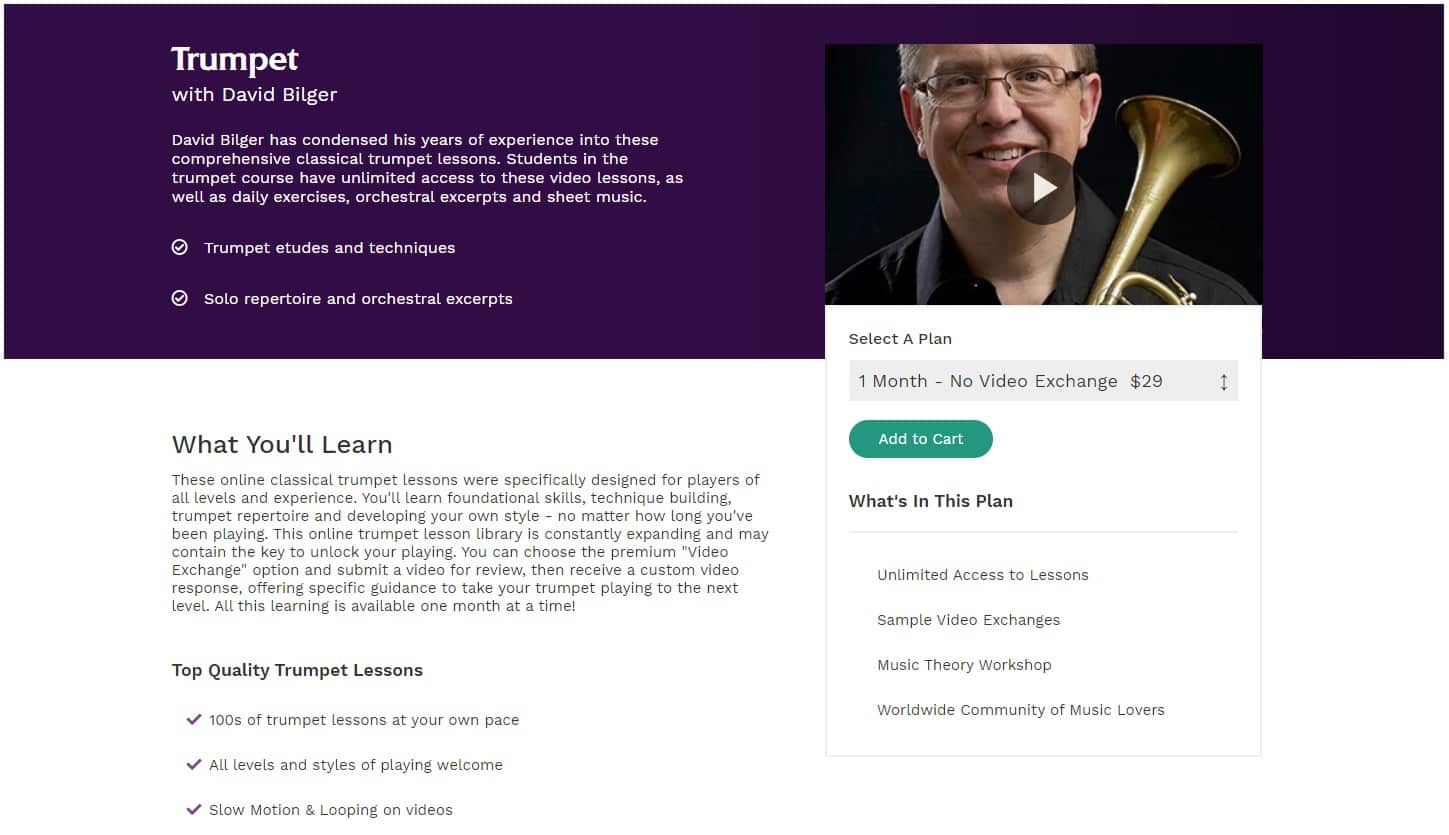 David Bilger is one of the most famous names in the world of orchestral music that is an institution in itself and you can have the best of his condensed experience over the years in this course. The course is designed with a comprehensive narrative that allows you to learn all the key factors that you are going to need over your journey in learning the trumpet online through a gradual approach.
In this step-by-step guide to learn how you can not only play trumpet but design a unique style of your own, you are in for a real treat if you are passionate enough about music and settle for nothing less than the best.
The course fastest and most elaborative guide to learn trumpet that you can get online with the right narrative and information. You will get to learn trumpet etudes and techniques, some cool resources like exercises, orchestral excerpts, and reading sheet music that will supplement your journey towards playing trumpet as a professional player and make your own identity in this highly complicated equipment that is second to none in terms of cultural importance.
With the help of this course, you will also be able to get a firm grasp on solo repertoire with the trumpet so that you can play it for any sort of audience that you might want to and mesmerize them with your skills on the trumpet. The best thing about learning from Artistworks is that you get unlimited access to the lessons so there is no pressure on you to have it completed in duration and you can keep the pace that you are comfortable with.
2. Books
There are also tons of trumpet books that you can find out on the internet or in libraries that contain all the sheet music, instructions, and best tips on how you can master the instrument without facing any sort of difficulties. Now, these trumpet books might not be the perfect fit for absolute beginners but they can supplement your learning process greatly if you are using some online tutorials.
If you have subscribed to the ArtistWorks online lesson, they contain a massive amount of information on the background, history, and different playing style of the trumpet that was a huge success in the past and how you can use them for your own benefit to learn playing trumpet in an effective manner. The books will also help you with choosing the right trumpet that matches your playing style.
Not only that, but these trumpet books are the perfect way for you to understand the depth of trumpet and how you can enhance your playing techniques and lighten up any performances that you might be preparing for. With the right book, you will have the perfect read for your leisure time and that will make your trumpet learning process a whole lot smoother and more fun for you.
3. Private Tutor
Having a private tutor is the next best thing that you can get if you feel like online trumpet lessons are not working for you. All you need to do is find out some experienced trumpet teacher who will be able to take you through the journey and guide you with each step. Needless to say, that it might be a little expensive than the other learning methods that you can choose from, but learning trumpet from a private tutor will be a whole new experience that you will love greatly.
A private tutor will essentially help you through the first steps like picking up the right trumpet for you to maintaining the right posture, how to develop the right stamina to be blowing in the trumpet effectively, and not get the rhythm broken during a performance.
Moving forward, you will be able to practice along with your private trumpet tutor to ensure that you are getting the perfect routine and all the skills that you have learned are being exercised. You can have the right goal-oriented training on the trumpet with the help of a private tutor and make it count towards the ultimate bar you have set for your trumpet playing journey.
4. Orchestra
While it might sound a bit advanced for those who are not familiar with the instrument at the moment or are looking to have something for beginners, joining an orchestra will be polishing the skills that you have and enable you to have the right confidence to perform at any given event that you might want to or even for the solo performances.
The best thing about joining an orchestra is that you will not only learn how to play trumpet by ear, but you will also be working up on all the required skills such as playing with other instruments, complete performing stamina, and how to pick nodes with the right classical music.
So, if you are at an intermediate level of learning trumpet and want to brush up on the trumpet learning skills, joining an orchestra is simply the best thing that you can do to have a truly wholesome experience with other musical instrument players and join them with any sort of performances for the right intended audience.
The Bottom Line
Trumpet being a complex instrument is not easy to learn with a single thing and while online trumpet lessons are a great help, you might still need to take help from some other means to learn trumpet or to supplement the learning and make your skills up to the par that you have always had in mind. With the right means according to your needs, you will soon be able to play for any sort of audience.