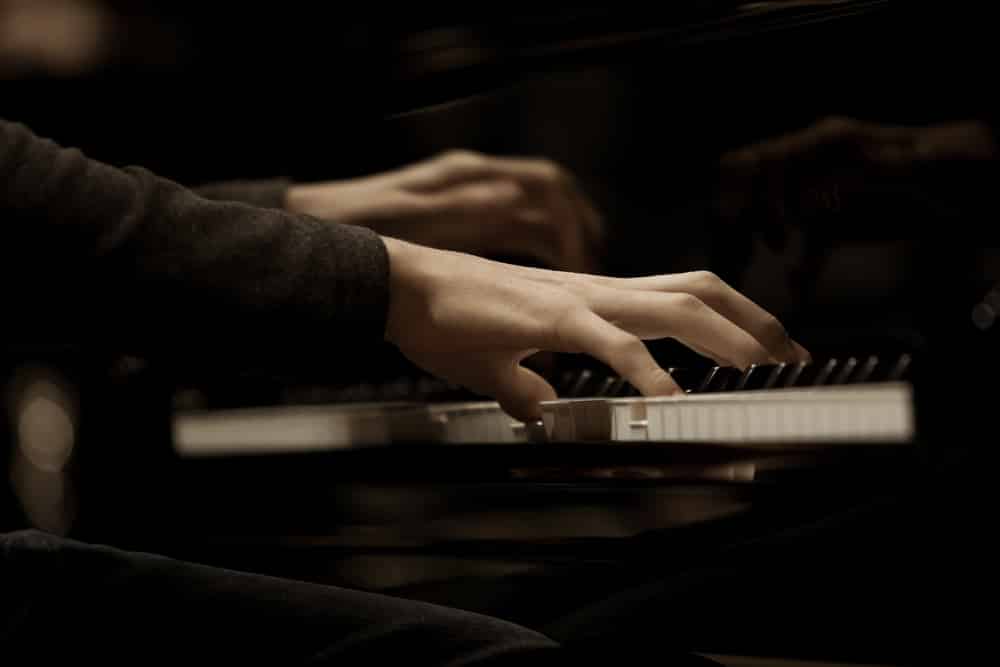 Music is a pretty dynamic niche out there and piano is one of the classics out there. If we are being honest, the piano has become a seamless and most captivating pastime for people who get bored. To be honest, the piano is the ultimate musical instrument that's an equally fine choice for social settings and private music-playing experience.
DISCLOSURE: This post may contain affiliate links, meaning when you click the links and make a purchase, we receive a commission.
But again, the piano isn't the cup of tea for everyone because learning how to play the piano demands effort and time if you want to become proficient. Similarly, everyone is different and so is their learning preference. So, in this article, we are sharing the six best ways to learn piano that matches the diverse learning needs of piano enthusiasts!
Best Ways To Learn Piano
1. Online Piano Lessons
In a world where everyone has laptops and smartphones, online learning has been incrementing over the course of time. Similarly, if you want to learn how to play the piano, an online piano lesson is the ultimate drill. This is a relatively new method but it's become popular, given the improved online content that can teach the nicks and knacks.
This is because all you need to do is type the piano tutorials in the browser and hundreds and thousands of tutorial videos will pop up to help you. For instance, you can find a wide range of piano tutorials on ArtistWorks since they have something for every skill level. Online piano lessons are one of the most effective and affordable ways of learning how to play the piano.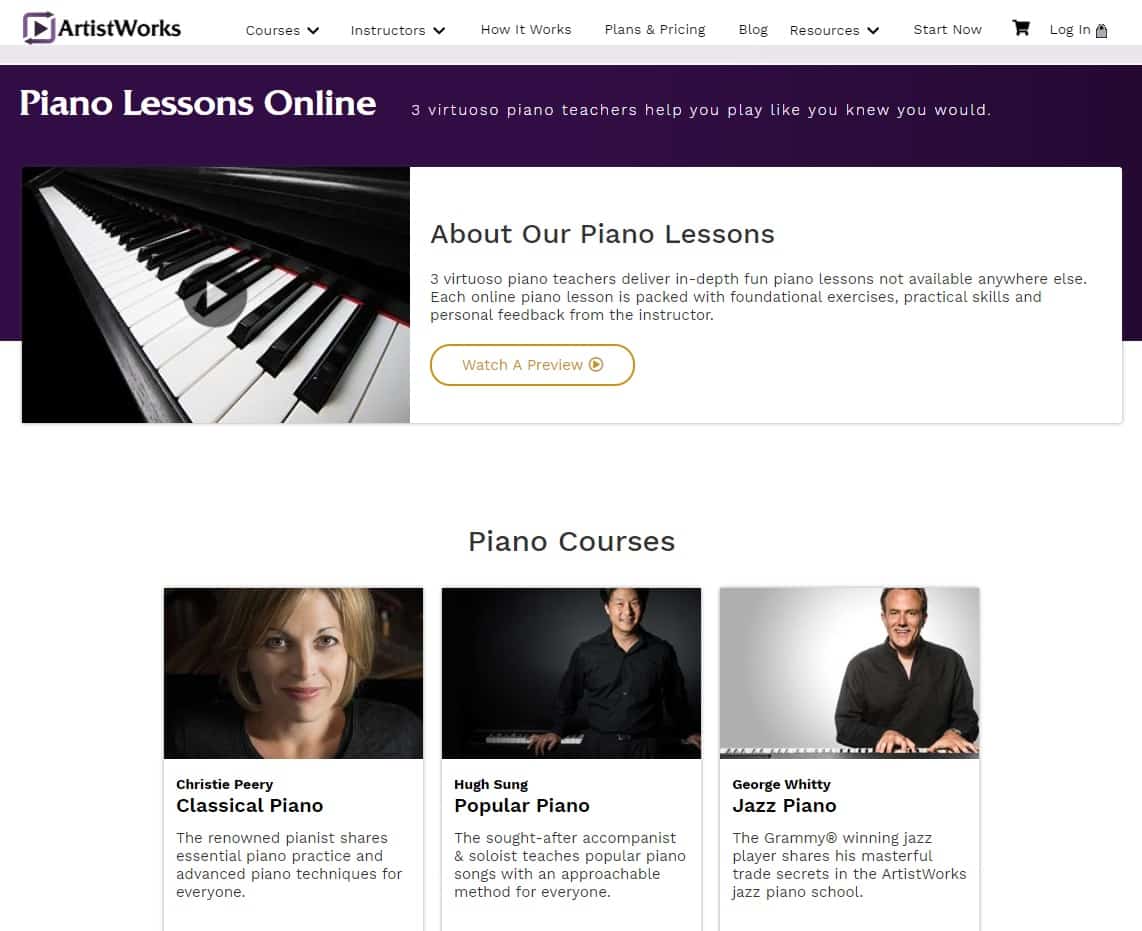 There are online tutorial videos, so you can learn at your own pace since no instructor is bothering you to "come on time." The online learning curates the program and course that you can sign up for and access the in-depth instructive videos. All the resources with online piano lessons are well, online, and promise higher flexibility.
In case you opt for a course or program, it's designed by one person (instructor) that helps curate a learning flow. There are objectives in the courses, so students can remain aligned to the end goal and keep thriving to harness the right skills. In simpler words, online piano courses can help achieve the desired and lined-out results.
As compared to other conventional learning methods, online piano lessons can be pretty economical. On top of everything, there is no eligibility criterium except the fact that you need an active internet connection. In addition, these online lessons drive better and efficient learning results. In the case of ArtistWorks, you can even get instructor support, so you can get the confusion cleared.
The online piano lessons are best for casual musicians who don't want to stick to the strict class schedules and people who don't have time to commit to the in-person classes. Even more, students who need piano lessons on their mobile phone screens. To be honest, some beginners struggle with music theories which makes online piano lessons a great learning podium.
Through online piano lessons, the band members can learn the right techniques that curate piano in their music ensemble. As far as the downsides are concerned, you might need to spend some time finding the right course or musical program because there are multiple choices available, so you need to thoroughly read the content outline and objectives.
2. Traditional Lessons
Well, some people love the conventional and traditional lessons while some people hate it, so it's pretty much the love-hate thing with traditional piano lessons. The traditional lessons are fine for people who need to learn sight-reading. The biggest upside of traditional lessons is that it helps understand and learn music theories.
This is important because music theory can directly influence musicianship skills. Also, the piano enthusiasts that struggle with making a routine, can opt for traditional lessons since you have to stick to the routines. Above all, the traditional lessons are suitable for people who have a low attention span, because you will be forced to make a routine.
With the traditional lessons, you are taught on actual pianos, which means there will be ample stamina development. In some cases, it can even create some opportunities for students who want to take it up as a career. In simpler words, someone might hear you play and you will catch some public performance opportunities.
To be honest, traditional piano lessons are suitable for people who are interested in a professional pianist career or pianists who are interested in classical music. So, if you are anything of these people, traditional piano lessons are perfect for you!
3. One-On-One Private Lessons
When people first start with piano, one-on-one private lessons are one of the most preferred choices. To be honest, this learning method is the easiest one out there and effectiveness is off the charts since you can develop a positive reputation with the instructor. This close relationship with the instructor helps students gain in-depth feedback.
For instance, the instructor will know you better and he/she will know what steps you need to focus on and what steps will be learned quickly. In addition, they get to depict your body language and how you need a break to create an effective learning outcome. One-on-one private lessons are perfect to gain constructive criticism and harness better skills.
One might think that class lessons are suitable but the beginners might not get as much attention, hence poor feedback and lousy outcome. In simpler words, the instructors who know you better will help you improve the weak points to ensure that you can move to an upgraded level. Even more, in-person motivation is always a power-boost one needs to improve the learning speed.
However, the one-on-one private lessons can be pretty expensive, since the instructor is only devoting their time to you (for hours). But again, the practice time and commitment level are perfect for beginners to harness better skills.
Well, we all know some introverts, and if you are one, you can indulge in self-learning through books. Some people don't feel as comfortable in private learning classes which can adversely influence the musicianship outcome. So, one can always buy music books and learn piano techniques on their own for an effective and comfortable musicianship experience.
However, one needs to be vigilant in choosing the book because there is a variety of books available out there to meet the diverse needs of piano enthusiasts. The books are actually designed according to the skill levels. For instance, basic piano lesson books help learn basic chords and scales. If you move to pro book, you can learn high-end techniques and fine-tune the musicianship skills.
Also, when you want to learn the piano on your own through books, you might need to get flashcards for better learning. In addition, don't forget the notebook, so you can write sheet music. As for the flashcards, they will help in learning the piano skills in a better way and develop the foundation. However, there won't be constructive criticism or feedback, so that's a downside.
5. Piano Learning Apps
We are living in an era where using a smartphone has become the ultimate need. With this being said, you can download the piano learning app on your smartphone and bid farewell to the clutter of music notes and books. The smartphone apps are highly interactive which optimizes the music learning experience. The majority of piano learning apps have engaging and intuitive interfaces.
These interfaces help curate the user-friendly experience, so you can easily learn the skills and feel like you are playing a game. The piano learning apps are usually combined with interactive visuals and audio styles, so you can harness the effective and well-integrated learning approach. We suggest using paid apps with monthly subscriptions because their content is always better as compared to free apps.
Even if you opt for the monthly-subscribed piano learning app, the costs will be less than the private lessons or traditional classes. All in all, these apps are pretty flexible, since you personalize your music learning preferences and learn how to play piano in an interactive and fun way.
6. Music Learning Centers
If you are living on the western borders, we are pretty sure that there would be free learning centers and these can be pretty effective for people who need in-person classes without paying a fortune. This is because the students can gain an interactive learning experience and personalized feedback from the instructors.
To be honest, these learning centers are best for people who like teamwork and social gatherings because there will be other students as well. All in all, the students will get the just-right competition to feel and motivation to learn new piano skills. Above all, when other people listen to you play, they can provide the essential hacks and guidelines that will improve the musicianship skills.
In simpler words, these music learning centers will offer an infinite knowledge pool that you can learn from. Lastly, there are communal instruments at these centers, so you can learn even if you don't have a piano of your own.
The Bottom Line
With this article, we have lined out six best ways to learn piano to meet the unique learning needs of piano enthusiasts. We suggest that you weigh the pros and cons of each learning method to ensure you make an informed choice. So, which learning method is appealing and suitable for you?