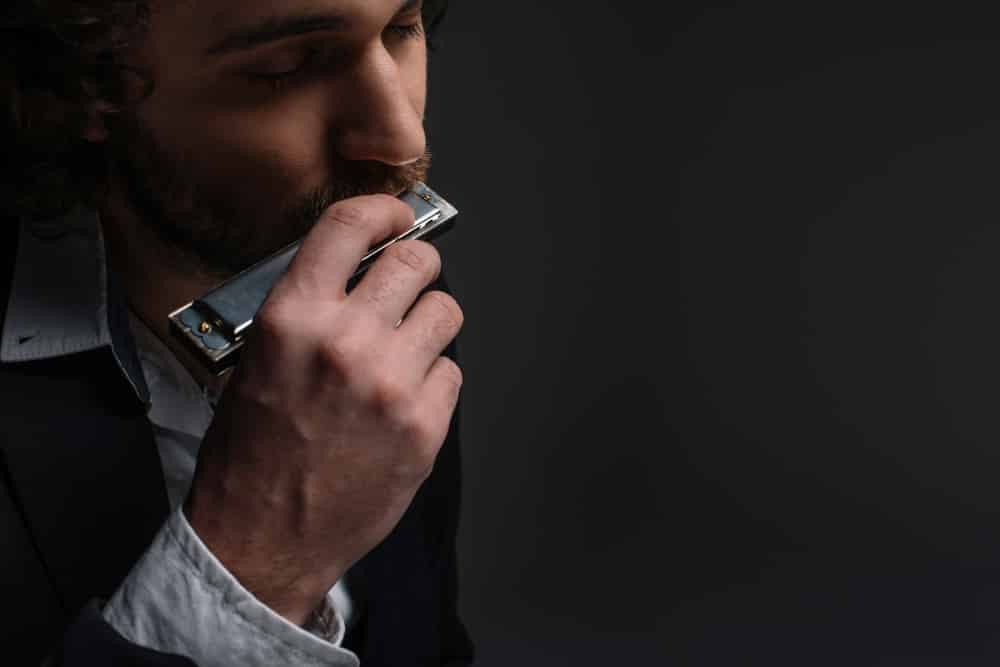 Harmonica is the instrument that is most commonly known as the mouth organ or the French harp in ancient literature that you might get your hands on. It is a straight musical instrument that is basically from the family of wind instruments and originated from Germany in the early 1900s. The instrument is being played by blowing into it with your mouth and moving it across your lips for varying tones and musical nodes that you might want.
The best thing is that it has many applications and the harmonica is being played for American folk music, blues, classical music, jazz, country, and even rock occasionally so you are going to have great exposure to all these genres of music if you choose to learn harmonica.
Not only that, but there are also several different versions of Harmonica as well such as diatonic, chromatic, tremolo, orchestral, and bass version that you can choose to have based on your needs.
Best Ways to Learn Harmonica
Harmonica is one of such very few instruments that have such huge diversity with them and it would not be possible for you to master it all with just a few lessons that you can get so a wider exposure or goal-based learning is the key to master harmonica with the perfection that you seek.
While you can choose the version of harmonica you want to learn, there is a great deal left still to consider like how you want to learn it and these Artistworks lessons would be the perfect choice for you.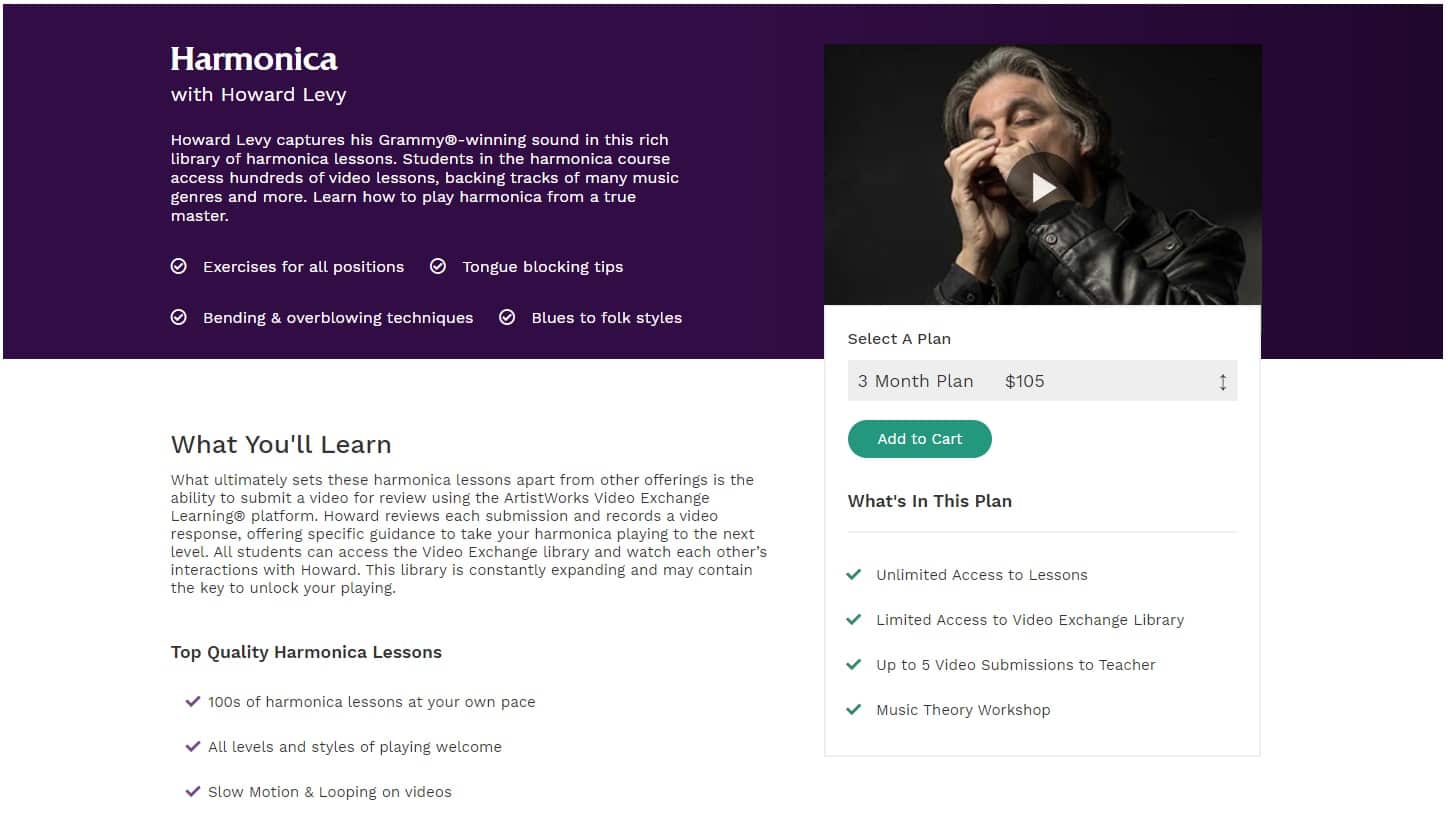 Howard Levy has bagged several awards including The Grammy and you get a chance to learn all the magic behind his Grammy-winning sounds as well in addition to all the other cool and truly enchanting pieces of art that he has created. This truly rich with passion library of tunes played on harmonica are probably the finest collection that you can get online as these tunes are his own creations and he explains how you can learn playing harmonica by practicing all these tunes and grow your skills accordingly.
With the help of this course, you will have unlimited access to all the course video lessons with the option of slow-motion and looping so you can practice on your harmonica along with them and make sure that you are getting it right without any major mistakes.
The course contains exercises that will help you master all four positions that you can play harmonica in and spread the magic of music and those soft mesmerizing tunes for your audience. You will learn tongue blocking tips and skills that are going to help you over those edges that you don't want to touch with the harmonica and get your nodes right, no matter what sort of tune you are playing.
Furthermore, the course also contains elaborative insight on bending and overblowing techniques so you are blowing just right in the harmonica and have full control over your breath. The best thing about learning from this course is that it is truly versatile in terms of genres and you will be learning a great deal ranging from Blues to Folk Style music.
2. Music Degree
With a musical instrument that is as diverse as the harmonica, chances are thin that a single online lesson can help you learn all of it and while the lesson mentioned from Artistiworks promises a great deal, it might be only the surface level intro to the instrument. All these genres of music for those who like to have a deeper insight into any instrument.
So, having a music degree with a specialization in harmonica is going to ensure that you are getting the instrument right. Not only that, but you will also get the right edge of learning all those genres with a deeper perspective so you can make an effective choice as to what would you like to pursue or even become an all-rounder Harmonica player mastering them all.
Thus, if you can afford and have the right music university or school offering a degree with a specialization in harmonica, you should definitely consider it because it is also going to help you pursue a career in music.
3. Music Studios
There are tons of music studios all over the world that can help you learn any sort of instrument you want as there are experienced musicians for whom music is their bread and butter. So, if you are passionate about learning harmonica and want the most untraditional way that will take you through the heights of skills, then joining the right music studio would be the perfect thing that you can do for your passion.
You will be able to get a chance to be surrounded by other harmonica players and students that will help you grow your interest, talk out your problems with each other effectively, and whatnot. You will also be able to learn the skills that will enable you to play harmonica by ear and in some orchestra.
4. Books
Harmonica is a great instrument that is popular in all the regions and there are lots of books written on it. Now with the help of these harmonica books, you get access to not only instructions that can help you learn how you can play harmonica, but most of these books come loaded with illustrations. All the sheet music that you can use for practicing and perfecting your skills to the level that you want to take them.
Having the right harmonica books will be a great way for you to learn harmonica if you believe that you can learn it on your own and don't need any assistance. All you need to do is make sure that you are choosing the right harmonica book that has an easy-to-understand narrative and illustrations that you can follow along with the sheet music and the rest of the process will become easier for you.
5. Private Tutor
Having a private tutor to learn harmonica is still one of the best ways to be able to get the right training and guidance to practice for the goals that you have set for yourself. A private tutor will ensure that you are learning the skills perfectly as you need to and you have all the attention that you are going to need while playing the harmonica.
You will be learning all the skills that you want, with a personalized curriculum and learning module that is based on your goals and learning needs. You can also learn at your preferred time and the place of your choice.
The Bottom Line
Harmonica is one of the most versatile instruments and has significant importance in most major music genres so it will be the right thing for you to learn if you are planning on pursuing a music career or you are passionate about harmonica significantly. These are some of the best methods that you can choose, but you know your needs and learning style better so you should be able to devise the best plan for you to learn harmonica in the best way and achieve perfection.