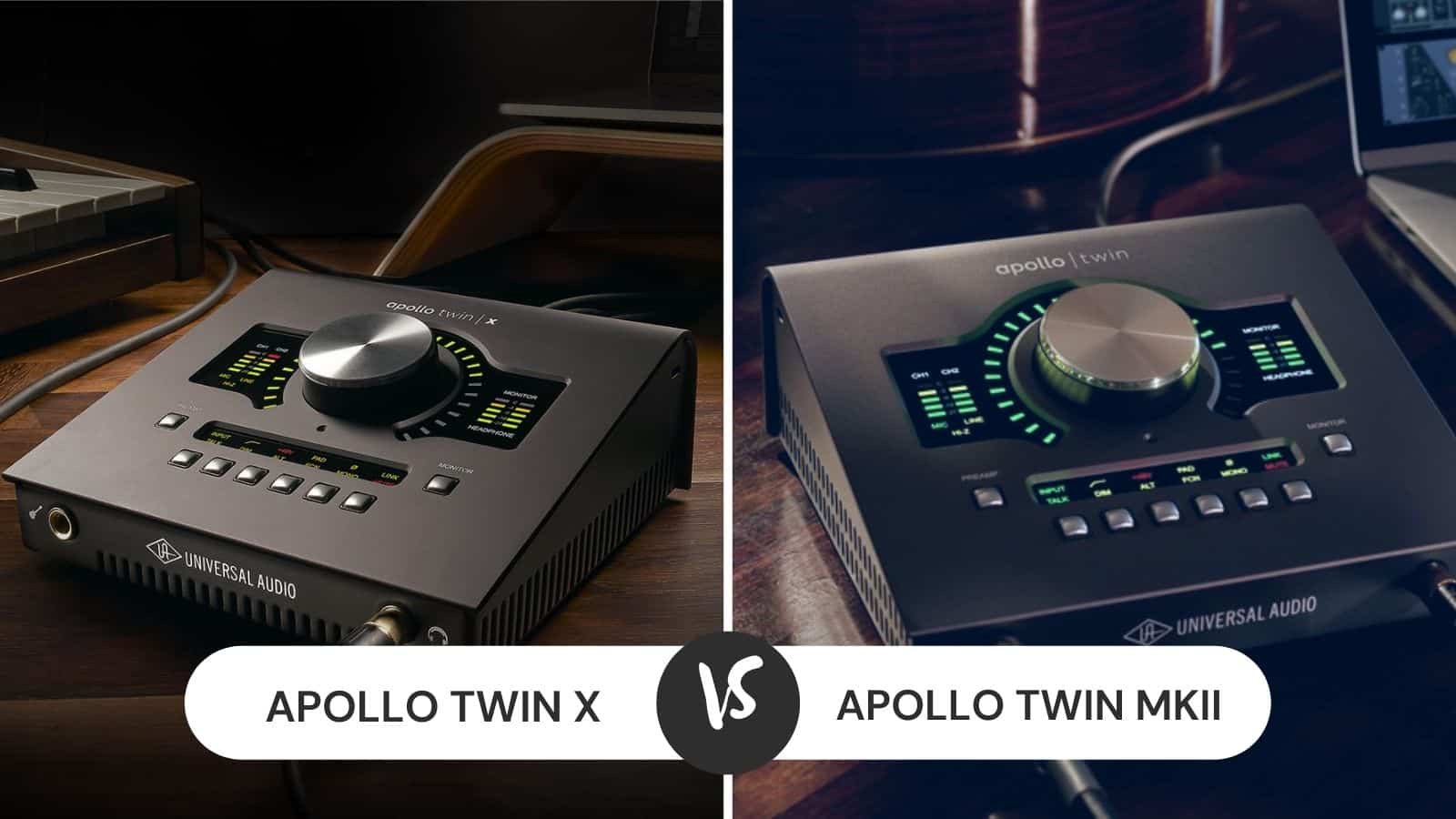 In the pre-digital days, hardware was used for music production and recording. In modern days, the evolution of DAW (digital audio workstation) software has brought quite an advancement in the recording world.
Regardless, the role of the audio interface remains as important as ever. An audio interface is a piece of external hardware that is responsible for the sound recorded by the DAW software.
Universal Audio finds its place among the top names in the recording. This company has been bringing technological improvements for more than sixty years.
Most people find themselves looking for differences between Apollo Twin X and MKII when they have to add a Universal Audio interface to their setup.
Both these models promise utility, power, and a grand working experience with audio engineering. However, a few factors set them apart. There are some things that you need to consider before making a choice.
At a Glance
| Features | Apollo Twin X | MKII |
| --- | --- | --- |
| Audio interface | 2-in/4-out audio interface | 2 premium Unison mic/line preamps |
| Output | 2x Unison preamps | 2 line outputs |
| Processing | 4x UAD-2 processing cores (2x cores in Twin variant) | Front-panel Hi-Z instrument input and headphone output |
| Signals | High-quality signal paths and converters | Built-in talkback mic |
| Input channels | Up to 8 digital input channels | Up to 8 channels of additional digital input |
| Output channels | Internal 'virtual' auxiliary busses | 2 digitally controlled analogue monitor outputs |
Apollo Twin X
The Apollo Twin has earned its place as the most renowned desktop audio interface in Universal Audio. Its grand features, including two mic preamps, four line inputs, a Hi-Z filer, a high pass filter, and many more, make it a professional audio interface.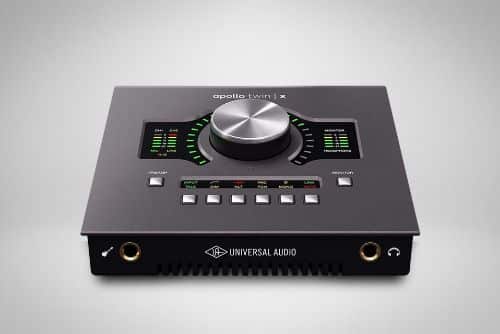 Musicians get to track, overdue, and mix with the elite class of the A/D and S/A versions.
Apollo Twin X comes with unmatched power as compared to the rest of the models from Apollo. The dual or quad-core processor setup on the Apollo X lets you enjoy the best power while simultaneously running multiple plugins on the computer or Mac.
It's not just the immense power that you will be getting from Apollo Twin X but also the compatibility that comes with it. Another intriguing feature that makes Apollo X unique is its Thunderbolt port.
The upgrading of the Thunderbolt port to 3.0 makes it quite compatible with the number of latest versions of Mac and also allows you to have a great experience with your engineering needs.
As the name depicts, Thunderbolt is known for its speed, so it will increase your speed for you.
Twin MKII
Apollo Twin MKII is another audio interface that resembles Apollo Twin X in many aspects, including processing power, durability, and many other features. As mentioned earlier, the Thunderbolt port is a very important part of the interface.
The Apollo Twin MKII comes with a Thunderbolt 2.0 port instead of the 3.0 port.
You can comfortably use Twin MKII even if you are using an older version of Mac. In case you have a new version, you need to use a USB to Type-C converter with your Thunderbolt 3.0 port macs, which will only affect the speed just a little bit.
So, you don't necessarily need to get the upgrade if you are not looking to spend a fortune.
In case you are searching for a new one, you should opt for the Apollo Twin X. The reason is that it provides clutter-free connectivity with the fastest possible speed.
Most people own computers that do not include Thunderbolt 3 spots. Therefore, they can pick the Apollo Twin MKII.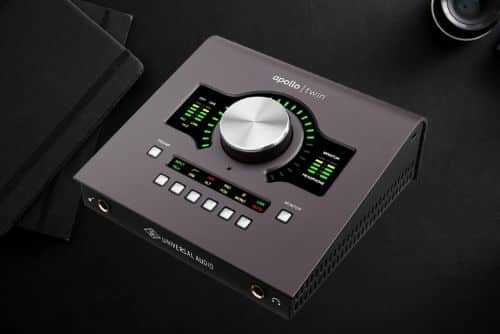 Comparing the Apollo Twin X vs Mkii
Getting to the point, there are some basic differences between Apollo Twin X and Twin MKII despite the uncanny resemblance in their cool finish.
The basic difference lies in the connectivity of Thunderbolt 3 and Thunderbolt 2. Apollo MKII is a previous model of Apollo that comes with Thunderbolt 2 connectivity. As far as the latest edition of the Twin X is concerned, it has Thunderbolt 3 connectivity.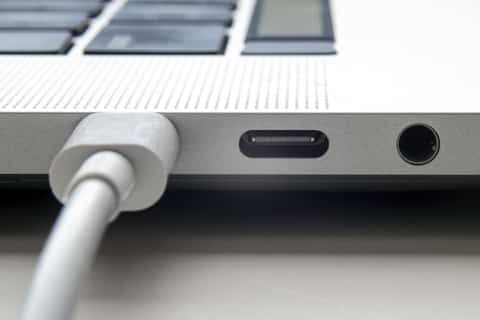 Another difference lies between the two of these interfaces is the upgraded converters in their latest versions. However, it can be said that there is an improved sound quality between the both.
Users affirm that the converters of MKII sound more vintage as compared with the Twin X. The latter does have converters that sound ultra clean and modern.
Conclusion
Both Apollo Twin X and MKII are fine models to get your hands on. However, the difference lies in the Thunderbolt connectivity of these models. Twin X has connectivity of 3 while Twin MKII has two as connectivity.
Hence then it comes down to your choice of connectivity you are looking for. If you require higher connectivity then Twin X is the way to go!