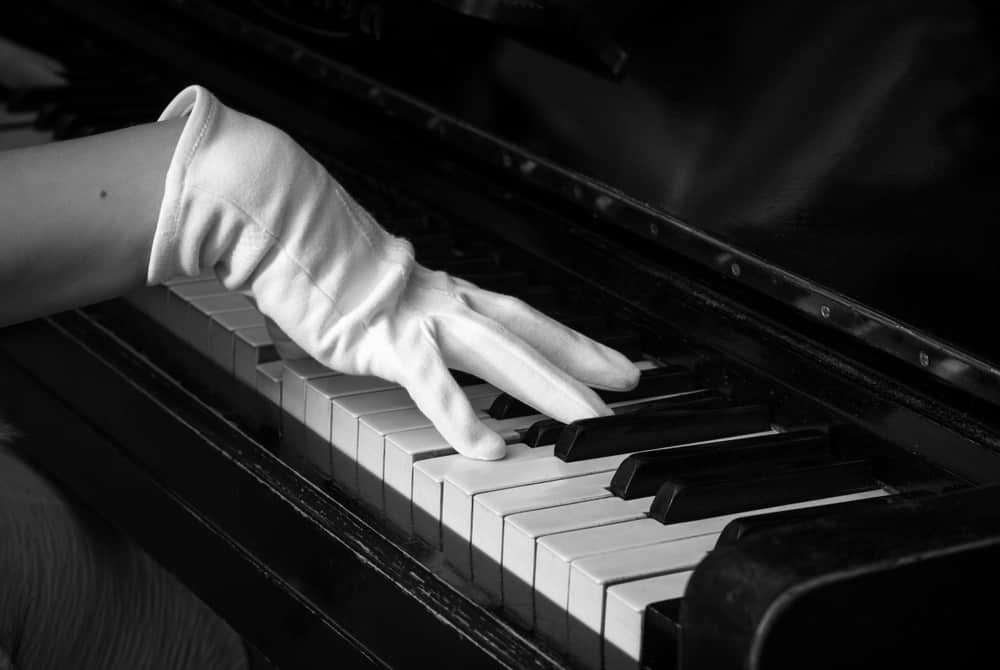 Actors, musicians, dancers, as well as many other people involved in The Arts sometimes have their idiosyncrasies. This could be aligned with a long-standing superstition, or a self-imposed ritual is undertaken to perhaps to bring luck to a performance or a greater degree of success.
One of my favorite superstitions is one that surrounds a particular play by William Shakespeare called 'Macbeth'. It is often felt to be extremely bad luck to call this play by its name when rehearsing or performing it. Instead, you may hear the play referred to as 'The Scottish Play'.
Why Do Pianists Wear Gloves
For musicians, their hands must function properly in rehearsals, practice, and performances. Hands as extremities of the body can suffer from all manner of unpleasant ailments from poor circulation through to cracked ends of fingers and arthritis. As the seasons of the year change and the weather turns colder keeping hands warm is vital.
If you do suffer from a medical condition, then this can be key to ensuring that your hands can work at their best. It is completely understandable if you are a pianist that is about to give a concert performance in the middle of a Moscow winter, that you would wish to wear thick gloves to and from the venue, but are there other reasons that pianists may have been seen wearing gloves?
In some cartoons you will see Bugs Bunny perhaps, playing a classical piece dressed in full concert attire with white gloves on, pausing only momentarily to chew a carrot or utter the immortal phrase "What's up Doc?". (The rumor was at one time that the artists found drawing hands overly challenging but drawing gloves was easier).
Do practicing musicians wear gloves to perform? In an article from The Guardian, Stephen Pritchard interviews the remarkable pianist, Angelo Villani. The article dates back to 2012 when Villani was making a come-back following his battle with poor health.
Just before Villani was about to meet the herculean task of performing at The International Tchaikovsky Piano Competition he was forced to abandon his ambitions due to a trapped nerve in his shoulder. This led to a twenty-year search for a solution to this debilitating problem.
The solution that eventually manifested was one known as 'Tui na', but more importantly for this article is the fact that Villani took to performing with gloves on. Villani claims that the wearing of gloves assists his movement across the piano keys freely. He also claims that the gloves help prevent any cramping of his hands or unconscious gripping that had caused problems for Villani in the past. If you find this hard to believe and are understandably dubious about the effectiveness of playing with gloves on, then you can see and hear Villani in this video.
On the other side of this discussion, you will find numerous posts from pianists adamantly stating that it is impossible to perform with gloves on. The sensitivity of touch is compromised to a point where the instrument becomes unplayable. For some pianists, there is a halfway-house. By this, I refer to gloves that are not complete in the usual sense of the word but are fingerless.
Wearing gloves like this means you can maintain a degree of comfort in colder conditions whilst still being able to 'feel' the keys, judge the pressure needed, and control phrasing, dynamics, and articulations. If you're in the market for these styles of gloves you will find them freely available from many online sellers and perhaps if you are participating in an outdoor gig, these gloves could prove to be invaluable.
Injury or disease is sadly just as common for practicing musicians as anyone else. Certain illnesses make playing the piano, or any other instrument in all probability, very difficult if not entirely impossible. A story that hit the news in the early part of last year is one that caught my eye as I researched for this article.
One of Brazil's most celebrated and renowned pianists João Carlos Martins was in the unfortunate position of not being able to use both his hands for a period of around twenty-one years. João Carlos Martins is felt by many to be one of the world's greatest interpreters of the music of JS Bach but following a series of accidents and an attack, João Carlos Martins found his hands could not properly function. Besides, João Carlos Martins has a degenerative brain disease that directly compromises his peripheral movement.
Under such terrible conditions, João Carlos Martins moved his career towards conducting rather than piano playing to great success. He did not abandon his piano playing and even though his fingers ceased to work he continued to play using just his thumbs. It must have been an awful and soul-destroying experience. João Carlos Martins did not give up hope and a designer called Ubirata Bizarro Costa contacted him to see whether he might be able to assist with the condition.
Following many months of testing and trials, Costa developed a pair of bionic gloves, covered in neoprene, that effectively pushes the pianist's fingers upwards after they have pressed a key. Interestingly, these remarkable gloves only cost about £70 to create but have transformed the life of João Carlos Martins. Not all of the problems are resolved for Martins but he has begun to play in concerts once again.
Glen Gould, Canadian pianist of great acclaim was another star of the piano world who often wore a scarf and gloves when performing. Gould became well-known for his eccentricity as he did for his recordings of JS Bach. Alongside the glove-wearing, Gould would soak his hands in hot water before each performance, and often hummed as he played, which for some is a quaint oddity but for others a considerable annoyance that disturbs otherwise exceptional performances.
Whilst glove-wearing pianists may not be a familiar feature in the concert halls of the world, it is perhaps not as rare an occurrence as we might suspect. If as a pianist, you have never tried playing with gloves on, why not try it and see what effect it has on your performance. Who knows, maybe you will be a convert.