If you visit Austria today, and in particular Salzburg, you could be forgiven for thinking that WA Mozart was a manufacturer of chocolate or liqueurs.
There is such a plethora of confectionary and other Mozart named consumables in these beautiful locations that it is all too easy to overlook the musical achievements of the man.
One small advantage perhaps is that whilst you sip your coffee and luxuriate in a Mozart Torte, you can take a moment to learn why, or remember what it is that makes WA Mozart famous.
What Makes Mozart Famous
In his day, WA Mozart was recognised by many powerful and influential people in Europe as being a child prodigy.
The ambitions of WA Mozart's father Leopold are well documented and it was as a result of his skills, organisation and to an extent, reputation, that the young WA Mozart and his sister Nannerl, (Maria Anna Mozart), gained fame.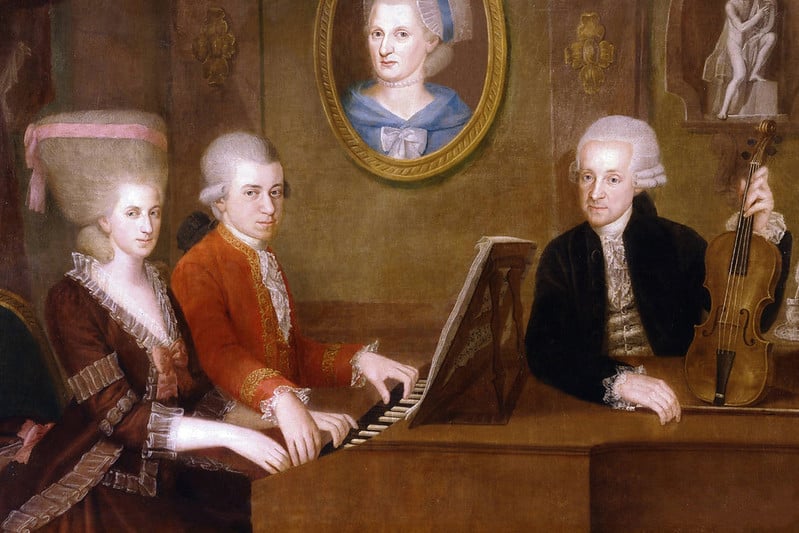 This was achieved through Leopold arranging arduous tours for the children who performed at the courts of the nobility. Leopold knew that this was the only route to success as a musician and he also knew how talented his children were.
WA Mozart was younger than Nannerl, who showed just as prodigious a musical talent as her younger brother. On their tours, the two children played and performed for as long as three hours. Each was as astonishing as the other
They could play the harpsichord and violin to an incredibly high standard. Improvisation was a skill both fluently possessed as well as playing the keyboard blindfold.
These 'parlour' tricks were impressive and given the tender age of both children, assured them a large degree of fame.
Sadly, despite Nannerl's great gifts, she was not allowed to pursue the same career path as her equally talented brother Wolfgang. At that time the role of women and girls was ridiculously restricted.
That career path whose first stones had been carefully laid down by Leopold Mozart gave WA Mozart the way forward into the history books.
In just thirty-five years WA Mozart wrote a huge quantity of brilliant music including 41 Symphonies, 27 Piano Concertos, 5 Violin Concertos, 17 Masses, around 20 operas and a host of other remarkable works.
For this alone, WA Mozart is famous and rightly so. Some regard his early output as unremarkable, but even if we allow this to fall to one side, the sheer quantity of exceptional, innovative compositions is hard to comprehend.
WA Mozart once wrote to his father in 1770 when composing 'Mithridates; King of Pontus' (K.87), apologising for not being able to write much of a letter as composing the opera had given him painful fingers.
WA Mozart, through this huge body of work, epitomised what became known as the Classical period.
His catalogue of work traces an intense development of many of the key traits of the period that WA Mozart transformed into music that would challenge, frustrate and influence.
WA Mozart was not merely a mimic of the Rococo or Gallant styles but in many ways the composer who defined the age in music. I feel this is especially true in WA Mozart's operatic works and his compositions for piano.
Through his operas WA Mozart imbued a renewed drama, taking forward both serious and comic opera in adventurous directions. 'The Magic Flute' (K.620), WA Mozart's last completed opera has added to his fame.
Not only was the opera based on German libretti from diverse sources but the subject matter is threaded through with Masonic traits.
It is also thought to show WA Mozart's close alignment with the philosophy of the Enlightenment that would have been quite a politically dangerous stance to adopt.
Following the popularity of the Peter Shaffer play 'Amadeus' (1979) and the subsequent film of the same title, the figure of WA Mozart was altered forever.
Whilst there are notable features of the play and film, what many are left with were a fictional account of WA Mozart's life and personality.
It was never intended to be a true story of WA Mozart and the composer Salieri, but it is impossible to un-see what you have just seen.
What sticks is the WA Mozart who was a troubled genius but also someone possibly suffering from some form of Tourette's syndrome. This led to a different type of fame for WA Mozart. There is no smoke without fire, and WA Mozart's 'scatological' sense of humour is well documented.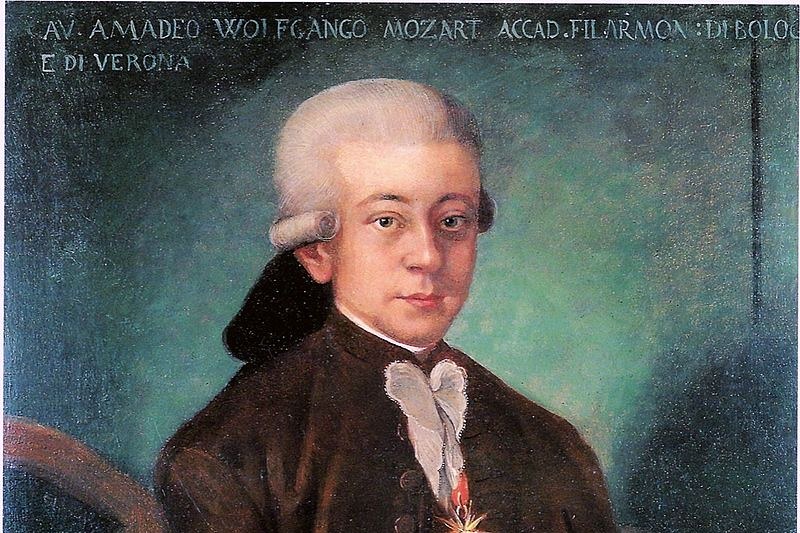 Accompanying these characteristics is WA Mozart's appearance. From his biographer, his wife and many of the people WA Mozart worked with, he was a man of slight build, almost unremarkable in appearance.
The one part of him that seemed to always attract attention was his piercing blue eyes. For many commentators, it was WA Mozart's eyes that belied his sharp wit and musical genius as much as his quick temper. He did not suffer fools gladly.
You might imagine a man such as WA Mozart, with a schedule as busy as he was and mildly dysfunctional home life that he would have little time or energy for other interests. WA Mozart was also famous for loving a game of billiards and animals.
In 2017 Lyanda Haupt published a charming book titled 'Mozart's Starling'. It is an account of how Mozart took a young starling home after hearing it sing the theme from his seventeenth Piano Concerto.
So the story goes, the starling improved on Mozart's theme and there the relationship began. WA Mozart's fame extends to the world of animals and his affinity with them. In the case of the starling, it became his muse.
WA Mozart's fame is something that seems only to grow as the years advance. Whether you find an affinity with the man himself or simply adore his music, it doesn't matter.
The short and difficult life WA Mozart experienced was carefully masterminded by his father.
His contribution to classical music and its development is unparalleled, and somehow even centuries later, his music resonates within us in a way few other composers seem to. Perhaps it is our gratitude to WA Mozart that ensures his fame will endure.