The British government revealed at the end of February that it was supporting a feasibility study in to constructing a new purpose-built concert hall in London. Reports have suggested that the project would combine educational and rehearsal facilities along with a performance auditorium and could cost upwards of £200 million.
The London Symphony Orchestra (LSO), is currently based at the Barbican Centre, but the suitability of the venue has been called in to question, even though it has undergone recent renovations. The investigation is due to last six months and is being led by the Barbican with the support of the government and City of London. The project has secured support from several prominent figures, including conductor sir Simon Rattle, who announced last month that he would be returning to the UK to lead the LSO in 2017.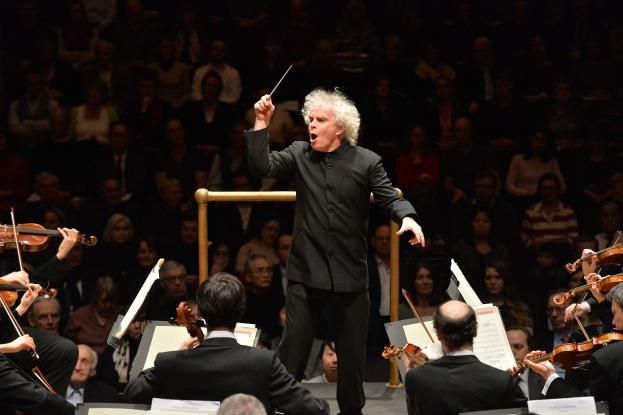 In an interview with the BBC earlier this year, Rattle made clear that he felt the current set-up was preventing the LSO from reaching its full potential. Comparing London to Munich, whose problems with its concert hall we noted two months ago, Rattle said that London was one of the major cities without an adequate performance space for orchestras.
Rattle explained in his press conference last week, held at the Barbican Centre, that a major focus for him will be broadening access to classical music. "We share a dream in which performing, teaching and learning are indivisible, with wider dissemination of our art at its centre. I cannot imagine a better or more inspiring way to spend my next years," he said.
On top of his conducting talents, Rattle has made his mark for his efforts to reach out to new audiences for classical music. In the first year of his time in Berlin, he founded the education programme of the Berlin philharmonic, which held its first dance project with children and young people in January 2003. He also sought to distance himself from the traditional approach of a conductor, preferring to work by building a consensus rather than imposing his ideas in the manner of one of his predecessors in Berlin, Herbert von Karajan, who led the philharmonic for several decades in the post-war period.
Rattle recently appeared at the Barbican with the LSO. As a guest conductor in January he led the orchestra in its concerts of works by Schumann and Stravinsky among others. The hope is that if he has a new hall to work with, he will be able to take the LSO to the next level.
Not all are convinced. Although the government has been quick to support the idea of a new classical music venue in principle, this seems to stand in stark contradiction to its cutting of budgets for the arts across the board since 2010. In addition, the government's education minister, Nicky Morgan claimed last November that students and young people deciding to study arts subjects were being held back and having their career prospects damaged.
Budget cuts to government grants for extracurricular music tuition amounted to £100 million in 2011-12 and a further £60 million last year. In a letter to The Guardian, a leader of a young musicians programme in Harrow, a London burgh, detailed how over the past thirty years, funding from local government for the music project has fallen from £120,000 to zero.
Last June, as the government consulted on its music education plan which included advice to local councils that they stop directly funding music education, the Incorporated Society of Musicians launched a campaign to defend funding for music programmes. A commitment is already in place to cut funding to the Arts Council of England, an umbrella organisation which founds music, theatre and other cultural programmes, by 5 percent between 2015 and 2016.
The budget cuts are hardly likely to create a healthy environment for larger numbers of talented young people to develop an interest in classical music, whether or not a new venue emerges in the capital. That could only take place if the funding cuts were reversed and additional financial resources provided to expand musical education programmes.