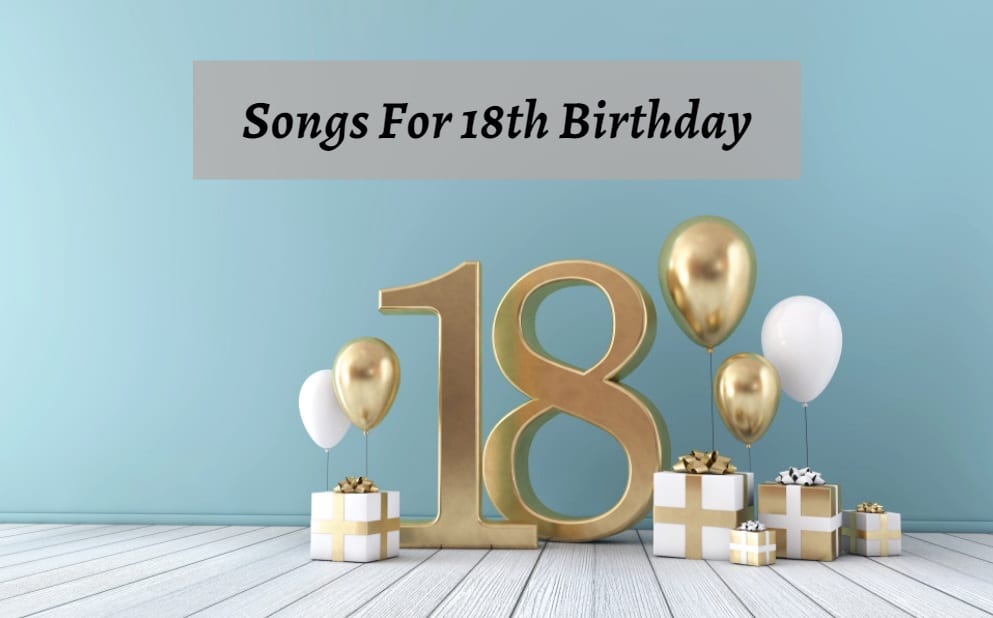 Songs For 18th Birthday
Below is an eclectic collection of songs for an eighteenth birthday and about the experience of being eighteen.
1. 'Eighteen' by Pale Waves
Pale Waves are a UK-based indie pop band that released its initial album on the 14th of September in 2018. The album had the provocative title 'My Mind Makes Noise'.
What we hear in this upbeat song are distinct echoes of the 1980s although the track is not dominated by synthesisers. The distinctive vocals and appealing lyrics bound tightly with slick production made this debut album attractive even to most critics.
'Eighteen' is written by Jonathan Gilmore who also produced the album. It holds first place on the album. Although the band felt that the video might mislead their fanbase, the song was popular, especially amongst followers in Japan.
In a nutshell, the song is about looking for that special someone at that fabulous but dangerous age.
2. '18' by One Direction
Whether or not you sit comfortably in the One Direction, boy-band camp, this track has many of the ingredients that make a pop track a hit.
It was composed by Ed Sheeren and Oliver Franck and formed a key part of their fourth studio album unimaginatively titled 'Four' (2014). As with so many songs by One Direction, this song became a colossal hit as did the album.
The request for the song came from the notorious Simon Cowell and as the story goes Sheeran was not overly happy about completing the commission.
In the end, Sheeran relented and composed '18' saying of the song that it would not have been one he'd have wanted for himself.
3. '18' by Five Seconds of Summer
Resting solidly on the shoulders of groups like Green Day and Bowling For Soup, 5 Seconds of Summer is an Australian post-punk, rock group who have a knack for carving out a mean riff.
As their huge fan base will testify the band often referred to as 5SOS, has proved to be incredibly successful. As a band, they began around 2011 but got their break when opportunity knocked and gave them the possibility to tour with boy band One Direction.
From there 5SOS went from strength to strength selling tens of millions of copies of singles and albums globally. According to some sources 5SOS have exceeded 7 billion streams of their songs placing them up there among the most successful artists today.
'18' is a fast-paced rock track that follows a well-trodden path of anticipated chords, verses and choruses. It is track five on the album '5 Seconds Of Summer' (2014).
Lyrically, it's funny and tells of the understandable frustrations of wanting to be 18 to be able to do everything adults do.
4. 'Happy Birthday' by Stevie Wonder
As the title suggests, this song was written by Stevie Wonder for a birthday but in this case a very particular one: Martin Luther King Jr. The concept was a beautifully simple one.
Wonder proposed that there could, indeed should be a national holiday where peace was collectively celebrated in the name of Martin Luther King Jr. This was in the living hope that the holiday would promote "love and unity for all of God's children".
Released on the famous Motown record label in 1981 this song has become one of Stevie Wonder's most celebrated songs. He has performed it at numerous concerts and it regularly features in his setlist.
The track is a medium tempo, a cheery song that Stevie Wonder delivers in his inimitable style. What better song for your eighteenth?
5. 'Birthday' by Kings of Leon
This is a song that invites you to celebrate as if it is your birthday. It comes from the King of Leon's album titled 'Come Around Sundown' (2010) and is track eleven on that record.
With cheeky guitar riffs and pulsing drums, the vocals seem to strain above the chords of the song, not so much in celebration as commiseration.
On the surface, the song presents quite an upbeat feel but many fans seem to think there are darker undertones in the song.
This is often the beauty of a well-written track, that you can make up your mind about what it means to you. Is it a song about partying as if it's your birthday or something deeper?
6. 'Birthday' by Katy Perry
If you haven't seen the video that accompanies this song, follow the link above. The reason I mention this is because the making of the video is a little unusual.
Katy Perry decided to attend five diverse birthday parties heavily disguised as very different characters. She does it brilliantly and it brings a new dimension to the wonderful and curious things that birthday parties can be.
This song comes from Perry's fourth studio album titled 'Prism' (2013). With more than a passing thank you to Prince, this song has a poppy, disco feel to it that makes it bounce along in the way you'd expect a birthday song to do.
Underneath the washes of synths and pumping beats lies a bed of sexual innuendo in the lyrics. I'll leave it up to you to decipher, but it introduces another element of fun to this popular track.
7. 'She's Only 18' by Red Hot Chilli Peppers
The Red Hot Chilli Peppers are renowned for creating songs with lyrics that can be confusing; even impossible to untangle.
From online conversations, it would seem that this song is most likely about the eighteen-year-old girlfriend of Kiedis who is taking life at a dangerous pace for one so inexperienced and young.
The track begins with a low-key drum beat and one of the best bass riffs to come out of The Red Hot Chilli Peppers. Vocals enter soon after the atmosphere has been formed. The following section gets characteristically heavier as emotions begin to boil.
In 2006 the band produced a double album. They titled their album 'Stadium Arcadium' and this track featured on that release.
8. 'Birthday' by The Beatles
The unmistakable sounds of Rock 'n' Roll underpin this famous track by the Liverpool quartet. In a little over two minutes, The Beatles seem to be able to pack in so much.
Not only is there the 50s influence that starts the song off but the middle section moves close towards a latin feel inviting people to dance.
With great guitar riffs, brilliantly performed vocals, and structurally innovative, this song is at the top of my list for any birthday celebration.
The 'White Album' (1968).
The origins of the song are as fascinating as the song itself. McCartney said that the band had a birthday celebration for one of The Beatles with a few mates in the studio.
Unsure of what song to record, they decided to take inspiration from Roy Orbison's 'Pretty Woman' and Little Richard's 'Lucille', and do what only the Beatles could do. The result was 'Birthday'.
9. 'I'm Eighteen' by Alice Cooper
This is an Alice Cooper classic that proved itself to be a massive hit with his fans. From the album 'Love It To Death from 1971, this song is full of everything that makes Alice Cooper unique.
There's undeniable power and pose in equal measure in this track. Overtones of Pink Floyd resonate through the slow build of 'I'm Eighteen', which was originally over eight minutes long.
Written in the very early days of the Alice Cooper band, the song quickly gained favour and fame. It is a track about the frustrations of being an eighteen-year-old growing up in 1960s America.
What seemed to give the song its significant impact was the references to the rights an eighteen-year-old had in the US at the time.
You could be drafted into the army and fight the Vietnam war but you were not able to vote. This irony hit hard and the song rose to anthemic status.
10. 'When She Turns Eighteen' by Christian TV
Christian TV yields a host of fully anticipated web pages but not the ones I had hoped for. This is partly because the gentleman under the spotlight goes by several other names that are noticeably easier to research.
His given name is Christian Berishaj, but he's more commonly known as JMSM. Christian TV is a record producer, performer and songwriter whose origins are Albanian-American.
He is a highly accomplished, all-around musician whose debut album 'Priscilla' (2012), was an almost immediate hit. The videos that complement his music are also directed by him.
If you'd like more information about the man follow this link to his official site.
I selected this song as it's a touch different from the others on the list. The advantages and dilemmas of turning eighteen litter songs, articles, films and books.
JMSM wrote this track as a clear warning to all fathers who think they can control and cage their daughters. What JMSM suggests is that when these young ladies turn eighteen all hell will break loose and they will rebel.
Whether you subscribe to the message of the song or not, it's first-rate pop with great appeal.