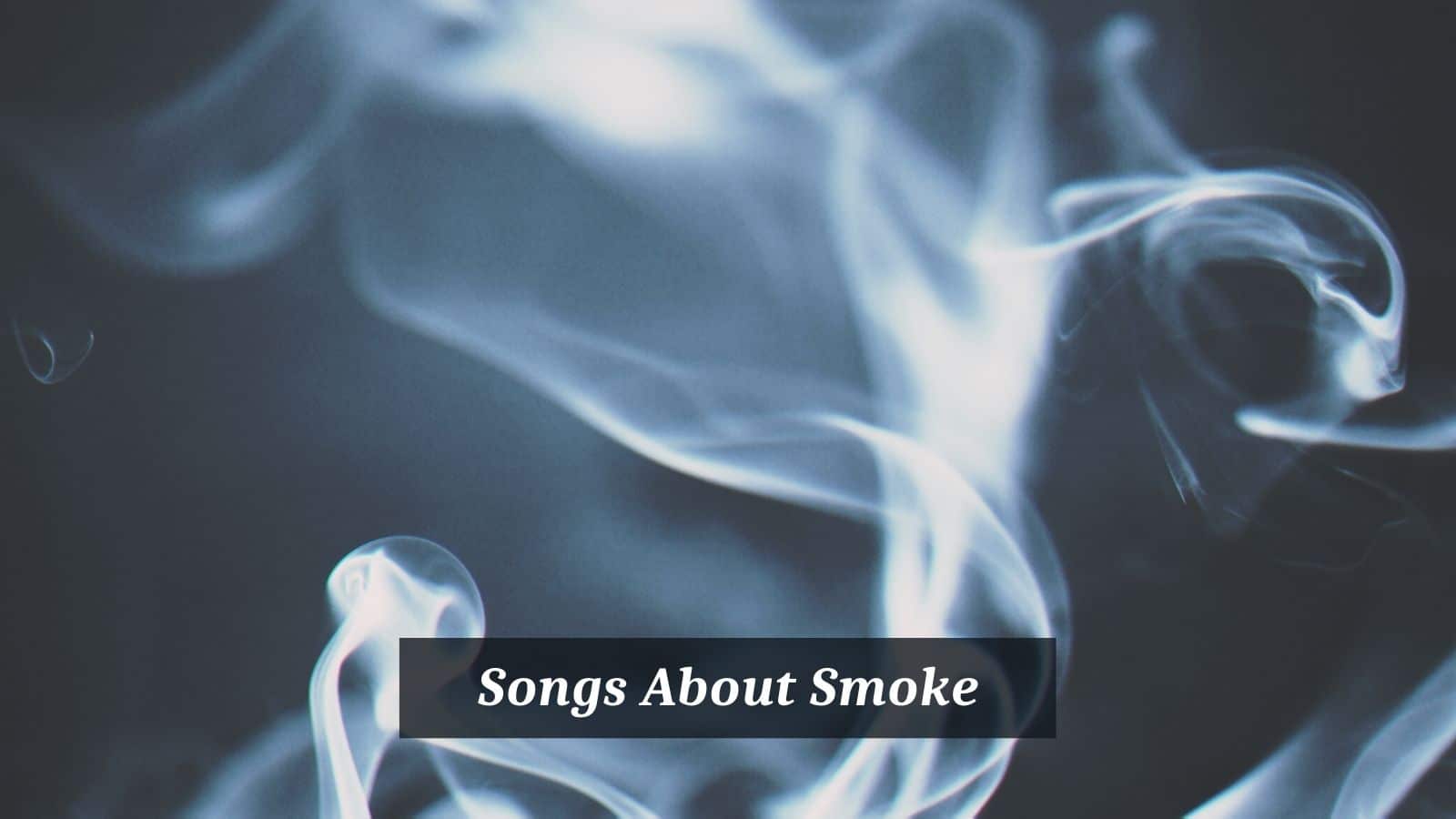 Smoke's appearance in music can refer to a number of things, including false illusions and hidden mysteries, as well as darker traits such as suffocation and sightless disorientation.
Other interpretations glorify smoke for its drug connection, lacing the mesmerising nature of mist with blinding love for deep-set addiction.
Our playlist collects some stand-out modern pop songs about smoke, from stoner anthems to tracks shedding light on the claustrophobia of being in love.
Songs About Smoke
1. Phoebe Bridgers – Smoke Signals
Phoebe Bridgers' atmospheric indie pop track, Smoke Signals, is engulfed in an ethereally hazy ambience, subduing her acoustic harmony to a murmur beneath her melodies, whilst scattering her landscape with dissipating string sections overlayed with glimmering synths.
Capturing the soft, morose nature of lingering smoke through her harmony's meditative allure, Bridgers' title relates to an ex-friend or lover sending smoke signals to draw her back to them, whilst symbolising a relationship burnt to embers.
However, Bridger's most stunning lyrics are found hidden within her final verse; "The future's unwritten, the past is a corridor."
2. Wiz Khalifa – Love to Smoke
One of Wiz Khalifa's many stoner anthems, Love To Smoke is a contagiously catchy, laid-back track topped with quirky synths effects and a thick, melodic bass line.
Wiz's pads his predominant message with self-confident opinions surrounding the freedom to make independent, considered decisions and live life as one pleases;
"Some people say that it's bad for you, but I really don't give a f***, I'ma keep rolling up first thing in the morning … And you probably say you sober so you got a clear mind, well, I got a clear mind too, I know n***** who don't smoke who swear they living good, they don't even work out as much as I do."
3. Carrie Underwood – Smoke Break
Carrie Underwood's country pop single, Smoke Break, doesn't glorify her titling concept like you'd expect. Underwood crafts her piece as an understanding and uplifting soundtrack for those who choose to be sober but can't help feeling the need to escape every once in a while;
"It's hard to be a good wife and a good mom and a good Christian, she said, 'I don't drink, but sometimes I need a stiff drink… I don't smoke, but sometimes I need a long drag, I know it might sound bad but sometimes I need a smoke break.'"
Whilst also translating her theme to the male perspective, Underwood's escapism song is destined for anyone too harsh on upholding their moral values, and deserves a moment to let go; "So here's to you and here's to when the day gets long, go ahead, I understand if you wanna take a load off."
4. PVRIS – Smoke
PVRIS' atmospheric pop release, Smoke, draws threads of emo rock and cinematic, electronic horror into its densely colourful, claustrophobic harmony.
This is a track about futile resistance against the inescapable feeling of love, conjuring smoke as a metaphor for gaseous intoxication, as if suffocating beneath another's permeating beauty;
"You make your way into my veins, course right through my limbs and dig your way into my brain … You're just a ghost of blissful feelings, a cloud of smoke that I keep breathing."
PVRIS shape their captivating song for those left sightless in the thick, disorienting fog of love.
5. Paloma Faith – Smoke and Mirrors
Paloma Faith's 2009 jazz-pop single, Smoke & Mirrors, details a relationship fuelled by broken promises and unfaithfulness, the female narrator discovering her partner's deceit and finally shattering the illusion of love he's built up;
"You said you were built to last, you took my hand, you made a pass, the moon eclipsed and circled round my heart … Give it up, you're an illusion, play your tricks and all I get is just confusion, and now we're through, the show is over, the audience is walking out the room."
Faith's vibrantly optimistic track is resonant with any woman deservedly letting go of the old to make way for new and better opportunities in love;
"You might think I'm sitting home and crying, but I'm not, oh no, I've pulled the Queen of Clubs, there's no denying, I'm having the time of my life … All you've done comes back around on you."
6. Lil Dicky – Too High
Lil Dicky's hip-hop track, Too High, is an eccentric take on stoner life and the blind disorientation of smoke.
Dicky's lyrics ramble and flow from one topic to another, styled like the uncontrollable ideas that surface whilst intoxicated, yet constantly cycling back to thoughts of hunger, sex and the feeling of wasting away;
"Now I'm back up at the crib, and I'm laughing at giraffes long necks, gotta s***, but the path to the bathroom is complex, crafted a long text, took about an hour, took a scary shower, now I'm sitting naked on the ground."
7. Daughter- Smoke
Daughter's atmospheric pop release, Smoke, harbours a collection of vague yet beautiful themes surrounding entrapment, claustrophobia and heartbreak.
It's hard to dissect exactly what Daughter's lyrics refer to, however an array of striking imagery leaps out from their lyrics, from allusions of friends dying to therapy sessions and loneliness.
Daughter's most evocative sentiments are found in the recurring depiction of three locked doors, summoning a metaphor for sinking beneath inescapable emotions;
"In a smoke filled room, with your father watching me, there's three doors and no keys, it's rising, it's choking me … Then we kiss and his lips turn into sand, and the whole of him cascades through my hands, making a castle on the floor, then I'm alone again, no keys and three doors and a smoke filled room."
8. Cavetown ft Tessa Violet – Smoke Signals
Cavetown & Tessa Violet's dream-dusted pop collab, Smoke Signals, is grounded in a tranquil acoustic ambience, the duet's vocals forming a rare and naturally serene equilibrium, conjuring profound levels of earthy comfort through their harmony.
Fashioning their soft and free-spirited track around long-distance communication, Smoke Signals anticipates a partner's return after letting them embark on their own adventure of self-discovery;
"If you're feeling spent, when it's heavy on your chest, when you think there's nothing left, you can come home to me, when you're ready, I left the gate unlocked for you, till then I'm sending out smoke signals hoping I'll see yours too."