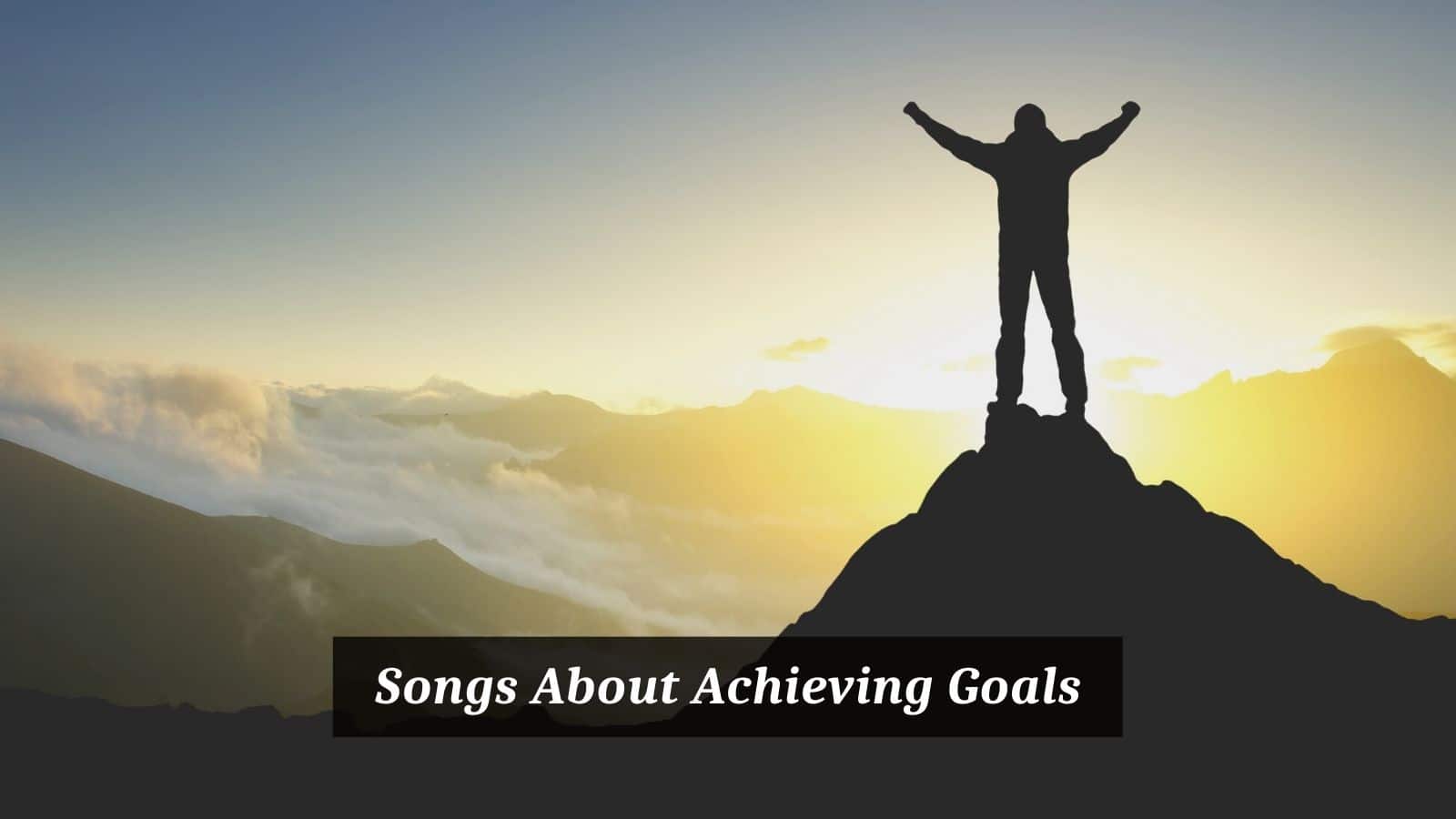 From songs ignited with the burning desire to achieve beyond expectation, to tracks unravelling the struggles surrounding success and aspiration, our playlist of songs about achieving goals crosses the genres and covers it all.
Songs About Achieving Goals
1. The Score – Unstoppable
The Score's fiery pop/rock track, Unstoppable, captures the motivated, assertive energy needed to overcome every fear you hold and attain your deserved, golden potential.
Underscored by a dominating, cinematic atmosphere and a marching beat compelling you to power forth, this track is all about gathering drive and inspiration before unleashing it towards your goals and lavishing in the rewards of earned success;
"We can be heroes everywhere we go, we can have all that we ever want, swinging like Ali, knocking out bodies, standing on top like a champion, keep your silver, give me that gold… 'cause we're unstoppable."
2. Ariana Grande – Successful
This quirky Ariana Grande album track is rooted in a video game-style soundscape strangely reminiscent of the Animal Crossing soundtrack, flushed with vintage elements of jazz and soul.
Crafted upon a blue-skied, Latin inspired beat, Grande fashions her instantly uplifting track around the thought, "It feels so good to be so young, and have this fun and be successful, I'm so successful, and girl, you too, you are so young and beautiful and so successful," devising an anthem for any girl relishing in her blessings after a young life of hard work.
3. Bruno Mars & Travie McCoy – Billionaire
Bruno Mars & Travie McCoy's landmark pop hit of 2010, Billionaire, illustrates aspirations of luxury, fame and fortune from the perspective of someone far beneath elitism;
"Every time I close my eyes, I see my name in shining lights, a different city every night, I swear the world better prepare for when I'm a billionaire."
Mars & McCoy cast the childish fantasy of Christmas wishlists onto the adult audience, their shopping list lyrics stretching from extravagant hauls to humble humanitarian causes;
"I'd probably pull an Angelina and Brad Pitt and adopt a bunch of babies that ain't never had s***, give away a few Mercedes like 'Here lady have this,' and last but not least grant somebody their last wish."
4. The Script ft. Will.I.Am – Hall Of Fame
The Script's 2012 pop collab with Will.I.Am, Hall Of Fame, anchors its message in motivation, its lyrics composed purely of positive affirmations designed to drive the listener to be the best they can possibly be;
"You can go the distance, you can run the mile, you can walk straight through hell with a smile, you can be the hero, you can get the gold, breaking all the records they thought never could be broke."
With an underlying theme of achieving worldwide success, fame and admirable recognition, The Script uniquely extend their sentiment to their youngest fans, crafting an empowering track for all generations;
"Be students, be teachers, be politicians, be preachers, be believers, be leaders, be astronauts, be champions, be truth seekers."
5. Eearz, Schoolboy Q, 2 Chainz & Mike Will – Kill 'Em With Success
This intoxicatingly catchy hip-hop collab is centred around an eerie playground melody conjuring the subtle, recurring ambience of a horror movie beneath its murderous message.
Kill 'Em With Success adopts the achievement-driven nature of rap music, its lyrics focused upon abundance, materialism and ticking off your career goals one by one;
"Booked the pilot, land in tropics, big deposits, saucy dipping, million flipping, one too many, Lambo spinning, skrrt, might crash it, big boy habits, legend status, label classic, can't be average, got success, needed more, made the Forbes, needed more."
Hidden within the onslaught of lyrics is a revelation of truth, disclosing the relatable motivation behind the narrator's success;
"You won't believe how much I want it, you won't believe how much I'm focused, I put the mind in determine, I put the mind on a journey, that mean you leaving on a gurney, I'm 'bout to kill 'em with success, somebody call my attorney."
6. Rita Ora – Grateful
Rita Ora's 2014 pop track, Grateful, is about finding your feet after a world-shattering experience, healing from your past and rising to the realms of success again.
This is a song for anyone looking back on all they've overcome and the lessons learned along their path to achievement, whilst staying thankful for all they've endured after finally finding peace with the present;
"I was sinking, I was drowning in doubt, the weight all of the pain was weighing me down, I pulled it together and I pulled myself out … There's a lot you gotta go through, but that's what got me strong, I got no regrets, I've got only love, got no bitterness, count my blessings, I'm proud of every tear, 'cause they got me here."
7. Shakira – Try Everything
Taken from the Zootopia soundtrack, Shakira's synthy pop release, Try Everything, is scattered with a childlike sense of optimism, discovery and success.
This light-hearted track is about getting up and trying again after failing, refusing to be held down by your worries and insecurities of not being good enough;
"I won't give up, no, I won't give in, till I reach the end and then I'll start again, no I won't leave, I wanna try everything, I wanna try even though I could fail."
Shakira counteracts her message of taking the plunge and experimenting with the mature insight of realising when it's time to recuperate, mindfully balancing achievement with the risk of burn-out, often overlooked by determined kids;
"Look how far you've come, you filled your heart with love, baby, you've done enough, take a deep breath, don't beat yourself up, no need to run so fast, sometimes we come last, but we did our best."
8. Burna Boy ft. Polo G – Want It All
Burna Boy & Polo G's hip-hop/pop collab, Want It All, illustrates the life-story of a rap artist rising from poverty to fortune;
"Remember when they said they no believe in me no more, I was sleeping on the ground, on the cold floor, whole time I was grinding, I've been trying to achieve, working night and day, you know my people no they sleep … Can't believe, I really came home with a Grammy, I was in the mansion celebrating with the family."
Want It All is a track for anyone who's turned from crime to authentic success, and wouldn't trade it back for a moment; "Who'd thought I'd take it this far? Did it all with my art and it came from the heart."