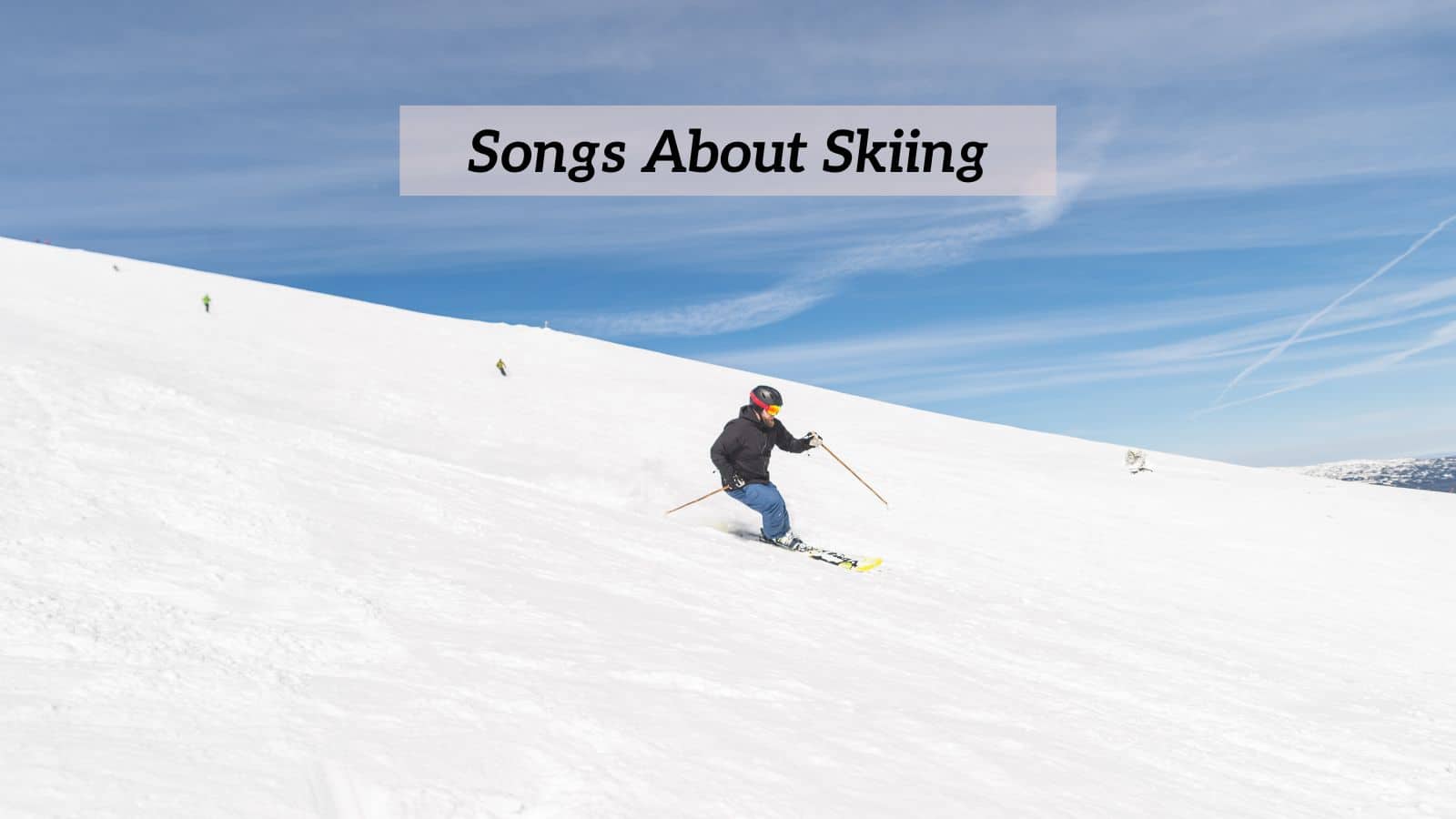 No scenery on Earth compares to the soft glimmering of snow upon the mountainside, the cleansing coldness of the rushing winds and the bright sun overwatching an untouched, natural landscape.
Skiing is synonymous with freedom and adventure, whether you're gliding through the peaceful pine trees or speeding your way to victory.
Similar to how any force of nature holds indomitable power over us puny humans, skiing is a sport riddled with the risk of life-changing injury if you make just one bad turn upon the slopes.
Our list of songs about skiing covers it all, collecting the best and the strangest tracks to cover you with the tranquil atmosphere of a sweeping, snow-bleached landscape and the bright energy of fast-paced success.
Songs About Skiing
1. MAWAAN – Never Been Skiing
If there's only one song you listen to on this list, make it this one. Comedian Mawaan's 2020 hit, Never Been Skiing, is an addictively colourful, meme-clad anthem centred around the fact, "It ain't a holiday if you gotta do exercise."
Never Been Skiing creates a panorama of classic Brit-com pessimism, as Mawaan lists every inevitable downfall of the sport, "I heard you slip and look like a dickhead, I ain't no dickhead, I heard you have to sleep in a chalet, what's a chalet? Ain't that an onion? … My neck, my back, I ain't falling on my crack, started from the bottom and I'm staying like that."
Hidden within the track is the satirical exposure of underlying racist tendencies which blanket such a middle-class sport, from the insightful perspective of a Pakistani-born Brit:
"All my rich white friends are like, 'Didn't you go as a kid?', and I'm like, 'No, skiing is a homogeneous experience with no socio-economic diversity' … Just be stranded up a mountain, surrounded by white, and I ain't talking about the snow."
2. John Denver – Dancing With The Moutains
Although being born in Roswell, New Mexico, with a name like John Denver it's no wonder the pop musician devoted a song to skiing through the snow-swept peaks.
This 1980 hit, Dancing With The Mountains, carries an energy that gleams as bright as the sun on ice, with a warmingly nostalgic sound which transports you back to the joy of tireless youth.
Decorated with lyrical flavours of disco-fever, Denver's track is clad with captivating, free-spirited imagery which beautifully conjures the cleansing peace of the mountain air.
He blends this sentiment with the heart-warming communal energy conjured naturally within ski-trips, "We are one when dancing with the mountains, we are one when singing in the wind, we are one when thinking of each other, more than partners, more than pieces, more than friends."
3. Khaid – SKI
Khaid's twists the skiing concept a little, emulating the energy of extreme sports with his line, "I be doing the jet ski," metaphorising his dazzling speed of success as skiing through the industry at lightning speed.
ki draws parallels with the danger of high-speed no matter how exhilarating the rush may be, "Ski, ski, please don't let me turn it up, don't let me f*** it up, I know you wanna f*** me up."
Ski's beat is enthrallingly serene, woven with delicate piano highlights which glisten like falling snow, matched with a fresh, clear-headed sound.
4. Dean Martin – Canadian Sunset
Dean Martin's rendition of the classic song, Canadian Sunset, carries an enchanting vintage atmosphere of crackling fires and snow-dusted vacations.
With a warm jazzy ambience flickering with cosy orchestral elements, Canadian Sunset details a story of finding love upon the ski hill and falling in love to the colours of sunset.
The ski slopes are woven into the scenery time and again, alongside the melting feeling of cute vintage romance, "Once I was alone, so lonely and then you came out of nowhere, like the sun up from the hill. Cold, cold as the wind, warm, warm were your lips, out there on the ski trail, where your kiss filled me with thrill."
5. Bob Gibson – In This White World
Bob's Gibson track is lush with tranquil scenery and the spirit of freedom and peace in knowing you've found your life's calling.
His picturesque lyrics are laced with ski tracks cutting through the soothing untouched blanket of powder-white snow, racing the rushing wind and gliding between trees.
A minor tone of sadness glimmers within its ambience, like the overwhelming emotion of finally being content after a lifetime searching for peace, "In this white world, that reaches the sky, I've found a future for me… My skis are the things that give me my wings, and make me an eagle and free."
Gibson undertones this heart-warming with an acoustic guitar played tremolo-style, conjuring the hazy atmosphere of thick, falling snow, swelling with pure emotional power and serenity
Crowning the track is a radiant metaphor which captures the very essence of adoration for the mountains; "The snow is my lover, the sun is her kiss, the wind sings a love song to me."
6. Bjørn Aslaksen – Ski Jumper
Bjørn Aslaksen's enchanting country-style track, Ski Jumper, tells a heart-warming story of a boy learning to ski with his dad by his side, laced with beautifully evocative imagery;
"I remember those winter days when I first started skiing, my skies were huge, my body was small, but you urged me to keep on trying, you drove me one million miles in your old car."
Bjørn reminisces on his dad's endless encouragement throughout his life, alongside how disaster binds a family closer together.
Ski Jumper is anchored in a message which echoes the love of all children to their eternally devoted parents; "What a ski jumper you are."
7. Yung Gravy – Skiing In Japan Freestyle
Yung Gravy's hip-hop track, Skiing In Japan, doesn't craft the scenic landscape you'd imagine. Gravy's voice bears an absolutely compelling tone despite this track being a sleazy metaphor for sleeping around.
He embeds an abundance of addictively outlandish lines to prove his lustful point, "I'm literally f****** the police, she read me my rights, ooh, feeling so right, yeah I'm feeling so ripe, you could just eat me, just Princess Peach me… I'm skiing in Japan, come and get your man, lean back."
Gravy's sound is captivatingly catchy with an authentic sense of style, letting his lyrical dark humour shine against a warmly retro soundscape, brought full-blast into the modern age by an irresistible beat.