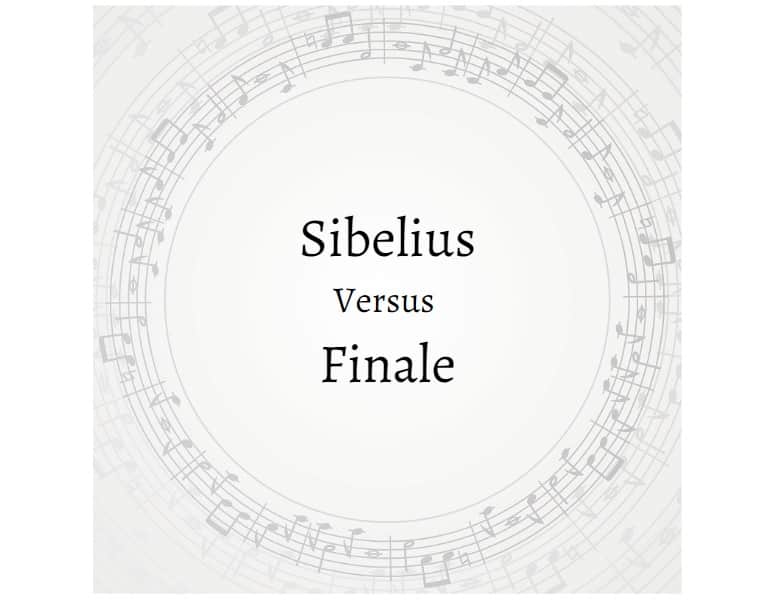 Essentially, there are two different types of software programs in common use amongst composers today. These are ones designed to produce professional-looking scores, the same as you would buy from a publisher, and those created to produce 'sequenced' compositions that use virtual instruments. For this article, I am going to take a look at two of the leading software programs that are in the first category; that musical notation.
Sibelius Vs Finale
Sibelius was the first notation program I spent money on back in 1993 when it was first released by Cambridge based brothers Jonathan and Ben Finn. These guys had had enough of writing out music by hand and decided, very profitably as it turns out, to design a piece of software that could make the task less laborious. The result was Sibelius, named after the Finnish composer Jean Sibelius. In these very first years of Sibelius, it ran only on Windows and Risk computers, only a little later making its way onto the Macintosh computers. This did not make a significant impact on the popularity of Sibelius that was soon adopted by many leading composers and publishing houses, celebrated for its ease of use, functionality, stability, and beautiful printed scores.
It is often assumed that Sibelius was the first notation software but Finale reached the notation market first in 1988 with versions for both Windows and Macintosh computers. Phil Farrand is credited as the first author of Finale that is currently in its twenty-sixth incarnation. Like Sibelius, Finale is written to produce exceptional scores ranging from simple piano scores through to compositions for a one-hundred strong symphony orchestra. This has made it a rival of Sibelius with composers and publishers alike for many years.
With both software packages, the possibilities in terms of notation and playback are extraordinarily good. The number of features now available to composers is more than many will ever need but most like to have available at their fingertips. Sibelius is now sold through Avid who became owners of the software in 2006. Avid rightly felt that a first-class notation program alongside their industry-standard Pro Tools was a winning combination. Sibelius is currently available as a subscription deal on three different levels to try and capture the full range of clients.
'Sibelius First' is the entry-level into the program and is free to use a piece of software.
There are as you would expect, restrictions with Sibelius First in that you can only compose with a maximum of four instruments. The next step up is simply called 'Sibelius' and this will cost you $9.99 per month. This version of Sibelius allows you to compose using up to sixteen parts which are often enough for many less experienced composers or those who have no interest in exploring larger orchestral canvasses. The piece de résistance is 'Sibelius Ultimate' that offers no limit of instrumental parts and custom layouts alongside superb playback.
The alternative is Finale who presents an attractive entry-level program free of charge called 'Finale Notepad'.
This is a Windows-only program and grants you the possibility of composing on up to eight staves which is a more generous start than Sibelius. With Notepad you can import MIDI files, hear it played back to you and print a copy of the score. The middle package is called 'Finale Printmusic' and is similar to the Sibelius package.
You can orchestrate up to 24 staves, extract the parts, get excellent playback, and of course, print high-quality scores. The cost of this package is $119.95. At the top end is Finale itself, coming in at the full price of $600. This is version 26 of Finale and provides everything you would expect of professional notation software.
The question that naturally arises is which of these leading programs should you chose? It makes sense if you have never tried any of these programs to download the free versions and take them for a spin to see how they work for you. The next is to consider the budget against software features. Both offer subscription possibilities as well as buy outright and educational discounts if you are a student or teacher. These should not be overlooked as they make a substantial saving.
Both Sibelius and Finale have 'intelligent' elements built into the software. Sibelius, for instance, has a flexible real-time input option. This means that if you are playing music into Sibelius via a MIDI keyboard that Sibelius will adapt to your speed of performance. The idea is a clever one as virtually no one plays at a consistent tempo, in fact, it tends to sound better if you allow a degree of flexibility in any performance. The reality is that quite often you end up waiting for the Sibelius flex-metronome to catch you up or the other way around resulting in some major inaccuracies in the notation. With time you can learn to work with it but it takes patience.
What I find appealing with Finale is its 'rewiring' capabilities what allow synchronization with other DAW (digital audio workstations), such as Logic, Digital Performer and Pro Tools. This effectively means that your playback can utilize the thousands of sound that these packages use to create music. I found that Sibelius has been less successful with this option and it requires a fiddlier set-up that Finale does not. This to some extent I believe is why many professional composers have swerved towards Finale in recent years for accuracy of notation and realistic mock-up options. That said both Finale and Sibelius also give the possibility of 'real' or 'humanized' playback to give the impression that the score is being professionally performed by a real ensemble. Here, I find that Finale is more convincing that Sibelius, but if you have the time and patience to edit your score accordingly, Sibelius can compare favorably to Finale.
Both pieces of software offer 64-bit support that allows access to modern computers full range of creative possibilities. Finale and Sibelius give the composer a huge range of options that facilitate not only the printing and sharing of your music but the extremely useful function of accurate playback. Ultimately, whether you choose Finale or Sibelius, you have a steep learning curve ahead if you wish to master complete functionality. You will quickly understand the basics and within a couple of days, you will produce beautiful printed scores to a professional standard.