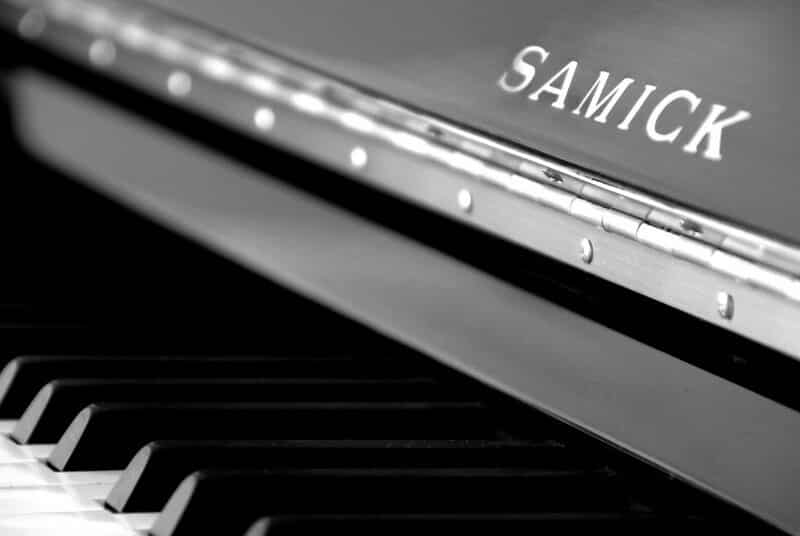 The name of Samick pianos is quite well-known. Established in 1958 by Hyo Ick Lee, the Samick Musical Instruments Company has gained a solid reputation for producing instruments of consistent quality. On the Samick Music Corp. website, it is easy to read about how proud the manufacturers are of their products and that they claim to be "one of the largest and most knowledgeable producers of musical instruments in the world today". The company has factories making instruments in several countries across the world including the USA, China, Korea, and Indonesia.
Samick Piano Review
Samick, for many, is closely associated with the manufacturing of high-quality guitars with the Greg Bennett design coming on stream in 2011. This line of guitars proved to be immensely popular and include electric and acoustic instruments alongside mandolins, basses, and banjos. The range of pianos Samick produces is impressive and they come in a range of additional brands such as Kohler & Campbell, Pramberger, and Wm. Knabe & Co.
Interestingly, Samick cultivated a close association with the well-known piano maker C. Bechstein in 2003/4, and these two now share a factory in China. Their entrepreneurialism continued and in 2009 Samick reportedly purchased 16.5% of the shares available in Steinway Musical Instruments. This share is thought to have increased to around 32% in 2013.
During the fifty years of piano production Samick have been proud of their range of both upright and grand pianos. Towards the pricier end of the Samick, the piano range is the SIG-61. This fine-looking grand piano comes in a variety of finishes including polished or satin ebony and boasts a length of six feet one inch.
The very top-quality materials have been used in the making of this piano together with master craftsmanship. The soundboard as you might expect is made from spruce wood and there is a laminated maple pin block. The tonal qualities of this model are quite bright but full and certainly suitable for concert and home performances. As a small indicator of the quality of this and other Samick pianos, they guarantee them for ten years.
The Samick range of upright pianos is not easily dismissed. Against the other leading brands like Yamaha, Kawai, Bechstein, or even Steinway, they are competitively priced. The upright range has prices from around £2,500 to over £3,000 and for many reviewers, they offer a consistent build quality, good dynamic range, and a well-made finish. Some feel that the build quality of the Samick uprights or vertical pianos as they call them, varies considerably, and if you are looking to buy a second-hand or used Samick, it may be worth employing a piano technician to look over the instrument before you buy it.
Across the internet and especially on piano forums there appears to be a consistent distrust of the Samick brand. This seems to stem from a preference for German-built pianos, or the top end of the Japanese pianos. It also has roots in what many claims are the huge differences in manufacturing quality of the Samick pianos over their history. Some commentators who have purchased an older model upright or grand have been gravely disappointed and strongly advised people away from Samick.
One aspect of this discussion that comes through is the way that Samick teamed up with the two leading German piano manufacturers with a view, so it is said, to marketing their pianos under the historic reputation for quality that German pianos have. Whether this triggered a strong reaction amongst a significant number of pianists is challenging to assess, but this feeling is certainly current.
My recollection of playing a Samick 'vertical' piano was that it was relatively light in terms of action but quite responsive dynamically. For me, the tone was overly brilliant, even sharp as you moved away from the middle registers, but this is a sound that many people prefer. Certainly, the finish of the instrument was quite good and comparable to others in a similar price bracket, but in the end,  this was not a piano I would have wanted to buy.
If the acoustic piano offerings are not to your liking, or you just want to have an electronic piano, then Samick makes these too. Samick digital pianos are not an entirely new product, but their range of instruments is quite broad and appealing. If you like the shape of a grand piano but would rather head in the digital direction, then the SG-500 might be the piano for you. Its price tag is around $6000 new but it comes with an 88-note graded hammer action keyboard that incorporates some of the cutting-edge technology found in Samick's competitors.
Samick claims that the touch sensitivity gives a great deal of control to the player making the experience as close to an acoustic instrument as possible. The SG-500 uses two 80-Watt stereo power amplifier that pushes the sampled sound through an impressive eight-speaker system. For those who want the full gamut of bells and whistles, the selection of sounds available, in addition to the piano is generous. It also has Bluetooth, USB, and MIDI capabilities that address the needs of the modern musician.
Two distinct sides present themselves when considering Samick as your choice of piano. The manufacturers claim they produce a high-quality range of pianos that are comparable with the leading brands. Craftsmanship and quality of materials Samick states are at the pinnacle of piano making in the 21st Century.
On the other side of the discussion seem to be relatively few voices standing up for the Samick brand other than those dealers who sell these instruments as low to mid-range pianos. In other words, they probably do not reasonably compare with higher-priced pianos but then is that ever a fair comparison.
You cannot expect to have a Steinway Grand on a budget of $3000 unless you're remarkably fortunate, or you've paid for a dud. My advice when considering the purchase of any instrument is to go and try it for yourself and then decide. You may find that Samick pianos are just right for you.