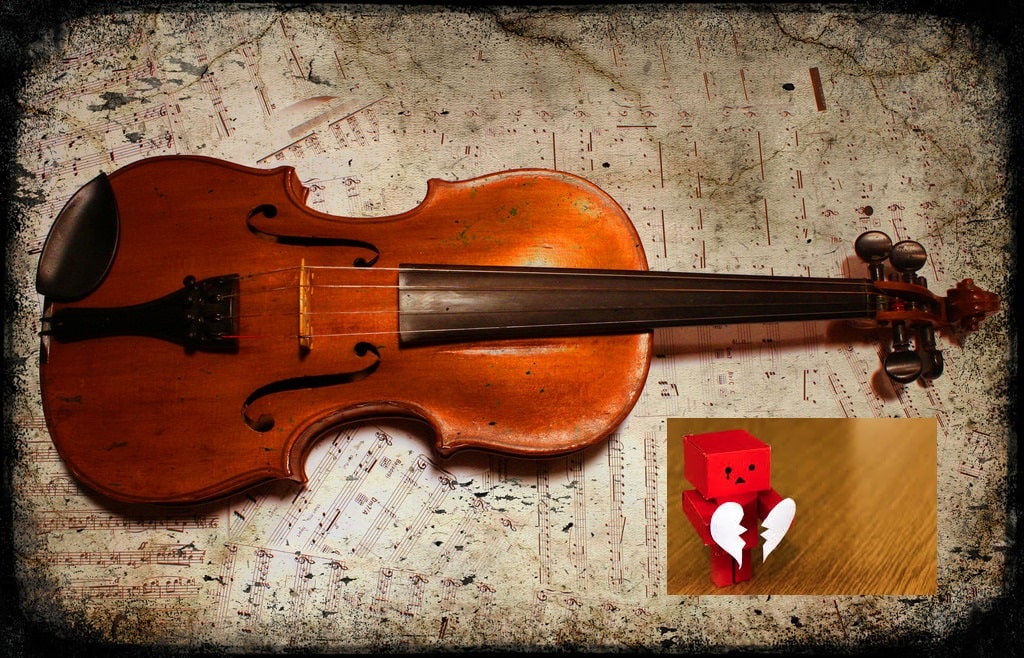 Perhaps it is the vocal quality of the violin that gives its capacity to stir our deepest emotions. Catherine Medici was well aware of the expressive qualities of the violin and made a significant contribution to its development and popularity in the 16th century.
Now was have a wealth of music composed for the violin that we can explore. This article will highlight some of the pieces I consider to have the capacity to evoke the feeling of lamentation and sadness in a beautiful and touching way.
10 Really Sad Violin Pieces
1. Theme from Schindler's List by John Williams
For me, this is one of the most moving pieces for violin and orchestra ever written. The remarkable thing about this short piece is that has the capacity to make you feel an almost eternal yearning and sadness even if you know nothing about the film which it was written for. The music was composed by John Williams for the film Schindler's list (1993) in which a German businessman saves thousands of Jewish people from the Holocaust by employing them in his factories. In this performance, the violinist Itzhak Perlman is the soloist with the composer himself conducting.
Interested to learn violin?
Itzhak Perlman teaches violin – MasterClass.com
Taught by world-renowned violinist Itzhak Perlman
15 Grammy Award wins
Lessons designed for beginners
Visit MasterClass Itzhak Perlman Online Violin Lessons
2. Violin Concerto Op.35: second movement by Tchaikovsky
As a lifelong sufferer of depression, the music of Tchaikovsky is so richly expressive almost all of his works have the ability to stir deep emotions. This Violin Concerto was completed in 1878 as Tchaikovsky was recovering from a disastrous marriage and another bout of depression. This is the second movement of three and is a treasure trove of sentiment and passion made possible by the wonderful qualities of the instrument. There is both light and shade in this piece and a gentle feeling of hope mixed with sadness.
3. Theme from the Red Violin by John Corigliano
This is a stunning film by the director François Girad and tells the story of a curious red-coloured violin that has its origins in Cremona in 1681. The solo violin is played here by Joshua Bell whose reputation for lyrical playing is well deserved. The piece is simple and centres around a delicate motif that gradually builds in intensity and range eventually reaching stratospheric heights of emotion. Every dark and tragic element of the film is carried in this theme.
4. "Melodie" from Orfeo by Gluck
The tale of Orfeo and Euridice is well-known and the opera by Gluck follows the trials of these two lovers. It was a popular opera in its time and is thought to have influenced later works by Mozart, Beethoven and Wagner. The work was completed in 1762 and premiered the same year. The "Melodie" was not intended for solo violin but voice although the paths and tragedy are ably captured in this transcription played by Jascha Heifetz who also made the transcription.
5. Burnt By The Sun by  Eduard Artemyev
This is a cue from a Russian film about what was called the Great Purge of the 1930's. It won many awards and critical acclaim and this short extract from the whole score is used for a scene when an army officer gives up his life for a young female recruit. The piece is heartfelt and very moving even without the film.
6. Sonata No. 5 in F minor: BWV 1018 by JS Bach
This is a movement form quite a late piece of Bach. Composed as part of a set of six Sonatas for violin and obbligato harpsichord, they were composed around the years 1720-1723. The fifth sonata is particularly beautiful and this slow movement dispels the myth that Bach was simply a mechanical composer with not an ounce of expression in him. Lyrical and profoundly sensitive, this is a wonderful piece by the Baroque master.
7. Chaconne for Violin and Organ by Vitali (1663-1745)
https://youtu.be/zH8BPspTT1w
Thomas Vitali is a name that is all but lost too many these days, yet in his time he was a well-respected Italian composer and violinist. The Chaconne in G minor is probably the only surviving work that occasionally receives a performance. It is a noteworthy piece from this era, displaying virtuosic violin technique and complete control of this popular form of musical composition. The piece in spite of its rigid structure is abundantly expressive and wonderful.
8. Nocturne No.20 in C# Minor by Chopin
Strictly speaking, this is not a piece originally composed for violin but this arrangement brings such a sweet intensity to the already inspired music of Chopin that I have included it. The Nocturne was published posthumously in 1870 some forty years after Chopin had written it. Like many of Chopin's works, the expressive qualities shine effortlessly through. In this performance the arrangement for violin and piano creates an excellent balance between melody and accompaniment, giving free reign to explore the feelings inherent in the music.
9. Meditation by Jules Massenet
This piece is one of the most famous compositions ever composed for Violin and Orchestra. It may not entirely count as a sad piece of music but what it does have are immense expressive qualities that have contributed to its enduring popularity. The Meditation is an instrumental interlude that comes in between the scenes in Act 2 of the opera. As you might expect the piece sets the devotional tone of the scene where Cenobite the monk persuades the beautiful Thäis to abandon her life of opulence and follow him into the desert. Eventually, she agrees.
10. Adagio in G minor by Thomas Albinoni
Albinoni has become known for this piece perhaps above all other works he has composed. It has been arranged for more instrumental combinations over the years than almost any other composition. There is much debate as to whether Albinoni actually wrote the work or whether his biographer Giazotto actually re-composed it from a scrap of a discovered manuscript. What the result is, either way, is a stunning piece of music that has seized the hearts of thousands of listeners. The simplicity of the harmony and melody make the adagio instantly memorable and the long, phrasing of the melody gives a wonderful opportunity for the soloist to fully express the composer's intentions. Beautiful, elegant music.
Read: Really sad piano pieces