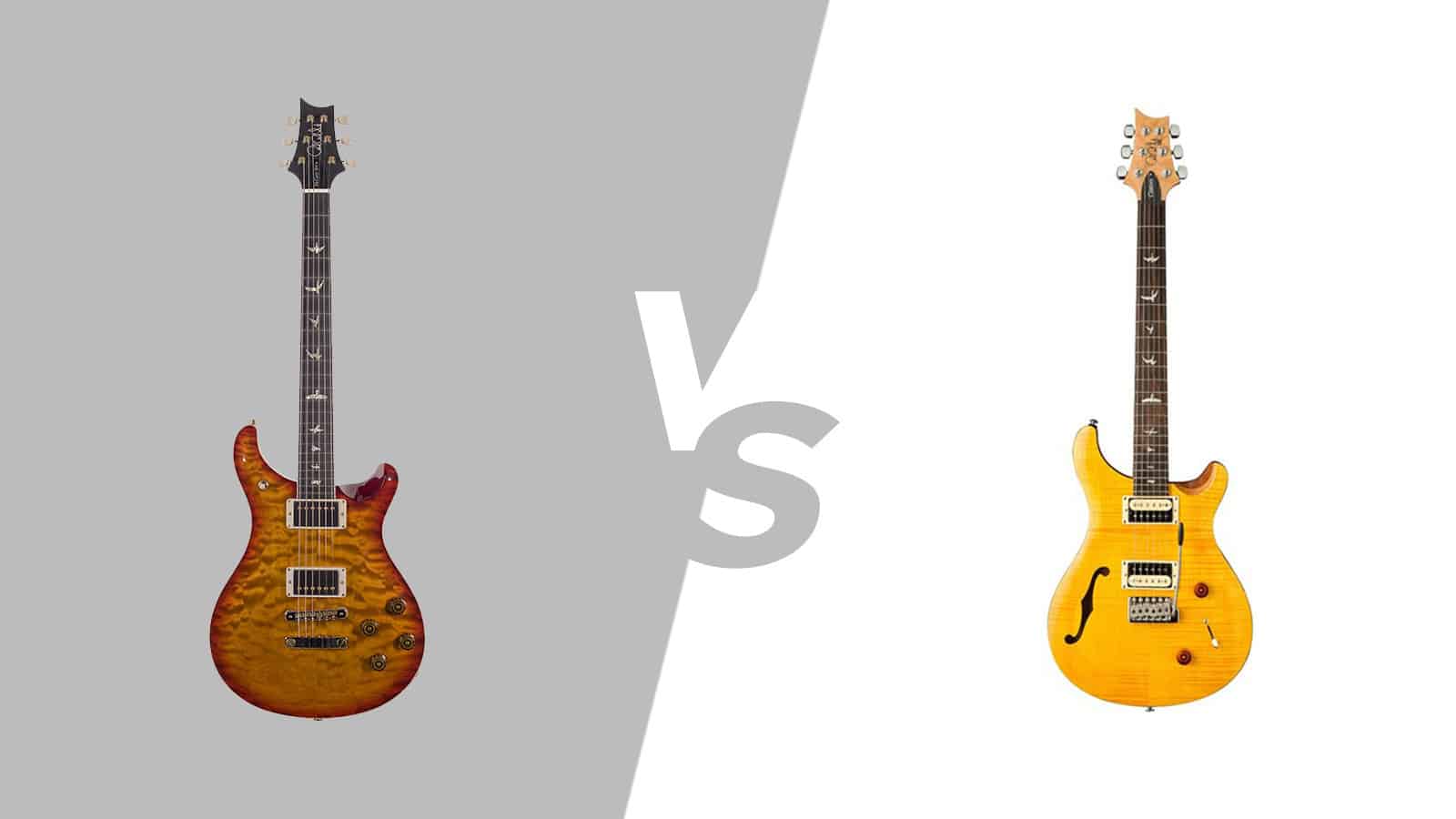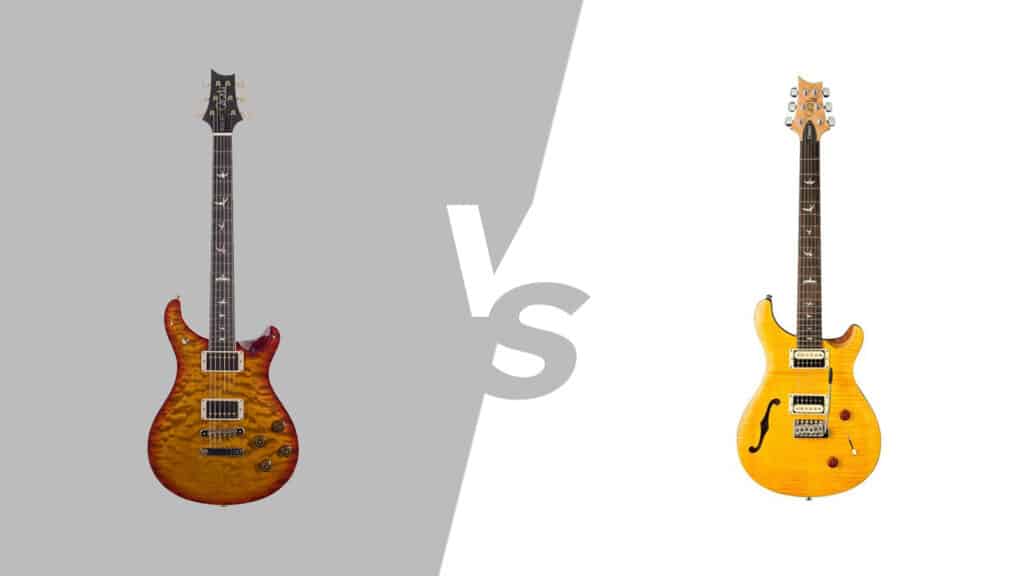 Commonly known as PRS, Paul Reed Smith is one of the most premium and high-end guitar manufacturers. The company has an array of acoustic and electric guitars. However, their electric guitars are the most popular as they have a versatile sound, impeccable appearance, and top-notch quality.
McCarty and Custom 22 are two premium guitars designed by PRS, and this article includes an in-depth comparison to help you select a suitable guitar!
The Differences Between PRS McCarty vs. Custom 22
| | McCarty | Custom 22 |
| --- | --- | --- |
| Frets | 22 | 22 |
| Body | Mahogany with flamed top | Mahogany |
| Neck | Pattern profile with a mahogany construction | Maple wood |
| Scale | 25 inches | 25 inches |
| Nut width | 43.13mm | 43mm |
PRS McCarty vs Custom 22
PRS McCarty Guitar
The McCarty guitar was first launched in 1994 as a vintage-style guitar. However, the model was recently redesigned in 2020 (it was also designed in 2016) and was integrated with advanced features. The first model was designed with a double-cut outline and mahogany back with 52mm depth.
The latest model has a deeper back, i.e., 3mm deeper. It had a 22-fret neck, which wasn't only short but stiff as well. Moreover, there was a five-way rotary switch on the oldest model, but it's been replaced with a three-way toggle (it's a Gibson-style toggle). In addition, the latest version has a classic electronic circuit and covered humbuckers.
Overall, the guitar has a consistent sound quality, flawless appearance, and clean and modern wiring with on-point neck alignment.
Design
The 2020 McCarty has been designed with a stoptail bridge that's made from machined aluminum. In addition, there are brass inserts in the bridge under every witness point of the string, which helps create more sound from the brass bridge but without adding additional weight. The brass inserts are also nickel-plated.
There are two-piece bird inlays that help guide the hands towards correct notes. The guitar has ivory acrylic on the rolled-top edge binding. There are vintage and kluson-style tuners in the guitar that offer value for money. These tuners are extremely lightweight, which helps maintain tuning stability.
In addition, the tuners come with color-matched screws and bushing for an appealing design. There is a nitro-cellulose finish on the guitar, which improves the sound and appearance. This finish produces a smooth and thin texture on the guitar and allows the wood to breathe. As a result, it produces great sustain and open sound.
The headstock is made from East Indian rosewood that matches the fingerboard, and the truss rod's cover is made from anodized aluminum. The headstock promises a reverberant bass response that has sufficient sustain and warmth. In addition, it creates a bright sound.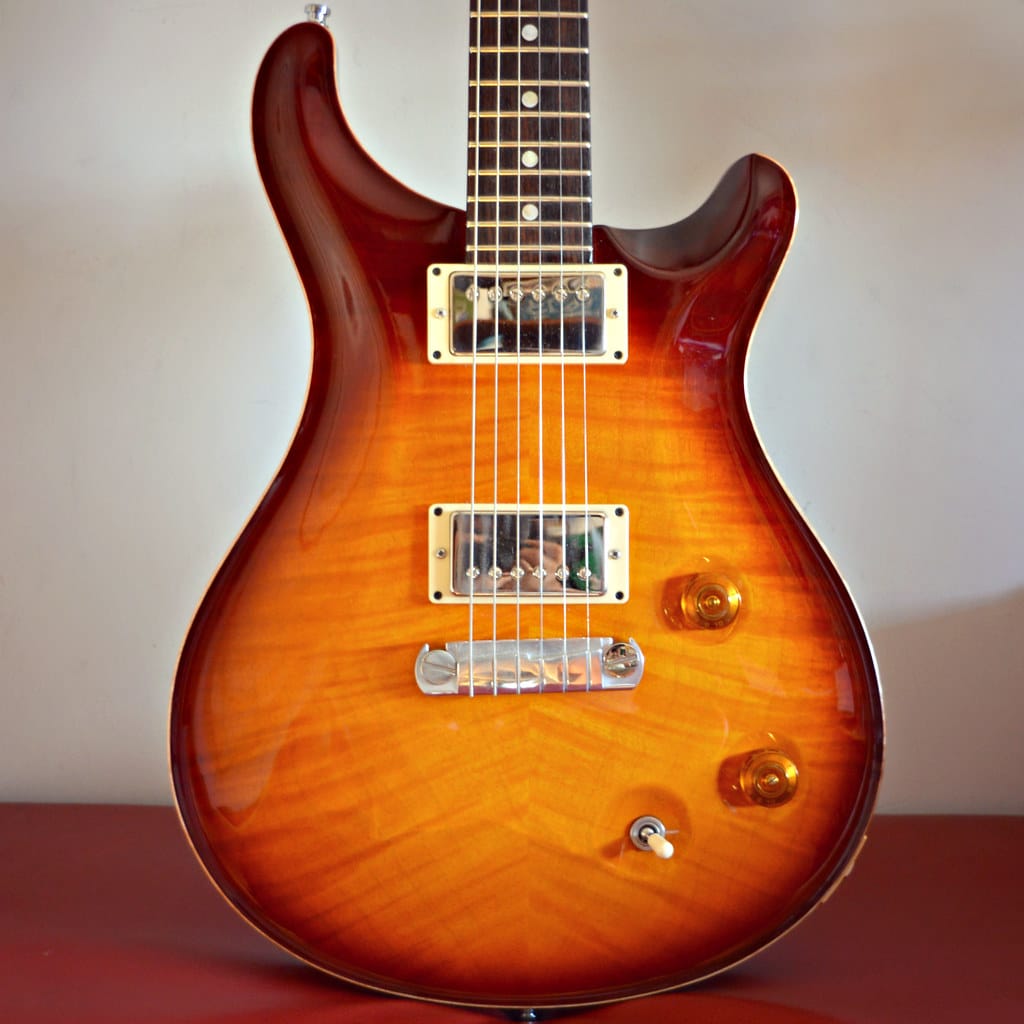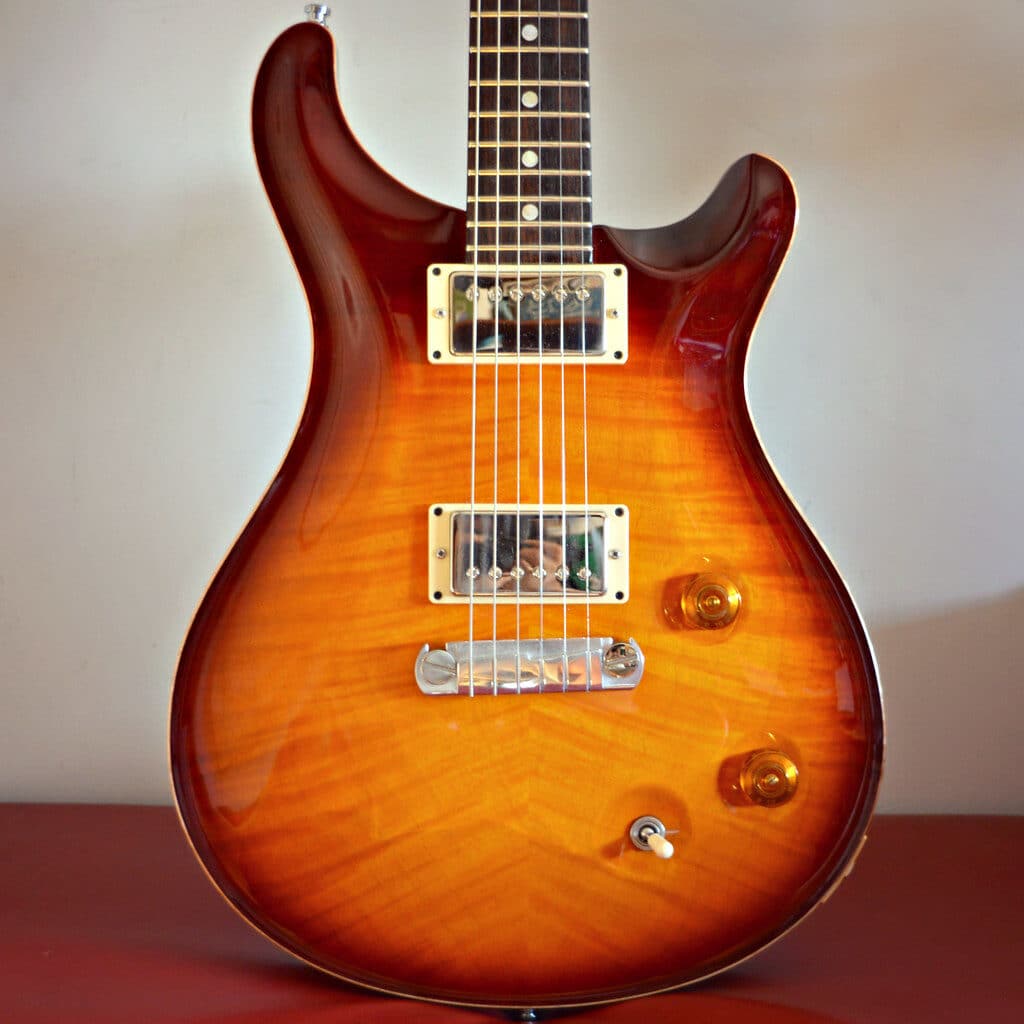 The guitar has a bone top nut that creates a stable point on the guitar and allows maximum shifting of the sound energy. There are non-locking tuners that help achieve tuning stability. The guitar has been integrated with 500k pots, and there is a tone capacitor with .033 microfarads.
In addition, it has a modern wiring style while the pull switch helps operate the partial split – there is a 2.2k ohms resistor for operating the split.
Sound
There is a pattern profile on the neck and tapered shoulders. In addition, the fretwork has more height, and the top edges have been rounded. The guitar has a generous acoustic ring and response. There is a master tone and volume setup, which makes it easier to spice up the tones. There is a bridge pickup which is perfect for playing classic rock.
The guitar has been designed to bring clarity to the sound. In addition, the neck is highly balanced and produces accurate, clear, and thick sound. There is a treble-bleed cap on the guitar, which helps optimize the volume. The thick mahogany construction of the guitar leads to a resonant and warm sound.
In addition, the solid mahogany neck is connected to the maple top, which creates a smooth and deep tone with sufficient sustain. There are 58/15 pickups in the guitar that help create a vintage and warm sound, and there is a sufficient focus in the mid-range.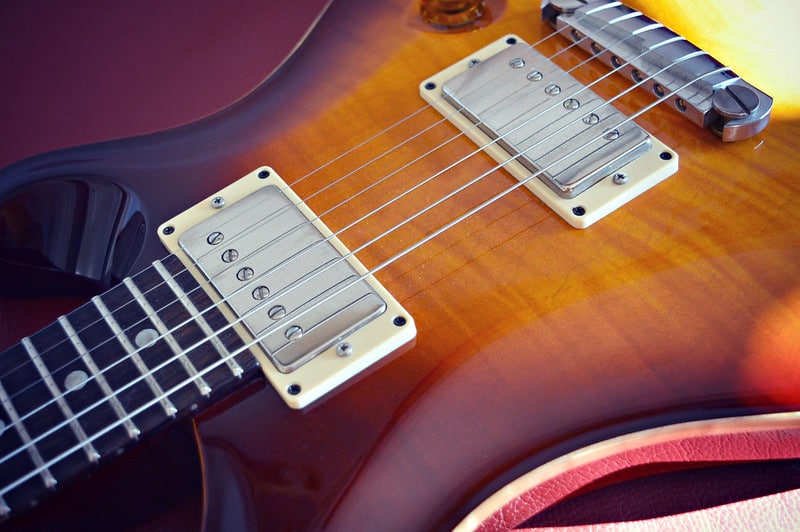 For this reason, it can be used to produce jazzy, blues, and clean music styles. Moreover, the music has great harmonics and musicality in the music.
PRS Custom 22 Guitar
Custom 22 is one of the most versatile instruments out there that can be used to play any music style. This is a six-string guitar and is known for a thin yet wide neck, which makes it easier to move the thumb. There are bare chords that promise faster shifting.
However, it might be challenging to access the frets below the 15th fret, particularly if you have short hands. The guitar is pretty comfortable as the fretboard radius is around ten inches – the radius has a lower curve as compared to Stratocasters and Telecasters, which makes it easier to move from one fret to another.
The guitars have great playability for metal, progressive, and rock music. In addition, it can be played for solos and riffs while the tones are incredibly versatile. It is known for its exceptional finish, and the pickups are extremely durable. It's integrated with flamed maple construction and bird inlays, which is perfect for personalizing the sound.
Design
The guitar has been designed with a solid mahogany neck and body, which promises a sturdy feel. The mahogany build promises sufficient power and resonance, which is why it can be used for different musical styles. There is a comfortable, playable, and slim neck, making it suitable for beginners who need to learn better control.
In addition, there is a rosewood fretboard that has 22 frets, promising easier accessibility for every fret. The rosewood fretboard promises a balanced tone and sufficient frequency response. It has a scale length of 25 inches, and there are bird inlays that allow the users to personalize the music style.
Moreover, it has a premium finish, which looks amazing. There is a stoptail bridge, which promises exceptional tuning stability and promises direct transmission of the vibrations. There are six tuners, so you can adjust the intonation. There are minimum sharp edges in the guitar, and you don't need to worry about fret buzz.
However, there is no pickguard on the guitar, but there is a gig bag available. It has been designed to offer tone furnace bass while humbucker pickups help suppress the external noise.
Sound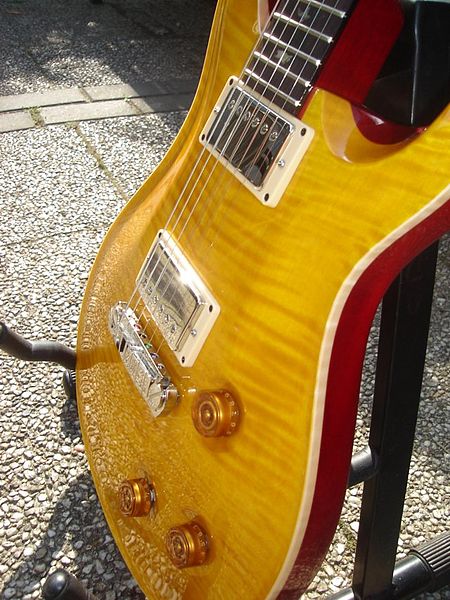 The guitar has been integrated with humbucker pickups that help produce warm yet loud music that contrasts with bright and snappy sound. In addition, there are volume and tone control knobs to provide better control. The guitar also has a three-way pickup selector that makes it easier to operate the guitar.
Furthermore, it helps switch between different frets and achieve maximum articulation. The availability of two humbuckers results in cleaner notes, and you can also produce all-metal music. In addition, it can be used to play jazz and classic blues music – the sound output is raw, organic, and natural.
However, the basic sound is prone to tonal effects and changes. The users can easily adjust the tone since the guitar has a robust response. Keep in mind that it's designed with humbuckers, which means they are hot, and adjusting the tonality will be difficult. Having said that, you can use this guitar for playing blues, jazz, metal, and rock music.
The classic rock tones can be produced as well, but there are balance issues. The guitar produces an organic and sweet tone. There is a huge neck heel in the guitar, which promises significant improvement in the tone. In addition, there is more wood on the neck point, promising higher sustain.
The pickups make it easier to control and dial in the classic sound with a modern twist. Overall, it can produce gentle and clean music as well as metal riffs.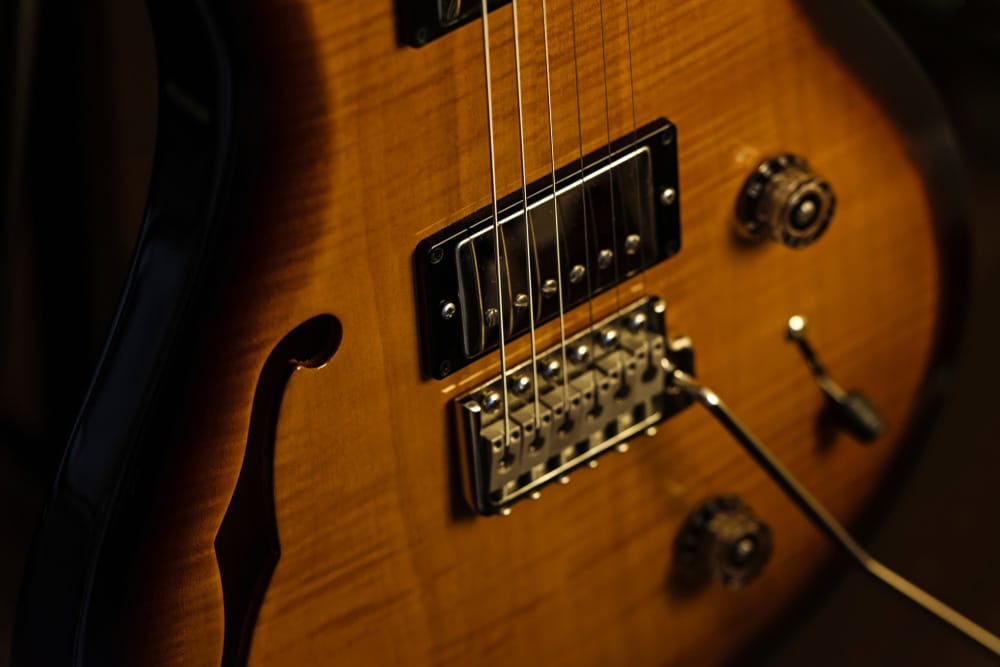 The Bottom Line
PRS has an exceptional range of guitars, but Custom 22 is one of the most versatile guitars out there.
Custom 22 guitar is perfect for people who want to play metal, blues, rock, and jazz music without compromising on the clarity of the tones. On the contrary, McCarty is a recommended choice for warm, deep, and thick tones only.