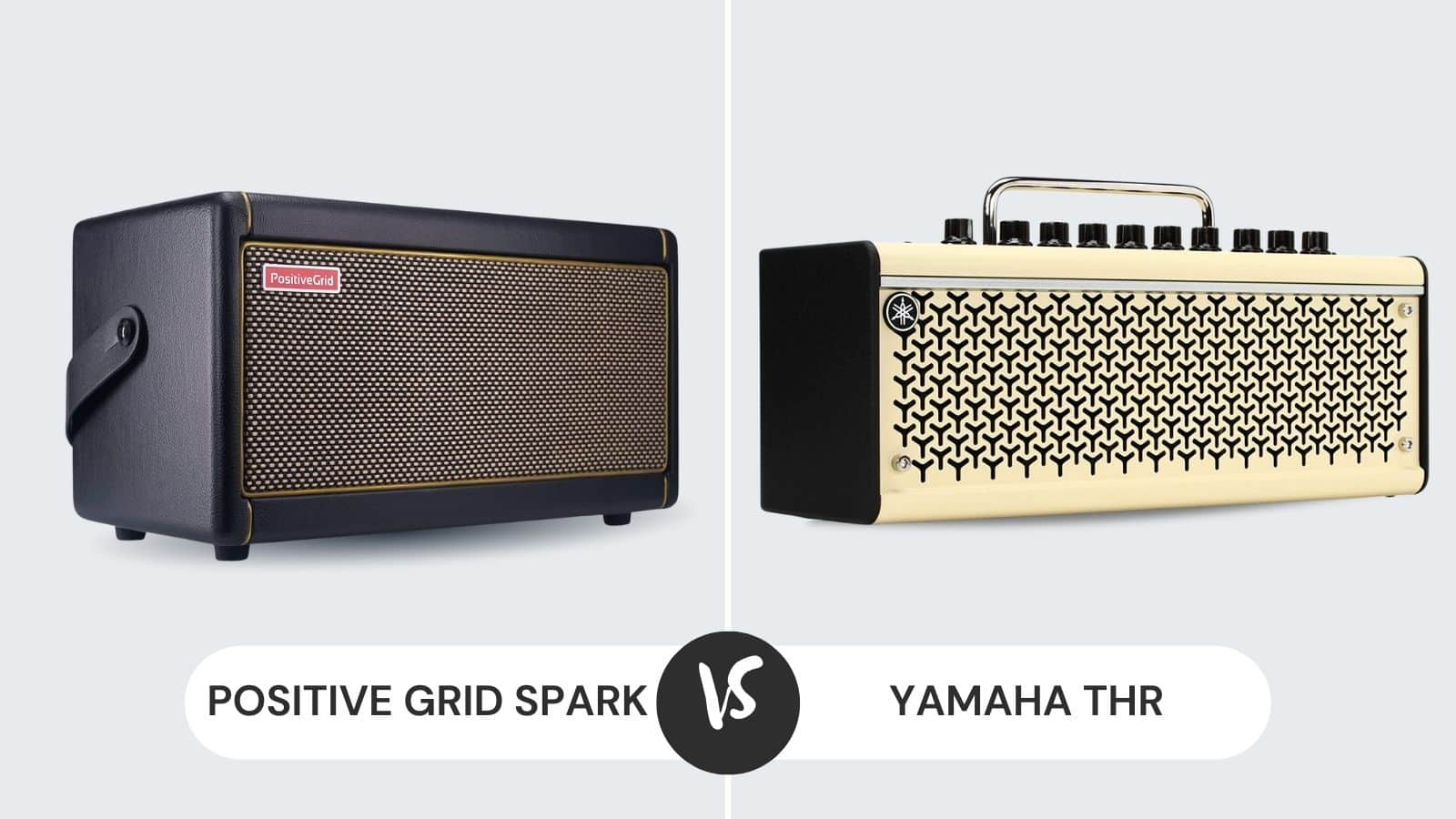 All the reasons why guitars are popular among music lovers would make a long list. For starters, their versatility is unparalleled. Whether you are into classical music or heavy metal, the guitar is up for the task.
As a cherry on the cake, they are affordable, and you can buy one even if you have a tight budget. In addition, their compact size means you can easily carry them around.
That being said, it is recommended to use a few accessories for the best playing experience. These accessories come in handy, especially if you are just getting started with guitar. A guitar amp is one such tool.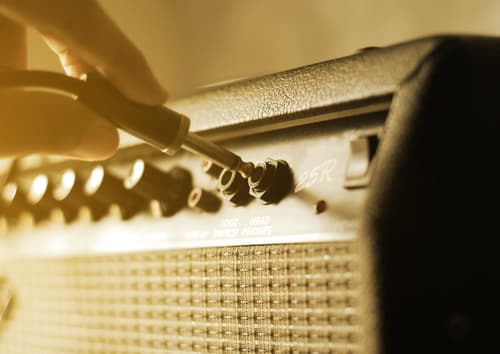 Beginners often think that guitars can be used on their own. However, using an amp can elevate the music and magnify the tones.
You cannot leave Positive Grid Spark and Yamaha THR guitar amps behind when talking about guitar amps. They are the most sought-after guitar amps in the market, thanks to the fantastic features they offer.
If you want to buy a guitar amp for your guitar, read on as we will discuss both these guitar amps in this article.
Positive Grid Spark vs Yamaha THR Overview
Below is the comparison between Positive Grid Spark and Yamaha THR so you can make an informed decision.
Comparison Table
| Features | Positive Power Grid | Yamaha THR |
| --- | --- | --- |
| Battery | No | Yes |
| Bluetooth | Yes | Yes |
| Wireless | No | Yes |
| Weight | 11.46 lbs | 6.2 lbs |
| Price | Moderate | Expensive |
| Color | Brown | Skin |
Positive Grid Spark
The Positive Grid Spark guitar amp is manufactured by Positive Grid, a company known for manufacturing top-notch musical instruments. The company joined this business in 2013 and has been a massive success since then.
Although it has manufactured quite a many musical instruments, a significant proportion of its popularity comes from the Positive Grid Spark.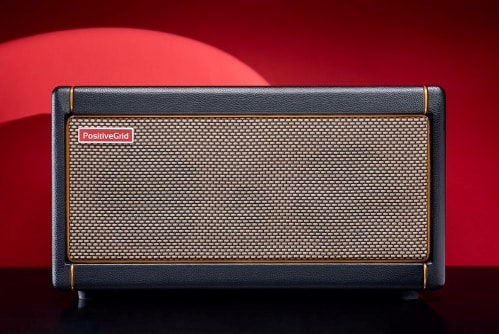 The Positive Grid Spark is an excellent choice for those looking for a desktop portable guitar amp, thanks to its low weight and compact size.
The best thing about this guitar amp is that it comes with a mobile phone app for your maximum convenience. The app is compatible with both iOS and Android devices.
Talking about the top panel of the Positive Grid Spark, first, you get a power switch, which is used to turn the guitar amp on and off. Next, you have an LED indicator, which illuminates when the amp is powered on.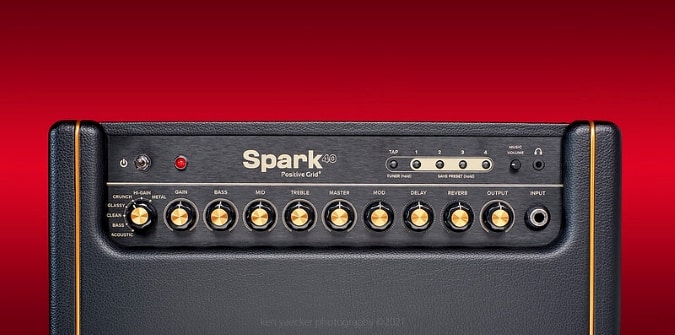 The tap button on the Positive Grid Spark is used to sync the time-based effects to your desired tempo. You can do it from here if you want to add a delay effect to your tempo. Similarly, if you want to speed that up, you can tap this button to speed it up.
This button also engages the in-built tuner on the amp. For this purpose, you will need to press and hold the button for several seconds until its light turns off. This signifies that the tuner mode has been activated. This mode deactivates the speaker of your Positive Grid Spark.
Start picking on the string you want to tune, and you can adjust accordingly. If the green light on button 2 illuminates, it indicates that your note is perfectly in pitch. If you want to exit the tuner mode, you can simply tap any button, and it will exit this mode.
Another exciting feature of Positive Grid Spark is its four preset buttons. They allow you to save your favorite tones so you can easily access them later.
The last button on the top panel is the music control volume. Whether you love jamming sessions with your friends or like singing along with backing tracks, you can use this button to adjust the volume.
Then, you get a headphone jack for practicing quietly. If you want to practice at home, just plug in a 3.5 mm headphone, and you are good to go!
In terms of performance, the Positive Grid Spark is in a league of its own. As mentioned earlier, it comes with lots of effects, such as delay, overdrive, and reverb effects. It features two four-inch speakers for incredible sound.
In addition, musicians also love the 40-watt class D system in this guitar amp.
On the other hand, the unavailability of the battery results in zero portability. Still, as long as it's connected to power, it can be moved around with a lightweight design and a built-in strap.
The battery does make a difference in its overall performance, but we have what we have.
Yamaha THR
Yamaha THR is another widely used guitar amp. It boasts all the features that you need in a guitar amp. It is manufactured by Yamaha, which is among the major players in the music industry.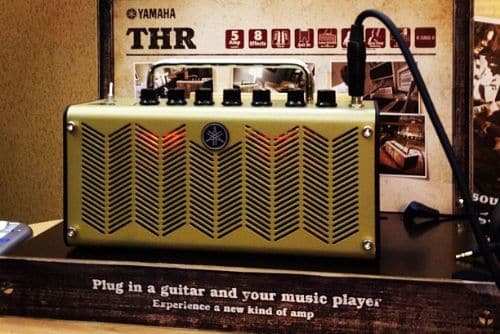 The main feature that sets the Yamaha THR guitar amp apart from the Positive Grid Spark is that a battery powers it.
Just plug it into a power source, and when it is charged, you can take it to your studio or your buddy's house for a quick jamming session. And yes, the battery is quite powerful, and you can rest assured that it won't die any soon.
The Yamaha THR has controls on the top. First, you get the main power button to power it on and off. Then, you have five different presets to save your songs.
All you need to do is just press and hold the button, and you will have your audios saved. It also has Bluetooth, so you can sing along to the backing tracks or jam with your music buddies.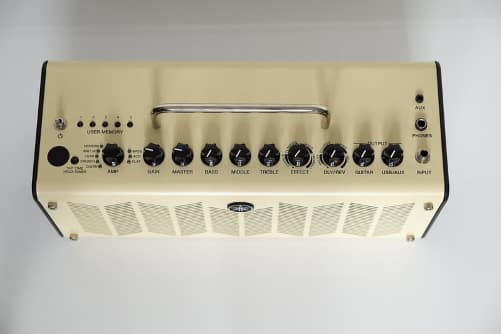 Like the Positive Grid Spark, the Yamaha THR also has an app that enables you to control it better. You can connect it to the app and seamlessly change its settings or other effects.
You get five different amps to choose from in the amps section, including special, hi gain, lead, crunch, and clean. It also has many cool effects, such as echo, spring, hall, etc.
The Yamaha THR is a wireless guitar amp, which means that you won't have to worry about the cables anymore. The built-in direct outputs in this guitar amp come in handy for recording. You also get a USB output that allows you to connect it to your computer or use it as a Bluetooth speaker. Cool, isn't it?
It must be pointed out that the Yamaha THR is a good choice for relatively small gatherings only. This is because it is not loud enough to be played at big events. So, if you are to perform in an auditorium, you may need to look at some other guitar amp.
With 2.8 kgs, the Yamaha THR is pretty portable, and carrying it around would not be a problem for you even if you have a bad back. For better portability, it comes with a handle at the top.
Design-wise, the Yamaha THR is as good as anything. It is mainly constructed of plastic, and the metal finish adds to its elegance and durability. It has three emulated circuits, i.e., classic, modern, and boutique circuits.
The guitar amp is pretty easy to use, and anyone with basic knowledge can efficiently operate it.
If you are low on the budget, the high price of the Yamaha THR might be a deal-breaker. On the other hand, the Positive Power Grid is relatively inexpensive, and you can easily afford it even if you have a tight budget.