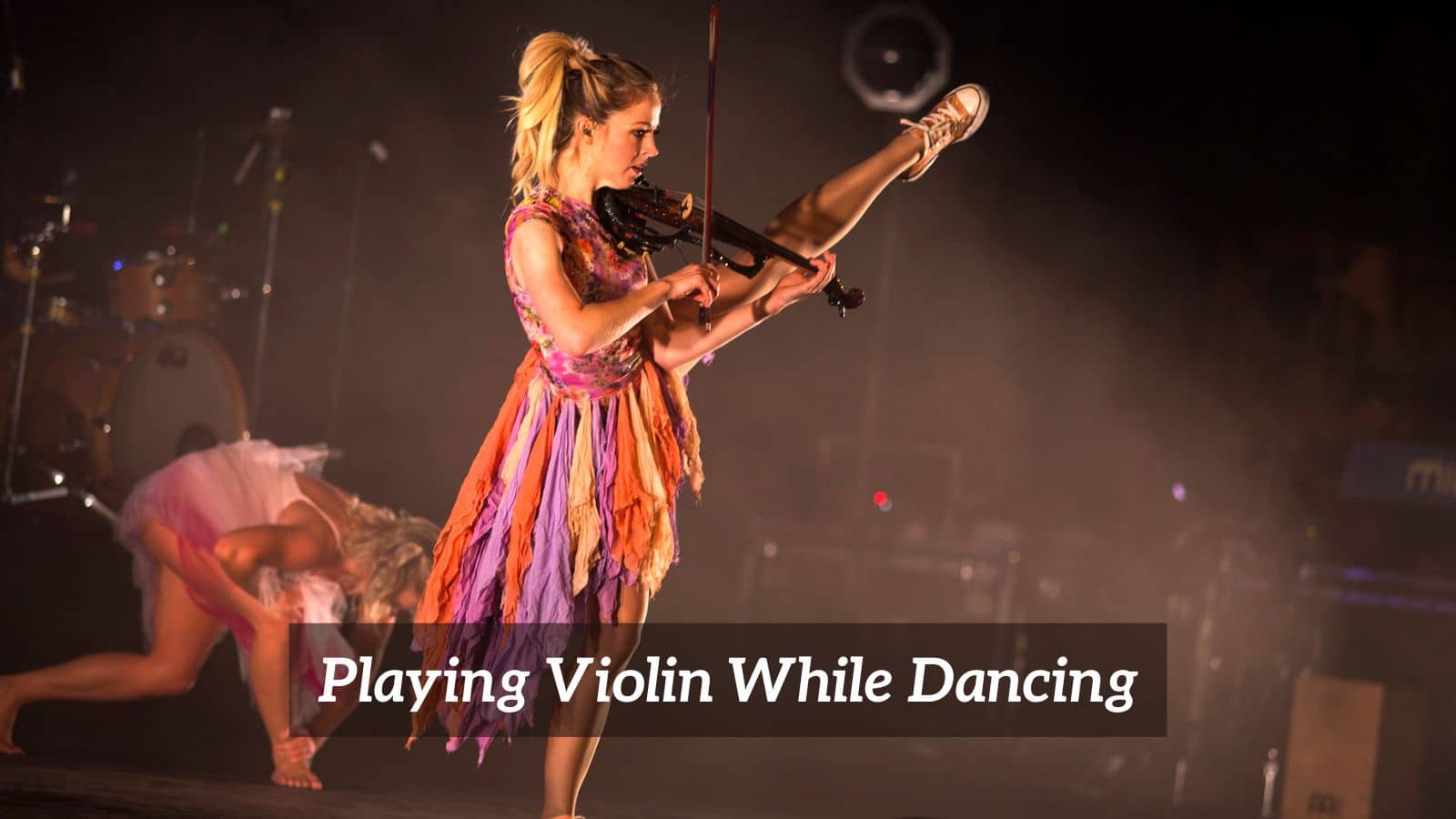 The art of music and the art of dance have always been linked to each other since ancient times. We may even ask ourselves which one came first, the music or the dance.
But it is in modern times that many violinists have attempted to fuse both arts to create a single performance. Names like Lindsay Stirling, Máiréad Nesbitt and Hanine will certainly pop up in any search about violin dance.
It is natural to every performer to move along with the music whenever playing an instrument. It does not matter if it is a piano or a violin, the moves are always there as a natural way of expression.
However, you will never expect a classically-trained violinist to start dancing during the Rondo of a Mozart Violin concerto or during the Allemande of a Bach Solo Sonata.
Works similar to these were often intended to be performed in special halls but never to be danced to. However, it is not until recent times that violin dancing – the art of playing the violin while dancing – became a more popular thing.
Playing Violin While Dancing
Some star violinists definitely played a very important role in the popularization of this art, and inspired many other artists to follow the same steps and also gain international recognition through social media.
For this article we chose three names that got millions of views on YouTube and certainly have influenced many other modern violinists to make up their own performances, either in huge stages with all the light and sound effects, or in the streets with a high flow of people.
The three names we would like to introduce you to are the American Lindsey Stirling, the Lebanese Hanine, and the Irish Máiréad Nesbitt.
The American born star violinist Lindsey Sterling started broadcasting her performances on her channel on YouTube in 2007. With over 3 billions of views, she attracts many subscribers daily to her YouTube channel.
Although she had talent for both playing and dancing since childhood, she had to choose between dancing or playing the violin due to her family financial conditions. She chose the violin, but the dream for becoming a dancer never died.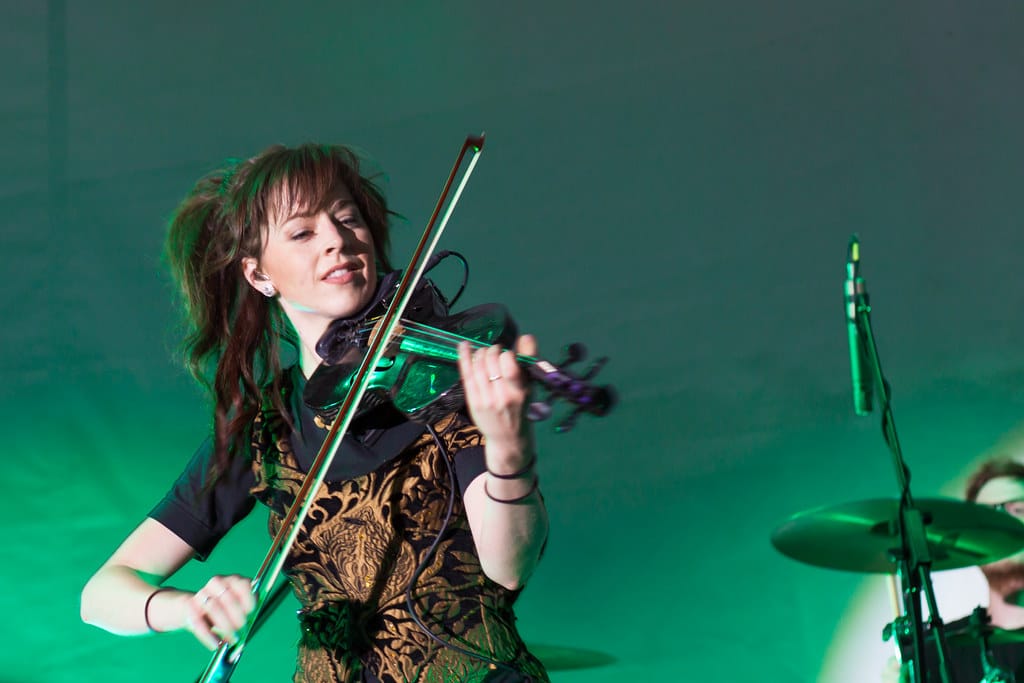 Although she makes doing both things simultaneously look easy, the star violinist who got internationally known after her performance in America's Got Talent show states that in the beginning doing both things at the same time was a very hard task.
In her own words: "It is very unnatural to dance while playing the violin. I had to practice so hard to learn how to do it, but now it is part of my expression and it comes naturally.
I have to know a song perfectly before I can even begin to move. Once I know a song really well, I can then have fun dancing."
Indeed, the unnaturalness of playing and dancing at the same time comes from the need of the violinist to keep the balance of the instrument, not loosing control of the bow.
As the body moves, the synchrony between bow and instrument must be kept. Every small change in pressure or speed of the bow may produce unwanted noises and can affect the performance negatively.
It also takes a good dosis of coordination in order to move both hands and both legs in synchrony. Let alone doing specific moves such as in hip-hop and dubstep, two genres that Lindsey Stirling has mastered.
Also difficult are the moves for the Celtic dancing, which have become popularized by the dancer violinist Máiréad Nesbitt.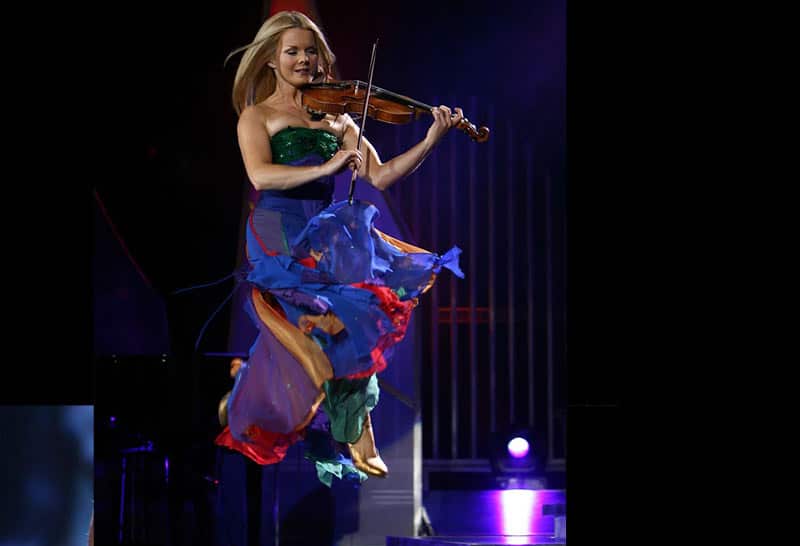 The Irish fiddler Máiréad Nesbitt gained international recognition after performing with the group Celtic Woman, a successful group of female performers.
Having started to learn music at a very early age, her style was strongly influenced by violinists like Irish fiddlers Liz Carroll and Michael Coleman, and Jazz artist Stephane Grappelli.
Differently from Lindsey, Máiréad's moves on stage come more naturally, as she once stated that they have "always been a natural thing to do. I wouldn't be able to do very choreographed moves in my solos. I only do what makes sense to me".
Perhaps the videos that have drawn the most attention of the audience due to these energetic peformances are "Celtic dueling violins" and also a collaboration with the Harp Twins, where they play "Kid ar an Sliabh", the first with more the 20 million views and the latter with more than 10 million views.
Emmy and Grammy-nominated, she draws attention of musicians and non-musicians from the whole world.
Not only Western performers have gained popularity in the world of violin dancing but performers from the Middle East as well.
The finest example being Hanine, the Lebanese violinist with more than hundreds of millions of views on YouTube, perhaps most famous for her video "Arabia, violin dance and show".
She is the winner of prizes like the Best Lebanese Violinist. Perhaps the secret to her popularity, besides all her talent, is the fusion of Western and Eastern elements to her musical performances.
Having started to learn the violin at the age of 9, she was influenced by many artists throughout her life, as she states: "My influences come from different places. My music is a mixture between American singers and Arab musicians. I must say some of the most influential to me are Abboud Abed El Aal and the violinist Nazir Mawwas."
She classifies her abilities as talent, and differently from Sterling and Nesbbit, Hanine says that the dance for her is a mix of talent and study.
And this is what we can see in her highly choreographed videos, where her skills are defined by the audience as dazzling.
These three women, Stirling, Nesbitt and Hanine, have set a new approach to the violin world.
And not only by dancing, but also by writing their own music, in which they can express themselves more deeply and draw attentions in the whole world, making their art seem at the same time so impressive, but natural and accurate to the eyes of the watchers.
Such abilities certainly were not easily acquired, but demanded years and years of training, giving them fame and worldwide recognition.