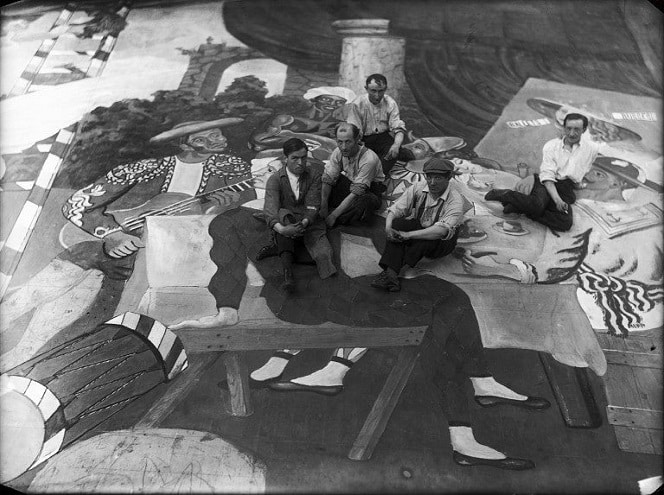 Sculpture and painter Picasso is more closely associated with the world of cubist art than the world of music. To the public, Picasso is credited with denying the influence of music on his work, but in this article, I am going to take the opportunity to examine this a little further.
Picasso and Music
Now housed in the New York Museum of Modern Art, Picasso's painting titled 'Three Musicians', is a work that dates from 1921.
https://www.youtube.com/watch?v=DwW8If3MPjw
This offers a firm starting point for an exploration of the link between Picasso and music. The painting itself is an impressive one with dimensions of more than two meters in width and height. It serves as a superb example of the 'cubist' style and gives the impression of a work made up of cut-out pieces of colored paper or card.
The picture contains the images of a singer, a clarinetist and a guitar player that seem to blend together perhaps in the way Picasso heard music. Picasso uses bright, lively colors in the picture along with characteristic abstract shapes. Even though Picasso claimed not to be well informed about the finer points of music, this picture may have been influenced by the Catalan music he would have heard growing up.
According to some, there is another influence that music had on the work of this great artist. Rather than thinking about musical form or structure, language or nuance, Picasso is thought to have been intrigued by what Andrea Kirsh calls 'negative space'. This refers to the space that is inside an instrument like a guitar or cello and is the space in which the sound of the instrument is created. Works like 'Guitar' from 1912/1914 and 'Violin Hanging on a Wall' from 1913, exemplify this interest where the instruments themselves appear to unfold from the medium in which they are made.
From influence to collaboration. Picasso did not work in a state of isolation. He was actively connected to many notable composers of the period. I say actively as Picasso was a key figure in the French Avant-Garde movement centering his collaborations around the renowned Ballet Russes. Eric Satie was an equally controversial figure who played no small part in the advancement of French Art. The 1917 ballet he called 'Parade', was a unique and ground-breaking piece of music, design, and theatre between Diaghilev, Cocteau, Picasso, and Massine.
The ballet was based on a concept that initially came from Cocteau who had in turn been inspired by the music of Satie. This single act ballet had its costumes and scenery designed by Picasso. The score contained an astonishing array of instruments including sirens, typewriters, a lottery wheel, and even an airplane propeller. The costumes and scenery were no less impressive fully exploiting the circus element of the ballet.
Looking back to Picasso's Spanish heritage, drew him to his next collaboration with Manuel de Falla in his work 'El Sombrero de Tres Picos'(1919).
This was another ballet commissioned by the remarkable Diaghilev and drew on traditional Spanish dance rather than the more expected classical ballet. The story is on of infatuation. In this case, it is a magistrate who becomes infatuated with the wife of a miller. Picasso took charge of the costumes and scenery.
In 1920, he worked on one of the most outstanding ballets of the 20th Century; Stravinsky's 'Pulcinella'.
The character is an old one with its origins in commedia dell'arte from the 17th Century. This mirrors the painting I discussed at the opening of the article. The collaboration between these two immensely important and pioneering artists lead to some of the most inspired work of that century. Picasso created three drawings for Stravinsky during a period when the two men were in regular contact, exchanging artistic ideas and concepts.
Stravinsky had sent Picasso a five-bar draft of a clarinet piece. This he sent on a hotel telegram to align himself with, and to show his genuine interest in cubism. Picasso also drew a portrait of the composer in 1920 using graphite and charcoal. This has become one of his most renowned works and seems to me to embody the character that Stravinsky was.
In 1924, Picasso worked with Darius Milhaud on his ballet 'Le Train Blue',
and then later again with his long-term friend Eric Satie on his 1927 piece titled 'Mercure'.
The Milhaud work was inspired by a train that carried the rich to and from Calais to the Mediterranean Sea. Like similar collaborations, Cocteau created the basis for the work, Picasso the costumes, and scenery. The ballet premiered in 1924 with a degree of success, but it is not a work that is staged often today.
'Mercure' is essentially a neo-classical ballet whose plot centers on Apollo, Venus, and Mercury. Mercury becomes increasingly jealous of the love that Venus and Apollo share and kills Apollo only to revive him later. Picasso's work with Satie was quite a direct one and perhaps the influence was stronger from Picasso to Satie than the other way around. Satie aimed to convey and capture Picassos sketches in his score that in itself was unique. Satie's music is scored for modest forces with characteristic dry humor threading through the score. There are harmonic complexities that underpin the simplistic melodic material that reflects on occasions, the music hall tradition. Both artists were at the height of their profession during this collaboration and even though the ballet at times feels chaotic to modern ears, it represents a work of intense inventive achievement.
With such monumental works in his catalog, it is difficult to imagine that Picasso was not influenced by and interested in music. It also seems highly unlikely that Picasso knew as little about the details and concepts that surround music as he claimed or he would not have been able to seamlessly respond to the challenges the collaborations demanded.
Through many of the works of art that Picasso produced during his long and productive life, the music weaves a thread through many. His collaborations in costume and scenery are significant to his output as are his explorations of the origins of sound. Whether we can completely trust what Picasso said about his relationship with music is perhaps something for each of us to judge on its own merits.