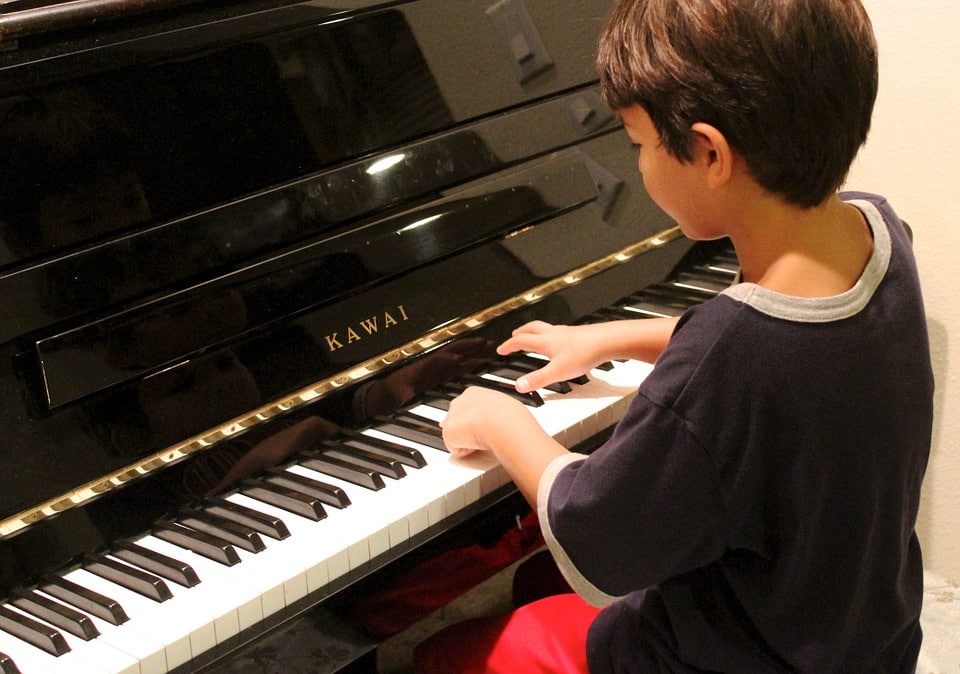 At a not too distant point in time, the variety of pieces available to young pianists was somewhat limited and often uninteresting. Today with the advent of the internet and so many composers self-publishing free sheet music, the selection of options is almost overwhelming.
In this article, I am going to attempt to slim down the possible pieces into ones I feel are not only fun to learn but pieces with compositional integrity that will become favourites for some time. It is also important to note that simply because they are pieces for children, they are not all intended for beginners.
Piano Pieces for Children
1. 30 Children's Pieces; Op.27 by Dmitry Kabalevsky
Kabalevsky is perhaps not a composer whose name will be familiar to many, but he is in my opinion, a musician with a flair for colourful and imaginative pieces. He was born in St Petersburg, Russia in the early part of the twentieth century (1904) and gained a formidable reputation both as a composer and performer.
There is a strong nationalistic and unmistakably Russian sound to his music that has perhaps been at the heart of his appeal. Kabalevsky wrote a broad variety of music, not only pieces for children including Piano Concertos and operas. The thirty pieces for piano are relatively early works. They are quite short in duration and cover a standard from around Grade 2 – 6 (ABRSM). Unlike many pieces for children, they are not dumbed down but evocative and very well written.
2. Six Children's Pieces (Children's Notebook); Op.69 by Dmitry Shostakovich
This delightful set of pieces actually number seven rather than six as Shostakovich added the final piece titled "Birthday" for his daughter's ninth birthday. "Birthday", was only published in 1983. The compositions were composed between 1944-45, not a pleasant time in Russian history as the second World War raged towards its bloody conclusion. Unlike Kabalevsky, Shostakovich expressed little interest in writing pieces for younger musicians or any pedagogical works.
He did record all of the pieces in a festival in Prague, 1947. The seven pieces each have the characteristic harmonic and melodic hallmarks of Shostakovich's work. The titles are all clearly designed to stimulate young minds to play imaginatively. "The Clockwork Doll" has perhaps been one of the most enduringly popular pieces for examinations over the years.
3. Eight Children's Pieces for Piano; Op. 36 by Malcolm Arnold
Moving from Russia to England, Malcolm Arnold was one of the most celebrated composers of his age. To his credit, he has some 132 film scores including the remarkable "Bridge Over the River Kwai" (1958) together with nine symphonies, many concertos and two operas. He made a major contribution to the world of chamber music into which fit these eight pieces.
Arnold's style was naturally cinematic in the traditional sense. His music is full of humour, characterisation and sharp changes in mood. These short pieces are a great introduction to the work of this composer. They are fun and range in difficulty from about Grade 2 – 6. "The Buccaneer" is the video above that has been classified as a Grade 6 piece and captures the stylistic features that thread through many of Arnold's works.
4. Music for Children; Op. 65 by Serge Prokofiev
These twelve miniature pieces are in some ways quite a departure from the other more bombastic and controversial works from Prokofiev. They are compositions that are written for children to learn and enjoy playing rather than simply about children. In some ways, they also point the compositional way forward in Prokofiev's life to a more neo-classical sound world. That said, none of these piano works is easy to perform and requires careful study to master.
There is a sense of the presence of Mussorgsky in the flavour and titles of the pieces; particularly "Promenade", although the darker tones of Pictures at an Exhibition do not fully emerge here. Each piece contains unique twists and turns that make the pieces challenging to learn and interesting to hear.
5. For Children by Bela Bartok
This substantial collection of pieces for children cannot be overlooked. Bartok was an avid educator and supporter of young musicians. These works were composer over a three year period (1908-11) and originally printed in four separate volumes giving a total of 79 very individual and inspiring pieces. As Bartok devoted much of his professional life to collecting and collating folk melodies from across Hungary and Slovakia it is not a surprise to discover that these pieces have their origins in this rich source of music.
What were the first two volumes are centred on Hungarian music, the second two volumes are towards the Slovakian collection. The four volumes of pieces are progressive and gain in their technical challenge as they move from the first to the last works. Many teachers have used this selection of pieces to instruct pupils over many years and they are still a feature of many examination boards choice of pieces.
6. Mother Goose Suite by Maurice Ravel
Even though Ravel never had children of his own he is reported to have adored their company. This suite for piano duet Ravel composed for Mimi and Jean ages only 6 and 7 who were the children of the renowned sculptor and academic Cyprian Godebski. You might suppose that Mimi and Jean were exceptional pianists but I think it is fair to assume that on hearing the suite that the music really was inspired by the spirit and characters of the children perhaps rather than with the intention for them to play it. There are five pieces in the suite beginning with the "Pavane of Sleeping Beauty" and concluding with "The Fairy Garden".
Each of the pieces is wonderful in its use of the full range and colour of the piano. There is an abundance of modality in the melodic material that is very characteristic of Ravel and a tinge of melancholy haunts the suite. The Suite was orchestrated by Ravel in 1910 into the form we most commonly hear today that includes four additional Interludes.