Tod Hughes' debut full length album was an enjoyable listen, displaying a storytelling songwriting style that blended tongue in cheek with more serious moments. Jordan Smith spoke to Hughes about his musical influences, the positive response they received when playing a concert to raise money to support the relocation of Syrian refugees and his views on the problems confronting artists trying to sell records in the digital era.
An interview with Canadian singer-songwriter Tod Hughes
Jordan Smith: There seemed to me to be quite a lot of musical styles on TimeSlow Down. I mean for example on "Drinking Coffee in a Hipster Place" there's a bit of a jazzy feel and then in other tracks you have the fiddle combining with the guitar to create a folk sound. Could you tell me something about your musical influences and any artists you are inspired by?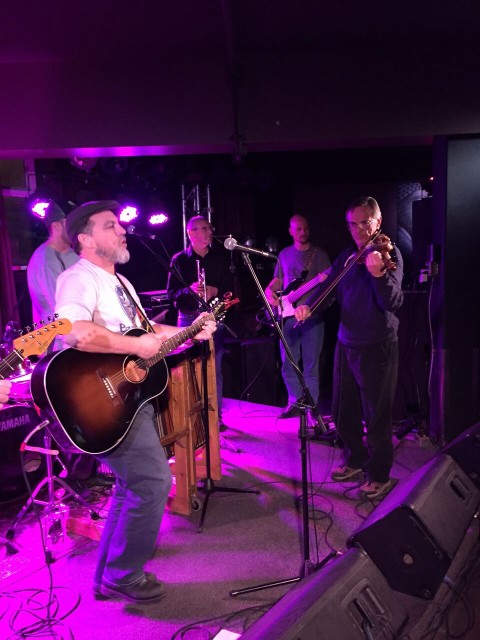 Tod Hughes: I have been primarily inspired by artists that I consider storytellers. I love to hear a story when I listen to a song. So this may be more lyrical than musical, but of course that comes into effect as well. Singers like Bob Dylan, Johnny Cash, Neil Young, Leonard Cohen may be somewhat obvious, but others like John Prine, JJ Cale, Tom Petty and Tom Waits have had an influence on me as well.
JS: I'm interested to hear a bit about how you approach songwriting? I enjoyed the balance on many of the tracks between reflective and even emotional lyrics but at the same time a more humorous style in places.
TH: I don't think I ever take myself too seriously, and I do enjoy having fun. Having said that, music for me comes from a spiritual and a reflective place. So there is that balance or even conflict as to how a song reveals itself to me. Sometimes, it starts and seems so serious like the song "nothing too obscure" and then it unfolds like "what the heck are you being so serious for?!" and the song takes a turn to the more tongue in cheek side of my writing.
JS: I noticed in your bio that you've done fundraising concerts, including for the resettlement of Syrian refugees. It's been a major issue here in Canada over the past year and I wondered if you could say a bit about what sort of response you have received for this work?
TH: We received a very positive response to our concert in support of the Syrian family relocated to Toronto. I am not sure whether it is just our own perspective, or the community we associate with, but in almost every case, people we know want to help these dislocated people to feel at home, settled, productive and happy in Canada. These families coming to Canada have been through a tremendous amount of adversity, so we are wanting to help them in any way we can. We have found that most others feel the same way.
JS: Do you plan to tour with the album? What is your next project?
TH: We are playing local shows and have done a mini tour in support of the album. Presently we are exploring where there would be support for the music and shows if we were to tour more extensively. My next project will probably be another EP (the first I did Changing Gears was an EP, whereas Time Slow Down is a full length LP) and probably will have a bit more of a stripped down feel, with some very serious songs, but a couple of light hearted ones as well. Can't get too serious!
JS: How have people responded to the album?
TH: The album has received an excellent critical response. We have had amazing reviews that are very encouraging, folks who have told us directly how much they love the album, along with some radio play locally, nationally and even internationally.
It is hard to talk about response in terms of sales, as that is a challenge for all artists right now. I read Paul McCartney's recent interview in Rolling Stone and he said his last album went to number 3 on the charts and sold 15,000 albums! He said that in the past if they did 15,000/day they would have been very disappointed as they often had done 100,000/day and now they sell 15,000 total. But he says he puts out the records because he has songs that he likes and tries to do the best job he can with it. That is an admirable perspective from a superstar who doesn't need to be showing the world anything about what he can do musically. So I guess we need to be happy that people enjoy our music, we get to play some great shows, and continue to try to create memorable and meaningful music, because we love to do that!