A US court has ruled that one of the world's most popular songs, Happy Birthday, is no longer under copyright. This could potentially mean that a company which has collected millions of dollars in royalties since 1988 will have to pay them back.
The song we all know today was composed in 1893 by two sisters in Kentucky, Mildred J. and Patty Smith Hill, and was initially called Good Morning to All. The court ruled that while the sisters entered into a copyright deal for the melody they had written, this only referred to the melody and four specific piano arrangements. There was never any copyright agreed on the lyrics, the court stated. Patty Smith Hill is believed to have written the lyrics some years after the initial melody was composed, but this isn't known for certain.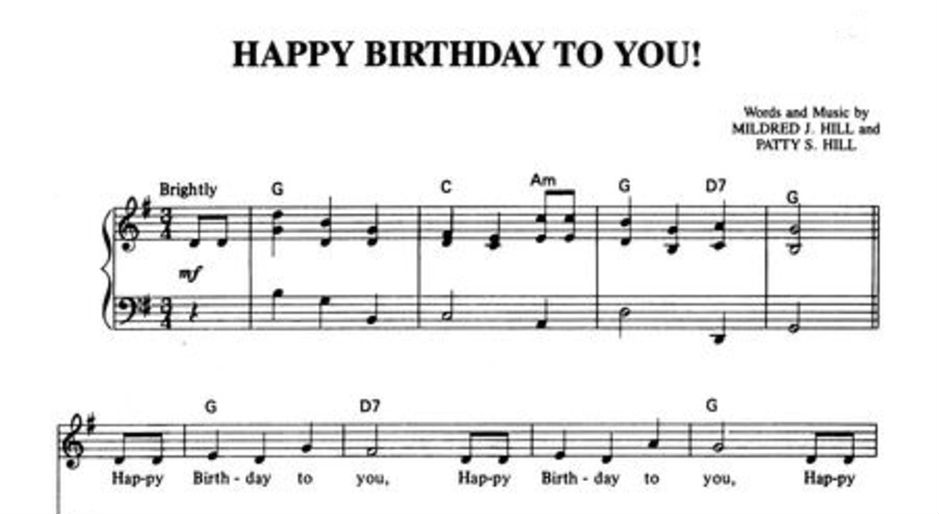 Warner Chappell acquired the copyright license in 1988, and according to the BBC, it has been collecting $2 million annually in royalties ever since, just by charging every time the song appears in films, TV programmes, advertisements and at public events. That means they could be looking at a bill of over $50 million if the court decides to make the company repay all the money it has received.
Things get even more confusing because the court ruling only applies to the copyright in the United States. A different copyright arrangement reportedly exists in the UK which won't be affected directly by the court decision.
All of this only came to light because Jennifer Nelson, a filmmaker, decided to make a documentary about the history of the song. She received a request from Warner Chappell for over $1,000 in royalties for their use of Happy Birthday, and decided that instead of paying it, they would take legal action.
But regardless if the song is copyrighted or not, it seems likely to remain one of the most played melodies around the world. So we've brought together some of the most interesting versions and interpretations of Happy Birthday.
Happy Birthday by Victor Borge
Victor Borge is probably one of the most beloved comedians of the twentieth century. One of his great successes was his ability to play Happy Birthday in the style of whatever composer the audience chose – a clear throwback to his childhood days when he convinced people that a Borge sonata was by Beethoven.
Violin variations
Clearly it isn't just one of the most commonly sung songs, but also one of the most versatile. At least that's how Rachel Barton Pine has made it look with her Happy Birthday Violin Variations played in 2007.
Shostakovich style
As well as the variety of genres, you've also got renditions inspired by certain classical composers. This one, arranged by Martijn Dendievel, with its feeling of tense anticipation, is supposed to be in the spirit of Soviet-era composer Dmitri Shostakovich.
Wagner—or Tristan— Style
Here is a version of a Happy Birthday performed in pure Wagner-like style. The opening bars sound just like the first notes of the prelude to Tristan and Isolde, which culminate in the famous and dissonant Tristan chord.
Piano improvisation
Gabriela Montero has become renowned internationally for her improvisational abilities. At her concerts she will sometimes ask the audience what tune they want to hear before going on to make up an original improvisation based around it. Here is what happens when she uses Happy Birthday as a starting point.
Bach, Beethoven, Mozart and others
Taking a slightly more light-hearted approach, Nicole Pesce tries to imagine what it would have been like if some of the greatest composers from throughout history were still alive today. How would Bach, Beethoven, Mozart, Chopin and Brahms have played Happy Birthday? Well, you can find out here. And she saves the most entertaining one until last.
Happy Birthday, Gypsy Jazz style
If you go looking around online for versions of the song, you'll come across virtually every musical genre under the sun. But this one tries to do a bit more than just repeat the melody as in the standard version.
New Orleans Jazz
It shouldn't come as a surprise with all of the differing takes on Happy Birthday that there' is also a New Orleans jazz rendition. Led by Wynton Marsalis on trumpet, this septet's version includes a trombone, clarinet, saxophone, piano, bass and drums.