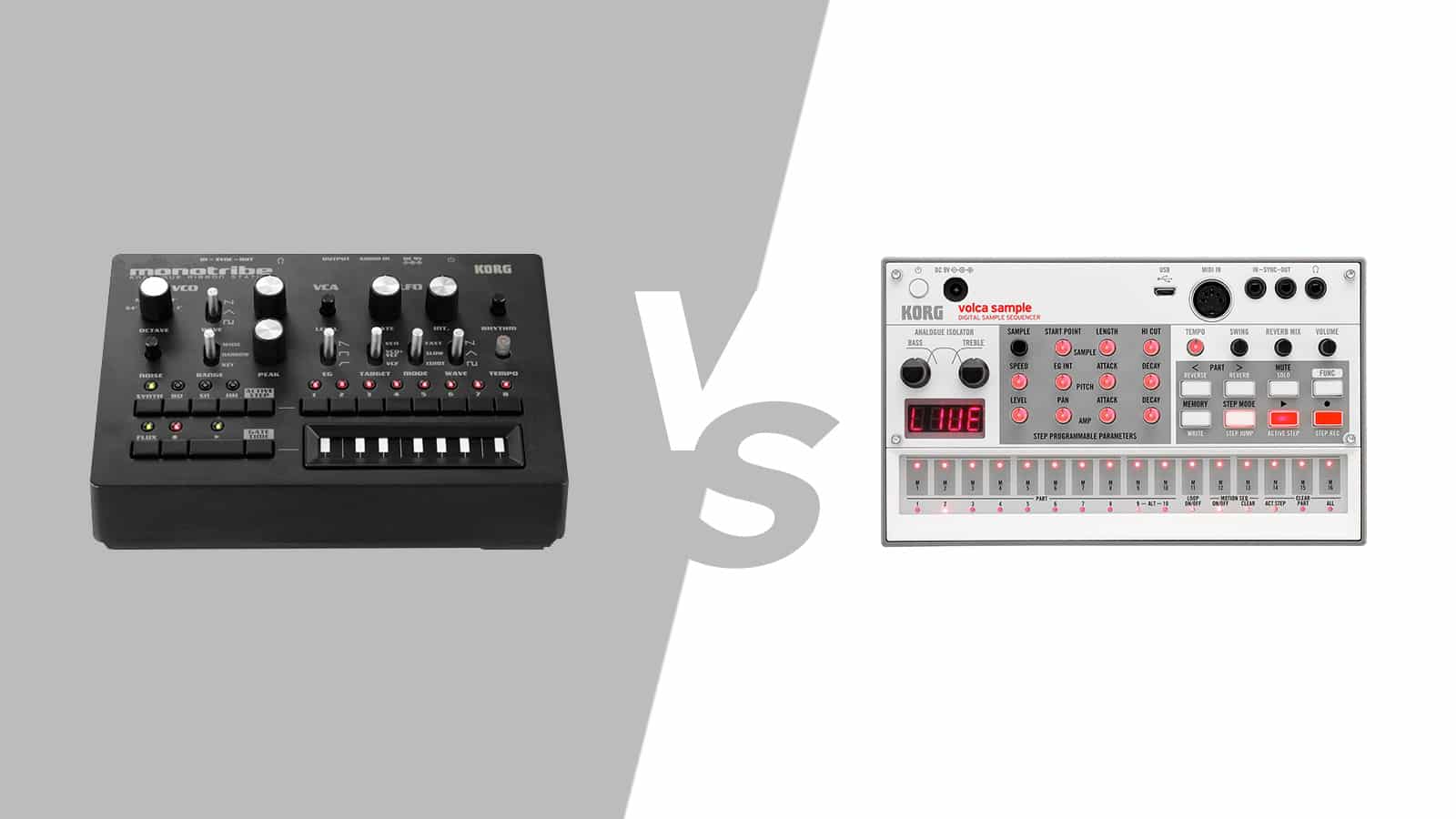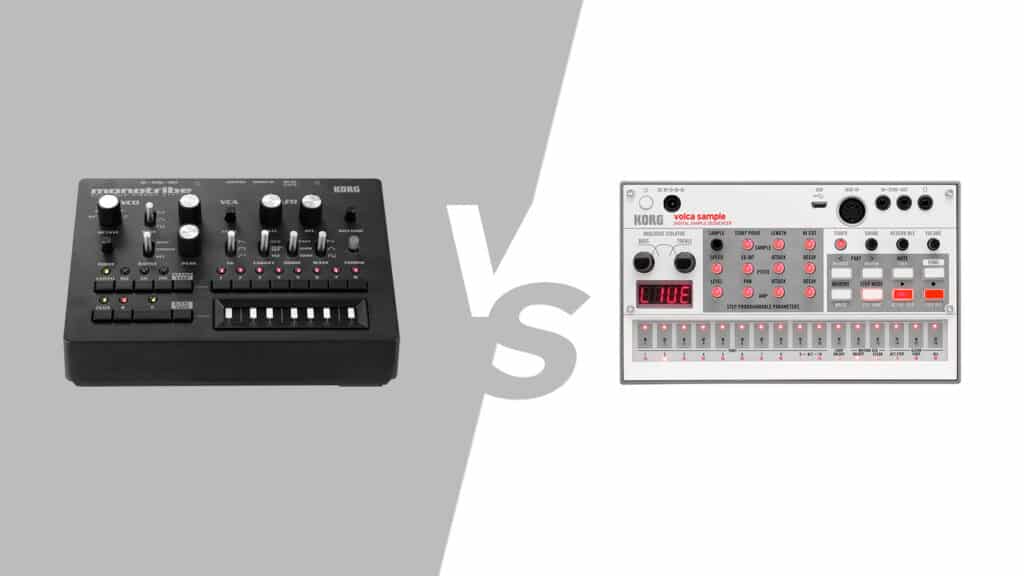 The analog rhythm machine or synthesizer is one of the most preferred choices of studio artists and musicians who like tonal features, reality effects, and natural pitch. In simpler words, it helps create natural and nostalgic music, but these machines are quite challenging to find.
Monotribe and Volca are two suitable options and can help with different types of music and tunes.
The Differences Between Monotribe vs Volca
| | Korg Monotribe | Korg Volca |
| --- | --- | --- |
| Keyboard | Ribbon keyboard | Multi-touch keyboard |
| Sequencer | 8 steps | 16 steps |
| Maximum Input Signal | 20V | 20V |
| Maximum Output Signal | 5V | 5V |
| Power Supply | Direct adapter and 6 AA batteries | Separate power supply & six AA batteries |
| Weight | 1.62lbs without batteries | 372g without batteries |
| Dimensions | 8.15 inches x 5.71 inches x 2.76 inches | 7.6 inches x 4.49 inches x 1.69 inches |
Monotribe vs Volca
Monotribe
Korg Monotribe is one of the most promising synthesizers available in the market and is defined as the analog electribe. In addition, it is also known as a ribbon station and is integrated with the built-in sequencer and drum section.
It is usually compared to Korg Monotron because the base features are the same, but there are some new yet clever changes in the features which makes it more versatile than the previous models. The rhythm section of this machine contains three drum sounds with full analog configuration, including hi-hat, kick, and snare.
These sounds can be easily programmed with the help of a push-button sequencer. In fact, the sequence has an 808-style, which makes it easier to use. The best thing about this synthesizer is that it's a portable device with a small footprint and lightweight design. It means that musicians can carry it around for their jamming sessions.
There is an optional power adapter with a DC configuration, but it's designed to work with six AA batteries as well. In addition, there are built-in speakers, which means you can get instant tracks without connecting any special hardware.
There are separate line-out and headphone connectors available, which helps improve the functionality and overall quality monitoring. However, many people have complained about the noisy output, but the mainline is quite clean, so it can be used on a professional scale.
It has a low-pass filter which helps eliminate or reduce the frequency if it goes beyond the cutoff frequencies. It can help attenuate the high harmonics, resulting in smoother or darker sound. It is integrated with a rotary detent switch which means you will have better control over the electrical circuits and can be stopped at multiple positions.
The ribbon controller is designed with chromatic key settings to help quantize the finger position for different notes. Monotribe has auto-tune features to make sure there are no issues in the melodies.
On the other hand, there is a wide mode that spreads across the six octaves of the ribbon, so you can achieve pitch sweeps as well as dramatic FX with one flick. The output of this synthesizer is controlled with the help of a three-way switch, so you can select the output from the predefined envelopes.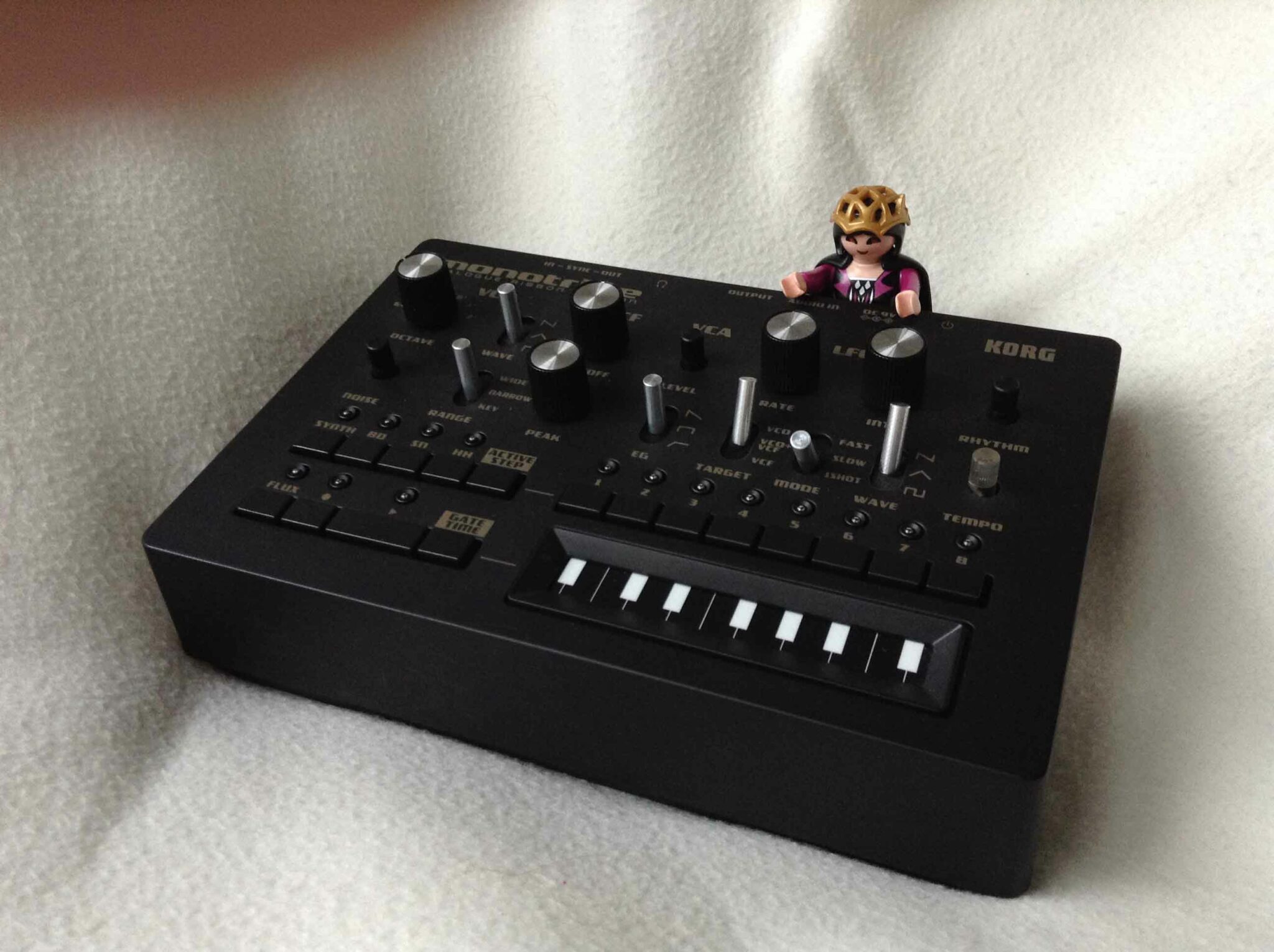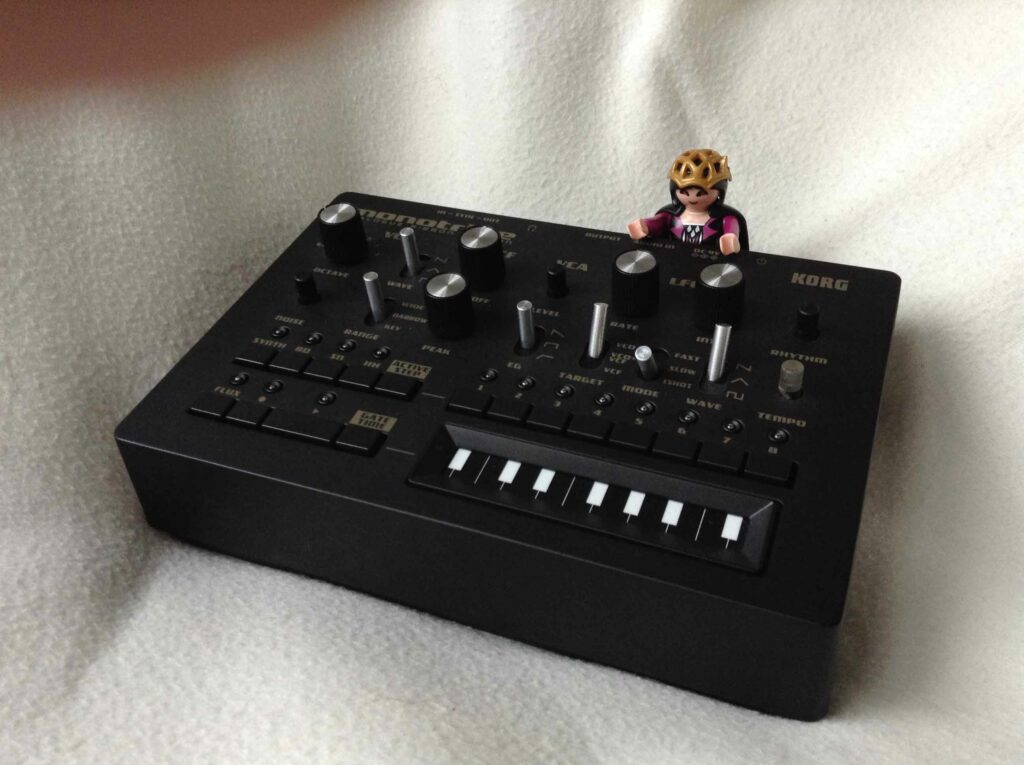 For instance, the "decay" setting comes down from the full volume while the "attack" gradually increases the volume. It has an LFO, which helps improve the modulation capabilities with the sawtooth, square, and triangle waves which can be directed to the VCF cutoff as well as VCO pitch.
It has an intensity control to help you customize the modulation application. The range control of this synthesizer can be easily adjusted from the mode selector switch. The slow mode offers a 0.05Hz to 18Hz rate, while the fast mode offers anything from 1Hz to 5kHz to make sure you can add dramatic modulation effects to the tracks.
With the one-shot mode, only the first half cycle is utilized for modulation of the VCO or VCF, which creates a basic tune, but the filter envelope effect will be amazing. It can be synced with the clock tempo, so you can create the wobble basslines.
With the slow mode, the LFO works as a free-running wave that creates slightly shifting timbers with minimal modulation. However, there is no LFO rate indicator. Its workflow is based on the step sequencer, and the drums are programmed with the help of step buttons. Honestly, it appears very basic, but the functions are pretty amazing.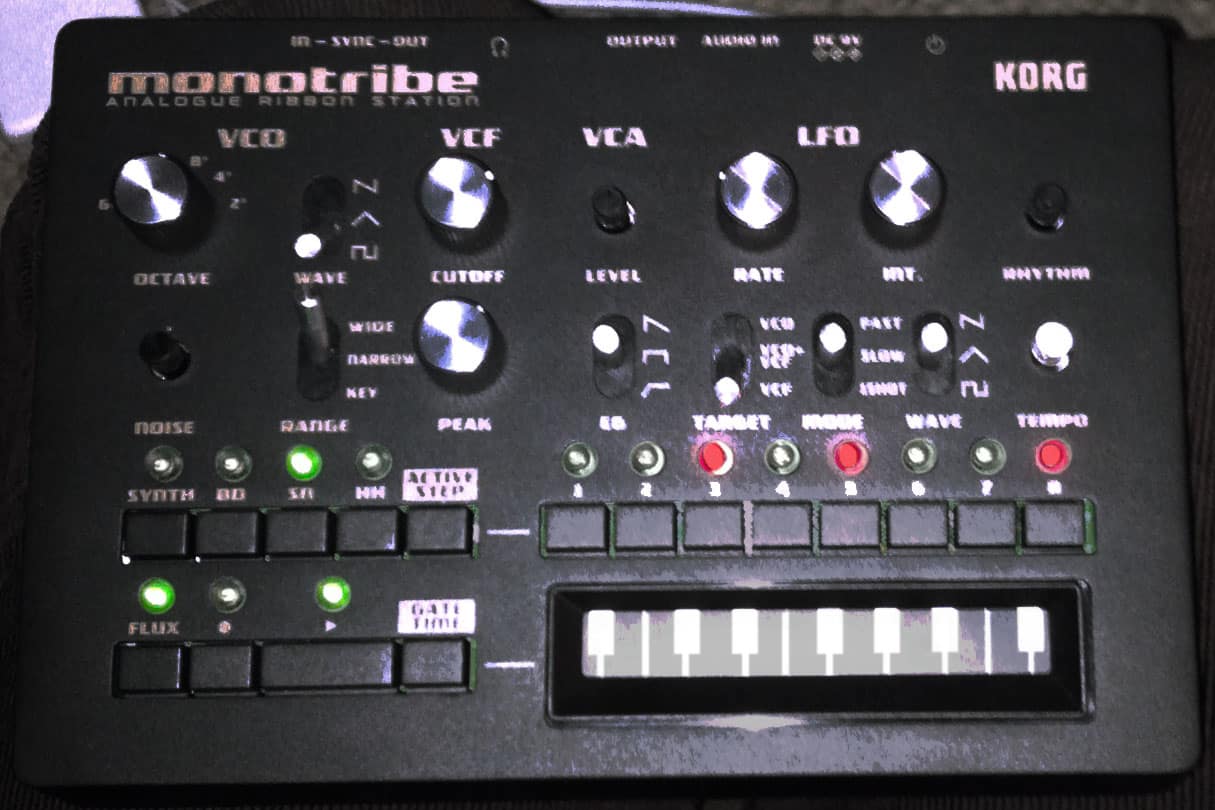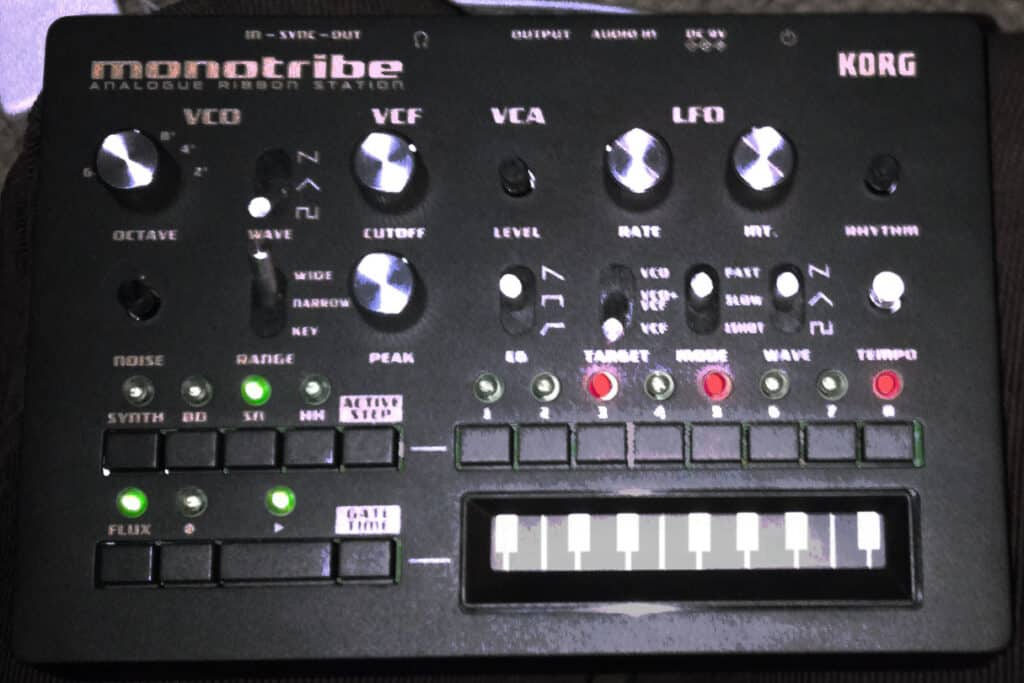 When it comes down to the buttons, there is an active step button that helps skip the beats, so you can create odd-time signatures and allows the cooling effects. Lastly, the recorded synth notes can be reactivated and deactivated during the playback.
Overall, it's an affordable choice and has great features when compared to Korg Monotron. However, many users have complained that the drum section is limited.
Volca
Volca is one of the best synthesizers out there with best-selling features. It comes with eight polyphony voices and ten tracks to cater to the different needs of the musicians. In addition, it provides in-depth sequencing control and editing that helps customize the tunes.
This is the ten-part digital groove box, which helps playback the PCM sounds as loops or one-shots. There is a front panel control available that helps the users set the source sample. Volca can be used for setting the endpoints and start and modifying the volume and pitch for every sample.
There are decay and attack controls available for pitch and amp because there are reverse and hi-cut parameters. It is integrated with the reverb send feature with analog isolator EQ and mix control, which helps boost or reduce the frequencies.
Volca has a 16-step sequencer that's integrated with motion sequencing automation, active step modes, and step jump. There is an audio output available with a single headphone jack, and it's accompanied by the analog pulse and MIDI input. As far as the power source is concerned, it has a separate power supply and can work on six AA batteries as well.
The best thing about Volca is that there is a micro USB port added on the front panel that allows the users to connect the computer for direct import of samples or files without any excessive cables or equipment. The users can add their own audio and sound, which helps stream audio in the iOS app through syncing.
Moreover, there is a desktop librarian available, which makes it easier to transfer the samples or files. In fact, the USB port is suitable for controlling the MIDI control and sync features. The users can route the MIDI channels to the sample tracks individually, which is great for controlling the external sequencer or DAW with extreme ease.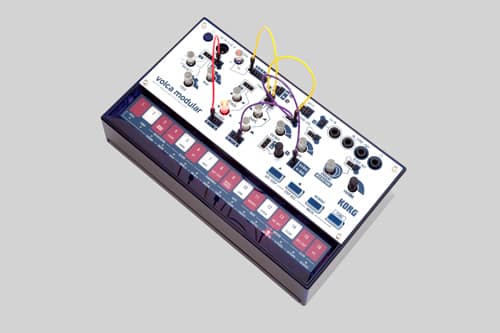 On top of everything, Volca has onboard sample memory, which is a very nice touch. It is integrated with an upgraded sound library, so you can leverage the extra space to store your own samples. The sequencer is designed with a pattern chaining feature, which helps create unique and unusual grooves as well as swung rhythms.
In simpler words, the sequencer is a perfect choice for creative musicians who want to experiment with different types of tracks. The synthesizer has a modular design, which means the users can combine various wires and synth parts to create the desired sound.
In fact, it is a pre-wired design, which means you can easily reroute the signals with the help of patch cables. There are touch strips and small knobs on the machine, which provide better control over the settings. However, some people have complained about these knobs being wobbly, so you need to be careful.
Volca comes with an instruction manual, so you make sense of the complex interface. In addition, it will show how you connect the wires and handle ring modulation or LFO. For the most part, it's designed for people who want to create loud and metallic music because it cannot make delicate and classic sounds.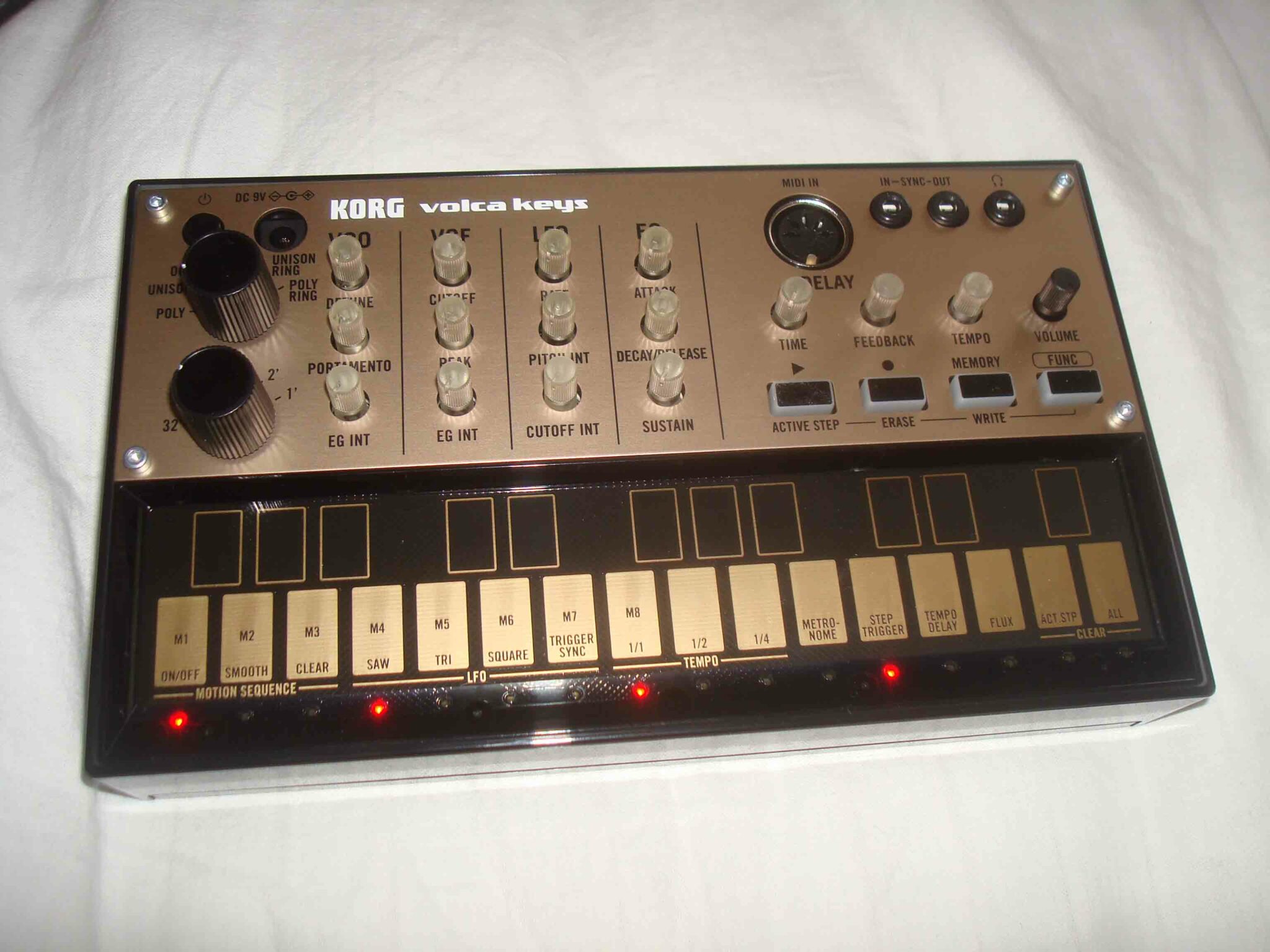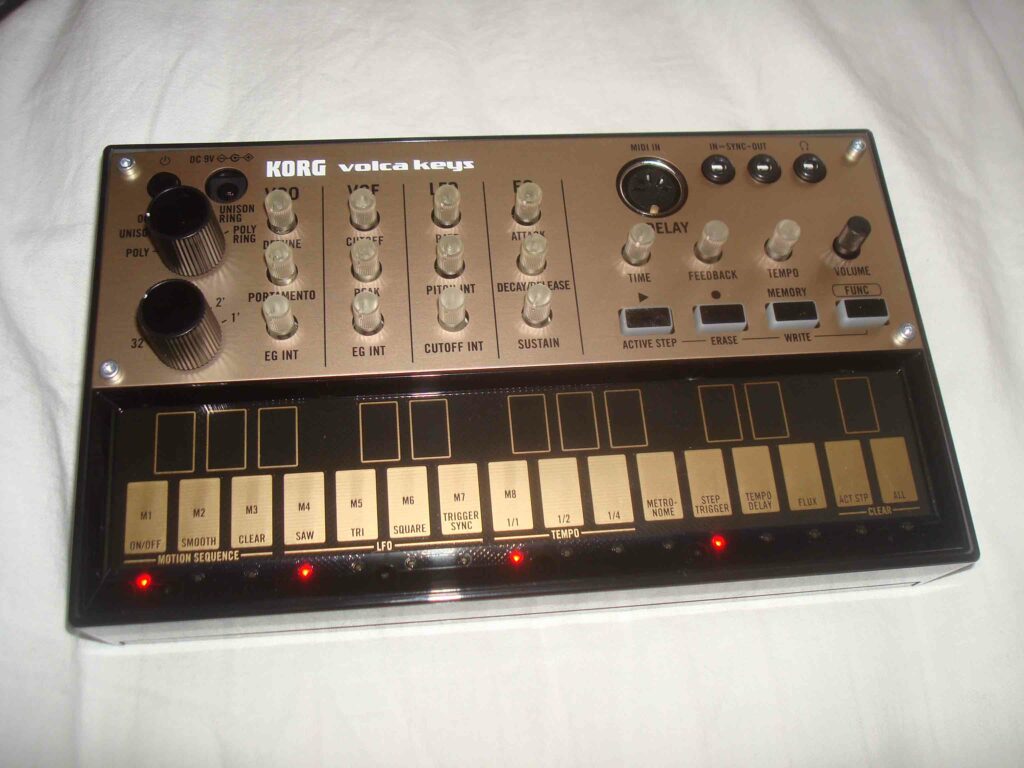 There are drum, bass, beats, and FM keys available, and all of them are quite easy to use and are suitable for entry-level music creators. All in all, it's more beginner-friendly and is packed with a variety of sounds. However, you might miss the USB lead in this synthesizer.
The Bottom Line Both Monotribe and Volca are great synthesizers and allow the users to modify the music files with a variety of features. Volca is suitable for beginners who want to create metallic and loud music, while Monotribe is suitable for professional use and can be used for different music genres.