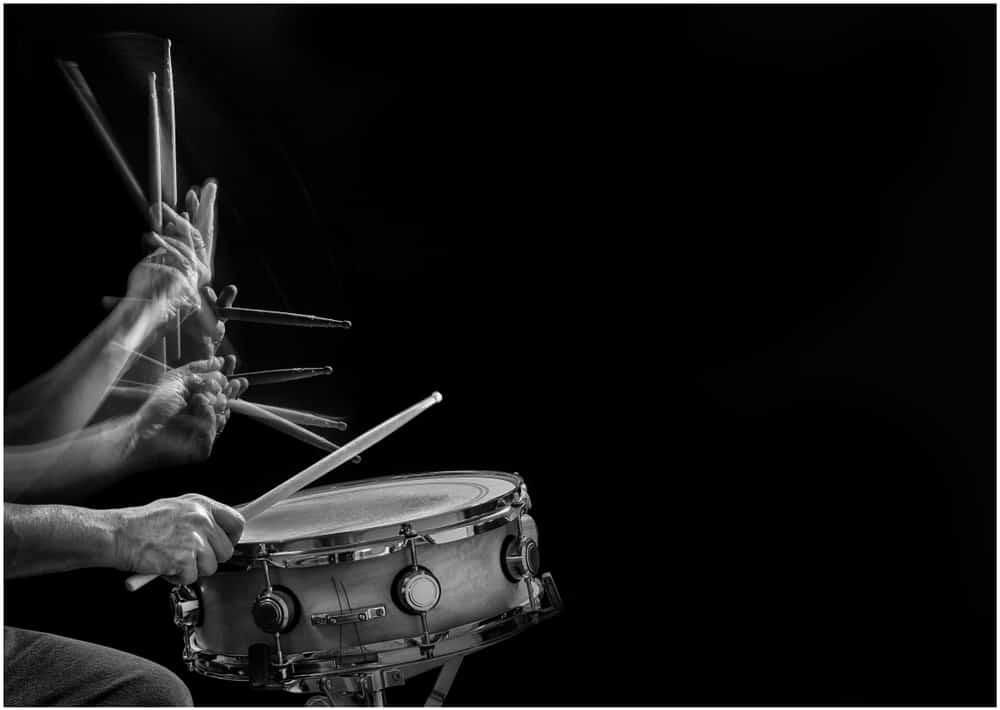 Drums are basically a combination of several drums, strumming plates, and more, and the whole set is collectively known as drums. The player is called a drummer, and today a drummer is an essential part of all the modern rock, pop, and other energetic genre bands. Drumming is scarcely done solo and there are hardly countable drummers that might be playing it solo.
DISCLOSURE: This post may contain affiliate links, meaning when you click the links and make a purchase, we receive a commission.
Otherwise, it is always for a band and that's what makes it a choice for everyone to learn. Since a Drummer or two is always needed by a band. That makes tons of opportunities for all the newcomers and a whole lot of scope to take a chance at. Naturally, youngsters are attracted to this highly specific genre and they would want to learn it to the best of their abilities.
However, learning to play drums is not as easy as it may sound and you have to go through a lot. Needless to mention that the costs of drums are no joke and they can range anywhere from $300-$1500 depending on the quality and brand of drums. So, if you are looking to learn to play drums, here are a few ways and the costs associated with them.
How Much Do Drum Lessons Cost
There are certain lessons online that can help you get the best edge of drums and you can make them work perfectly. There are both pros and cons to learning drums online, and you will need quite some space to set up your drums set and make sure that you have the free path left to play them. This will make it almost impossible for you.
On the other hand, you can learn using the play-along tracks that will make you feel that it is sort of a band you are playing with. So, if you are okay to have a setup that can help you cover all these factors. Having the drums lessons online would be great for you.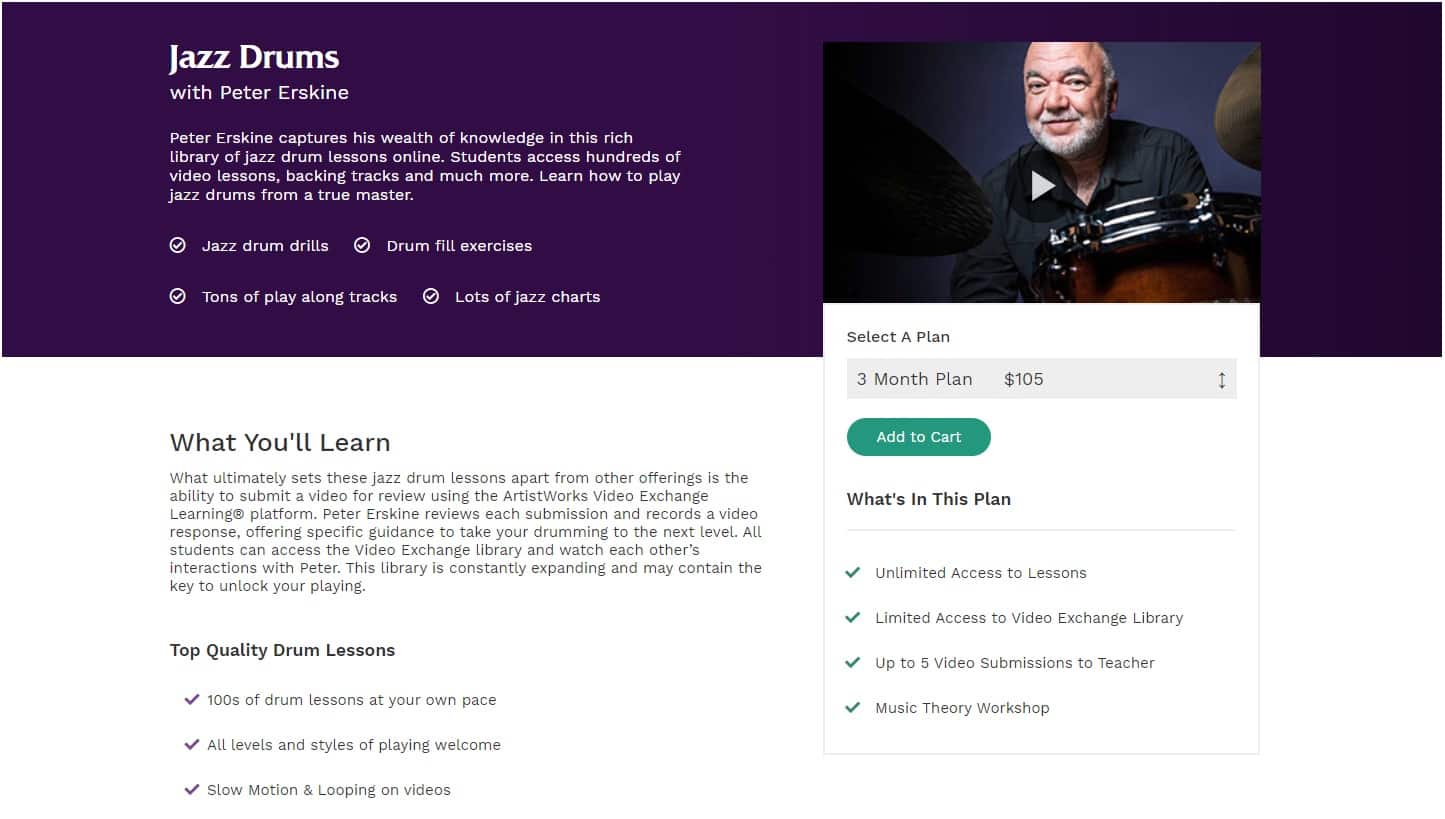 ArtistWorks never cease to amaze and learning from Peter Erskine is a dream for all the youngsters who have a thing for metal, pop, and rock. This way, they will be able to get the perfect insight into drumming and make it count towards the goals that they have set for themselves.
Further, Artistworks have compiled this course based on several lessons that would be just the perfect thing that one might need to learn playing drums online. The course has all the right resources, and you will just need to spend some extra bucks to get the drum set for practicing and have the right space and speakers for practicing along.
The course has 3 plans that are 3-month plan, a 6-month plan, and an annual plan. All these plans are just the perfect thing one can get and are priced at $105, $179, and $279 respectively. The best part is that Artistworks.com keeps offering discounts so you will eventually end up paying less than this at times and that will make the most of your experience.
2. Learn from a Band
If you have done your supplementary research and you know how drums work, or you might have the basic skills with a drum. Then you should definitely be trying out joining a band. With a band, you will get the perfect practicing experience as you will be playing along with the band in real-time. This way, you can improve any weaknesses that you might have.
While you will not have to pay anything most of the time when you join a startup band, you will need to practice a lot to meet their expectations and your goals. So, this might be the most affordable way to learn to play drums and get on top of it without having any sorts of issues at all with the experience.
3. Join a Music School (Start From $500 – $3000/semester)
Well, it might be hard to believe but due to the extensive demand and the huge scope of the drums. Drums have become a subject and they are being taught in music schools. The tuition fee can range anywhere between $500-$3000 a semester but you can be assured that you are not only pursuing your passion but also making it count as an investment for your professional carrier that is to come.
If you are looking to join a music school, the costs may exceed as you will have to pay for the accommodation, food and more as well. Consider this as a regular degree, but in the end, you will also be learning a skill. With a music school, you will be able to ensure that you get a firm grip on all the genres that are there for playing the Drums and make them count towards establishing a professional career in the field.
4. Music Studios (Start From $300 – $500/month)
There are also music studios out there that are not offering any degrees, and they don't have any fixed curriculum either. With a core focus on the skills and cutting out unnecessary concepts, these music studios might be the most authentic and fastest way for anyone to learn drums. With the help of these music studios, you can easily manage to ensure that you are learning all the right skills.
The music studios usually charge a membership fee by month that can be from $300-$500 a month. But, it will all be worth it as you will not only learn how to play drums, but you will also be among the students and other musical instrument players who will be able to assist you perfectly with all sorts of skills and make your efforts count towards achieving the perfection on drums.
The Bottom Line
So, once you have got yourself a set of drums, you can easily take it from there and start learning to play those drums effectively with the help of all these methods. The costs vary based on the method you choose, and a brief overview is provided so that you can make the right decision for yourself.