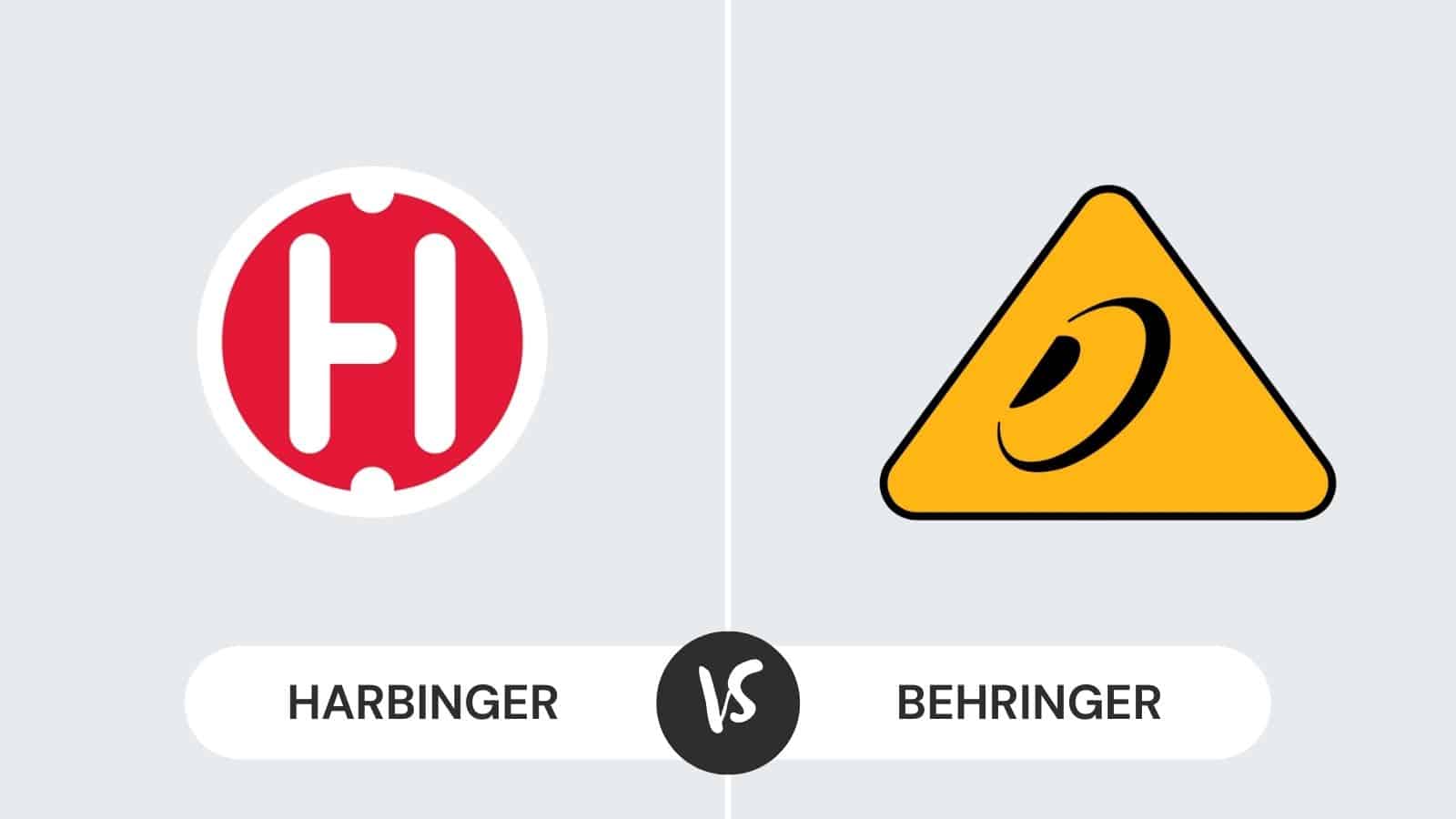 Creating music is an extensive process, and it's essential to choose the suitable output equipment to make sure you get a clear musical experience. One such piece of equipment is a speaker, and Behringer and Harbinger are the two most popular speaker brands.
These speakers can be connected with guitars and other musical instruments. However, beginner musicians have a hard time choosing one brand but understanding their quality and features can help them make the right decision.
Differences Between The Harbinger vs Behringer
| Features | Harbinger | Behringer |
| --- | --- | --- |
| Power Range | 100W to 400W | 1000W |
| Frequency | 70 Hz to 20 kHz | 20 Hz to 20 kHz |
| Environment | Doesn't work in loud environment | Works in loud environment |
| Venue Size | Small concerts | Medium and large-sized venues |
| Power Connection | Wireless | Wireless |
| Distortion | No distortion at all | Humming in the background if volume goes over 70% |
Harbinger
This brand has some of the best well-designed speakers in the market and is suitable for people who have their own music studio.
These speakers are suitable for indoor music sessions and stage performances. In addition to the speakers, they have various video and audio instruments available with different sizes, power connections, and amps.
The company specializes in affordable music instruments, and they actually started the brand to manufacture inexpensive guitars for schools.
Currently, Harbinger is known for the high-end speakers which can be used for stage performances, home theatres, and gaming consoles. There are various colors, sizes, and styles available, which ensures that there is something for every musician.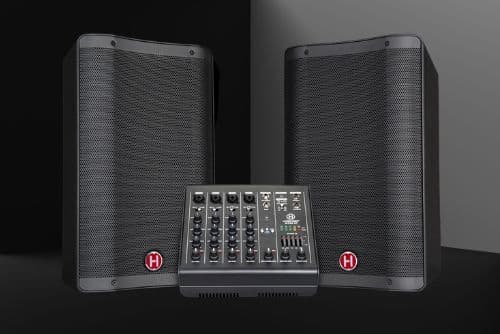 In addition, the company manufactures amps for guitarists. Harbinger also has special headphones for gaming and music listening purposes.
As far as the speakers are concerned, they have various Bluetooth and wireless speakers available. The speakers are designed with amp connections, which allows the users to add an external amp.
The speakers can be connected with electric guitars and can support the mic-level signals and line-level signals.
Moreover, the speakers promise improved bass output and have a headphone jack that helps practice music without disturbing anyone at home. The majority of speakers are designed with a two-way design and three-inch woofers.
The speakers weigh around six pounds, which makes them pretty lightweight. Harbinger uses wood for speaker construction and works with 150 watts power connection. It offers a frequency response of 70 Hz to 20 kHz.
The speakers promise top-notch sound quality, which makes them suitable for in-studio or home-based recording sessions.
The speakers are durable and have a modern design, which makes them suitable for professional musicians who need a reliable speaker.
The only two drawbacks of Harbinger speakers are that they don't work well in loud environments because they lose lack clarity, and some users feel that the bass isn't sufficient for them.
Still, the speakers are suitable for every home and office with their sleek design. The best thing about speakers is that they are lightweight and small, which makes them easy to move around.
Also, their speakers are a suitable choice for live music performances as they can be set up quickly. The speakers have a water-resistant design, which makes them suitable for an outdoor environment.
In addition, the wooden construction of speakers ensures that it doesn't crack, even if they are dropped. The durable construction makes sure that the speaker can resist damage caused by dust, moisture, and heat.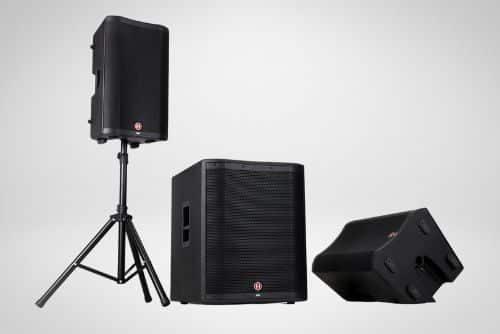 The speakers are integrated with a high-quality ABS enclosure, which means they will last for years. It can produce rich sound, given the comprehensive frequency.
The speaker can support high levels of sound pressure and volume, which is why they can be used for live concerts and DJ events.
Moreover, it's a suitable choice for music bands that need an accurate connection of musical instruments because it has an EQ section, with which you can adjust the music and bass levels.
Harbinger speakers are designed to offer a robust and sonic punch, making them a suitable choice for rock and heavy music. The speakers promise a clear tone, so you can easily hear every minor detail of the music. The users can produce high-pressure sound without any distortion.
Moreover, it can produce low-frequency music with extreme accuracy, which makes them a suitable choice for DJs who want to play bass, drum, and dubstep music.
Harbinger speakers are enough to create a powerful audio system since there is a voice coil made from high-end aluminum and polyetherimide, which is surrounded by butyl rubber.
Usually, the power range of speakers ranges from 100W to 400W, depending on which model you are using. The speakers are designed with TRS and XLR inputs, which help broadcast different signals from computers, keyboards, and mixers.
Lastly, the speakers have twelve hours of battery life and have a rechargeable battery.
Behringer
Behringer is another speaker brand and has a wide range of speakers available with top-notch connectivity. In addition to speakers, Behringer also makes amps with on-point controls and has various strobes available.
The majority of speakers are designed with a two-way PA configuration. They use customized transducers in the speakers to deliver powerful sound quality.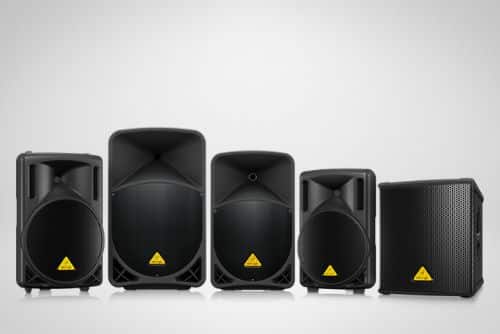 The speakers also have a digital signal processor with an active crossover, response correction, dual-band EQ, and dual protection limiters to minimize distortion. These are extremely powerful PA systems, which means you can connect the wireless microphones to keep everything cable-free.
In addition, they have ultralink wireless microphones available, which can be connected with the two-channel receivers to improve the wireless connectivity and make sure it's stable and consistent.
The speakers are designed with ergonomic handles, which makes them easy to transport and set up. The line and mic inputs are separated, and there is an additional line output, which can be used for connecting multiple speaker systems – it helps maximize the sound output.
The speakers are designed with an in-built mixing feature, clip LEDs, and volume control, which makes them a suitable choice for DJs who want ultra-low noise.
The integrated sound processor and two-band EQ help protect the speakers in a loud environment. The speakers also have a large-format horn, which helps achieve wide sound dispersion.
Moreover, they have a trapezoidal design, which allows the users to adjust the speaker's position and tilt it – the speakers are also easy to stack. In fact, the speakers can be installed on the standing mount with a 35mm pole socket.
There is a 12-inch long-excursion driver available in the speaker, which improves the sound quality and provides deep bass to create optimal sound quality.
In addition, the speaker is designed with phenolic compression drivers, which promises high-frequency production. The best thing about Behringer speakers is the SMPS technology (switch mode power supply), which prevents overheating in the speakers.
All the speakers are lightweight but have a powerful design. The speakers are integrated with class-D amps with multiple input controls, sound projection, and low-distortion clarity, which promises higher value for money.
The speakers can provide a great power range of 1000W sound, which makes these speakers suitable for medium-sized and small-sized concert venues.
The speakers' ability to produce mid-range and high-range frequencies promises clear and crisp sound quality, irrespective of the volume. The only downside of Behringer speakers is that they have low-bass handling, which means if the volume goes over 70%, there will be a slight hum in the background.
The lightweight design of the speakers makes them portable, and the durable build makes them a sturdy option. There are advanced distortion reduction technologies integrated into the speakers, which promise deep bass and crispy vocals with minimal distortion.
The speakers have a wireless capability, which promises a convenient, quick, and hassle-free setup. Overall, the speakers have an ergonomic build, which is why they are suitable for professional musicians.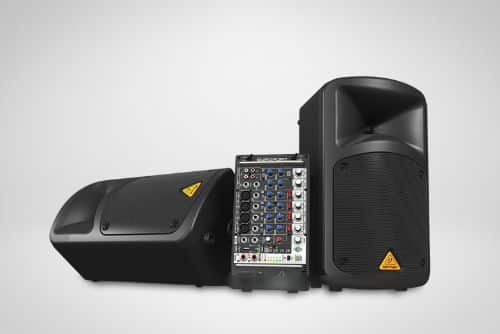 The Bottom Line
Both Behringer and Harbinger speakers are excellent choices for professional musicians with budget-friendly choices. The speakers have an advanced amp and distortion control, making them suitable for DJ sessions and concerts.
However, Harbinger speakers are not suitable for a loud environment, while Behringer speakers can work well in a loud environment as well.