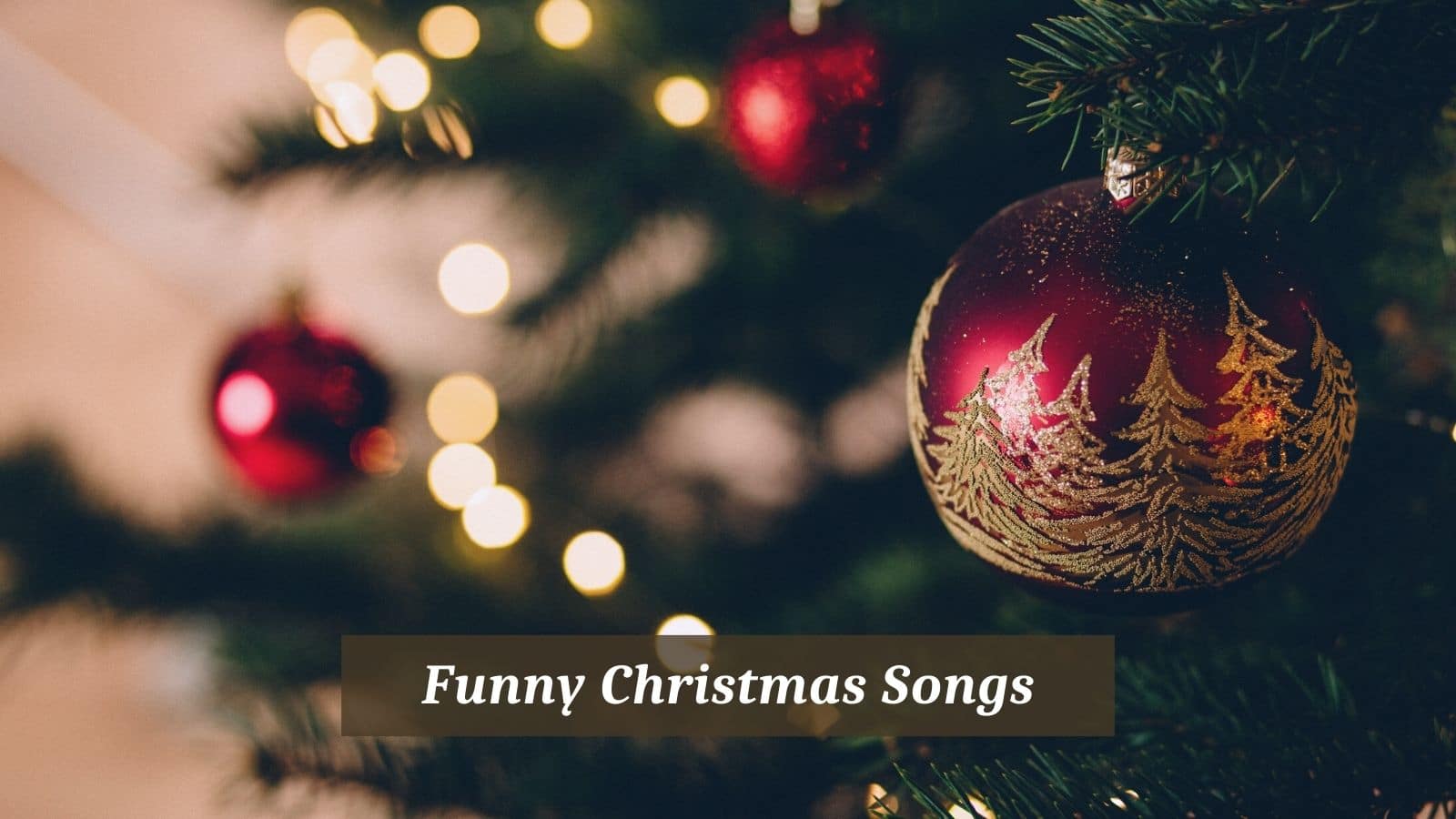 Your Christmas playlist doesn't have to be packed full of carols and overplayed 70s pop.
We've collected some funny Christmas songs, each putting their own modern spin on the concept of seasonal music and festive spirit, from meme-themed songs about hating your presents, to flamboyant glam rock reinterpretations of the classics.
Funny Christmas Songs
1. Sidemen – This or That
Sidemen's iconic 2022 Christmas release, This Or That, parodies both meme culture and UK grime in their trademark style of pure contagious comedy.
Hosting crazed themes of ever-lingering childhood resentment over bad Christmas presents gifted by Santa Claus, this erratic track is innately hilarious, from the performers' intentional lack of musical ability, to its maniacal dubstep interludes and YouTube-style jump cuts between rap sections;
"Santa, I was only a child… That s***'s wild, you aren't s***, you're a fat prick, you don't want this smoke, youiouaejnfianhef, you're f****** poo man, I want my presents back, you stupid w*****."
2. Miley Cyrus ft. Mark Ronson – Santa Baby
Miley Cyrus' 2018 cover of the classic Christmas pop track, Santa Baby, featuring Mark Ronson and Jimmy Fallon, re-imagines the original from a refreshing feminist perspective.
Adapting its lyrics to host an array of new world sentiments surrounding deserved gender equality, women's right to work and financial independence, Miley offers an admirably bold reinterpretation of a track about depending on a man for wealth and happiness, her fierce humour effortlessly cutting through the political tension;
"Santa baby, I don't need your presents tonight, don't want diamonds, cash, or stars, nothing that comes in a box, no more fluff, I've had enough, and I can buy my own damn stuff."
3. Bob River – Sled Zeppelin
Bob River's 1997 pop / rock track, Sled Zeppelin, is a festive parody of the rock band's hit song, D'yer Mak'er, lyrically restyled with festive allusions in place of the original's story of loveloss.
Rivers masterfully threads the lyrics of other classic seasonal tracks through both Led Zeppelin's and his own, crafting a quirky Christmas-themed conglomeration of rock music and Santa mayhem;
"Oh ho ho ho… dashing through the snow, oh ho ho ho, over the fields he goes, oh ho ho ho, Santa's got to go."
4. Trey Parker & Matt Stone – Mr. Hankey The Christmas Poo
Appearing on an early-season Christmas episode of their animated hit series South Park, Trey Parker and Matt Stone's festive parody track, Mr. Hankey The Christmas Poo, parades a false sense of seasonal innocence before its lyrics descend into potty humour.
This vintage musical-style track is smeared in absurdity, carrying a strange metaphor for having to let go of the things you love;
"Sometimes he's runny, sometimes he's firm, sometimes he's practically water, sometimes he hangs off the end of you're a** and won't fall in the toilet … Mr. Hankey the Christmas Poo, when Christmas leaves he must leave too, flush him down but he's never gone, his smell and his spirit lingers on."
5. Twisted Sister – Oh Come All Ye Faithful
Twisted Sister put a glam rock spin on the classic Christmas hymn, Oh Come All Ye Faithful, in this track appearing on the band's unexpected 2006 Christmas album, and final musical release, A Twisted Christmas.
This track adapts the old-school carol into a distortion-clad rock anthem, translating each original angelic section into a powerhouse of devil-driven energy.
This is a pretty straightforward yet hilarious rock interpretation of Oh Come All Ye Faithful, the band adding little new to the age-old arrangement, other than swapping child choirs for glam rock falsetto and chanting crowds.
6. SPCA – A Very Silent Night
This comedic Christmas fundraiser by the Society for the Prevention of Cruelty to Animals, entitled A Very Silent Night, is composed entirely in tones only audible to dogs.
Appearing as a silent track to human ears, we can only imagine this piece sounds something like the festive classic, Silent Night, styled to the particular tastes of dog-owners who can't stand Christmas music.
If you're lucky enough to have a dog make a guest appearance at your Christmas party, make sure you've got this on your playlist and see if it sparks their attention.
7. Wednesday 13 – Buried By Christmas
Wednesday 13's glam rock / horror punk album track, Buried By Christmas, gives a horror-comedy twist to our list, crafting his macabre lyrics around the concept of being a corpse by the holiday season.
Contrasting grief with feel-good festive spirit, this is a track for anyone who dislikes the holidays so much they'd rather skip it altogether, atoning for their yearly misdeeds with an irrepressibly rebellious attitude on their hell-destined journey;
"Merry Christmas ho, ho, ho, I'll be six feet under the snow, jingle bells along the way, I'm a dead motherf***** and I'm counting my days."
8. Danny Gonzalez – I'm Gonna Kill Santa Claus
Danny Gonzalez's 2018 release I'm Gonna Kill Santa Claus, contrasts its innocent indie-pop soundscape with murderous intentions, tying an array of Christmas movie references within its lyrics.
Composed in simple pop fashion and embellished with jingle bells, trap beats and flooded in Drake-style autotune, this addictively happy track is clad in meme humour and festive spirit, despite wanting to overthrow and conquer Santa's dominion;
"This Christmas, don't got a wishlist, I got a hit list and at the top of it is old Saint Nicholas, nothing against him (oh, oh, oh), it's just business, I ain't the Grinch but I'm gonna steal Christmas."
9. XXXTentacion – A Ghetto Christmas Carol
XXXTentacion's A Ghetto Christmas Carol bears no semblance at all to the festive season in its lyrics, instrumentation or mix, purging itself of any traditional Christmas themes and animating a track of general, star-bright narcissism.
Detailed with some truly hypnotic 80s-inspired synths and cut-throat trap beats, this track is innately comedic for its sheer refusal to be a Christmas song as its title suggests, its lyrics resounding like any gangster rap anthem;
"Don't crash, don't crash, you're moving too fast now, more cash, more cash, might throw it on her ass now, butterfly on the whip, that's a n**** doors, all my hoes super thick and don't keep no legs closed."