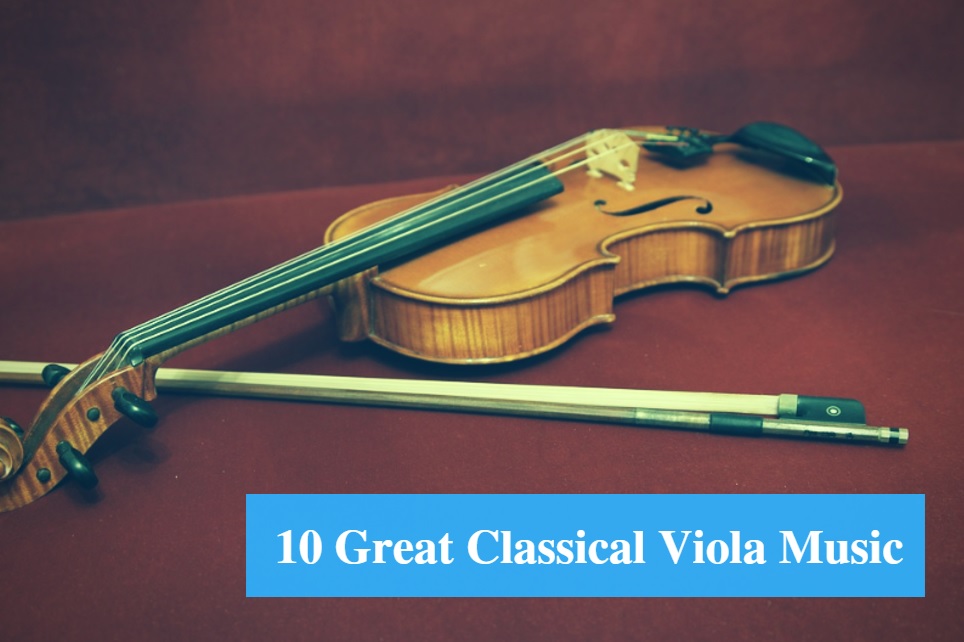 The viola is a string instrument that is generally played using a bow, but it can also be played used various other techniques. The viola is the middle voice, or the alto, of the violin family, positioned between the violin and the cello. Positioned between the violin and the cello, the viola is the rich-toned middle voice, or alto, of the violin family.
The viola has the same basic construction as the violin but is larger in size, heavier, and strung with both heavier and less responsive strings. The resulting differences lend the viola a deeper, richer, mellower, warmer sound than the violin. The musician who plays the viola is referred to as a violist, while the violin player is called the violinist.
The viola has a long and distinguished history as part of the violin family. The viola becomes an essential part of the string accompaniment during the sixteenth and seventeenth centuries, which lead to it taking its rightful place in the orchestra and in various popular forms of chamber music.
Although the viola had far fewer solos, this was mainly due to the lack of violists. Violinists would simply fill in, playing the viola parts. This was par for the course until relatively more recent times when the number of viola players not only increased but began to demand solo performances of their own by the twentieth century.
10 Great Classical Viola Music
Although the viola is often overlooked by composers, there are a plethora of violists today who perform solo performances. Viola players have contributed to classical music ever since Mozart's time and that is even more true in this day and age. Here are ten examples of great classical viola music. Enjoy! (These are in no particular order.)
1. Telemann Viola Concerto in G major, Rose Armbrust Griffin
George Phillip Telemann's Viola Concerto in G major was written sometime between 1716 to 1721 and was the first known concerto for viola. The Telemann Viola Concerto is such lovely work that is well known not only among viola and violin players but musicians in general.
Although some musicians may feel this piece is somewhat easy to play, there are certain challenges that present to both students and advanced performers alike. This concerto is just one of the hundreds of concertos written by him for various instruments. It's one of his most famous works and, as evidenced by Rose Armbrust Griffin, it is still performed today.
Rose Armbrust Griffin began studying viola at the very young age of two and immediately began performing and competing. She received a Bachelor's Degree in Music from The Juilliard School. After which, she toured, played, and attended many prestigious events and schools and is currently attending Indiana University to finish her Master's Degree.
2. Vivaldi on viola d'amore – Rachel Barton Pine
Vivaldi's works for the viola d'amore are some of the first known concertos for this instrument. A viola d'amore, which actually translates to "love viol", generally is a six or seven-stringed instrument with several sympathetic strings.
These instruments were used predominately in the Baroque Period, approximately from 1600 to 1750, following the Renaissance music era and before the Classical era. The viola d'amore has an exceptionally sweet and warm sound. Vivaldi's affiliation with this instrument seems to have been a lifelong interest.
Rachel Barton Pine is a chart-topping violinist who has appeared as a soloist with many of the world's most prestigious ensembles. She performs all eight of the viola d'amore with a twelve-string, six of which are played with the bow, and the remaining six resonate passively, making a sweet silvery tone.
This particular piece of music had me vividly imagining the courts of old when balls were held in the castles of kings and noblemen, women swirling in their big, beautiful dresses while a string quartet plays on a raised dais.
3. Johann Nepomuk Hummel – Sonata Op. 5 No. 3 – Timothy Ridout and Ke Ma
Johann Nepomuk Hummel completed what neither Mozart of Haydn had during the late classical and early romantic period by writing what is known as the best viola sonata of that time. Although Johann Nepomuk Hummel was considered one of the best and most important composers of this time, he has also termed the best piano virtuoso of his time, as well. Hummel was early recognized as a prodigy, not just on the piano alone, either, but on several instruments, including the viola. It was said that he was the greatest prodigy ever besides Mozart.
His compositions were widely played during his life and throughout his lifetime and into the nineteenth century. Despite his popularity and his being revealed as such a prodigy, his music largely disappeared in the twentieth century. It has only just recently begun to record again but is yet to be seen on the concert stage.
Timothy Ridout is a British musician who plays the viola. He became the first British performer to ever win the Lionel Tertis International Viola Competition. He is currently studying in Germany.
Ke Ma began playing piano at the age of three and quickly became an accomplished player. She is currently studying at the Royal Academy of Music in London.
4. Kim Kashkashian_Béla Bartók Concerto for Viola and Orchestra
The Viola Concerto, also known as the Concerto for Viola and Orchestra, was actually one of the last pieces ever written by Bela Bartok. Bartok began composing the Viola Concerto in 1945. This piece had been commissioned by William Primrose, a respected violist, who felt Bartok wouldn't be perturbed by the viola's limitations and would deliver him a challenging viola piece.
Bartok was in the late stages of leukemia, terminal, and suffering, when he began writing this concerto and was unable to finish it before he succumbed to his disease. After his death, his friend, Tibor Serly finished it and a revision was made by Bartok's son Peter. The finished concerto was premiered in 1949 by the Minneapolis Symphony Orchestra.
Kim Kashkashian is a Grammy-award winning Armenian-American violist. In addition to Kashkashian having won many awards, she is currently teaching at the New England Conservatory with several of her students going on to have successful careers of their own. She is also the founder/artistic director of Music for Food, which is an initiative for relieving local hunger and is led by local musicians.
5. Wilhelm Friedemann Bach Viola Duets
Wilhelm Friedemann Bach was the eldest son and second-born child of Johann Sebastian Bach and his wife. He was a German performer and composer who was acknowledged as a genius. Despite being held as such, not only did his income and employment suffer, but he also died destitutely.
J.S. Bach supervised W.F. Bach's musical education and career as well, but W.F. studied law and mathematics. His first job actually made use of these lifelong interests. He later held musical appointments and ended up teaching eventually.
W.F. Bach is known to have occasionally taken credit for his father's work, but it was common practice during that era for musicians. He ended up having numerous works to his credit.
6. Rebecca Clarke Viola Sonata/Impetuoso
The Sonata for Viola and Piano, or Viola Sonata, was composed by Rebecca Clarke when she was thirty-three years old. She had moved to the United States to try supporting herself with a career as a soloist after being disinherited by her father. In 1919, a competition was sponsored by Clarke's neighbor, Elizabeth Sprague Coolidge.
Clark's sonata tied for first place out of seventy-two entries. Because Clark's neighbor was the sponsor, the judges felt it would be seen as favoritism on Coolidge's part if they declared Clarke the winner. In addition, may felt a woman couldn't be capable of composing such a moving viola sonata, believing the name "Rebecca Clarke" to be a pen name instead of a male composer. Instead, they choose Ernest Bloch, a Swiss composer, as the winner of the competition.
Though afterward Clarke hardly composed more music, her Viola Sonata debuted and was very well received, representing the height of her career.
Molly Carr, the violist performing Clarke's Viola Sonata has been the recipient of many top prizes, awards, and scholarships. She is currently performing at the Marlboro Music Festival.
7. Carl Stamitz Viola Concerto in D major, Op.1
Among viola players and students alike, one of the most known viola works is Carl Stamitz Viola Concerto in D major. It also tends to be a bit notorious, as well, as it seems to be mostly disliked by viola players. Carl Philipp Stamitz, a German composer, was the eldest son of Johann Stamitz, who was also a composer as well as being a violinist during the early classical period.
Carl Stamitz received lessons from his father as well as his father's successor as Mannheim's orchestra leader, Christian Cannabich. He was later employed by Mannheim as a court violinist. After which he toured as a virtuoso, but had little success. Although he ended up destitute, Carl Stamitz composed many symphonies and concertos for not only viola and viola d'amore, but also for violin, cello, clarinet, flute, bassoon, basset horn, and oboe. Some of his viola and clarinet concertos are particularly well-liked and well-known.
The Violist in this video is Simon Truszka.
8. Giya Kancheli-Liturgy for Viola & Orchestra "Mourned by the Wind"-I mov.Soloist-Giorgi Tsagareli
Giya Alexandroich Kancheli resides in Belgium and is a German composer. Kancheli has lived in Western Europe ever since the Soviet Union was dissolved in 1991. In 1995 he became the composer-in-residence for the Royal Flemish Philharmonic in Antwerp.
Kancheli's symphonies typically use musical language which consists of slow pieces of minor melodies with long, subdued string discords. Passages of music are often punctuated with the musical equivalent of battle scenes, which generally involve brass and percussion instruments.
Kanheli has written seven symphonies and this one liturgy for viola and orchestra. He has had several world premieres of his works.
The violist playing this piece is Giorgi Tsagareli.
9. Brahms viola sonata op. 120 no. 1 in F minor
Johannes Brahms was a German composer and pianist of the Romantic period. He is often grouped as one of the "Three Bs" of music along with Bach and Beethoven due to his prestigious reputation and status. In addition, he was considered by his temporaries to be both a traditionalist and an innovator.
Brahms composed many works, including symphony orchestras and chamber ensembles, as well as solos for piano, organ, voice, and chorus. He actually premiered many of his own works as a virtuoso pianist. Many of his works have become modern staples in the concert repertoire.
Pinchas Zukerman, the Israeli violist performing this piece, is also a violinist and conductor. He is widely regarded as one of the best violinists of the twentieth century.
10. Artosphere Festival Orchestra: WALTON Viola Concerto – Roberto Diaz, Viola
The Walton Viola Concerto was written by William Walton in 1929; this was at the suggestion of Sir Thomas Beecham for violist Lionel Tertis. It carries the dedication "To Christabel". Unfortunately, when it was finished, Tertis rejected it and it was Paul Hindemith who gave its first performance, which was greeted with much enthusiasm, bringing Walton to the forefront of British classical music.
Walton was hailed as a born genius and his viola concerto was said to have been nearly the best in recent history, convincing Tertis to eventually change his mind and take the workup.
Robert Diaz, the violist playing this piece, is a Chilean-American violist. He is presently the president and director of the Curtis Institute of Music of which he is also an alumnus. He is also the violist in the Diaz Trio, which includes his brothers, a cellist and a violinist.