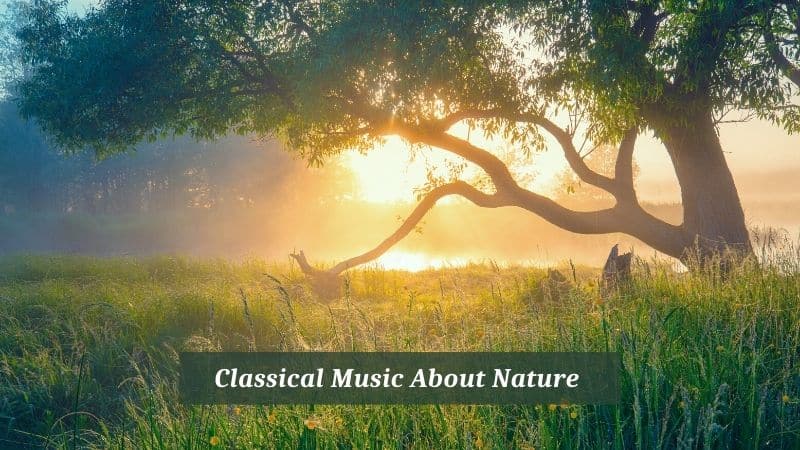 Through the evocation of birds and animals, the illustration of rain and thunder or the sound of the waves, nature seems to be an infinite source of inspiration for composers.
We hope that our collection of the best pieces of classical music about nature fills your heart and your ears with color, excitement, and a sense of rebirth.
Classical Music About Nature
1. The American Four Seasons by Philip Glass
The premiere of this work was in Toronto in December 2009. It is his second Violin Concerto composed for the virtuoso violinist Robert Duffie who is featured in this recording linked above.
After a few minutes of solo cadenza for the soloist, the work begins its first movement. What you'll immediately notice is the synthesizer that plays a harpsichord-like sound close to Vivaldi's continuo, but distant enough to provide a suitably modern edge.
From the title, you will also have linked Vivaldi's famous concerto grosso The Four Seasons. In requesting this second concerto from Glass Duffie asked for it to be a companion piece to the work of the Baroque master.
Whilst Vivaldi's work makes use of a text that describes the seasons, Glass chose not to include any programmatic element. Instead, Glass leaves the interpretation of the seasons up to the listener.
The music parallels in intensity and the demands it places on the soloist but it is undoubtedly a contemporary four-movement work that stands on its own.
2. Symphony No. 7 'The Antarctic' by Ralph Vaughn Williams
Composed from 1949-52, this is a late period work from the most evocative of composers. The symphony is written in five contrasting movements scored for a large orchestra, soprano soloist and chorus.
We should remember that Vaughn Williams was a composer who wrote a large number of film scores. This symphony has its beginnings in one of Vaughn William's most celebrated scores, Scott of the Antarctic (1947-48). The film, like this symphony, were both highly successful.
Each of the symphonic movements has a literary quote to preface it. These guide our listening together with the link to the large quantity of material Vaughn Williams recycled from the film score. The symphony is not approached conventionally.
You will not hear substantial development of thematic material. Instead, Vaughn Williams conjures the peril and beauty of the Antarctic landscape through his mesmerising and often glittering themes.
The choice of instrumentation is key to the mysterious nature of this symphony and includes a wind machine, vibraphone, piano and xylophone. For me, this symphony is tone-painting at its finest.
3. The Seasons (Op. 37a), By Pyotr Ilych Tchaikovsky
From the symphonic forces of Vaughn Williams, we move to a more modest solo piano. These quite brief pieces are what are frequently described as character pieces. They are deeply Russian.
Each piece is attributed to a month of the year beginning, as you might anticipate, in January in A major, and concluding with December in A-flat major. In addition to the monthly title, Tchaikovsky includes a sub-title.
May, for example, is called Starlit Night, whilst October is simply Autumn Song. The Russian edition of the piece includes poetic epigrams for each piece.
For some these charming miniatures do not represent the best of Tchaikovsky. They were indeed composed to a commission and Tchaikovsky took them seriously, but there is the feeling that they were to generate money rather than to meet high artistic aspirations.
My feeling is that they are simple pieces that have hidden depths that only the most diligent of musicians can tease from the page.
4. The Four Seasons by Antonio Vivaldi
It would be a gigantic oversight to not include this masterpiece in this concise list of classical pieces about nature. This Baroque Concerto Grosso is one of the most popular pieces ever written.
The Four Seasons were probably composed between 1718-1720 and each has an accompanying poem. The exact author of these texts remains debatable, although it is possible that Vivaldi wrote them himself.
Such was the programmatic aspect of these concertos that Vivaldi includes some of the lines in the instrumental parts.
The scoring for each concerto is a solo violin, small string ensemble and continuo. Vivaldi follows the tried and tested fast-slow-fast structure for each season. Not a single concerto disappoints with lyrical and fiery virtuosity portraying the subtle nuance of each season.
Vivaldi's music bristles with electric energy, passion and brilliance. It is no wonder these pieces remain so popular.
5. Tapiola (Op.112) by Jean Sibelius
This tone poem was written to a commission from the New York Philharmonic Society through Walter Damrosch. Damrosch was an American conductor and composer who had done much to encourage young composers.
The composition is based on Finnish folklore which tells of Tapio, an animated forest spirit. As mysterious as a woodland sprite might be, Sibelius's music is equally enigmatic. The opening motif is cited by many as the basis for the entire piece.
Sibelius is the undisputed master of the motif, creating enormous structures from the humblest of musical beginnings. In Tapiola, there is more at play.
The original material certainly kickstarts the organic development of the tone poem but Sibelius takes this so much further. The result is that the evolving motifs feel completely new.
There is a definite parallel in tone to the Seventh Symphony, although this work stands on its own merits. The scoring for Tapiola is not over-ambitious or scant, but exactly what the composer needs for the realisation of his ideas. Beautifully crafted music that came at the end of a long and difficult life.
6. An Alpine Symphony (Op.64) By Richard Strauss
Unlike the relatively modest orchestra Sibelius uses for Tapiola, Strauss assembles a colossal orchestra to perform his tone poem. The piece describes with absolute clarity, the eleven hours of a day spent climbing and descending from a mountain.
It is highly reflective of Strauss's love of nature and is perhaps based on personal experience or that of others.
The fifty-minute work is played continuously although it is divided into sections. There are 22 of these, each with a title. We begin at dawn and close at night.
What you'll hear in this monumental work are the sounds of nature at one extreme and another. It's quite a terrifying piece brought to life vividly by Strauss's scoring and the forces of the enormous orchestra.
Strauss had sketched a second part for this work following the death of his friend Gustav Mahler, but this was eventually abandoned.