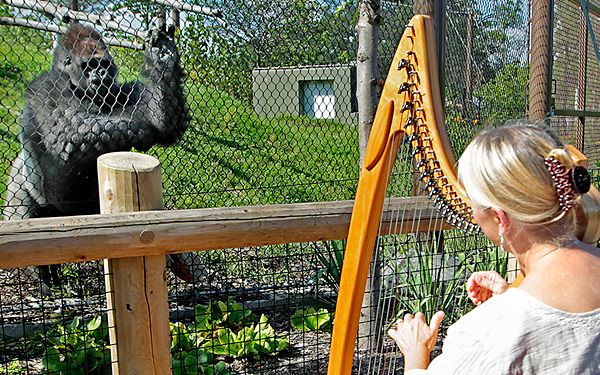 Pachelbel's Canon in D has been replicated in countless modern pop and rock songs from Green Day to Fleetwood Mac to capture the minds and hearts of music lovers. But never before has it been used to garner the attention and focus in a controlled environment, until now.
Terri Tacheny has spent decades performing Canon in D, rehearsing and playing the classical tune for countless audiences. But her course of playing changed when she scrapped the sheet music and took to a different audience­ – primates. The Como Zoo in St. Paul, MN incorporates the therapeutic harp for animals and audiences to create a different kind of musical experience. The instrument's sound creates a soothing sensation that is palpable to both human and animal alike.
Tacheny has been engaging with the primates through her harp for over eight years. In that time, she's learned that each specie digests the audio experience differently, but each ape type all share a similarity in calmness and peacefulness during the playing of the instrument. Though the response to the conclusion of a piece has not included gorillas or orangutans throwing anything, there has been the noticeable sound of what can only be referred to as a deep growl or purr from the gorillas. This is received as though it were a standing ovation.
Creating this unique type of connection with nature and animals is something very dear to Tacheny. She continues to play for the zoo once and month and has broadened her audience base to include big cats and polar bears. Source: CBS Minnesota