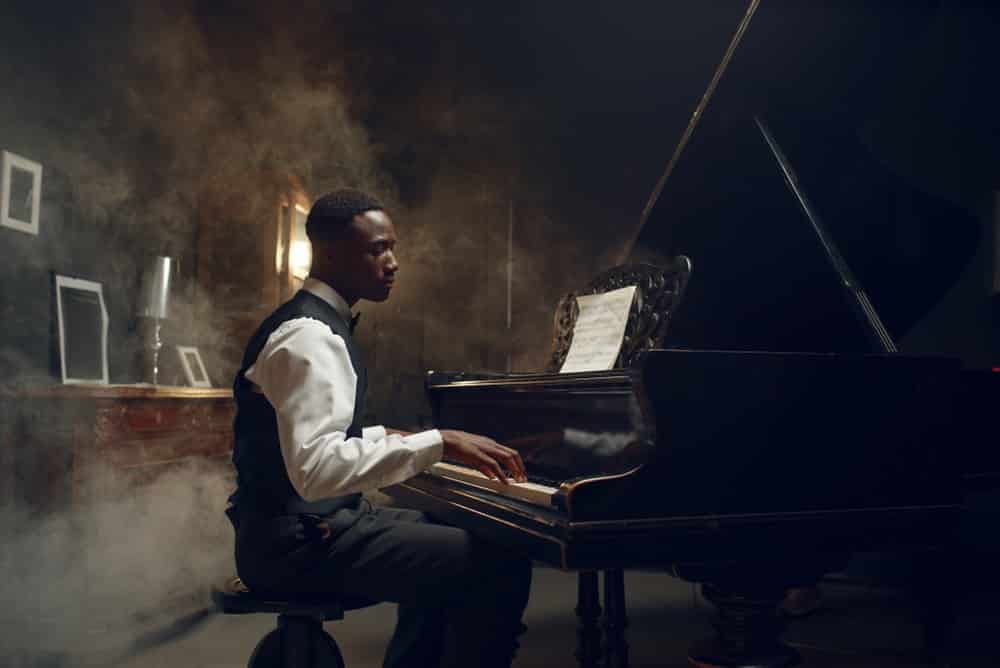 Music is a very diverse niche and you cannot go wrong with jazz in any way. Jazz is a fine combination of modern and alluring tunes that literally melts in your ear. With this being said, jazz music can be played on different musical instruments but the piano is the best choice. Tingling the fingers on those white and black keys feel amazing.
DISCLOSURE: This post may contain affiliate links, meaning when you click the links and make a purchase, we receive a commission.
The jazz piano has been an integral part of ensembles and solo repertoires. So, if you want to learn jazz, we have added the 5 best ways to learn jazz piano. Let's start harnessing those tunes, then?
Best Ways To Learn Jazz Piano
During these modern times, people are connected to each other through mobile phones and the internet. In the same way, online learning has increased a great deal because it empowers music enthusiasts to learn tricks and techniques while on the go. With this being said, there are a variety of ways through which you can learn how to play jazz on piano online.
Above all, the best fit is online music learning websites. These websites usually design courses to meet the unique needs of music enthusiasts. With this being said, jazz piano courses are available in an array of options online. Consequently, you will find beginners and advanced jazz piano courses on these websites, so it's better that you read through the contents before signing up.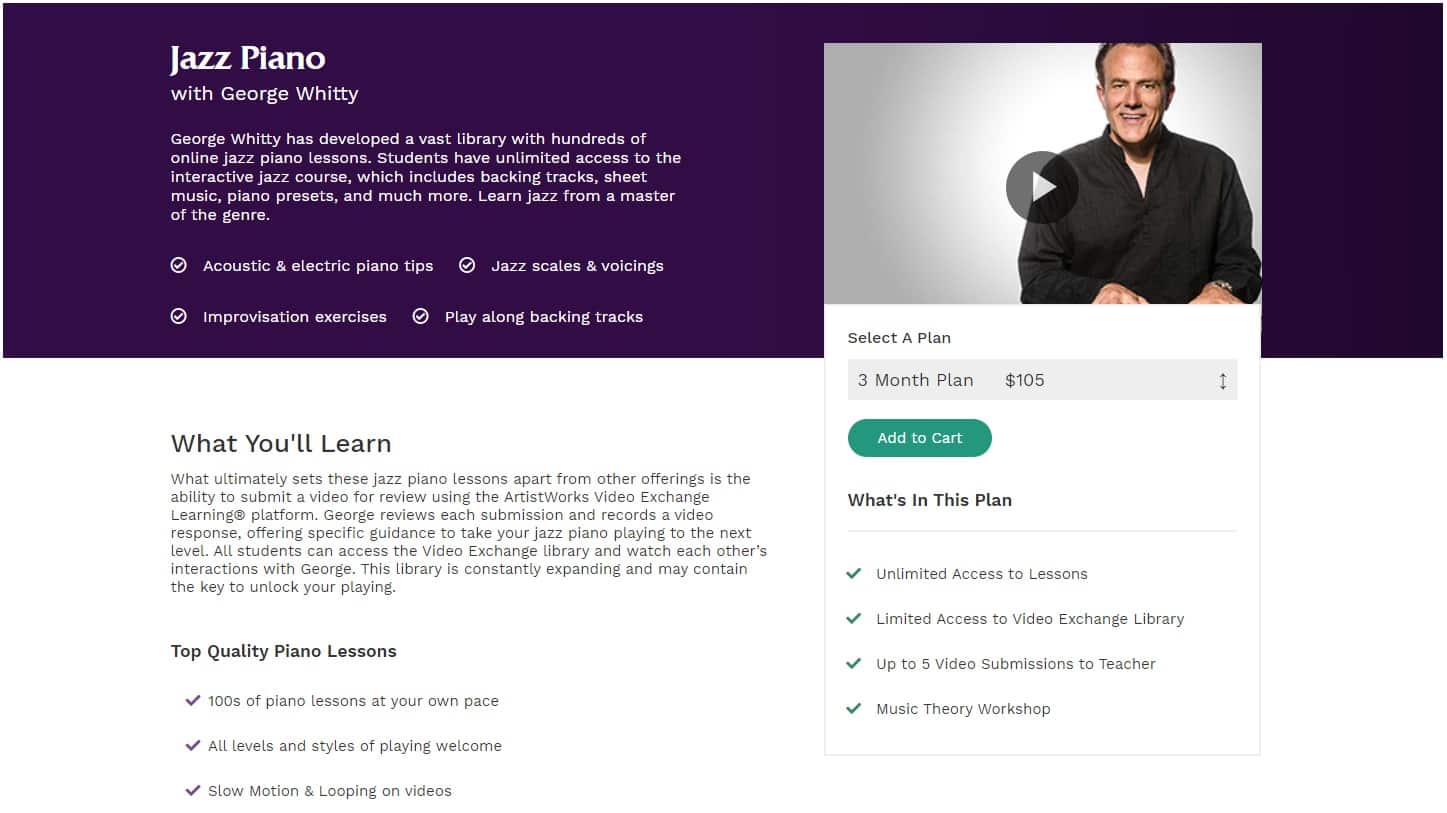 When it comes down to online learning websites, ArtistWorks is one of the fine choices for people who want to learn the new jazz piano techniques online. Consequently, they have designed this course for people who want to learn how to play jazz piano that matches the beginner, intermediate, and advanced musicianship skills.
The course has been designed by George Whitty and he has curated more than hundreds of online lessons in this course. Once you sign up for this course, you will have unlimited access to these lessons that come along with the piano presets. These presets are suitable for jazz piano enthusiasts who are just starting out in the field.
In addition, there are backing tracks in the course, so the students can learn how to play complete songs on jazz piano. The course has been curated with the techniques that will make you master this music genre. With this course, you will not only learn about the acoustic piano but the electric piano as well. Also, there are voicings and jazz scales in the course for people who want to learn the right techniques.
The best thing about this course is that it's curated with improvisation exercises, so you can learn how to improvise different scales and tracks. As far as the instructor is concerned, he is the Emmy Awards and Grammy Awards winner that speaks volumes about his experience. Also, he has worked with famous artists, such as Carlos Santana, Herbie Hancock, and Celine Dion.
In addition to being the jazz piano instructor, he is also an arranger, producer, and composer. With this being said, he has been a part of orchestral movies. As far as his instructor career is concerned, he has been teaching in 20 different countries. The course is designed in five levels, so you learn about tuning, creating tunes, scales, and more. Lastly, this course will teach different keyboard concepts, such as organ sounds, funk solos, and comping.
2. YouTube
Whenever you need to learn something, we are pretty sure that you would prefer the videos because they offer better details. The videos are designed to share in-depth details. With this being said, the online learning websites might have courses with instructional videos but they are paid. On the other hand, YouTube is free.
Consequently, all the jazz piano video lessons on YouTube are free, and all you need is an internet connection to learn jazz piano techniques. However, there is one downside to using YouTube videos and that's the unavailability of the sequence. We are saying this because the videos will be in bits and pieces, so won't have the well-integrated course at your disposal.
With this being said, we suggest that you find the jazz piano channels on YouTube because they usually share sequenced video lessons. In addition, the relevant channels on YouTube will ensure that you've access to different videos that focus on specific jazz piano techniques rather than giving a general overview of the topic.
3. Music Center
When a person is just starting out, buying the piano can be tedious. This is because pianos can be expensive but you need one to practice jazz, right? For this purpose, we suggest enrolling in the music centers. The majority of cities will have public music centers, and even if they are private, enrolling in them will outline positive jazz piano playing.
The music centers have usually hired pianists to teach enrolled students. Above all, the music centers will provide a piano, so you can first learn how to play jazz and buy the piano later. The music centers are also responsible for curating interactive learning because you will learn and study among different people.
In the same way, these interactions will positively influence the learning outcome. That's to say because some people learn better by experience rather than through classes. In addition, the music centers host interactive group sessions, so you can play with others, learn from their mistakes, and sharpen your jazz piano music.
4. Apps
Watch around and you will see everyone having a smartphone in their hands. Well, it clearly says that apps are an amazing way of learning jazz piano. This is mainly because you can scroll through the available apps and choose the one that fits your bill. In the same way, the apps are designed by music experts, so you will actually learn the right techniques.
It doesn't matter if you use the Android mobile phone or iPhone, there are jazz piano music apps for everyone out there. Some of these apps are free and are fine to teach the basic techniques. However, some apps are designed on a paid basis, constituting in-app purchases, and subscriptions. With this being said, the apps are suitable to learn the shells and keys.
5. Pinterest
First things first, Pinterest is a fine choice for people who have intermediate-level knowledge about jazz piano. This is because Pinterest usually has the sheet music for piano enthusiasts to train with. So, it wouldn't be wrong to say that you need some knowledge if you want to learn jazz piano through Pinterest but there is more.
To begin with, there are some Pinterest profiles that post the videos. These videos are usually very thorough, so you will be able to learn the jazz piano. On top of everything, Pinterest promises ample information about different techniques.
The Bottom Line
When it comes down to jazz music, it can be played on different musical instruments but nothing can match the piano. This is because jazz piano is a fine combination of alluring tunes that sound all too amazing.
So, for the jazz piano enthusiasts out there, we outlined the 5 best ways to learn jazz piano. Find the desired way or the one that complies with your needs in playing jazz piano.