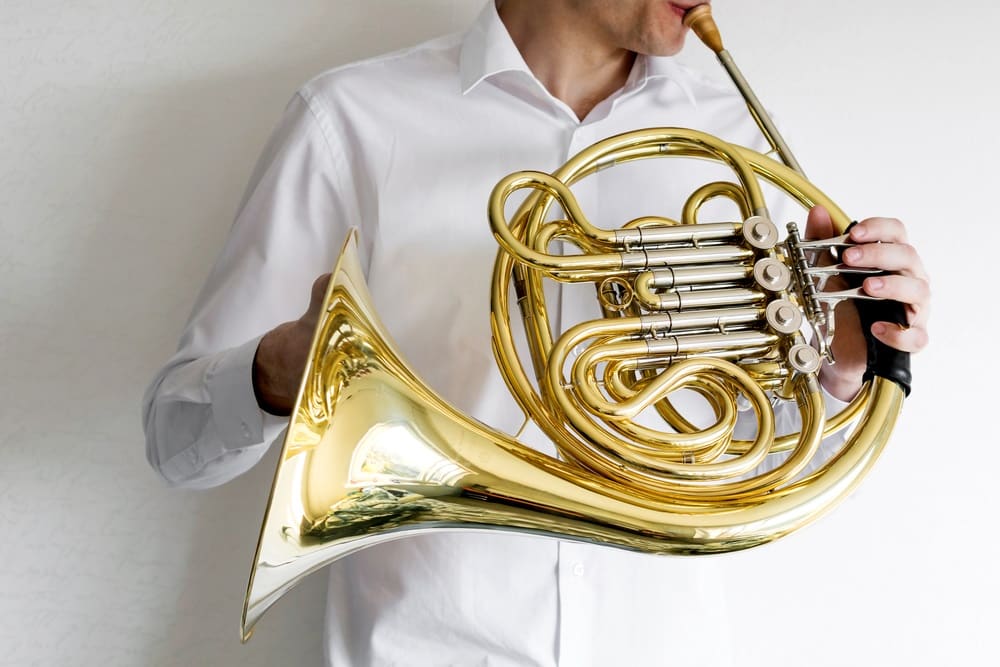 French horn is the most commonly known name for the horn that is a European instrument and the details about the origin are unclear as it is one of the most ancient instruments that you can find in the region. French Horn is basically a brass instrument that is made up of tubing wrapped into a coil with a flared bell and that makes a pretty aesthetical and complicated design on the horn.
While there are different pipes on the horn, but they are all connected to a singular mouthpiece that you blow into and control what sort of tunes or nodes you want on the horn. The sound is amplified with the quite bigger end of the horn on the outer side so that makes it one of the most significant instruments being played in the bands or orchestral music.
Although, it is an instrument that had no individual recognition for quite some time as it was considered an orchestral instrument only, with the passage of time there are multiple solo players emerging who like to play French horn and are creating new wonders over this highly unique instrument. If you want to learn to play French Horn and you are unsure where to start from, here are a few ways that can help you make a better choice for yourself.
Best Ways To Learn French Horn
Online lessons are in great demand these days as most people don't have time or resources to move from their house and of course, there are geographical boundaries and other stuff like that involved. So, you might be considering getting an online course for yourself to learn the French horn if you are unable to make time for taking classes daily or for any other reason.
There is an abundance of such courses out there on the internet and that is something that can definitely make you confused with the decision. However, one such great option that you can choose to learn French Horn Lessons online would be: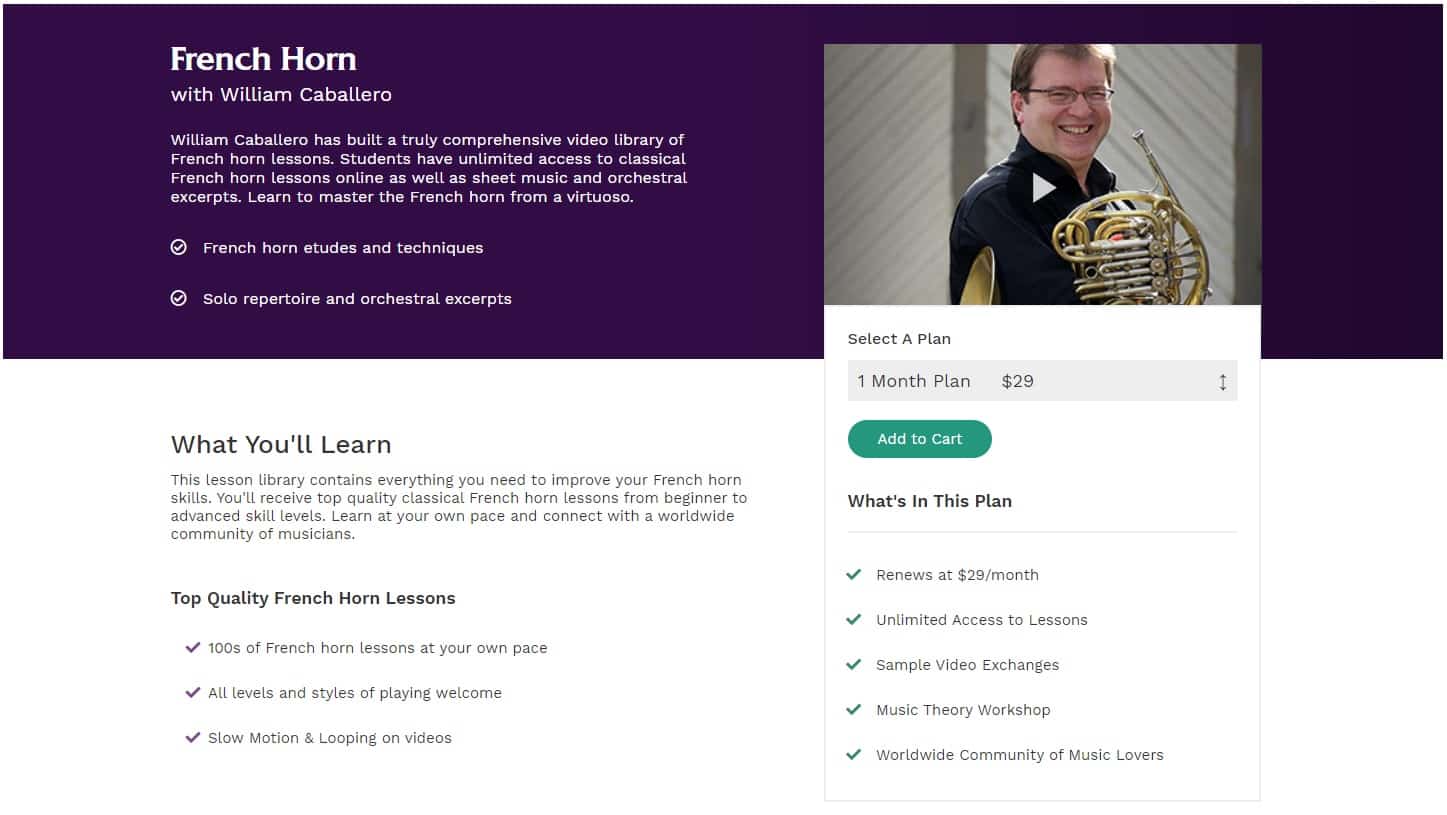 When it comes to online learning through courses, Artistworks has no competition as they have the best interface that is user-friendly and allows you to learn any instrument of your choice at your own comfortable pace. The website also has some pretty great features to offer that are a part of all the courses that you can get from them.
Including this course on the French horn like unlimited access to the lessons so you can not only learn at your comfortable pace, but you can come back to revise those lessons anytime you feel like it and that is just the perfect thing you are going to need to pursue your passion and make it count towards the success.
Coming to this course, William Caballero is the name that requires no introduction as he is truly compassionate about music, and has carved his niche in the world of orchestral music. He has a unique way around all these instruments including the French horn that allows him to create those magical tunes.
In this course, you can have a comprehensive narrative of his techniques that he has mastered over these years and you can learn all you need to learn about the classical French horn. The course also contains tons of sheet music for you to practice along with and make sure that you are making the progress with your learning journey on the French horn.
You will be also learning all about the Solo Repertoire and Orchestral Excerpts on the French Horn making it just the thing that you are ever going to need for learning French Horn.
2. Orchestra
There are different orchestras out there that not only allow you to play and practice along with them but you can also learn from them if you are good at playing by ear and have learned the basics of Orchestral music. So, it might not be the right choice for absolute beginners who don't have any prior acquaintance with the French Horn.
If you have learned through any other method in the past and you just want to grow your learning skills with the help of the right people around you, as well as, enhance the experience with orchestral music, you should definitely be looking out for such places where you can be a part of a band. Simply listen to them playing those sheet music and you can practice along with them to develop the right coordination that you are going to need when you decide to play for an orchestra or some band for those performances.
3. Music Studio
There are tons of music studios around the world that can help you learn the authentic French Horn the right way. You might need to make some efforts like going to the studio and make time according to their schedule but if you feel like just listening to other people playing or an online course is not enough for you to learn the right skills and you are still unable to get the confidence that will enable you to play the French Horn for some performance, you should definitely consider joining a music studio to take your learning to the next level.
You will also be able to get assistance from a teacher who is there and willing to help you with anything that you might need and you can practice in a more suitable environment that will eventually help you enhance all the skills.
4. Private Tutor
You also have the option to get a private tutor for yourself that will take your learning edge to the next level. It might be a bit more expensive as you will have a hard time finding the right private tutor that can help you with the French Horn, but if you are truly inspired by the instrument and want to have the best learning experience over the French Horn, then a private tutor would be your best bet. A tutor will make sure that you are getting each bit right from holding the French Horn Perfectly to blowing it with the right tempo and making sure that you are not making any sort of mistakes with the instrument while practicing.
A tutor enables you to have a practice partner with the best knowledge of French Horn so you can practice with confidence and rectify any mistakes that you might be making in real-time, enabling you to have the perfect confidence that you are later going toned for any sort of performances let it be solo or in a band coming your way and mesmerize the audience with your skillful tones over the French Horn.
The Bottom Line
Just blowing into the mouthpiece is not enough with a French Horn and there are certainly other factors involved like your tongue control, airflow, and the right posture. You also need to manage those button-like knobs on the French Horn that make it a hard task for anyone to play. So, you might need some extra efforts to ensure that you are getting the French Horn right and all you need to do is choose the learning method that you think will suit your needs best.