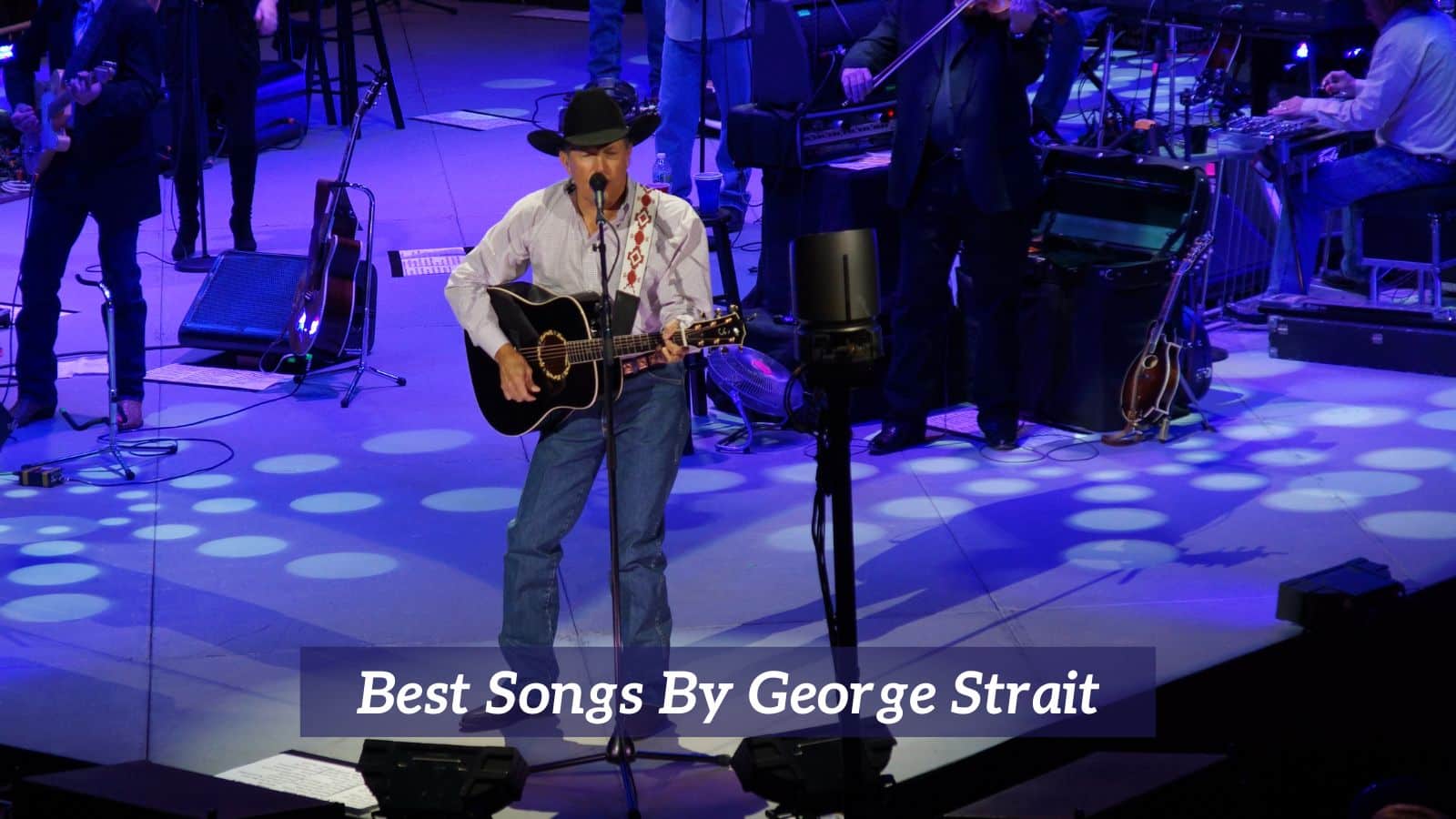 George Strait's captivating discography spans an incredible 4 decades, with over 50 US #1 records to his name, placing him amongst the most prominent country musicians of the modern age.
His sound spans the subtleties of country music, from his embrace of pure traditional country techniques, to his compelling contemporary tracks which capture inspiration from an array of styles and genres.
Our playlist collects some of George Strait's most interesting songs, showing how country music's soundscape can set a fascinating scene to exhibit absolute musical greatness.
Best Songs By George Strait
1. One Night At A Time
One Night At A Time is woven with a timeless melody that almost removes itself from the sound of traditional country, entering into the realms of absolute pop magnificence.
With a lush 70's vibe reminiscent of the warm ambience of acts like The Carpenters, it's baffling that One Night At A Time isn't often listed amongst the world's greatest love songs.
Strait tells the truth of falling in love and igniting the fire between two partners, but with a clean and honest undertone of patience which is often lost within the excitement of new love.
This is an anthem for anyone wanting to create something meaningful and special, rather than rushing into things.
2. Run
Run carries a beautifully nostalgic sound, threaded with captivating atmosphere and lyrical imagery.
Strait calls to his lover, beckoning for their fast return back into his arms, whilst embedding evocative imagery of speeding through a richly southern landscape; "Baby run, cut a path across the blue skies, straight in a straight line, you can't get here fast enough.
Find a truck and fire it up, lean on the gas and off the clutch, leave Dallas in the dust, I need you in a rush, so baby, run."
Strait is clever with his lyrics, weaving in the line, "Take a truck, take a Chevy," to exhibit how purely he wants his lover back, no matter how rugged or beautiful she is on her return.
3. I Saw God Today
Strait's track I Saw God Today draws upon the most peaceful aspects of nature, highlighting the glory of God's creation.
This is a song about becoming a dad for the first time, the butterfly-feeling as you await the birth of your daughter and the overwhelming blessing of God's miracle of life;
"She's sleeping like a rock, my name on her wrist, wearing tiny pink socks.. my brand new baby girl, she's a miracle, I saw God today … His fingerprints are everywhere, I just look down and stop and stare, open my eyes and then I swear, I saw God today."
Strait threads a heart-warming sentiment within his first verse to illustrate how the beauty of creation can be found in the most unlikely places, if only you open your eyes to it;
"Saw a flower growing in the middle of the sidewalk, pushing up through the concrete, like it was planted right there for me to see."
4. The Weight Of The Badge
This 2021 track was a remarkably brave song for Strait to release.
This track comes after the explosive waves of police brutality which threaten to desecrate the social fabric of the US, and the following calls for drastic change amid growing concern of law enforcement's omnipresent power against minorities.
The Weight Of The Badge tells the other side of the story – the perspective of the police – a point of view often attacked by the public with the same forceful, unlistening brutality as that with which the police attack civilians.
Strait's video features quotes from police officers and their wives, describing the toll their job takes upon their own mental health; from the threat of being shot dead on the job, to the pain of a wife not knowing if that was her last morning hug from her husband.
The Weight Of The Badge lays bare the pressures and burdens that come hand in hand with being a policeman, crafting a song that thanks and glorifies the people who put their life on the line; "He swore that oath to protect and serve, pours his heart and soul into both those words."
5. You Look So Good In Love
This song features some of the most stunning imagery found within Strait's discography, detailing the soft pain of seeing your ex happier with another man.
This isn't a track doused in jealousy or anger, instead Strait is captivated by her glowing joy, soaked in the whimsical sadness of knowing someone else treats her better than he ever could;
"How you sparkle, and how you shine, that flush on your cheeks is more than the wind, he must do something that I didn't do, whatever he's doing, it looks good on you."
This is a song for anyone wishing peace to someone lost from their lives, despite their crushing beauty now being captured by someone else; "He must have stolen some stars from the sky, and gave them to you to wear in your eyes, you look so good in love."
6. She Let Herself Go
This track is a compelling look at the end of a relationship, twisting the phrase 'letting yourself go' from a line of deterioration into a line of self-improvement, free from the burdens of love.
Strait tells a story of heartbreak, misleading the listener to expect a tale of misery, "He wondered how she'd take it when he said goodbye, thought she might do some crying, lose some sleep at night, but he had no idea when he hit the road, that without him in her life, she'd let herself go."
The chorus strikes with the polar opposite of what we expect, crafting a cutely positive track with a prominent message for all women: your true, inner happiness isn't dependent on your man;
"She let herself go on a singles cruise, to Vegas once, then to Honolulu, let herself go to New York City, a week at the spa, came back knocked-out pretty, when he said he didn't love her no more, she let herself go."
7. Troubadour
Troubadour reminisces on a long life lived as a country musician and as a Southerner.
Strait reflects as an older man upon his younger life, drawing the differences and similarities between the different evolutions of himself, whilst anchoring his sentiment in his chorus lyric, "I was a young troubadour when I rode in on a song, and I'll be an old troubadour when I'm gone."
This song is a compelling insight into Strait's eternal passion for music and living life to the fullest, matched with the relatable sentiment of feeling much younger than your years, no matter how old you get, "I still feel twenty five, most of the time."