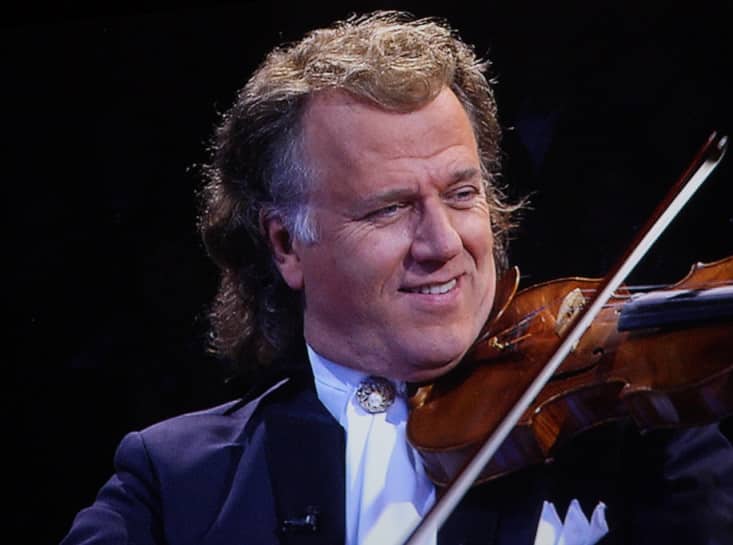 As a child, it was apparent from very early on that musician André Rieu was always destined for success. As one of the most recognizable international classical musicians, Rieu is also a world-class conductor and violinist who he has completely helped to change the future of modern music.
An extremely versatile performer, Rieu has enjoyed an extensive classical musical training background which has helped him to stand out as one of the most successful musicians of these contemporary times.
Rieu draws a lot of inspiration from nineteenth-century musicians, Johann Strauss especially, and he has worked tirelessly to recreate the enriching atmosphere of 19th-century music to today's worldwide audiences. Often referred to as the King of the Waltz, Rieu has found great success professionally and commercially. Today, he lives in a majestic castle fit for a global celebrity of his status and he sells out more tours than some of the better-known names in the musical circles.
The breadth and reach of Rieu's influence particularly on upcoming musicians are utterly outstanding. Rieu still tours the world despite having enjoyed more than twenty years in the sector and he does so in style alongside his personal 60 piece orchestra.
Performance
Albums
Family life and early background
André Rieu was born in Maastricht, Holland to a modest and deeply musical background. His father was a conductor in the Leipzig Opera and the Limburg Symphony Orchestra of Holland. As expected, his father involved his children heavily in musical training so all of his 6 children displayed some musical talent or interest in music in one way or another.
André Rieu himself developed an affinity for the violin when he started studying it at the age of 5.  He later attended the Conservatoire Royal in Liege and Conservatorium Maastricht, where he continued his musical training after grammar school. It was here that he also grew an interest in the rhythms of the amazing Viennese waltzes that came before him. It was therefore natural that he would devote his illustrious career to this musical style later on.
After the Conservatorium, he attended the Music Academy in Brussels and then the Royal Conservatory in Brussels where he graduated with the highest distinction known as the Premier Prix. After completing school, he performed in multiple Dutch symphony orchestras including with the Limburg Symphony Orchestra of Holland, just like his father.
Despite his obvious talent in classical music, he soon grew to dislike the formality of the orchestral environment that would characteristically create a clear separation between the audience and the performers.  It was his frustration over this format that led him to assemble his own orchestra that would perform using his own method of presentation.
In search of a solution, he turned to the music of the Old Masters and he automatically gravitated towards the tradition of Johann Strauss II, the original King of the Waltz. From then on, Rieu reorganized his music and performances to resemble Strauss' who was known for performing while facing the audience. He was also known for encouraging the audience to participate and dance as the performance was in progress.
Rieu then assembled a group of well trained Dutch instrumentalist and named the group the Johann Strauss Orchestra. Together, Rieu and the ensemble developed a classical repertoire that was heavily influenced by lively dance music such as waltzes and polkas. The ensemble made their first public performance on New Year's Day 1988.
Music executives quickly took notice of the group and offered Rieu and his ensemble a contract under Mercury Holland Records that saw the release of the album Strauss & Co, which was one of the best selling classical albums of 1995. Rieu quickly established a following that would catapult him to further commercial success.
Rieu has been married to Marjorie Rieu, a well known Dutch author for more than 40 years and they have two children together, Marc Rieu (1978) and Pierre Rieu (1981).
Commercial achievement and fame
By 1996, Rieu and the Johann Strauss Orchestra had toured successfully all over Europe and had already released another album known as Holland with Love. Unsurprisingly, Holland with love triggered a new passion for the waltz that helped to reawaken it and popularize this old musical style in modern times. As a result of his great success and his massive cult following, he is dubbed the modern King of the Waltz by contemporary media.
It was during this time that he launched the "The Vienna I love" and the live "In Concert" albums that were both released for the European market. He was also awarded the World Music Award in Monte Carlo in the same year, which cemented his high status in the world. In the fall if 1997, he released a Christmas album titled Andre Rieu: the Christmas I Love, which also led to his first North American tour.
Rieu's concerts attract a broad array of music fans ranging from 16 year-olds dressed in jeans and t-shirts to 65-year-olds that arrive for the concerts in the formal black tie. He still compares himself to Johann Strauss and even goes the extra mile to perform just like Strauss would; he is famed for his full-blown tuxedo and ball gown-dressed orchestra that some of the most elaborate and well-designed sets of any classical performance.
As a conductor and violinist, Rieu has earned a net worth of approximately $40 million as per celebrity net worth in 2018. Today, he lives in his 15th-century castle in Maastricht, the Netherlands with his wife and sons.