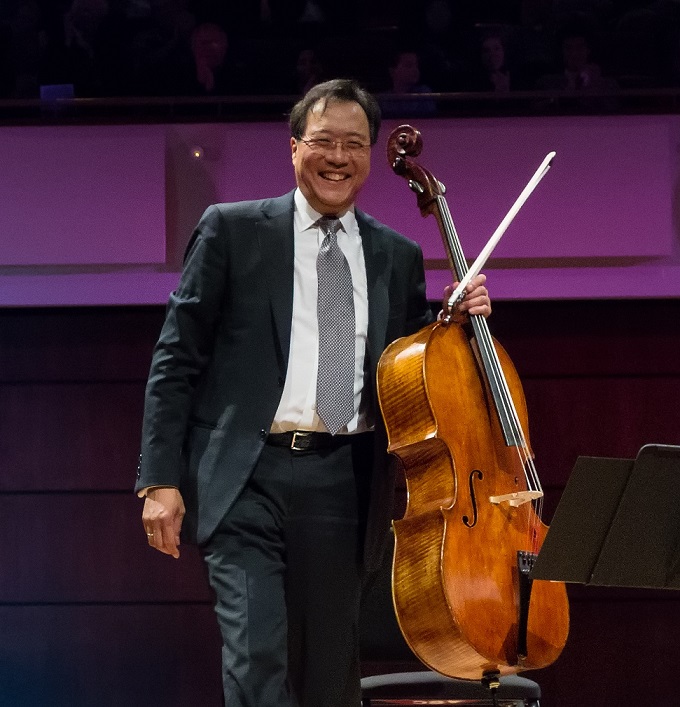 Yo-Yo Ma Upcoming Events
The ticket links will redirect to stubhub.com. StubHub is an eBay company, highly trusted portal to purchase the online concert ticket.
Check all upcoming Yo-Yo Ma Events Here
| Ticket | Event | Date | Time | Location | Country |
| --- | --- | --- | --- | --- | --- |
| Get Ticket | Yo-Yo Ma Pittsburgh | Saturday, June 09 2018 | 8:00 PM | Heinz Hall, Pittsburgh, PA | United States |
| Get Ticket | Yo-Yo Ma Chicago | Sunday, June 10 2018 | 4:00 PM | St. Sabina Church, Chicago, Illinois | United States |
| Get Ticket | Colorado Symphony Orchestra presents Yo-Yo Ma performs Bach | Wednesday, Aug 01 2018 | 7:30 PM | Red Rocks Amphitheatre, Morrison, Colorado | United States |
| Get Ticket | The Silkroad Ensemble with Yo-Yo Ma | Friday, Aug 10 2018 | 8:15 PM | Chautauqua Institution, Chautauqua, New York | United States |
| Get Ticket | Yo-Yo Ma Ohio | Sunday, Aug 12 2018 | 7:00 PM | Blossom Music Center, Cuyahoga Falls, Ohio | United States |
| Get Ticket | Yo-Yo Ma Massachusetts | Sunday, Aug 19 2018 | 2:30 PM | Tanglewood, Lenox, Massachusetts | United States |
| Get Ticket | Yo-Yo Ma Washington | Thursday, Nov 29 2018 | 8:00 PM | Washington National Cathedral, Washington, DC | United States |
| Get Ticket | Yo-Yo Ma and Tchaikovsky | Wednesday, March 06 2019 | 7:30 PM | David Geffen Hall, New York | United States |
| Get Ticket | Yo-Yo Ma and Tchaikovsky | Thursday, March 07 2019 | 7:30 PM | David Geffen Hall, New York | United States |
| Get Ticket | Yo-Yo Ma and Tchaikovsky | Friday, March 08 2019 | 8:00 PM | David Geffen Hall, New York | United States |
| Get Ticket | Yo-Yo Ma and Tchaikovsky | Saturday, March 09 2019 | 8:00 PM | David Geffen Hall, New York | United States |
Yo-Yo Ma Biography
He is considered a child prodigy. Achieved a wide success as a recording artist and cellist. Meet the incredible and inspiring story of Yo-Yo Ma – part American and Chinese cellist who has captivated the world with his music.
He has performed in different orchestras across the globe as a soloist. He has made 90 albums and received 19 awards in the Grammys. Let's take a look at Yo-Yo Ma Biography and discover the life, the talent and the passion that this French-born cellist has brought to the world.
The Younger Years
Yo-Yo Ma's parents trained the child to be cellist as well as a songwriter during an early age. He was born on October 7, 1955, to Chinese parents in Paris, France. His mother is a singer while his father is a music teacher and a composer.
His father became the first teacher of the young Yo-Yo Ma together with his sister. His sister usually wakes up early around 4 or 5 am to have their piano and violin lessons.
Yo-Yo Ma at the age of 3 had gained the same lessons that his sister had. Their father has a great, unique and rigorous teaching style that contributed to the early success of the boy. At 4 years old, he began to play the cello and at 5 years old he had memorized 3 of the solo suites of Johann Sebastian Bach.
This amazing child moved with his family to New York when he already 7 years old. By the time, he had gained the success of being one of the most prominent classical musicians the world has ever known.
Studies at New York City
Even as a child, he had a great yearning to study music. He attended the Julliard School. In his teenage years, he refused to attend the conservatory at age of 16. He tried to focus on his studies and seldom held performances when he was in college.
He wanted to enjoy his college as it is depicted. He studied courses such as Anthropology, German Literature and more at Harvard University. He proved to be excellent in his studies and graduated with a degree in Liberal Arts in 1976.
Early Career
Great success didn't come to Yo-Yo Ma in the beginning of his career. He was forced to temporarily quit playing due to the back surgery as a result of Scoliosis. That was a grueling six months for Yo-Yo Ma but the cone was big. He immediately raised the delight of the crowd again in his return. He held concerts that are advanced for several years.
Performance
Related
Innovation and Experimentation
Watching him play in concert is a spellbinding experience. The Yo-Yo Ma story tells you that it is not only amazing to watch him perform but also fascinating to learn the background of his great passion for music. That issue to innovation and experimentation. Yo-Yo Ma is not only a classical musical musician but also an artist of different music genres.
His innovation has led him to experiment on American bluegrass, Baroque pieces, Chinese music and more. His versatility is the result of the undying passion and other things he has tried. This has given his career a spark that made known by the audience in different parts of the world.
Masterpieces
His career gave him the opportunity to record more than 75 albums such as Great Cello Concertos, Brahms: Sonatas for Cello and Piano, Made in America, Soul of Tango: The Music of Astor Piazzolla, etc. These albums were produced from the late 80s to the early 90s.
He continued to play and compose music in different styles and genres in the early 2000s. A few of the notable masterpieces he had made are Simply Baroque II – Bach and Boccherini, Classic Yo-Yo, Obrigado Brazil and many others.
In his recent album – The Goat Rodeo Sessions, he had made a major collaboration with Edgar Meyer, Stuart Duncan, and Chris Thile. The album included the notable tracks such as: Where's My Bow and Quarter Chicken Dark.  It reached the 23rd spot on the US Billboard 200. It reached to No 1 in both the Classical Crossover and Classical Charts. The commercial success of the album eventually won in Grammys.
Music and Films 
There are amazing contributions of Yo-Yo Ma in the art of Film. Those who are familiar with the movie Crouching Tiger: Hidden Dragon would be amazed by a soundtrack that is composed by Yo-Yo Ma himself.  He considers this as an important film in which he had given much effort and commitment. The film was nominated for 10 Oscars and was a huge hit around the world.
He not only focused on his compositions behind the camera. He had also the chance to be in such films as Sesame Street, The Simpsons, West Wing and Mister Roger's Neighborhood. These films gave him the chance to do the thing we love the most – performing. He was able to present his talent to a large number of people. Aside from these, he finally discovered his ancestry when he appeared in the TV special Faces of America. He was interviewed by the Henry Louis Gates Jr, a professor, and host of the show.
Notable Performances
Yo-Yo Ma performed in the New York's Philharmonic Tribute that celebrated the 100th year founding anniversary of the Statue of Liberty. This concert is considered as one of the most significant concerts in Yo-Yo Ma's career.
He performed live on September 11, 2002, in the World Trade Center as a tribute to those who had died in the attack. This is one of the memorable events of his life as many crowds watched his performance.
His performances are not limited to the crowd.  You would also be amazed once you see him perform the Air and Simple Gifts – a song that is heard by many people during the inauguration of the former US President Barack Obama in January 2009. In this same year, another great performance of Yo-Yo Ma was witnessed at the funeral mass of the late Senator Edward Kennedy.
On 2013, he was given a big opportunity to perform in the interfaith service that is made in the memory of the casualties in the bombing at the Boston Marathon. The amazing event was held at the Holy Cross Cathedral. He was accompanied by several musicians and members of the Children Chorus.
Projects
He also had an amazing career as an artistic director. In 1998, he has founded the Silk Road Project. It aims to educate the neighborhood of the world together with the musicians and artists. This project is a big help to the Silk Road with a goal to study the art and culture of the place. Furthermore, the dedication to educate many artists is another breakthrough to the idea of connecting the different neighborhoods in the world.
Life behind the Curtain
Yo-Yo Ma biography tells of the humble spirit of Ma. He is a Messenger of Peace and does volunteering work. His humble character is loved by many people. He continues to inspire people, musicians, and fans despite the many awards he has received.
This is matched by his loving and caring nature as a family man. He is married to Jill Hornor, an art consultant. They had two children Nicholas and Emily. He is dedicated and passionate about his family. Hence, he does his best to make them happy. This is one of the greatest achievements he has made in his life – more than the recognition he gained from receiving many awards.
Achievements
You could see that every amazing talent is never missed but recognized. The Yo-Yo Ma story also depicts the recognition and praise of this man through the numerous awards he has received. In 2001, he has received the National Medal of Arts, The Dan David Prize in 2006 and Presidential Medal of Freedom in 2011.
Furthermore, he has gained more prominence by receiving the Polar Music Prize in 2012 and the Fred Rogers Legacy Award in 2014.
The Yo-Yo Legacy
Reading this Yo-Yo Ma Biography gives you not only the idea but also the great insight of the expertise of Yo-Yo Ma in composing and performing. His training at an early age together with his innovation and experimentation offers the best musical masterpieces the world has ever known. His excellent pieces have captivated the world due to its grace and great performing.
Yo-Yo Ma touched lives with his music and will continue to do so in the coming years. His contribution to classical music is unrivaled and unique that is a wide influence to other musicians in different parts of the world.  His excellent playing style and vigor say it all but his passion and love for his work give his music a memorable tone. This is Yo-Yo Ma – the great cellist who remains influential even today.
Reference: Yo-Yo Ma Biography